Is it just us or are reception dresses increasing in popularity? Scrolling though our Instagram feeds this summer wedding season, we saw numerous Bachelor stars, influencers, and celebrities incorporate a look change, or multiple, into their wedding day events. (We're looking at you, Sarah Hyland!) And we loved every second of it. After all, you're allowed to be a little extra on your wedding day...we don't make the rules!
Many times brides opt for a reception dress when their ceremony gown isn't logistical for dancing...i.e. constricting off-the-shoulder straps or sleeves, heavy fabrics and poof, or a figure-hugging mermaid silhouette that isn't about to drop it low on the dance floor. Other times brides opt for a reception dress change after falling in love with more than one dress, or wanting to switch it up with a fun shortie or jumpsuit. Whatever the case may be, we understand your wedding costs may be adding up quick and buying a second look can seem out of the budget.
We're breaking down a few reception dress options we love from least to most expensive, so every bride (no matter their budget) can find the perfect reception dress look. Or splurge if they so please!
For The Trendy Bride-To-Be
The At the Halter White Satin Halter Neck Twist-Front Maxi Dress from Lulu's bridal collection. At only $88 this silky satin reception dress looks expensive without breaking the budget. It features a trending high-twist neckline and slit open back. The lightweight A-line skirt is also ideal for dancing without any of the fuss.
For The Classically Romantic Bride
The Taliana White Lace Button Back Maxi Dress from Lulu's bridal collection. At only $99 this reception dress is the perfect blend of classic and romantic. With a simplistic stretch knit front and lace piping details, this dress is perfect for dancing and reception photo opts. We also love the lace panel in the back for a no-bustle needed second look.
For The Bride Who Wants To Sparkle
The Leauna Bridal Gown from Showpo. At $269.95, with layers of embellished tulle, this reception dress is ready for the party! We are loving the sheer sleeve detail and effortless A-line silhouette. This 2nd look would shine at a city reception or rooftop soiree, with a sparkler send-off photo opt!
For The Bowed-Up Bride
The Adore 2Way Dress from Nookie at Revolve. At $369 this adorable mini has been all over Instagram and Pinterest, mainly for the detachable oversized bow. It's a statement piece! We love the ruched satin vibe for an elegant, flirty second look, but we could also see this dress stunning at an afterparty or rehearsal dinner. (Click here for some budget-friendly rehearsal dinner dress options!)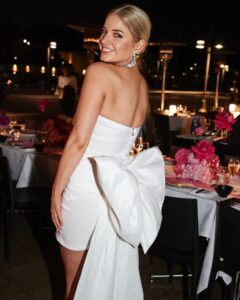 For The Ethereal Bride-To-Be
The Lily Bridal Dress From For Love And Lemons. At $469 this beautiful floor-length gown is full of delicate details; a corset-style bodice, lace peplum, and sheer tulle skirt...just to name a few. We're a big fan of For Love and Lemons' commitment to using recycled materials in their dresses. This gown is no exception as it's made with recycled plastic bottle fibers and polyester. Beautiful and sustainable!
For The Bride Who Seeks Out Small Designers
The Sheffield Shortie from Goli June, in an exclusive collaboration with Grace + Ivory. At $1,195 this reception dress is ideal for the bride who values small designers and quality fabrics, as it's made right here in Chicago. The striped organza is a unique touch to a fun bubble skirt silhouette, that easily transitions from reception to after-party.  We especially love the structured strapless bodice for beautiful seams that shape and define the waist.
For The Bride Who Wants To Forego The Dress
The Tristian Jumpsuit from Grace + Ivory. At $1,495 this luxe jumpsuit is as fun as it is practical. The wide-leg pant is ideal for dancing while still maintaining an overall modern and bridal feel. We love the narrow but deep, illusion V and dotted trim. You will surly standout as the trendiest bride your guests know if you opt for a jumpsuit reception look. (P.S: This jumpsuit is available to try on at home!)
For The All-Out Bride
The Melanie Dress from Grace + Ivory. At $1,695 this pearl beaded dress is for the bride who fell in love with so many styles, fabrics, and laces while shopping for her wedding dress that they just had to have two! The Melanie dress features a train-less chiffon skirt with a slit for all your signature moves on the dance floor. Not to mention, all Grace + Ivory gowns are made-to-measure for a better proportional fit (sample sizes be gone!)