Grace + Ivory's
AT-HOME
DRESS TRY-ON
Want to try a sample at home? For available try at home wedding dresses, you'll see a "Try on at home!" button next to our "Add to Cart" buttons on individual dress pages.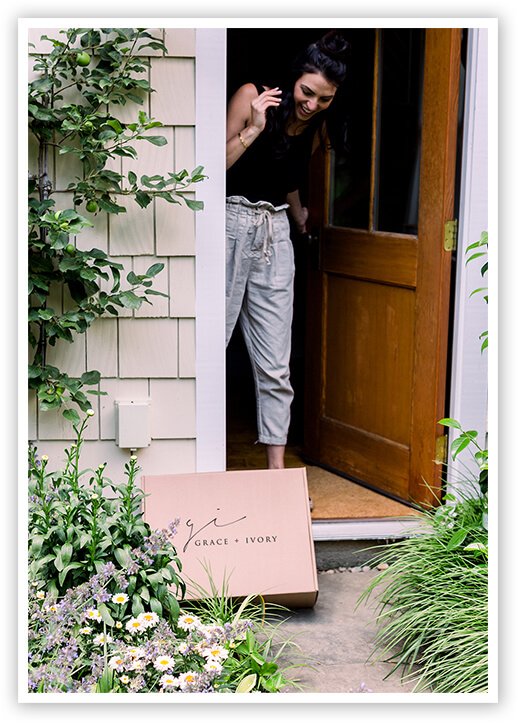 Choose Your Dress Samples.
Find the dresses that get you excited and add to your cart by pressing "Try On At Home"! You'll let us know when you'd like to receive our sample gowns by choosing the dates on each dress.

Receive Our Kit, Find Your Gown!
You'll get our try-at-home kit delivered to your door so you can hop into our beautiful styles. Invite friends over, pop champagne, Facetime relatives, or don't! You do you, boo!

Mail Back Samples Within 3 Days.
Most bridal stores thrive off impulse decisions. We want you to feel relaxed! Once you've chosen "the one" go ahead and mail back the samples within 3 days. Each kit comes with clips, a soft measuring tape, a TAH guide, & prepaid return shipping label because honestly who has time to print one out?

Make It Yours! Order Custom.
Order your dress right off our website! Our pricing is all inclusive & your TAH cost is credited towards your dress. Additional questions? Email, or schedule a call with your stylist at Grace + Ivory! You can discuss details on what personalizations are available (longer train, different neckline, etc.). Your custom gown will be crafted and delivered to you in just 3 - 4 months.
Depending on the dress and date availability, you will receive your try-on kit on the date of your choice. The try-on period is a total of three days, after which you will return the dress to us.
You're welcome to purchase directly off our website without a try-on. Feel free to reach out to us via our contact page. You can email or book a phone design consultation with any other questions.
We advise our brides to order about 5-6 months ahead of time so we can get you your dress 6-8 weeks before your big day. The typical production timeline on our dresses is 2-4 months. It varies on a case-by-case basis depending on customizations and timeline preferences (we are offering a tailored bridal experience, after all!). We want you to have time to put your bustle in and to have a final fitting, if needed, with the tailor of your choice.
Is your wedding sooner? Contact us at hello@graceandivory.com and we can see what we can do. As every order is made-to-order, if it's possible, we're more than happy to accommodate orders under a 5-6 month timeline.
Our TAH kit is offered to all 50 states in the U.S. We currently do not offer our TAH for International brides.
Unfortunately you cannot keep our sample. As our dresses are made-to-order, we're more than happy to send you a brand new dress using the sample measurements (or yours!).
Your made-to-measure dress should have a great fit! You should expect a final fitting, such as adjusting your hem if you change the height of your shoes or taking in the dress if you lose weight, and/or you will need to put in a bustle with a local seamstress of your choice. Given your body can change in a 4-6 month timespan, there may be small changes to adjust to your exact body size leading up to your wedding. All Grace + Ivory dresses are made with 2 centimeters (about 0.75 inches) of extra fabric on each side in case a dress needs to be taken out.
We're excited to announce our custom-designed reusable boxes for try-at-home. Please lift up the Velcro flaps, cut the zip tie that secures the box, and unzip to open. Take everything out of the box and hang your dress(es) to loosen some of the wrinkles. The dresses arrive inside out to protect lace or beads; just gently turn the dress right-side in by gently pulling the top through the bottom. Be careful around pets.
At a typical bridal shop, there is usually an assistant to help you get into the dress. We recommend having a close friend or relative play this role. Have them unzip/unbutton the back of the dress, place on the floor to step-in, make a "hole" for you to step into it. Have your chosen bridal assistant help you with any zippers or buttons.
You have your dress for three days beginning at your requested date – if you receive it before the date, your try-at-home dates are still from your requested date.
At the latest, please ship back your dress the day after your 3rd day of your rental block. So if you have your try-at-home dates for Friday-Saturday-Sunday, please ship your dress back on Monday. You're welcome to ship back sooner, if needed. If you ship back later, we unfortunately have to charge a late fee of $20 per day.
The dress sample you receive is likely to be too big or too small. To help you visualize a better fitted dress, we've provided clips for your try-on.
There is a clear plastic bag that is included with your dress and a Grace + Ivory packing sticker. Please gently turn the dress inside-out roll/tuck the dress by folding the bottom and the train, and then the top of the dress in towards middle. Place in the bag and seal with the sticker. Place the dress and clips back in the box it arrived in and seal the box with packing tape.

We're also excited to announce our custom-designed reusable boxes for try-at-home. Please zip the box closed, secure the zipper to the D-ring with the zip tie included with the other return materials, and fold the Velcro sides down. Use the return label that is included in your TAH kit to place the shipping label in the pouch on the box so it shows through the window (please do not stick it on the front) and arrange pick-up or drop-off at your nearest UPS location.
Our designs are all customizable – we see them as templates that are ready to be loved the way they are or changed to your preferences. If there is something you'd like to change, please discuss with your design stylist. Some popular changes are adjusting the neckline, adding sleeves, swapping the color of the lining, etc. There are a ton of possibilities!
If you love one of our dress designs and are ready to move to purchasing, you can go head and purchase your chosen dress right off our website. Your dedicated stylist will reach out to you after you purchase to confirm any custom details, and guide you through measurements. Have additional questions before you purchase? Contact us at hello@graceandivory.com.
If you have a sturdy stool or platform at home, we recommend using it to stand on to get a better visual and to see the dress fall to floor length in the front. If you don't have a stool, then tuck the dress under at the bottom. As all of our dresses are made-to-measure, you can rest assured that your real dress will be fitted properly to your proportions.
We don't want to, but fees do apply for late returns at $20/ per sample per day. We need to ensure the next bride gets her samples on time. If we don't hear from you in 5 days from the last day of your try-at-home booking, we'll assume you're keeping the sample and charge you the full price of the dresses. Please let us know beforehand if you need more time and we will try to accommodate.

Please reach out to us via email (hello@graceandivory.com) or phone to avoid any misunderstandings.
Yes! Once you're ready to purchase, ensure that you have a credit code from us that you can use at checkout. Apply the code on the checkout page to take off your TAH amount.

Did you already purchase your dress? No problem, just let us know. Your TAH costs will be credited towards the purchase of your dress. Contact us at hello@graceandivory.com.
Authorization holds occur for our TAH dresses, as part of our fraud prevention policies. Given the high value of every sample, we will place up to a $350 hold on your card while you have a sample. We do not process the actual charge, except in the possible case a dress is not returned. In this case, the $350 hold will be processed along with whatever remaining balance is due from the full cost of the dress.

If we don't hear from you in 5 days from the last day of your try-at-home booking, we'll assume you're keeping the sample and charge you the full price of the dresses. However, we will try to contact you and reach out to resolve any issues before we get to this point.

We understand that normal wear and tear happens with wedding dress samples. If you have any concerns about our authorization hold policy, please reach out to us via email (hello@graceandivory.com) or phone at 312-869-9033.
For specific bust/waist/hip measurements, our samples are made to the following:
- Size 4: 35 /27 /37.5 inches
- Size 10: 38.5 / 30.5/ 41.5 inches
- Size 16: 44.5/ 36.5/ 46.5 inches

Our try at home samples currently come in size 4, 10, or 16. So if you select size range 00-4, then we will send you a size 4 sample.