It's estimated that menstrual hygiene products for a period lifetime cost around $1700. That's roughly 629 cups of coffee, 461 gallons of milk, or 955 cartons of eggs.  For the 29 percent of Chicagoans living below the poverty line, periods are an expense they just can't afford.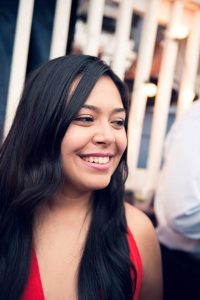 Thanks to the work of the Chicago Period Project, nearly 99,000 menstrual hygiene products have been donated this year alone. They believe every menstruating person should experience their period with dignity and with reliable access to healthy period supplies. 
Ashley Novoa, a first generation immigrant who grew up in the Pilsen neighborhood of Chicago, founded the Chicago Period Project in 2016 in an effort to demonstrate resilience to the November 8th, 2016 presidential election. Since then "The Chicago Period Project has generated thousands of menstrual hygiene product donations, created and distributed hundreds of Period Kits, raised money for operating costs, and formed partnerships with local businesses."
We had the insightful opportunity to chat with Ashley, founding executive director and mother of two, about the continued fight the CPP is facing and how you can get involved.
---
Making an Impact in Chicago
In Ashley's words, "The Chicago Period Project is a local nonprofit that fights to end period poverty in our most needed communities. We do so by donating products to menstruators in need and through advocacy work that normalizes menstruation and makes period products more accessible to people that need them most."
The people in need? According to Ashley, over 800 million people menstruate a day. Over 40% of those people have little or no access to period products or resources to help them maintain their periods in a healthy way. Ashley and her team are here to take that burden off those menstruating in Chicago and have donated almost a million period products throughout the city.
When asked how the CPP started: "There were a few things that aligned together back in 2016 - the election, (with) talks of defunding planned parenthood. On one of my late night scrolls through social media, I happened upon an article and video about period poverty. This video followed a person throughout New York as they had their period and it stuck with me. For days I thought about that video and knew I had to do something. I started with a little collection of tampons and pads amongst my family and friends, and here we are today."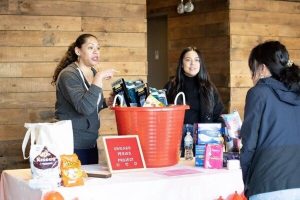 ---
Want to Go with the Flow?
"The Chicago Period Project supports all Chicago neighborhoods through various partners including shelters, food pantries, mutual aid initiatives, Chicago Public Schools and more." You can drop off SEALED and UNOPENED packages of pads, tampons, liners, menstrual cups, new underwear, hand sanitizer, and absorbent period underwear into their beautifully branded CPP boxes at a participating partner. Like at Grace + Ivory's Bucktown Showroom!
Want to do more? Ashley says "Any support is appreciated, whether monetary or donations of goods, to fuel our impact. People can visit our site to email us and find out how to host a donation drive + fundraiser. And as always, help us break the stigmas of periods by talking openly about our periods."
Like Ashley says, it's time to Normalize Menstruation!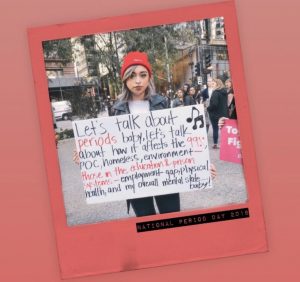 ---
Continuing The Fight
When asked what the future holds for the Chicago Period Project, Ashley responded "I always say that our goal is to become a non-profit that is no longer needed. We have a lot of advocacy work on the horizon. Although our main goal is to always get period products to people who need them, a lot of our passion is going to be put into advocacy work so that we can follow the lead of other countries and make period products free to more accessible."
At Grace + Ivory we're happy to have found such an incredible organization so close to home. Supporting all menstruating persons goes beyond the dresses and the sparkle to the less glamorous parts of our everyday. Everyone deserves to have their period with grace!  That's why we're asking our Chicago brides to bring along a donation when they come in to try dresses.
The Chicago Period Project is also always on the lookout for new volunteers, click here for more ways you can get involved and click here to make a monetary donation to CPP now.
Photos courtesy of the Chicago Period Project.