If you've read our blog before, you know that Grace + Ivory loves to highlight other wedding vendors that do something that makes them that extra special. For today's installment of the Business Done Differently series, we're proud to highlight a fellow Chicago business that puts sustainability right at the heart of everything it does: Big Delicious Planet.
If you're looking for a sustainable menu for your wedding - or just to reduce your event's carbon footprint - BDP is for you. They've been certified as the greenest caterer in America! We spoke with BDP's Grace Hamilton, Director of Wedding and Events, to learn more about their services, their sustainability practices, and what makes them so special. Read on for some extra tips about developing your wedding menu!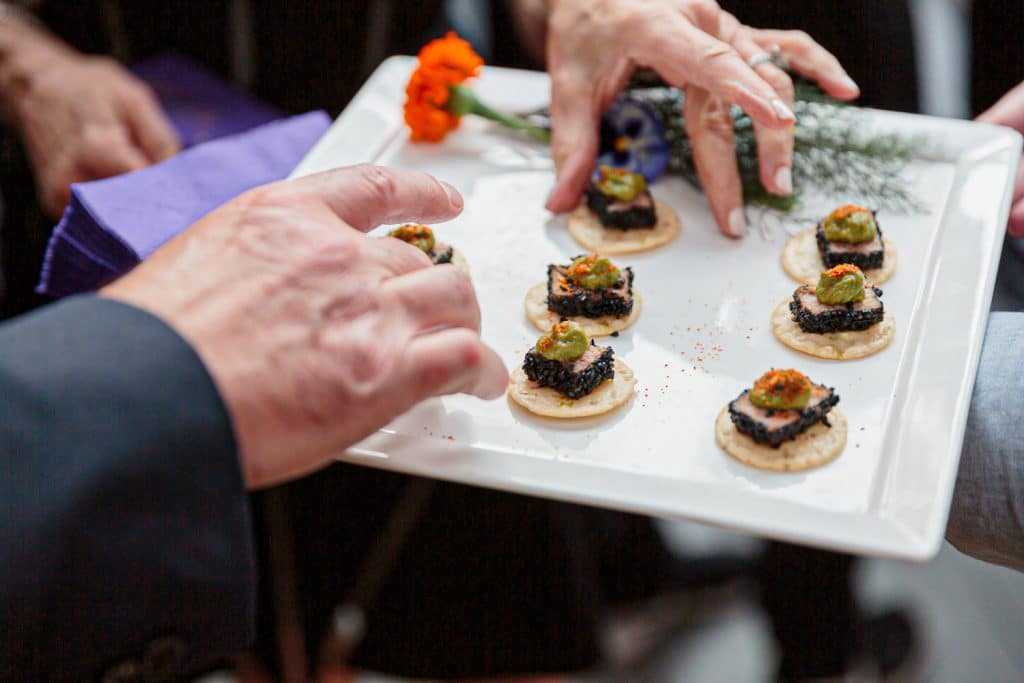 Courtesy of Big Delicious Planet. Photographer: Wes Craft Photography
Please could you tell us a bit about Big Delicious Planet and how it all got started?
We've been catering stylish weddings and events for over two decades, and we're very proud that years later our clients tell us that their guests are still talking about the delicious food from their event. When Heidi Moorman Coudal founded Big Delicious Planet (BDP) in 1994 as a backstage catering company, her goal was to cook beautiful, delicious, globally inspired menus. There was never a dull moment catering to the discriminating clientele of rock stars and celebrities! It was during those 19 years that we honed our skill of creating a detailed, custom experience for each client's specific tastes and style - a quality that makes us an outstanding caterer! Our fresh, creative menus, our exceptional service, and our progressive catering practices truly distinguish a Big Delicious Planet experience from the rest.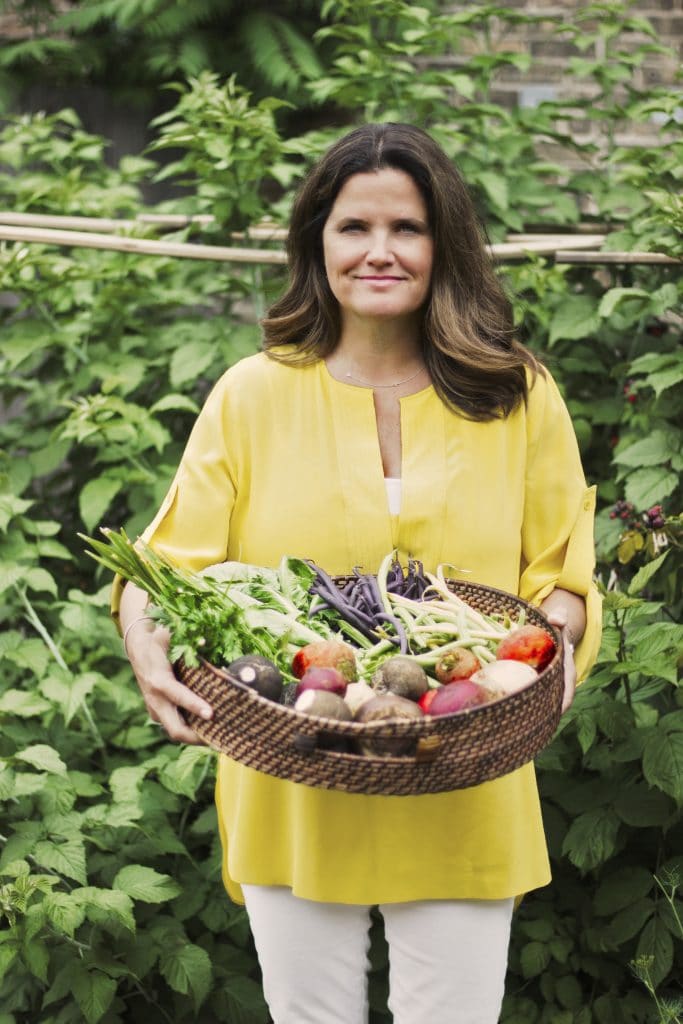 BDP owner and culinary director Heidi Moorman Coudal. Courtesy of Big Delicious Planet. Photography by Sarah E. Cowley.
As BDP's evolved over the years, our desire for higher environmental standards gave us the opportunity to change the trajectory of the company. We wanted to be totally transparent about our sustainability efforts, so we had the Green Restaurant Association (GRA) rate our environmental practices. We didn't want to claim to be "green" if we weren't. In 2013 the GRA gave us the highest rating they'd ever given to a caterer: a 4 Star Certified Green rating, and named us the "Greenest Caterer in America," a title we still hold. Additionally, we're the only 4 Star Certified Green Restaurant in Illinois.
In addition to our green certification, we've paved our own path of what we believe is truly innovative catering. In 2012 we transformed three adjacent undeveloped lots into our own urban farm. We organically grow dozens of crops in 72 raised garden beds, and we even have three beehives. The majority of what we grow is used for the dozens of weddings we cater each year. Our urban farm is also a unique location for rehearsal dinners, weddings, social gatherings and milestone events, not to mention our popular summer Urban Farm Dinner Series. In 2020, our Urban Farm became a popular spot for couples looking for a beautiful location for an intimate wedding. We hosted 28 mini weddings during the pandemic and see a trend of mini weddings continuing through 2021.
What is your favorite part of catering weddings?
We're there to help the couple celebrate to the fullest! Our couples are so creative and we love bringing their vision to life and bringing together their guests over a delicious meal they curated. Each menu we create is unique and is a wonderful reflection of our couple's tastes, cultural backgrounds, and travels.
Courtesy of Big Delicious Planet. Photography by: Wes Craft Photography, Anna Zajac Studios
What is the coolest thing/tip/trick you've learned about food sustainability and reducing waste at weddings?
We offer our couples the option to donate their leftover food to a local mission rather than throwing the food out, and if the food is no longer good for consumption we compost onsite for all weddings and events. I think that's something most people don't realize - how much food is wasted! Talk to your caterer about what they do to eliminate waste, or if they are willing to donate your leftovers from the event and compost onsite.
What are your five tips for couples who are choosing their wedding menus?
Think seasonal! Your menu will taste better the more fresh the ingredients!
Consider the service style and your guest list. Would you rather your guests stay seated and be served table side? Plated or family style service is more your style. Do you want the reception to have more of an open-flow party feel? Maybe cocktail-style service is more your vibe.
Consider what types of food you typically enjoy. Where do you typically dine out? Do you have favorite family party foods or the family ragù you'd like to incorporate? All of these are great ways to start to infuse your personalities into your menu. I always remind couples the menu should reflect their tastes overall, it's their day!
Do you have VIP guests with allergies you'd like to build your menu around? Do you have a friend who's vegan? Make sure to let your caterer know about any dietary restrictions so they can incorporate cohesive options for these guests into the menu. Some of your menus may already be allergy friendly and only require small changes for specific guests, without giving them a "clean meal".
Keep in mind your goal budget, and be honest about the goal you're trying to stick to with your caterer. Caterers can come up with creative solutions to tailor your proposal within your limits.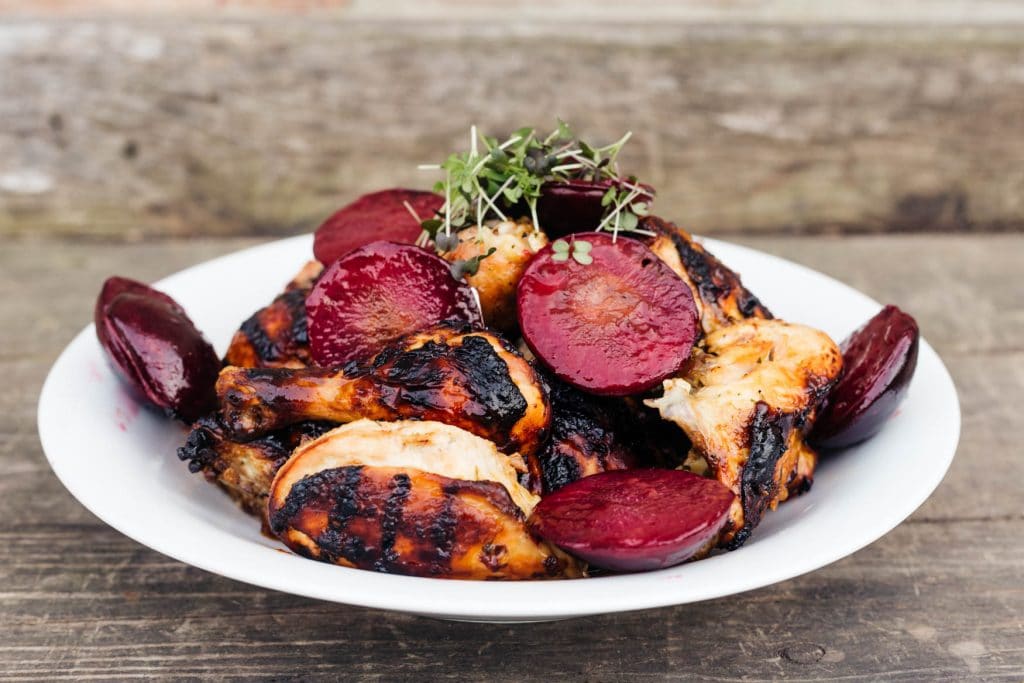 Courtesy of Big Delicious Planet. Photographer: Sarah E. Crowley
We love that Big Delicious Planet is so committed to sustainability. Could you tell us a little more about how else the organization gives back?
BDP has been very aware of the rise of food insecurity in our community, especially over the past year. BDP has been doing it's best during the pandemic to help those in need with our Catering for Communities program, which helped donate hundreds of meals to those in need in the Chicago area. We have continued this work by working to donate boxed meals with The Love Fridge, another organization helping create access to food for those in need in local neighborhoods all over Chicago. We annually hold a drive for Thanksgiving donations of turkeys and hams to the Montessori School of Englewood families. We recently helped one of our wedding clients donate 200 boxed meals to clients of the organization Thresholds for Thanksgiving, as a way to help them still celebrate what is typically an annual gathering. We plan to continue donations to Thresholds this year, and to the Pacific Garden Mission, who we donate to twice a week.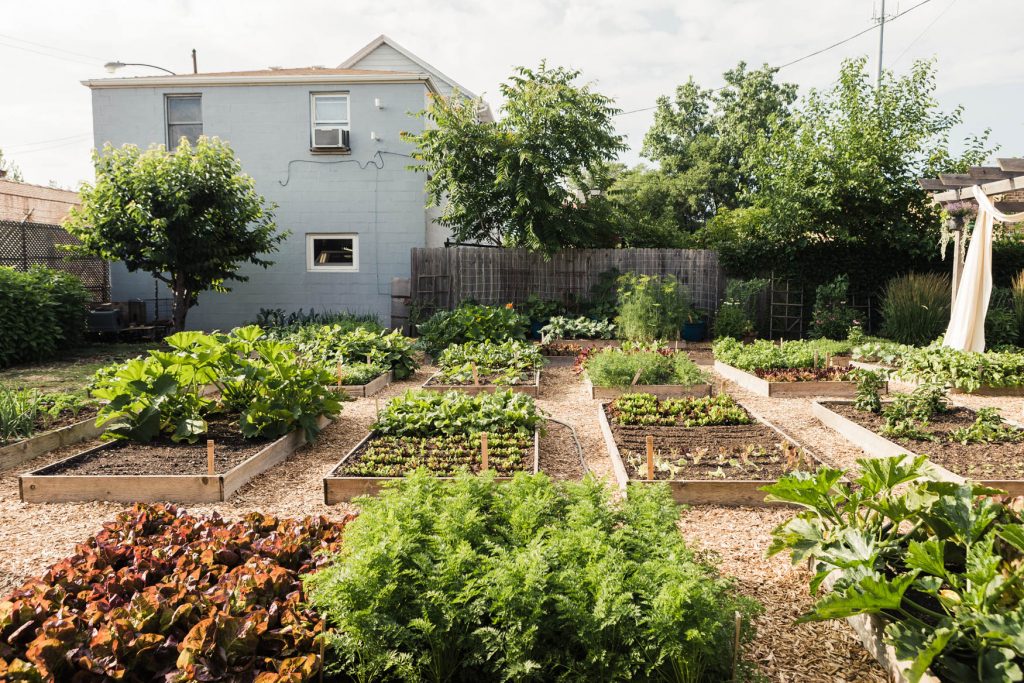 Courtesy of Big Delicious Planet. Photographer: Sarah E. Crowley
BDP is a member of the Green Wedding Alliance, an organization of like-minded sustainable vendors in the Chicago area. As part of this organization we work to help make sustainable options more transparent and available during the planning process. We also work with local organizations like Advocates for Urban Agriculture, Gardeneers, and Plant Chicago to bring awareness to urban farming, equitable food system resources, and sustainable business in Chicago. We work with local schools and universities to give tours on farming and sustainability best practices. We're proud to have worked with local non-profit Pilot Light whose goal is to connect kids to the basics of cooking and food while also relating it to their communities. We match employee donations to the charity of the employee's choice, and we often choose to donate proceeds from our Canteen sales to specific charities we wish to sponsor. We have partnered with local organizations like Crossroads Foundation, Flowers for Dreams, 826Chi, One Tail at a Time; My Block, My Hood, My City; the Chicago Artists Coalition, Chicago Collegiate Charter School, and Tickled Pink Chicago.
*****
Thank you again to Grace from Big Delicious Planet for answering our questions! It's so awesome to see a Chicago-based organization giving back so much to the city and surrounding areas. To learn more about Big Delicious Planet, check out their website here: http://www.bigdeliciousplanet.com/