For most brides, searching for that perfect wedding dress is undoubtedly one of the most exciting yet daunting parts of planning for a wedding. From deciding on what silhouette will best suit your body shape, to choosing the right fabrics and colors that will fit your individual style, we understand that the pressure to find a beautiful gown for your big day can be super stressful.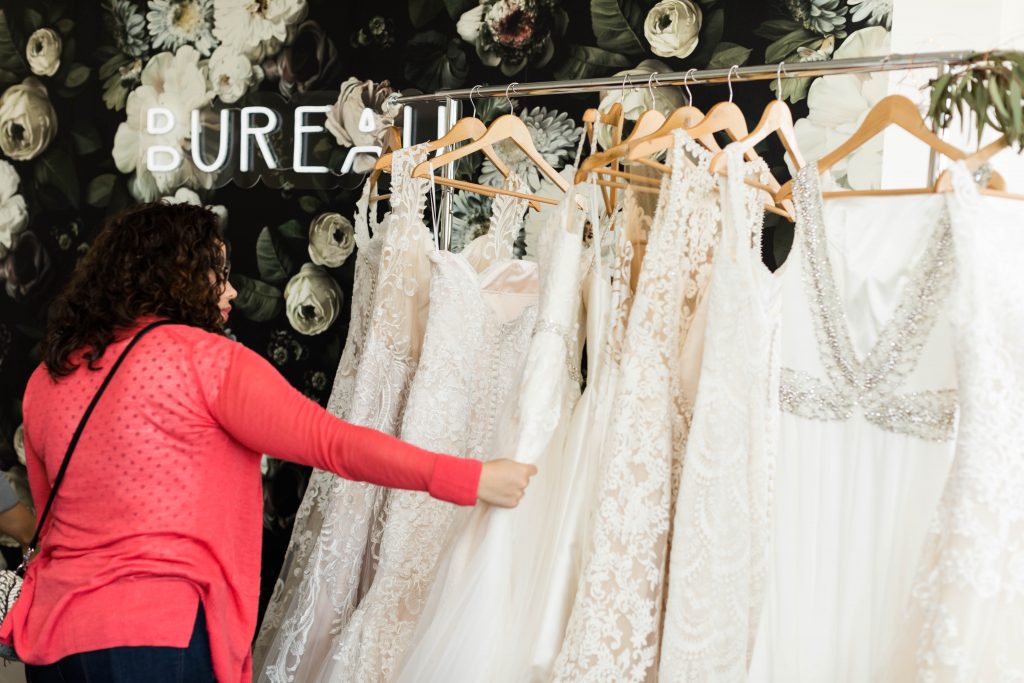 Not to worry! To ensure you get the most out of your bridal shopping, we've put together a list of our top 6 do's and don'ts to make sure that your search goes as smoothly as possible.
1. DO your research
Whether you have a clear idea as to the style of dress you are after or have no clue at all, its really important that you research into your options before you start the process of shopping for your wedding dress. Doing your research prior to shopping for a bridal gown will give you an idea as to what styles are available out there, as well as the various silhouettes, necklines and designs that you might be into, or might not be. It may also be a good idea to look into current bridal trends and designers to get a feel for the fabrics or designs you might be into.
Carrying out this initial research into your preferences will be hugely beneficial for you and your design stylist, as it will provide a great starting point when you start the process of searching for a dress.
2. DON'T rule anything out 
Whilst it is good to have an idea as to the type of dress you might be into, try and be open-minded when shopping for your bridal gown. You might be surprised that the style of dress you weren't even considering looks great on and ends up being the one you fall in love with!
3. DO stick to budget 
We get it. With all those stunning bridal gowns out there, it's easy to get carried away and feel tempted to go over budget for a dress, especially if you think you've found 'the one'. If this sounds like you, it's important to make sure that you establish a clear budget for your wedding dress and determine how much you are willing to spend before you start shopping.
Being realistic about how much you want to spend during the early stages of your research will narrow down your options and save you so much time when searching for your dress. This is especially important, as you may need to take into consideration other costs such as shoes, veils, and other bridal accessories.
If you do your research right (and follow our first tip), you can buy a beautiful gown for your special day that is not only of a great quality but also stays within your budget too.
4. DON'T be afraid to ask questions
Whether you're unsure of the difference between the various bridal silhouettes or simply curious to know what neckline might suit you best, your consultant and/or design stylist should be able to answer all of your burning questions.
Even if your questions may seem trivial to you, your bridal stylist is there to help you and wants to make sure that you find a wedding dress that you absolutely love.
5. DO leave enough time
Realizing that the dress you've fallen in love with will not arrive in time for the big day is every bride's worst nightmare. What's even worse is then having to settle for a dress that you aren't 100% sure on, or fully like. But all of this can be avoided. How? By leaving yourself enough time to search for your wedding dress!
Starting the planning process for your bridal gown earlier on can ensure that you give yourself enough time to focus on finding the right dress for you.
6. DON'T forget to have fun
Shopping for your wedding dress should be a fun and exciting process that you look back on fondly. So, make sure that you enjoy yourself and don't let the pressure of finding that gorgeous gown get to you. You've got this!
Happy gown hunting!
Post by Georgia Aristide-Oke.