Here at Grace + Ivory, we're proud to be revolutionizing the wedding dress selection process for brides all over the country. With our flagship try-at-home program, we're enabling brides to choose their bridal gowns on their own terms, in their own homes, and on their own timelines. We've taken all the power and given it to YOU, the brides.
So what does the Grace + Ivory try-at-home process look like, and how exactly does it empower brides? How much does it cost, and why is it such a great choice?
Tessa dress. Photography: Ally Fraustro Photography
The process
First thing's first. Here's a quick overview of what the process looks like:
Choose your first dress! In love with Sloane? Book her! When you hit the "try on at home" button, you'll get to pick your size range. Concerned about sizing or in-between sizes? Then go for a bigger sample and clip down - it will be easier to envision the bridal design when it's made to your measurements. For your reference, here are the measurements:

For specific bust/waist/hip measurements, our try at home samples are made to the following:
- Size 4: 35 /27 /37.5 inches (Size range 0-4)
- Size 10: 38.5 / 30.5/ 41.5 inches (Size range 6-10)
- Size 16: 44.5/ 36.5/ 46.5 inches (Size range 12-16)

Pick your dates: When you select the date you'd like your dress to arrive, we'll give you a three-day window to have the dress. Once you've picked your dates, the dress will be added to your cart.
More dresses?! We recommend selecting two to three dresses for variety and choice. Once you've added one dress to your cart, keep browsing to select your other options, making sure the dates line up.
Try on dresses!: You'll receive your try-at-home kits in the mail in our environmentally friendly, reusable boxes. Then it's up to you - throw a party, head to a hotel, FaceTime your mom, or have some time on your own. We've got a bunch of tips for the best ways to try on your dresses - from Grace + Ivory brides! Our try-at-home kits come with clips, a soft measuring tape, and a TAH guide to make everything as easy as possible.
Return your dresses. Send your try-at-home dresses back to us within your three day booking period using the pre-paid shipping label included in your kit. If you've found the one, order her straight from our website - we'll credit the try-at-home cost to your purchase.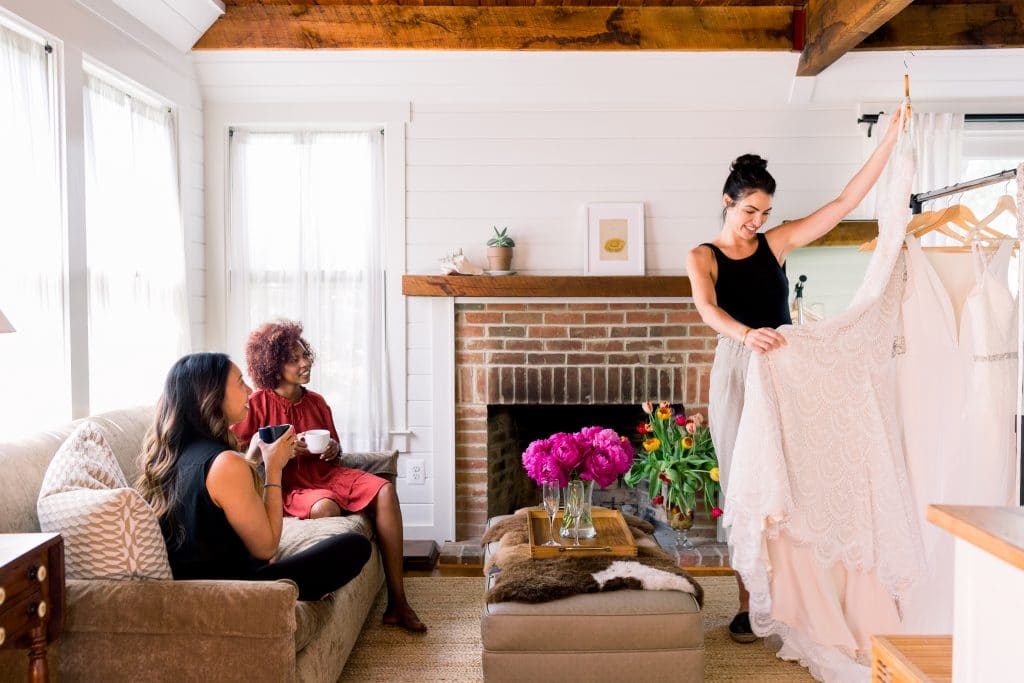 Sarah Bradshaw Photo
Here to help!
Easy, right? With our try-at-home program, Grace + Ivory brides all over America are discovering how easy it is to find a wedding dress on your own terms. But wait! There's more!
We know that try-at-home is a new experience, which is why we have a comprehensive FAQ section. But we're always happy to put busy minds at ease. At Grace + Ivory, we are big fans of transparency. We don't want to be giving any unexpected surprises.
How much does it cost? Each dress costs $25 to try at home. This covers shipping, the materials in your kit, and the booking fee. If you purchase your dress, the cost is credited back to you!
What if something happens to the dress? Relax! Wear and tear is normal and expected. If something is off or a button falls off, just let us know. Having said that, please don't spill red wine (or champagne) on the dress. But we know you'll be careful.
How do I know what I'm looking for? If you've never tried on a wedding dress before, have any further questions about the try-at-home process, or just need some advice - reach out! Grace + Ivory stylists are here for you. If you want our advice before you try anything on, email us at hello@graceandivory.com to book a consultation. If you want advice while you're trying the dresses on, email us at at hello@graceandivory.com to book a consultation. If you're looking for ways you can customize your made-to-measure dress, read this blog post about ways to customize your Grace + Ivory dress.
Or, y'know, email us at hello@graceandivory.com to book a consultation. We love to help.
Lacy dress. Photography: Savana Mayfield
The advantages of Grace + Ivory
As you can see, there's a lot to like about trying wedding dresses on at home. And there are a lot of things that set Grace + Ivory apart from other try-at-home programs.
First is the fact that our dresses are made-to-measure. This allows us to be super flexible, which means you are in charge. Because all of our dresses are made-to-measure, we can get your dress to you in as little as three to four months. That's way faster than most bridal boutiques!
On top of that, our process gives you a lot more room to customize different parts of your dress. Want a longer train? Done. Want a different underlay color? Easy. Want a ribbon belt? No problem! We're here to make your dress the one of your dreams.
As we've mentioned, we're here for you every step of the way. Reach out and ask us questions! We love to hear from you.
Melanie dress. Photography: RT Faith Photography
So what are you waiting for?! Book online your Grace + Ivory try at home wedding dresses today!