Grace + Ivory proudly highlights other wedding vendors and brands through our Business Done Differently series. This week, we had the pleasure of interviewing one of the two kickass women who founded The Groomsman Suit, where you can buy the perfect wedding suit or tuxedo for the same price as a rental. On top of that, Grace + Ivory is currently doing popup bridal appointments on Sundays at TGS's Chicago showroom - book your appointment now!
---
---
G+I: Hi Jeanne, thank you for joining us. How did you get started with the Groomsman Suit? 
Jeanne Foley: In 2013, I got married and asked nine groomsmen to rent tuxedos from a big box store. I noticed the day of my wedding that the tuxes didn't fit very well. No one complained. The day after my wedding, I returned two of the tuxes for my brothers (because if you don't return them the day after, you get charged a fee!). When I dropped the tuxes off, I saw the receipt....$250 per tux! That's when I realized there could be an opportunity to provide a better option. I partnered with my childhood best friend and business expert Diana Ganz to launch the company in 2016.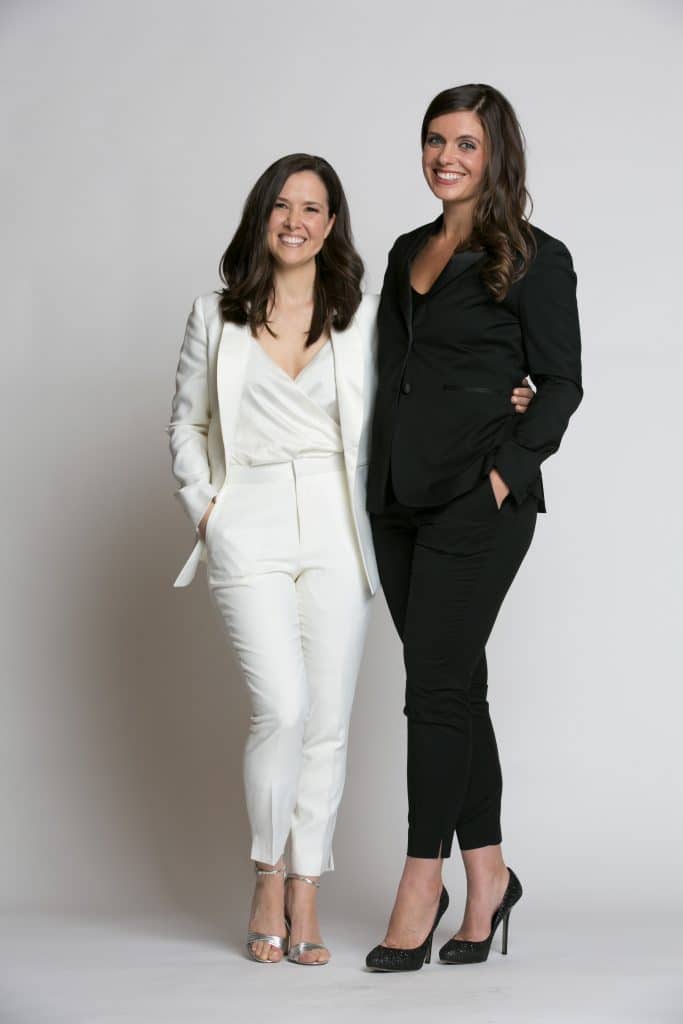 Kickass women co-founders of The Groomsman Suit, Jeanne (left) and Diana (right)
What have been the biggest challenges getting The Groomsman Suit off the ground? How did you overcome these to find the success you have today? 
The biggest challenge for any new business is getting people to find you! As an ecommerce brand, we had to find a way for people to visit our website and make a purchase. With very little (actually zero) marketing budget we started to connect with wedding experts to generate organic referrals. We connected with hundreds of wedding planners to build a referral source. We also wrote a TON of articles focused on helping couples plan their big day which grew our website SEO and led to strong organic website traffic. As we grow, we rely heavily on organic traffic and continue to focus on industry expert relationships and providing great content, services, and product to our customers. Word of mouth continues to be our #1 marketing method, which is critical for any growing business that has a focus on profitability.
What is your favorite thing about running your company? 
I love the creativity, independence, and flexibility. I also love our team -- I get to work with my best friend every day and share the passion we have for this business. We have also been strategic with the people we hire and have such strong relationships with all of them. There is nothing like loving the place you get to go every day for work and the people you work with. It's like a family!

Perfect together: Charcoal Suit from The Groomsman Suit paired with our Madison Dress
Similar to Grace + Ivory, you offer high quality wedding attire at a lower price point. How have you managed to do your business differently to achieve this?
The majority of suiting in the US has a significant mark-up because most retail stores purchase product wholesale. There is also a huge rental market in the US for special events and the mark-up/margins are extremely high - it's why that model has dominated the business world for so long. Being consumers, we wanted to change that and provide a direct-to-consumer model that cuts out a lot of the middlemen and avoids passing unnecessary mark-up on to our customers.
The biggest focus for us was quality and fit. We knew that for this to work, we had to provide a higher quality product and an updated fit that was inclusive of all of the body types and sizes that can make up a wedding group. Everyone should be able to afford a high-quality, great-fitting suit that they can keep and wear again.
We offer the largest size range of any suiting brand with sizes from 34-60 in two fit types and three lengths – this allows us to get a like-custom fit at a fraction of the price. Customers tell us all the time that they were worried they wouldn't find the right fit because they typically have trouble finding good fitting clothes. They are beyond thrilled when the suits fit them perfectly right out of the box!
What else makes The Groomsman Suit stand out as the place to find the perfect wedding suits?
Aside from the great product, we are really known for our customer service. We know how stressful it can be planning a wedding and being a part of a wedding. So, we work really hard to create an enjoyable and stress-free process.  We offer a ton of free services like fabric swatches, an at-home try on option, and of course fast and free shipping and returns. We are experts at group coordination and making sure the whole group gets suited up with the correct items, on time.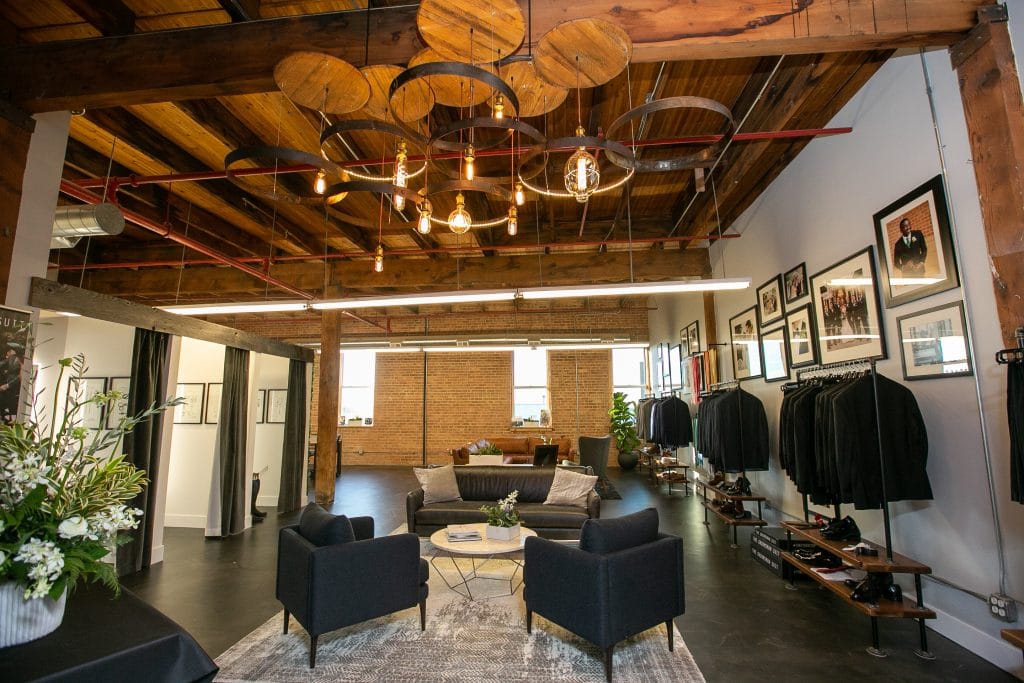 The Groomsman Suit showroom in Chicago, Illinois
What are five tips for finding the perfect wedding suit fit? 
Basically, you need to pay attention to the fit around the shoulders, jacket and sleeve length, jacket closure, pant fit, and pant length. You can check out our blog with handy visualizations for the five steps to find the perfect wedding suit fit here.
For the shoulder fit, the seam on the top should meet the sleeve where your arm meets your shoulder.
The jacket length should fall to the middle of your hand or just past your knuckles.
When you button the jacket, it should close without any deep wrinkles. A small opening at the bottom is fine, but you shouldn't be able to see a large triangle of shirt below the button and above the pants.
For pants, we strongly recommend a flat front pant since they're more flattering in photos.
The best way to get the right pant length is to go to a tailor and have the pants tacked while you're wearing your dress shoes.
There's way more detail in the blog post, so definitely check it out!
Since we're a social enterprise, we have to ask... how do you use your business to bring more good to the world?
We are super excited to be partnering with the Good+Foundation to donate suiting and accessories. Giving back is in our DNA so this partnership is really special for us. We also partner with ethical manufacturers who exceed labor requirements and support their local communities. We are also working towards using recycled materials in our suiting and plan to roll that out as our 2021 initiative. Consumers are paying attention and choosing to order from brands that understand sustainability and ethical manufacturing. We are a brand that is focused on making sure we are leading the way!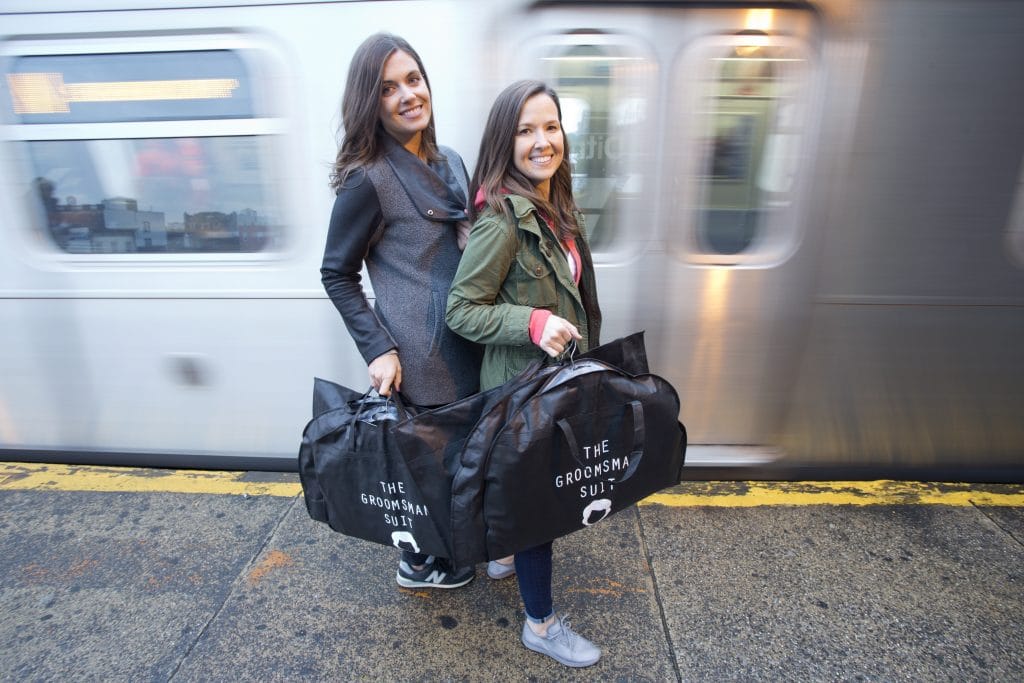 Diana & Jeanne in Chicago, Illinois
Thanks Jeanne! How can our readers reach you online or on social media?
Visit our website at www.thegroomsmamnsuit.com
Facebook: https://www.facebook.com/thegroomsmansuit/
Instagram: https://www.instagram.com/thegroomsmansuit/