Look, we love big weddings. Really love them. We just want to point out though… having a mini wedding, micro wedding, minimony, whatever you want to call it… well, it can be pretty great too.  
Maybe it's not the dream wedding you always imagined, with a big party and lots of hugging. If you don't want to postpone your big day any longer, a mini wedding might just be your answer! Or, as our friends at The Knot suggest, have a "minimony" now to get your vows done and dusted, and save the party for later.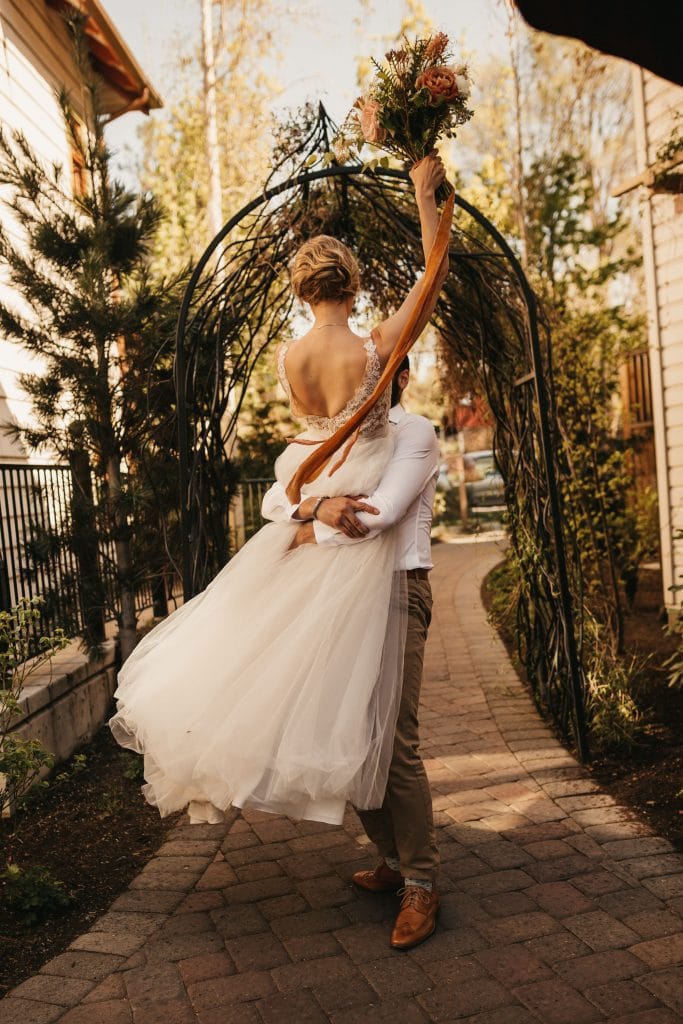 Gemma dress | photographer: Emily Vandehey
The main idea of the micro wedding in these times, though, is that it allows you to celebrate your love safely while maintaining social distancing guidelines. For more information about how to gather safely and protect yourself and your loved ones against Covid-19, take a look at the CDC advice.  
Check out the benefits of a mini wedding. First, a smaller guest list (usually 20-50 people) means you get to be more selective about who gets to come (no dodging your drunk distant relative!). Second, you'll get to be a little more creative when it comes to location. On top of that, you can build social distancing and safety measures into your plans so that any at-risk family and friends can still celebrate with you.  
Best of all, mini weddings are all about the details. It's way easier to plan everything to the letter when you're managing a smaller space and fewer people.  
We browsed Pinterest to find some gorgeous mini wedding ideas and tips. Check them out! 
1. Be picky about the setting.
We've seen a lot of outdoor and backyard mini wedding inspiration, but don't feel like a smaller wedding means it has to be more casual. Most wedding venues have a variety of options of rooms and environments. A big room might make your party feel tiny, but that could add to the intimacy of the day! It's probably better (and safer!) than cramming 20 people in a 25-max space.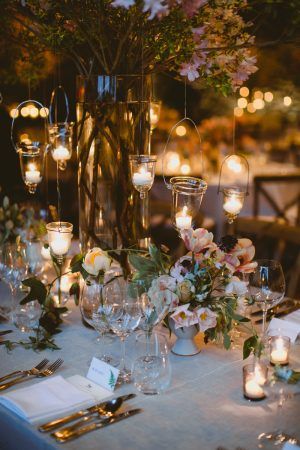 This secret garden style is soooo lovely!
2. Don't assume it will be cheaper.
As we said, mini weddings are all about the details. If you wanted to, you can spend the same amount as you would on a bigger wedding. Some micro weddings end up costing more per guest in order to create personalized experiences that make it a truly special day for every guest. Of course, mini weddings can also be a great money saver, too, especially since a lot of venues are running great package deals for smaller guest lists.  
If you are looking to minimize costs by having it in your backyard, that doesn't mean you can't have a black-tie dress code! 
3. Discuss your guest list – and don't be afraid to say no.
While a guest list of 100+ people means that you get to invite everyone, there's also a lot of freedom that comes with a guest list under 40 people. You don't have to invite your mom's cousin's kids just because they invited you to theirs. Sorry mom's cousin's kids, space is limited, and not everyone can make the cut. When they see how intimate the photos are afterwards, most of those guests will understand.  
Worst case scenario, you can always lean on the CDC guidelines for how to gather safely. Larger numbers = less safe, especially if people are traveling long distances to get there. 
4.
Look out for venues and vendors that specialize in intimate/small weddings. 
You wouldn't hire a single acoustic guitarist to provide wedding music for 200 people. Likewise, it probably doesn't make sense to hire an 11-person band for your 20-person micro wedding. Big weddings are a big industry – but there are plenty of venues and vendors that specialize in small celebrations.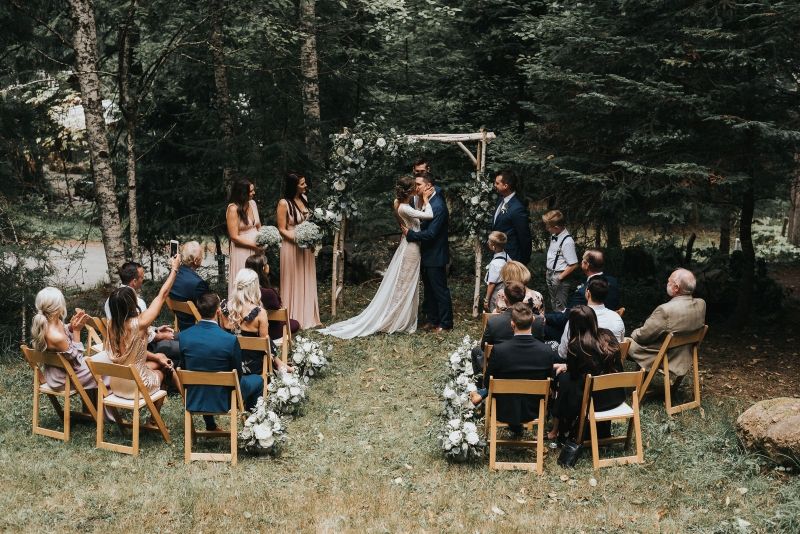 We love this earthy, outdoor micro wedding at Olympic National Park in Washington state. Our Felicity dress would be gorgeous in this setting!
In the current crisis, a lot of places that focus on elopements have been showing how they can cater well to an intimate party (and some are even offering package deals!). There's a reason certain vendors prefer smaller guests lists – they can do their job better that way! Make sure you take full advantage. 
5. Have a
minimony
 – party later!
We can't blame you if you're not willing to kiss your dream wedding goodbye. But there's no reason you and your boo have to delay your matrimony! Invite your immediate family and have your wedding ceremony at your pleasure. Save the party for when it's safe! You could even wear your wedding dress twice if you keep the minimony private enough.  
6. Be creative!
This day is all about YOU, and a smaller wedding means that executing your wildest idea may not be so wild. With less than 50 people, you don't have to worry about impressing your extended family and social circle. Fewer guests means more personalization and more flexibility. Don't be afraid to explore your more creative side as you plan!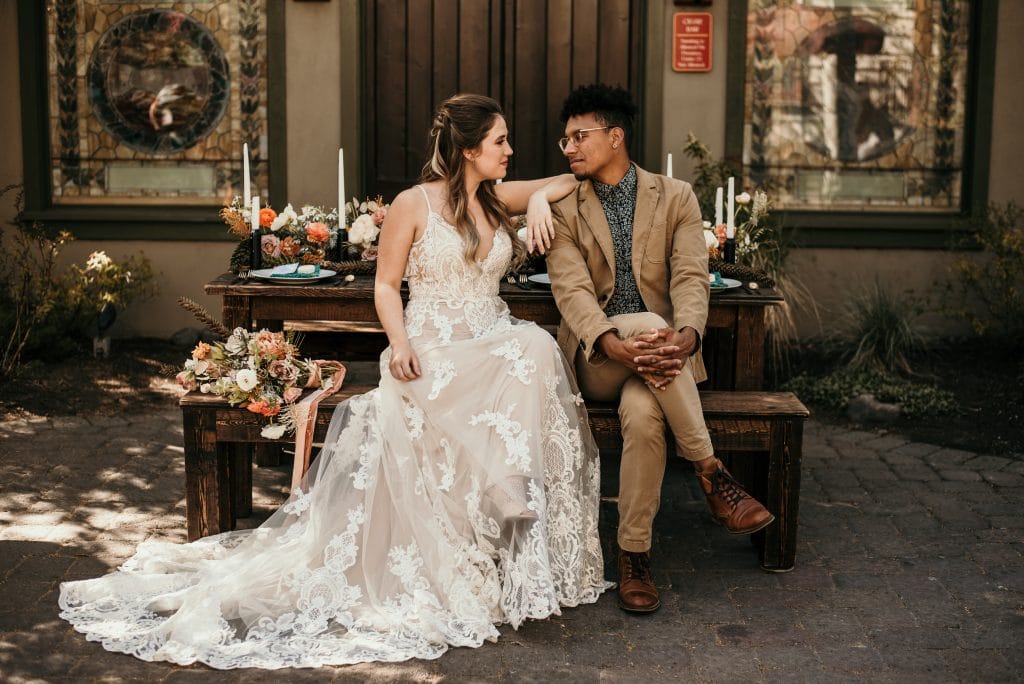 Nia dress | photographer: Kylie Flood
7. Be safe.
Yeah, we said six, but we added a seventh for good measure. Above all, we want you to have a wedding that keeps everyone healthy. Safety should be the first priority for your wedding day. Make sure you check (and adhere to!) local guidelines on distancing measures and gatherings.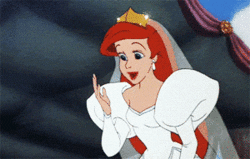 Featured image: Nia dress | photographer: Kylie Flood