With the Thanksgiving feasts over and the holiday shopping underway, you may be searching for a bride gift or two (the wedding boom is real) this holiday season. But what do you get a bride-to-be especially when she's already received the sparkliest gift of all? We've got you covered! Whether she's yet to begin planning, is knee-deep in decisions, or on the tail-end of the madness; we have a bride gift for every step of the way, for every kind of bride.
Bride Gift Guide: For The Organized Planner
A good planner is an essential for any bride just beginning to plan her wedding. Especially if she's getting engaged this upcoming holiday season.  Just be careful to save the gift till after the question is popped to avoid any spoilers.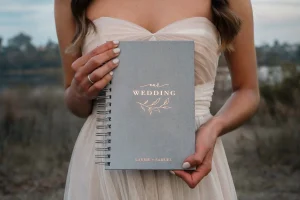 She'll be eager to dive into this adorable wedding planner from Etsy seller, The Paper Memory. Equipped with important checklists and timelines, your bride won't miss a detail. Plus with color options and name personalizations, this bride gift is as thoughtful as it is useful.
---
Bride Gift Guide: For The Hassle-Free Bride
For the bride on the hunt for the perfect wedding dress, a Grace + Ivory try-at-home gift card would be a unique and welcomed gift. If she wants value for her money without any of the hassles…the pushy associates, little privacy, tulle that's better off on a toddlers tutu… the Grace + Ivory bridal experience speaks to her needs.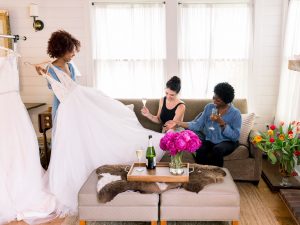 With a try-at-home gift card she can choose what sample gowns she'd like to try on and even when she'd like to do it. She can try on alone, with a trusted friend, or even invite mom and the entire bride squad over for mimosas. She'll thank you for the hassle-free experience, especially if she says YES to a dress.
---
Bride Gift Guide: For The Luxe Bride
Bride stenciled champagne flutes and wine glasses are a dime a dozen. While they are a fun stocking stuffer, they will most likely be used once and then given away…or "lost" in a move. Instead opt for a champagne flute set that can be used for all events pre and post nuptials, like these pearlized beauties.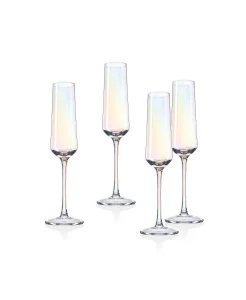 Give the bride in your life something that feels luxe but is still fitting for all her bridal events. The Monterey Champagne Flutes from Godinger retails at $88 dollars for a set of four but you may be able to catch a Macy's sale…run don't walk they are currently $26.59!
---
Bride Gift Guide: For The Sentimental Bride
From the bachelorette to the bridal shower to the wedding after party, your bride will want to document it all. What better way than a mini Polaroid camera so she can instantly compile all her memories! While these cameras can be found at any target or wherever you shop online, we recommend a few of these mini scrap books from Etsy seller, Polaroids by JJ.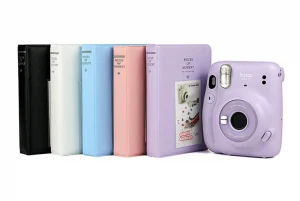 They come in a variety of colors and fit up to 64 pictures inside. Plus they'd make for an adorable coffee table book once your bride fills it with pictures of her loved ones.
---
Bride Gift Guide: For The Bride Who Loves to Accessorize
With many events to wear white for in her future, a small white bag or clutch is definitely needed. It's easy to forget about the accessories when putting together your wedding wardrobe, so why not take this one off her plate. We say skip the engraved Bride or "Mrs." bags and opt for a more classic design. This way she can wear it again or lend it out to a sister or friend.
Keep it simple with "My Beading Heart" clutch from Lulu's or opt for a party accessory like the "I Do" bag from Show Me Your Mumu.
---
Still not sure what to get a bride?
If none of these feel quite right for the bride you're shopping for, she may be someone who values experiences over material things. In that case, a dancing package may be the perfect gift this holiday season. The first dance can be the root of some pre-reception nerves…is everyone looking at me? Do I twirl now? Did he step on my dress? Alleviate some worry and gift the couple some much needed practice. Or if they're confident dancers, it'll be a fun date night spent doing something they love.