With the Holiday shopping season already underway, you may be searching for the ultimate bride gift (or two) for your recently engaged friends or family. But what do you get a bride-to-be this year, especially when she's already received the sparkliest gift of all? We've got you covered! Whether she's yet to begin planning, is knee-deep in decisions, or on the tail-end of the wedding madness; we have a bride gift for every step of the way, for every kind of bride. 
Bride Gift Guide: For The Organized Planner
A good planner is an essential for any bride just beginning to plan her wedding. Especially if she's getting engaged this upcoming holiday season.  Just be careful to save the gift till after the question is popped to avoid any spoilers.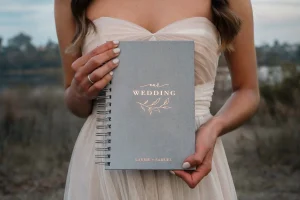 She'll be eager to dive into this adorable wedding planner from Etsy seller, The Paper Memory. Equipped with important checklists and timelines, your bride won't miss a detail. Plus with a variety of color options, fonts, and personalizations, this bride gift is as thoughtful as it is useful. Add in a pretty pen to complete your holiday bride gift!
---
Bride Gift Guide: For The Hassle-Free Bride
For the bride on the hunt for the perfect wedding dress, a Grace + Ivory try-at-home gift card would be a unique and welcomed gift. If she wants value for her money without any of the hassles...the pushy associates, little privacy, and scratchy tulle... the Grace + Ivory bridal experience speaks to her needs.
Grace + Ivory's Ruth Dress (right)
With a try-at-home gift card she can choose what sample gowns she'd like to try on and even when she'd like to do it. She can try on alone, with a trusted friend, or invite over mom and the entire bride squad for mimosas. She'll thank you for the hassle-free experience, especially if she says YES to a dress. Plus with Grace + Ivory's just released 2022 dress collection, she can shop the latest trends and bridal styles.
---
Bride Gift Guide: For The Detail-Oriented Bride
If the bride on your shopping list knows it's all in the details...you can bet she already has her eye on this next gift. A velvet ring box is a thoughtful and personalized tiny detail that will elevate the photo-opts on her wedding day and make for a lovely keepsake. Unlike the many inscribed bride items she'll receive this year, this is a gift she can use long after she says "I do."
The Mrs Box offers 44 custom velvet colors in a variety of shapes, sizes, and personalization options. You'll build your bride's box to match her wedding style, so it'll truly be one of a kind!
---
Bride Gift Guide: For The Sentimental Bride
From the bachelorette to the bridal shower to the wedding after party, your bride will want to document it all. What better way than a mini Polaroid camera so she can instantly compile all her memories! The fujifilm Instax cam can be found at any Target, Walmart, or on Amazon (especially if you're on a time crunch!)
We especially recommend pairing this sentimental bride gift with a personalized mini polaroid photo album from Etsy seller, Amywoodendecor.  With a variety of fabrics and engraving options, this gift would make for an adorable coffee table book once your bride fills it with memories from all her wedding events.
---
Bride Gift Guide: For The Bride Who Loves to Accessorize
With many dress up events in her future, jewelry is always a great bridal gift idea! It's easy to forget about the accessories when putting together your wedding wardrobe, so why not take this one off her plate. We love Trending Above's bridal jewelry line for hand-crafted, quality, jewelry that is affordable but unique.
Paired with Grace + Ivory's AdeOla dress.
Go bold with a statement piece like Trending Above's Drop Down Earrings or keep it simple and modern with the Austyn Earrings. If you're unsure what piece best vibes with your bride's style, you can't go wrong with the gift-card option.
---
Still not sure what to get the bride on your shopping list?
If none of these feel quite right for the bride you're shopping for, she may be someone who values experiences over material things. In that case, a dancing package may be the perfect gift this holiday season. The first dance can be the root of some pre-reception nerves...is everyone looking at me? Do I twirl now? Did he step on my dress? Alleviate some worry and gift the couple some much needed practice. Or if they're confident dancers, it'll be a fun date night spent doing something they love.
Grace + Ivory's Madison dress.