After the post-engagement bliss begins to settle, locking in your wedding date is not far behind! While choosing a Chicago wedding venue is no simple feat...it's also not a decision you'll want to push off if you're thinking of tying the knot in the next year or so. From the overall aesthetic, to the amenities, and the location; we get it can be hard to find a venue that checks off every box. Especially when it's a decision you have to make with your budget in mind.
We're listing out our favorite Chicago wedding venues for every bridal aesthetic to save you valuable research time. Since Grace + Ivory is a Chicago-based bridal brand, our team has personally visited and can attest to the WOW factor of the venues that have made our list. So if you're struggling for where to start, you can start by scrolling here!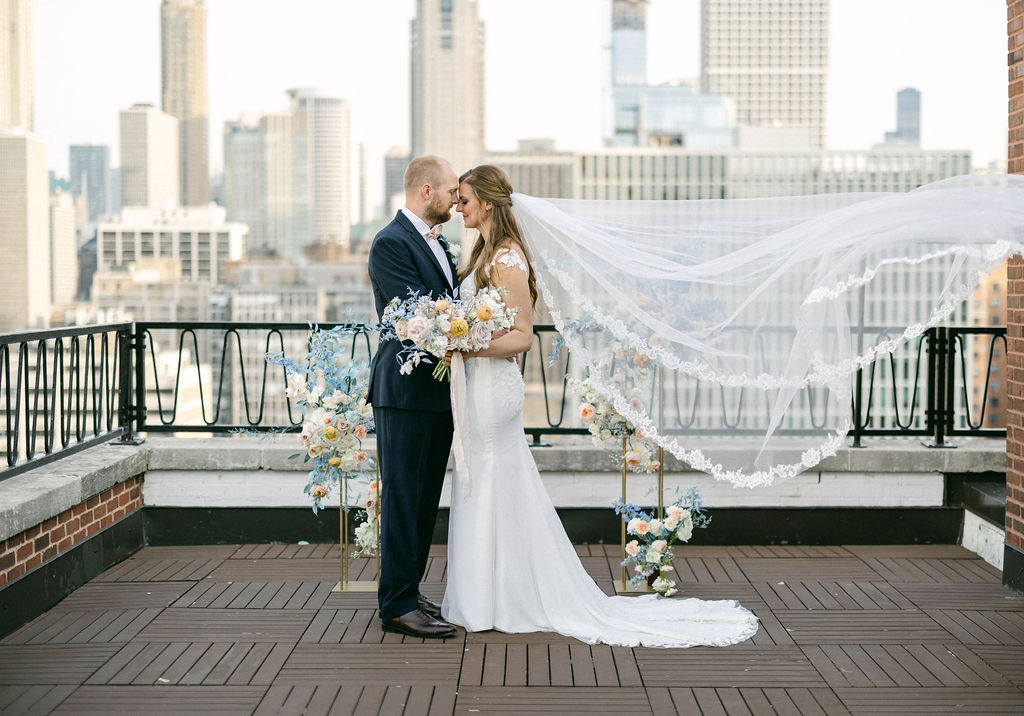 Our Tessa Dress in a rooftop ceremony at The Ambassador Hotel.
For An Industrial Chicago Wedding
Loft Lucia; Located in the Chicago West Loop, this stunning private venue features oversized industrial windows, exposed brick walls, and a dazzling rooftop terrace. It's an ideal all-in-one space for a more intimate wedding, up to 150 guests. With metallic chandeliers and great city views, a Loft Lucia wedding is an industrial venue that is overall modern and romantic.
Grace + Ivory's Tabitha dress at Loft Lucia. | Photographed by Daniel Kelleghan.
Walden; Located in Chicago's West Town Neighborhood, Walden describes itself as light, bright, and airy with modern industrial touches. This two story interior (at 19,000 square-feet!) can accommodate up to 300 seated guests. With food and bar taken care of onsite, it's ideal for the couple who loves the warehouse loft look, but doesn't want to juggle ten vendor contracts. The best part? Full-service planning is included!
Grace + Ivory's Tessa Dress at The Walden | Photographed by Ed & Aileen Photography.
Bridgeport Arts Center; Featuring two unique spaces, The Skyline Loft and the Sculpture Garden Gallery, The Bridgeport Arts Center is an industrial wedding venue to add to your must-see list. This venue offers sweeping views of the Chicago skyline that will wow any out of town guests, without the downtown hassle. We also love that the Sculpture Garden features a covered outdoor space for a picturesque ceremony that doesn't rely on perfectly clear skies.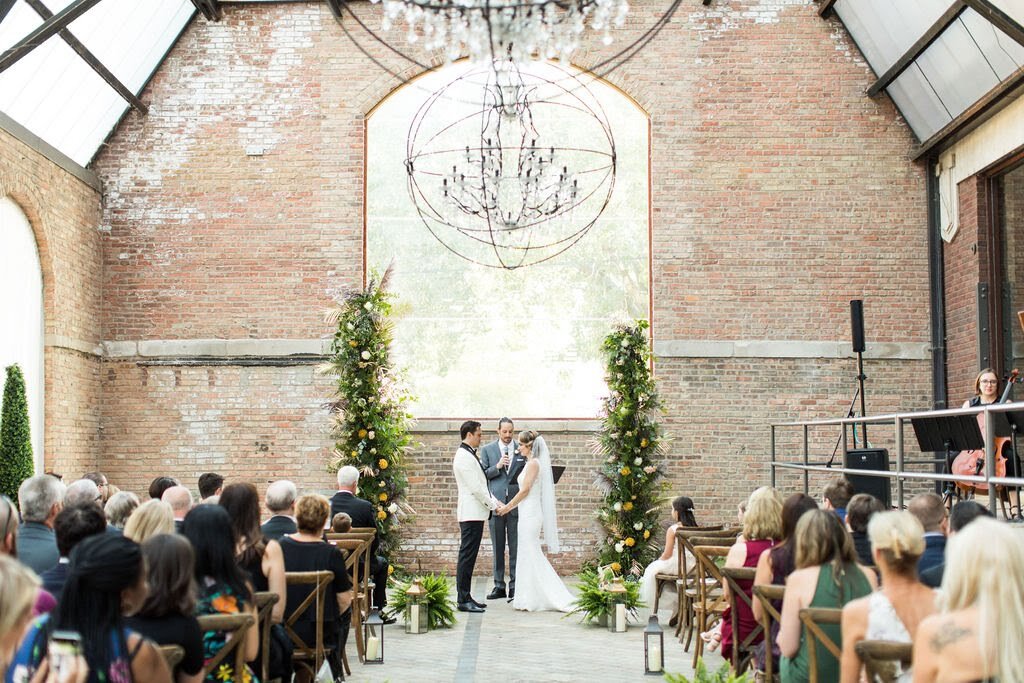 Zachera Wollenberg Photography
For An Artistic Chicago Wedding
Lacuna Lofts; Located in Chicago's artistic Pilsen neighborhood, Lacuna Lofts features unrivaled views of the Chicago skyline and in-house art installations at every turn. With many unique design elements, such as the steampunk chandelier, shipping container entrance, and plenty of neon lights, a Lacuna Loft wedding is not your typical loft-style wedding. We especially recommend the rooftop for your skyline ceremony or cocktail hour!
Grace + Ivory's Sienna Dress at Lacuna Lofts.| Photographed by Armentos Weddings.
Salvage One; Located in Chicago's West Town neighborhood, this 60,000 square foot warehouse is the perfect blend of vintage Chicago and industrial art. With an eclectic mix of furniture and art pieces, this is a venue that will speak for itself without the need for an elaborate décor budget. Get married in the outdoor ivy courtyard or keep it intimate inside with glittering chandeliers and Greek columns!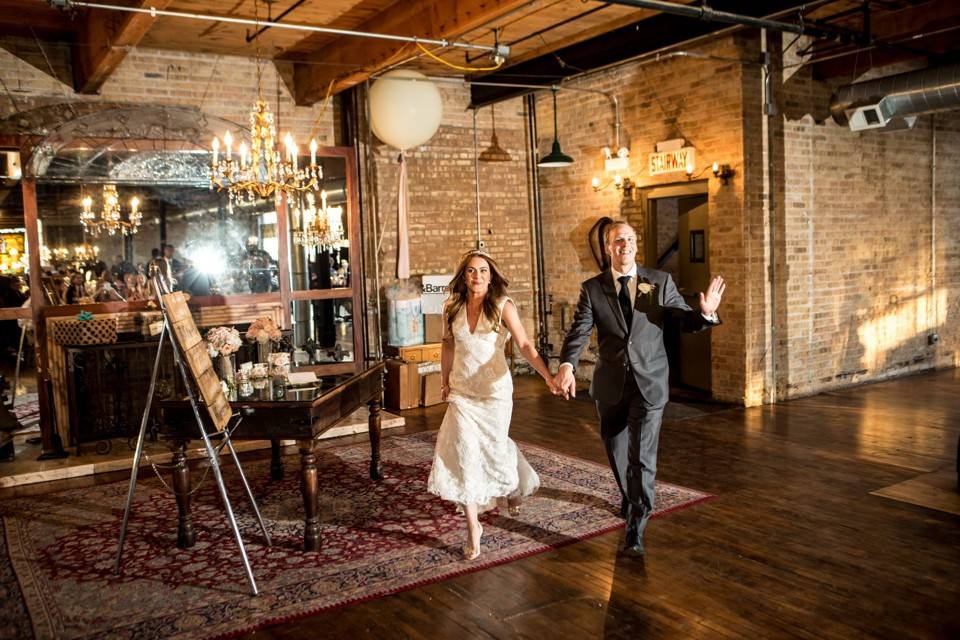 SOPHY Hotel; If you're looking to throw an intimate Chicago bash that is sophisticated and modern, The SOPHY Hotel is an all-in-one wedding venue that'll check off every box. Located in Hyde Park, the SOPHY embodies the passions of the art, science, literature, and music of the historic neighborhood. Ideal for 50-75 guests in the stunning Mesler dining room for an intimate and stylish affair!
Grace + Ivory's Art-Deco Kali Dress at the SOPHY Hotel. | Photographed by Candace Sims.
For A Modern Chicago Wedding
Greenhouse Loft; Located in Chicago's Logan Square neighborhood, Greenhouse Loft features floor to ceiling windows, an outdoor sky garden, and modern light fixtures and beams. It's a fully customizable, open space that includes a unique vintage-style photo booth. It's an ideal Chicago wedding venue for the couple that has a specific vision for a blank canvas event space without any of the frills (and the premium price tag that comes with it!) .
Grace + Ivory's Sienna Dress at Greenhouse Loft. | Photographed by K.Herman.
Room 1520; A personal favorite of our Grace + Ivory brides, Room 1520 is the perfect blend of modern white walls and art-deco design. Located in Chicago's West Loop, this venue is ideal for a couple that wants a fully customizable, flipp-able space...with a fun built-in cocktail area. With beautiful chandeliers and white marble bar, Room 1520 is not short on wow factor.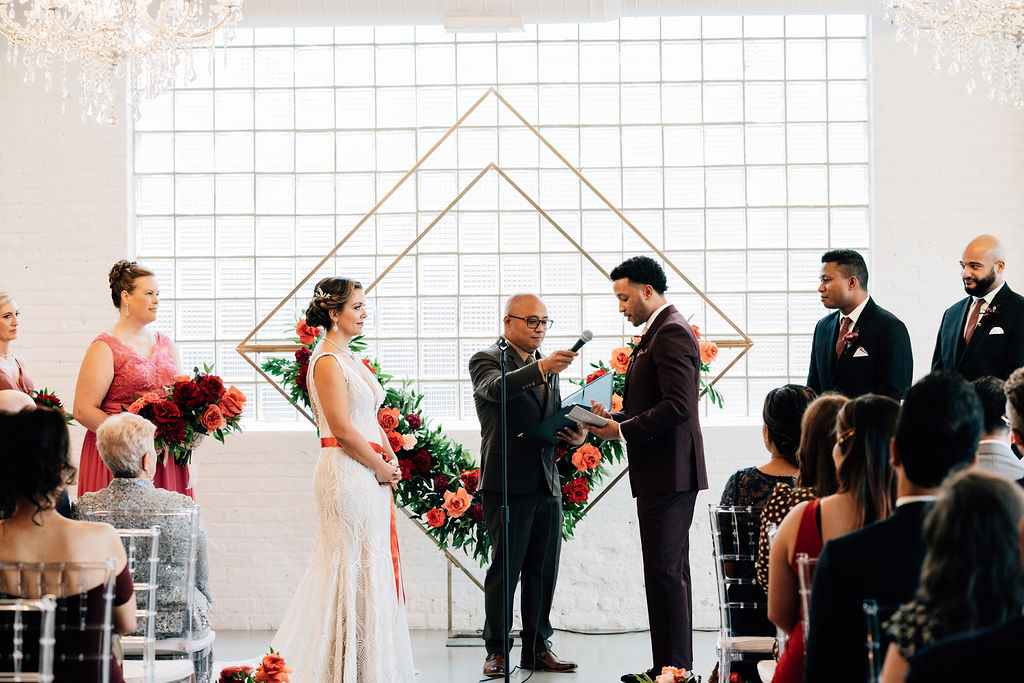 Grace + Ivory's Kali Dress at Room 1520. | Photographed by King & Opal.
The Arbory; Described as lush greenery meets industrial warehouse, this West Town Chicago wedding venue is perfect for our modern aesthetic Chicago couples. With 8,000 square feet of two multi-use spaces, industrial skylights, and modern murals...you can transform the space how you like and let your vision shine through. We especially love the included video booth!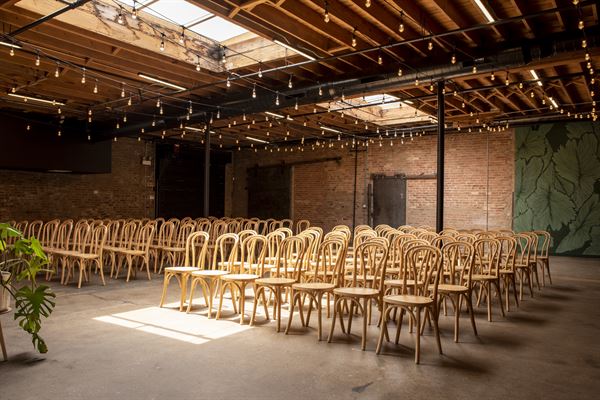 For A Quintessential Chicago Wedding
Chicago Athletic Association Hotel; Located in downtown Chicago, this historical and elegant venue embodies Chicago in unique architectural details throughout the entire hotel. With two beautiful ballroom spaces to choose from (or both!), millennial park views, and plenty to do for out-of-town guests...this is a venue ideal for the couple who loves Chicago through and through. We especially love their late night bites menu that includes mini Chicago-style hot dogs!
Collin Pierson Photography - Erika + William Wedding
Ambassador Hotel; With a picturesque perfect rooftop setting and sophisticated architectural details, the Ambassador Hotel is a Gold-Coast wedding to remember. This is a venue ideal for a more intimate guest list, from 10-80 guests, for plenty of historic spaces to choose from for ceremony, cocktail hour, and reception. Besides the newlywed couple, the skyline views will be stealing the show!
Grace + Ivory's Tessa dress at the Ambassador Hotel. | Photographed by Chantal Pryor.
Chicago Firehouse; Located in Chicago's Northside, The Chicago Firehouse blends rustic Chicago with delightful ceremony gardens. High ceilings, white-glazed brick, and a fire pole for an on-brand (and fun) reception entrance all combine for a historic Chicago wedding venue unlike any your guests have been to before. And it's Grace + Ivory bride approved!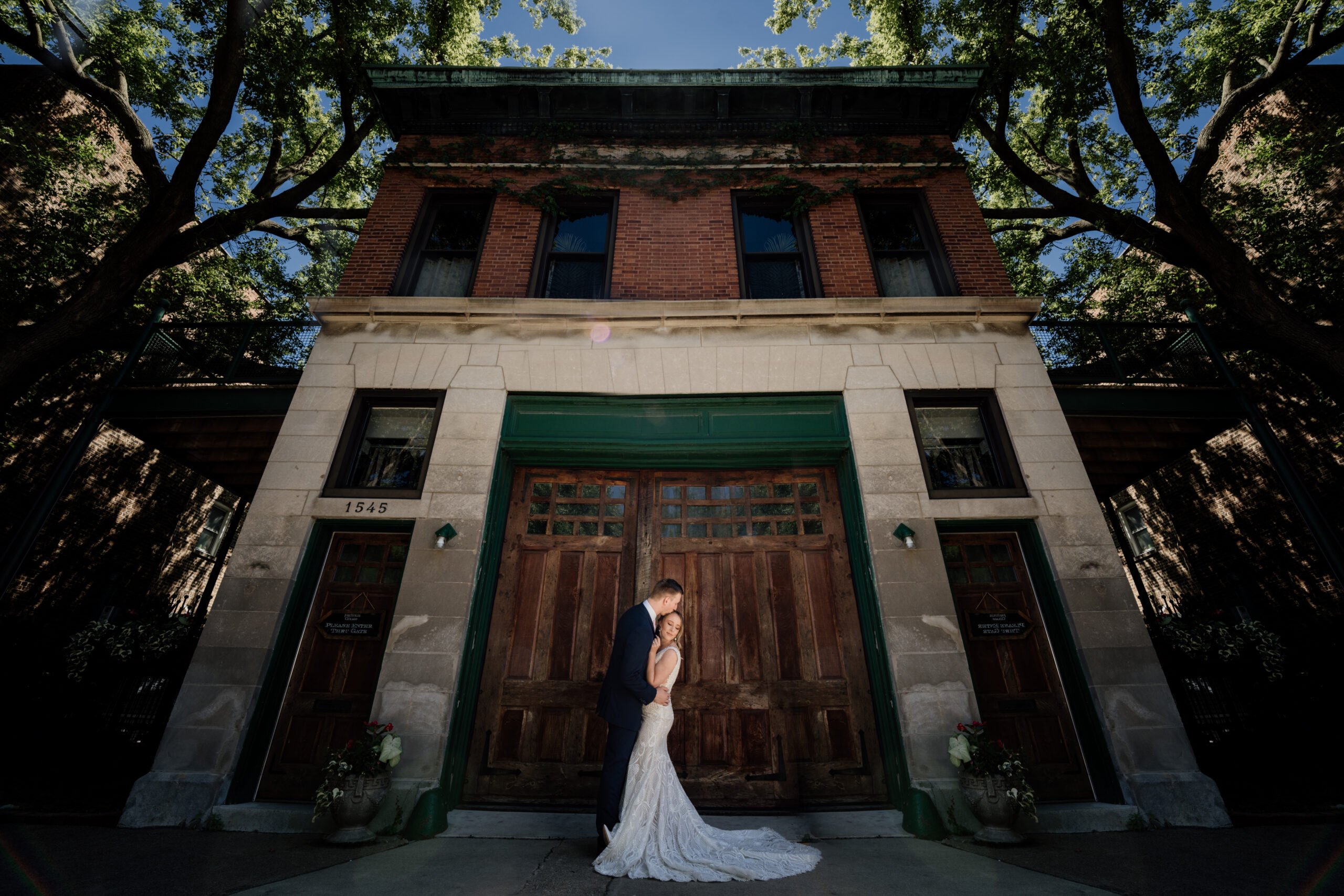 Grace + Ivory bride, Katie, in the Kali dress at the Chicago Firehouse. | Photography by Aspen Avenue. 
Found your Chicago wedding venue? Click here to book your wedding dress appointment with us to shop these looks and more!