Queue the wedding bells (or whistle tones!) On May 15, singer and actress Ariana Grande married real estate agent Dalton Gomez at her home in Montecito, California with what seemed to take the cake as the minimony of all minimonies. With 20 of her closest friends and family by her side, Grande joined a number of brides who didn't let a pandemic halt their plans for celebrating love and union. Because we love a good at-home wedding situation, we're breaking down steps to achieve the look and ceremony of the Grammy winning artist! 
1. It All Starts at Home
In true Grande bridal fashion, your wedding experience must begin in the comfort of your own home, starting with locking in your dream dress. Our flagship At-Home  Dress Try-On program will allow you the opportunity to get a selection of gowns from your choosing delivered to your door so you can hop into a number of beautiful styles. Invite family over, pop champagne, Facetime relatives, get in full glam to really envision the look, or don't! This is an experienced catered to you, by you.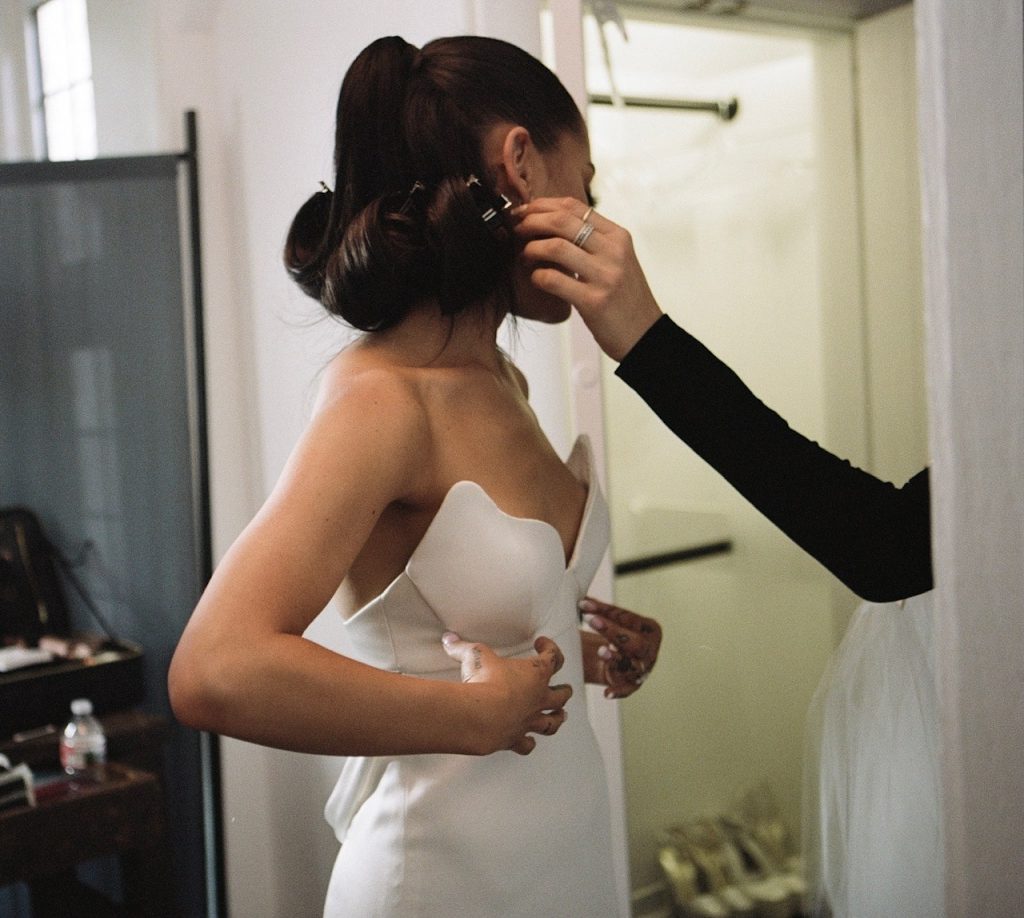 2. Get The Grande Look
Grande, who channeled film and fashion icon Audrey Hepburn with her bridal look, wore a Vera Wang Haute gown composed of a custom lily white, silk charmeuse empire-waist column gown. Finished with a sculpted neckline, an exposed bra-strap closure, and a plunging back, the pop-star redefined her term Dangerous Woman in the form of a classic, yet confident bride ready to make the aisle her stage.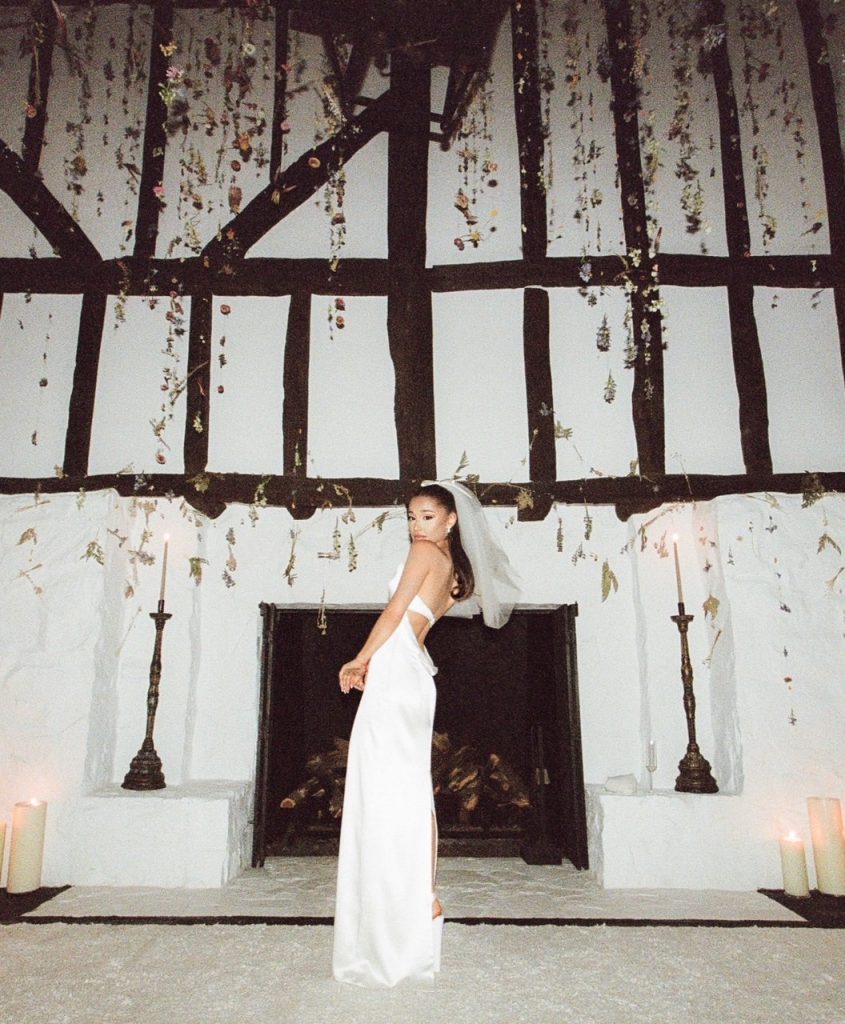 Ready to get the look Grace + Ivory style? Provided are a few picks to resemble Grande's one-of-a-kind look from our collection of gowns:
Pictured above, left to right, our Melody, Catalina, and Jessie dresses:
Melody makes us sing (hand us a mic, Ari!) With a crepe, Chantilly lace, this gown gives us an off the shoulder moment similar to Grande.
Catalina gives an effortless elegance with a classic strapless structure similar to Grande with a sweetheart neckline.
Jessie plays on the classic silhouette of Grande's look with a luxe crepe fabric, square neckline, and plunging back.
Not pictured: Grande's signature ponytail. Complete the look with white heels, a veil of your choosing, and delicate jewelry significant to you.
3. Final Touches: Add Flowers, and then Some More
The Grande and Gomez at-home ceremony decor consisted of moody and dark color-ways combined with an abundance of florals and greenery, creating the ultimate romantic ambiance.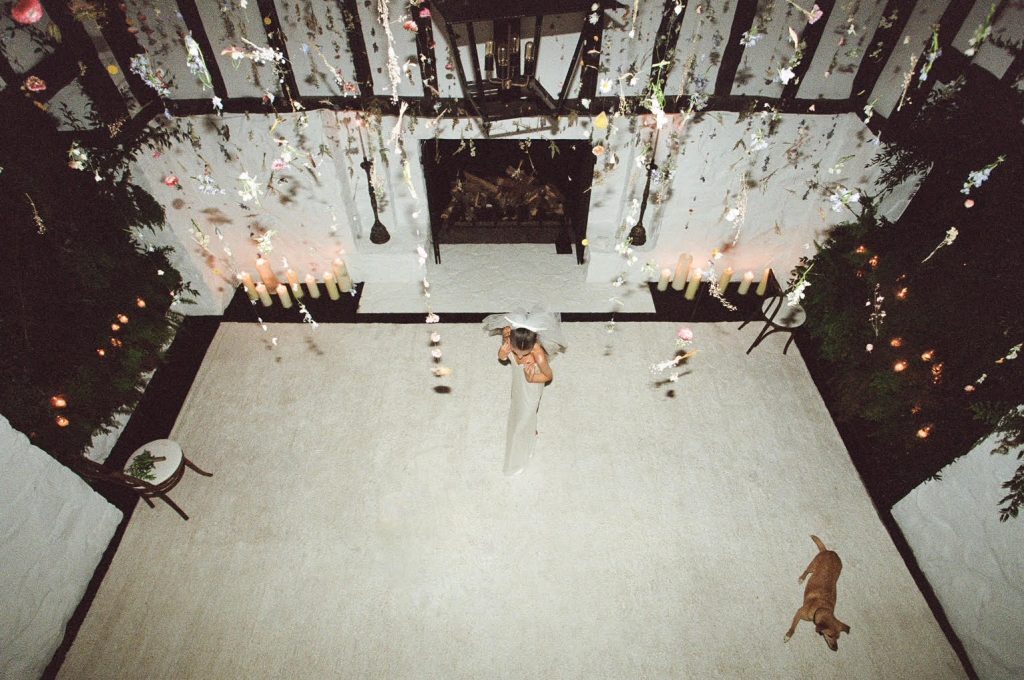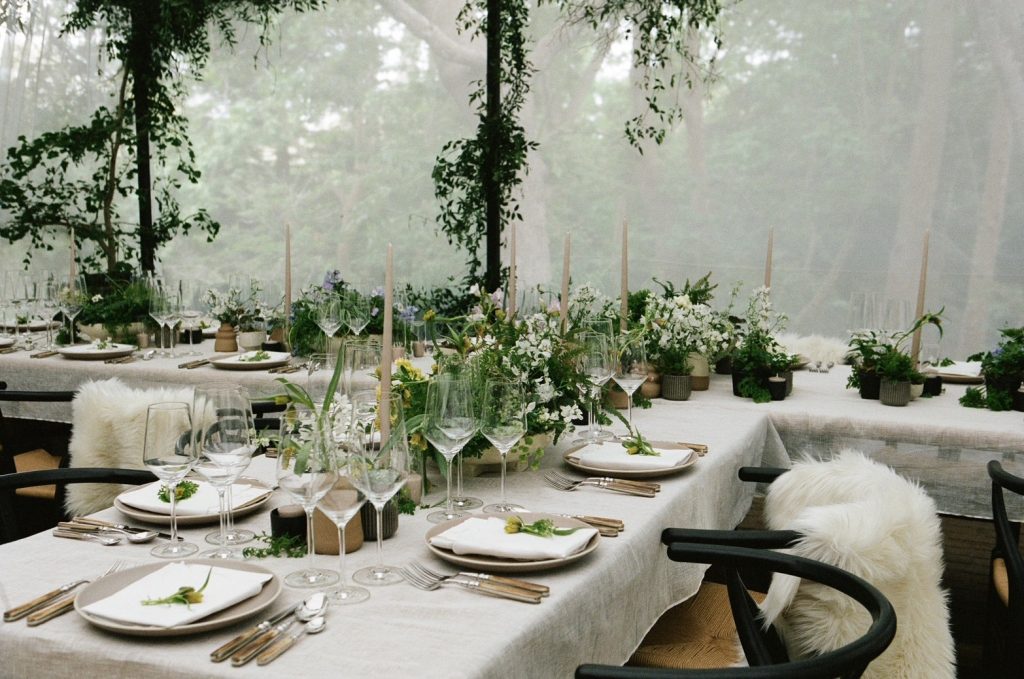 Delicate flowers draped from the ceiling of her home, affording attendees a whimsical getaway in the form of a wedding and we know we aren't the only ones dying to recreate this decor. Provided below are some of our favorite floral vendors who can help achieve the Grande experience: 
Pictured above, left to right, gorgeous greens and blooms from Nephew & Co, Good Earth Flowers, and Ashland Addison Floral Decor:
Nephew & Co in Kansas City is no stranger to greenery! Recreate the suspended floral look with a team that has a simple yet critical foundation for design which is very reminiscent of Grande's wedding decor. (Pictured: our Elise dress)
Good Earth Flowers bring a moody color that's guaranteed to be Grande approved. On the top preferred vendor list for major venues in Culpeper and other areas of Northern Virginia, their florals are available for weddings and events in DC, Maryland and beyond.
Ashland Addison Floral Decor has warmed hearts across Chicago for all occasions, especially weddings! Flowers were a vital part to Grande's ceremony, and this team can help provide just that with a touch of warmth and color.
And voila, a guide to having a sweet(ener) at-home wedding moment a'la Ariana Grande! Whether you choose to follow in the foot-steps of the pop-star or not, there's no doubt that you'll shine bright and look beautiful on your big day.