If you're starting to shop for your wedding dress, or maybe you've been shopping for a while, you're probably discovering that there's no one way to find your dress. I'm sure you've heard phrases such as, "Off-The-Rack," "Bespoke," and now...Made-to-Measure; but what do these buzz words even mean? And what measurements are keen once you've found the dress that makes you want to say "I Do!"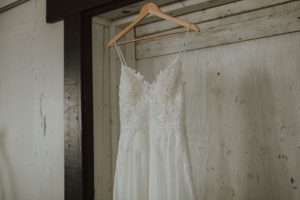 Something Old, Something New...
In the traditional bridal world, you go to a shop, try on a few wedding dresses (or a few dozen), say yes to a dress; then you're done, right? If only it were so easy.
The shop then orders the dress to your largest proportion, often the hips or the bust. Or if you're pressed for time, some bridal shops allow you to purchase a sample size directly off the rack. Then you go to the in-house seamstress, or one of your own, to alter the rest of it down. Since most of us do not fit into one standard size, this process can get complicated, especially for those of us who are shorter or longer waisted... rebuilding a dress on the alterations table can start to run a pretty penny.
The average height for an American woman is just under 5'4 inches while wedding dresses are typically designed and modeled for someone who is 5'9 inches. We're not just talking hems either. So why can't your dress be made for your proportions from the get-go?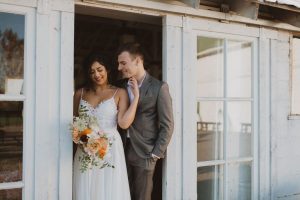 Bespoke Bridal is a much different process. Your dress is designed with you, for you, from the ground up. It's really great for brides who know exactly what they want; but for others who need a little help to see the overall vision, it's often too costly of a risk to commit to a dress they may not love in the end.
Something Made To You
At Grace + Ivory, we offer another option for Brides looking for a non-traditional experience. We love options! (Really, we're customizable!)
Our dresses are Made-To-Measure which means after you chose the dress, either from our Flagship Try-At-Home program or in-person if you're in Chicago, we guide you through taking your measurements. This process is all-inclusive to the price of the dress you see online. Custom to us means having a dress that's made to your unique set of measurements. There are no sizes here!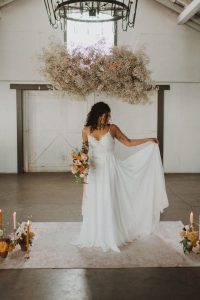 Although your dress overall will be a better proportional fit, you should still expect a final fitting; given your body can change in a 4-6 month timespan, a final nip and tuck are often needed. All Grace + Ivory dresses are made with 2 centimeters (about 0.75 inches) of extra fabric on each side in case a dress needs to be taken out. And don't forget to add in your bustle!

What Measurements do we take?
Although all of your measurements are important, the silhouette you choose will play a role in which measurements are most crucial, especially if you opt for a more fitted dress, like our fit n' flare trumpet, Jessie. (All-over crepe will feel like a glove when she's made to you!)
Let's break down a few key measurements...
Shoulder to Waist Measurements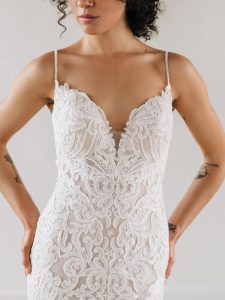 A correct Shoulder to Waist measurement will add a lot of value to how you feel in your dress. Your dress will not only be visually better, but it'll feel better on your body, especially since you have to wear it all day long. As we mentioned, wedding dress samples are made for women around 5'9''. If you're shorter, most samples will sit a bit below your natural waistline. Often at our least favorite spots. That's why we provide clips in each Try-At-Home package. It's important to clip the dress to your natural waistline, so you can better imagine what she'll be like when she's made to you.
Shoulder to Shoulder Measurements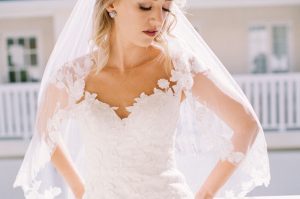 An accurate Shoulder to Shoulder measurement is paramount with a dress like Tessa.
Tessa features an illusion neckline. This effortless look will have your guests wondering how the floral lace so perfectly cascades off your shoulders. Shoulder to Shoulder is also important for dresses with straps. If your shoulders are narrow, you may feel like dress straps fall easily. If your shoulders are on the broader side, it may cause you to think a dress is too small. Even when it may fit elsewhere.
Shoulder to Nipple Measurements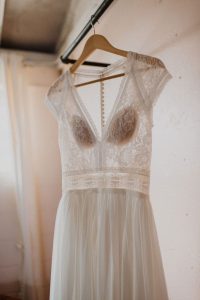 Shoulder to Nipple is another key measurement. I'm sure you've put on a dress and the cups fit too low or too high. All of our wedding dresses have cups that are sewn-in (no Strapless bras to worry about here!) We achieve better placement of your cups through this shoulder to nipple measurement so you can dance the night away, worry-free!
Already found your dress via Try-At-Home?
Taking your measurements at home with our measurement guide can seem too intimate, but don't fret because we're here to help every step of the way. You can also take comfort in the fact that dozens of brides have already gone through the process. Your dress will feel like it was made for you... because it was!
Photography credits:
Savana Mayfield Photography