Peonies, Roses, Hydrangeas, and more; when it comes to choosing your wedding flowers, the options seem endless and it can be hard to achieve exactly the vision you see on Pinterest, especially when you factor in the cost and location of your wedding. But for the Bride that doesn't want to spend hundreds to thousands on wedding flowers just to throw them out at the end of the night, there's a sustainable alternative.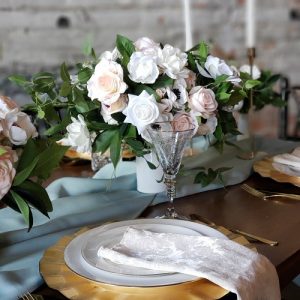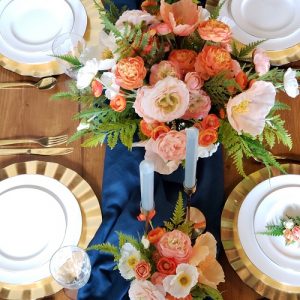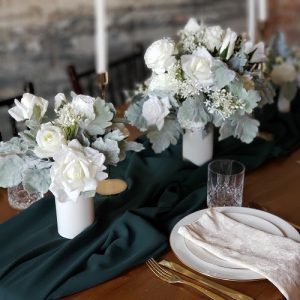 Trendy, high-quality, and at a third of the cost, The Silk Stem Collective is a worry-free alternative to fresh wedding flowers. Inspired by their own wedding planning experiences, Megan Westman & Amanda Rapacz are shaking things up in the world of florals.
"Very early in the wedding planning process, we realized that other couples were probably in a similar situation to ours - trying to decide between expensive but beautiful fresh flowers, and budget-friendly DIY options. Once we realized we could get the best of both worlds with high-end faux, it was just a matter of running some numbers to see if our idea could work as a sustainable business," shared Amanda.
Wedding Day Ready Collections To Your Door
Currently offering eight floral collections featuring a wide range of flower types and color schemes, The Silk Stem Collective offers picture-ready bouquets that won't wilt or shed during your walk down the aisle. Once you decide on the collection that best suits your wedding, you choose exactly what you need and when. Corsages, centerpieces, aisle markers, they have it all.
When asked how they found their inspiration for their collections, Amanda replied "There is so much great content out there from both traditional florists and other alternative florists - we watch the trends and try to combine them with our personal style to create products that appeal to a wide range of couples. We also take note of what potential customers are saying about our products and what they would like to see more of, to make sure our collections match what real couples are picturing."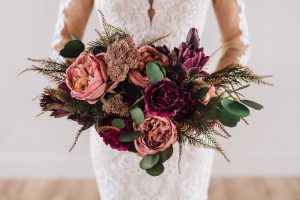 The Odessa Collection (above) offers deep magenta ranunculus and blush pink peonies combined with a touch of green eucalyptus, and juniper: a bold and beautiful pairing for an ivory wedding gown!
The Silk Stem Collective also offers sample bouquets, so you can see firsthand the quality behind their designs before you commit. Since you can keep the sample bouquet for up to a week, why not time it with the arrival of your Grace + Ivory Try-At-Home gowns? This way you can envision exactly how it'll all come together on your wedding day.
Their Green Mission
Amanda and Megan aim to provide beautiful, affordable fresh flower alternatives to facilitate an eco-conscious shift in the wedding industry.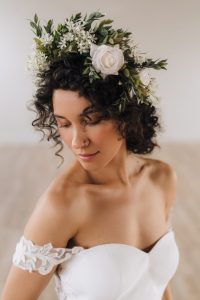 "We believe that we can all do more to reduce the waste generated by weddings. Our purpose as a business is to make sustainable choices easier by providing beautiful, affordable options. We strive to make these choices accessible to everyone through affordability and inclusivity."
We love to see women-owned businesses doing things differently!
Beyond Wedding Flowers
When asked what was in the future for The Silk Stem Collective, Amanda replied "We are focusing on building our brand and our inventory. We want to learn more about our customers and add collections to grow our reach. In the long term, we would love to expand into another rental decor! There are so many opportunities for more eco-friendly options in the rental space, and we think we could apply our existing model to other larger decor."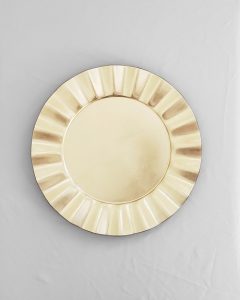 Already offering vases, candlesticks, votives, lanterns, and more, they are well on their way to helping many brides have the Pinterest wedding of their dreams... without waste.
Faux or Fresh?
When choosing your wedding flowers, we understand the stigma and the pressure of maximizing your floral budget.
Amanda and Megan want every couple to know that they have options when it comes to their flowers. "Couples are no longer just choosing between traditional fresh flowers and flower alternatives like Sola Wood. With silk flowers, they can get the realism of fresh with significantly less hassle and cost."
Now more than ever brides are pushing to plan their weddings on their own terms. Traditions aside, brides are opting for more eco-friendly and cost-efficient alternatives. The Silk Stem Collective is a perfect solution for the Bride that isn't afraid to stray from the social norms.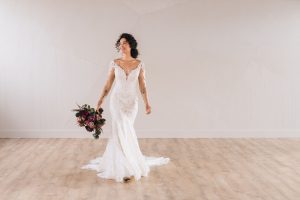 Photography by Ed & Aileen