At Grace + Ivory, we're all about a try at home experience! We get it, you're busy and making/keeping appointments while trying to plan a wedding is no easy feat. That's one of the things we love most about trying on wedding dresses at home, the convenience to try when and as you please without added pressures and opinions. But what if you could also try on wedding bands at home? Hint: You can!
Hitched is a try at home wedding band company that takes the guesswork out of buying a wedding band. With minimum upfront costs, direct-to-consumer pricing, and a wide range selection...Hitched is changing the wedding band industry for the better.
How Do You Try On Wedding Bands At Home?
Hitched makes it simple and fun to try on wedding bands at home. First, you choose from one of their pre-curated kits and place your order directly on their site. Once your kit arrives, you'll have five days to sample the bands, which includes five carefully selected styles, a try on guide, and a ring sizing tool for the perfect fit.  Sounds like an adorable date night activity to me!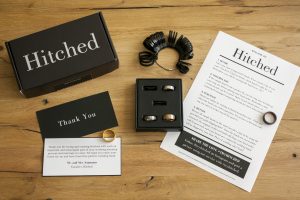 Hitched's pre-curated kits are free for you to try so you can order without the worry. Instead, they place a $50.00 authorization hold on your account to ensure you don't love their rings so much you forget to return them. If you've done our try at home dress program, you're probably familiar with the process!
If you don't absolutely love the rings in your box, Hitched encourages you to try another. However, if it's your first time trying on wedding bands, they recommend selecting a variety of styles to narrow down what you like. You'll have plenty of time, and privacy, to decide.
How Long Does it Take?
According to their site, as long as you have two months or more before your "I Do's," you'll have plenty of time to order and complete the Hitched home try-on. They also offer expedited shipping options if you're outside of the safety window.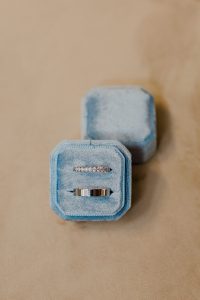 You may be tempted to keep the ring you enviably say yes to but once you make your purchase...Hitched will send you a brand new, never-worn band, and ring box. Lastly, Hitched says "we do not send real 14K gold or Platinum rings out in the home try-on for liability purposes. All 14K gold and platinum sample bands are replicas (alloy center, with plating). Your final purchase will be a real, solid 14K gold or platinum band."
How is Hitched Different than a Typical Jewelry Store?
Besides the ability to try on wedding bands at home, there's a lot about Hitched that stands out from your typical jeweler. Not dealing with a pushy salesperson, when making an emotional and important purchase, is at the top of our list. But we also love their direct-to-consumer model that cuts the markup out of buying a wedding band. Long story short, it's all about quality for your money!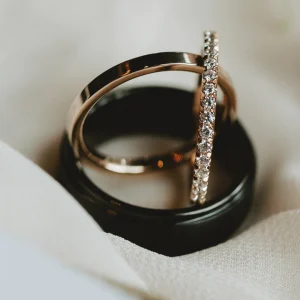 If you love the convenience of Hitched's home try-on but would still like to chat with a representative, Hitched has you covered. They offer virtual appointments so you can chat through the process and ask all the questions you may need.
Try On Wedding Bands At Home
Like everything else when planning your wedding, there's a variety of options and ways to achieve your vision. You have to make the choices that best reflect your lifestyle, whether that's the home try-on route or an in-person experience. It's up to you! You can even visit Hitched in person at their showrooms in Chicago or Philadelphia.
If you're on the fence, take it from our try-at-home brides who love the convenience and the privacy of a home try-on. From your wedding dress to your wedding band, you no longer have to leave your comfy living room to find what you're looking for. Let the gowns and the bling come to you!
Photography from Hitched.com and Sandra Armenteros.