After you've booked your bridal appointment and sent all the details to your shopping squad group chat...a mix of emotions can follow. From pre-shopping butterflies, to excitement and anxiety, we know how much pressure is put on finding THE dress. Especially when there is other opinions, budgets, and overall comfort to bear in mind when selecting your wedding dress. You're going to be wearing it for 8+ hours after all!
To ease the nerves, we're taking you step-by-step through what to expect at your first Grace + Ivory bridal appointment. As well as answering some of our most frequently asked questions. If you're not shopping with us in person in our Chicago showroom, don't worry we have a little something for our try-at-home brides! Check out What To Expect When You're Expecting...A Try-At-Home Wedding Dress.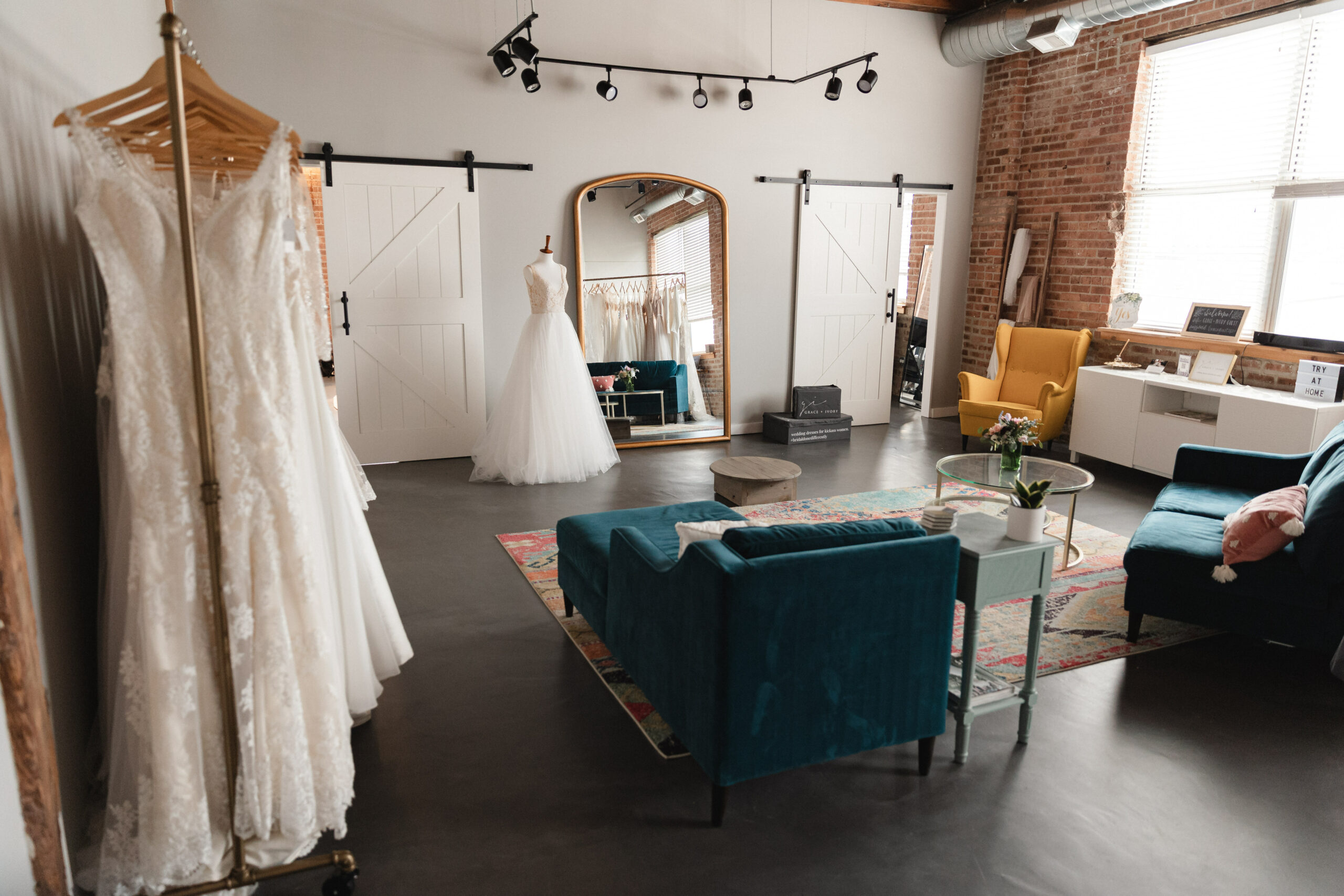 Before Your Appointment...
If you haven't done so already, now would be a good time to browse the Grace + Ivory collection online and select a few favorites! This will give your bridal consultant an idea of your initial vision and have a few styles ready to begin your appointment with. Even if you're unclear on your bridal style or what will look best on you,  think about what necklines and silhouettes you gravitate towards in your everyday wardrobe as a jumping off point...or select styles that you could picture working well with your wedding theme or venue aesthetic. 2-4 styles is a great place to start and will leave time for your bridal consultant to make suggestions!
Read How To Find And Love Your Bridal Style for additional pre-shopping tips!
Grace + Ivory's Alina Dress (left) and Carmen Dress (right)
What To Bring...
What to bring (and wear!) to your Grace + Ivory bridal appointment is completely up to you. We find that getting in and out of dresses without a pair of heels is usually best and not needed, with the help of our trusty pedestal! Plus we have a few pairs in the showroom just in case you'd like to get a feel for a top contender dress on the ground.
If you plan on wearing shapewear on your wedding day, we do recommend you bring/wear a pair when trying on wedding gowns. Mainly so you can get a feel for the dress with the added layer and see what kind of shapewear would work best with the dress (since many wedding dresses are made with low backs and side cutouts!) If you don't have shapewear yet or aren't planning on wearing any, a seamless neutral pair of underwear is our go-to!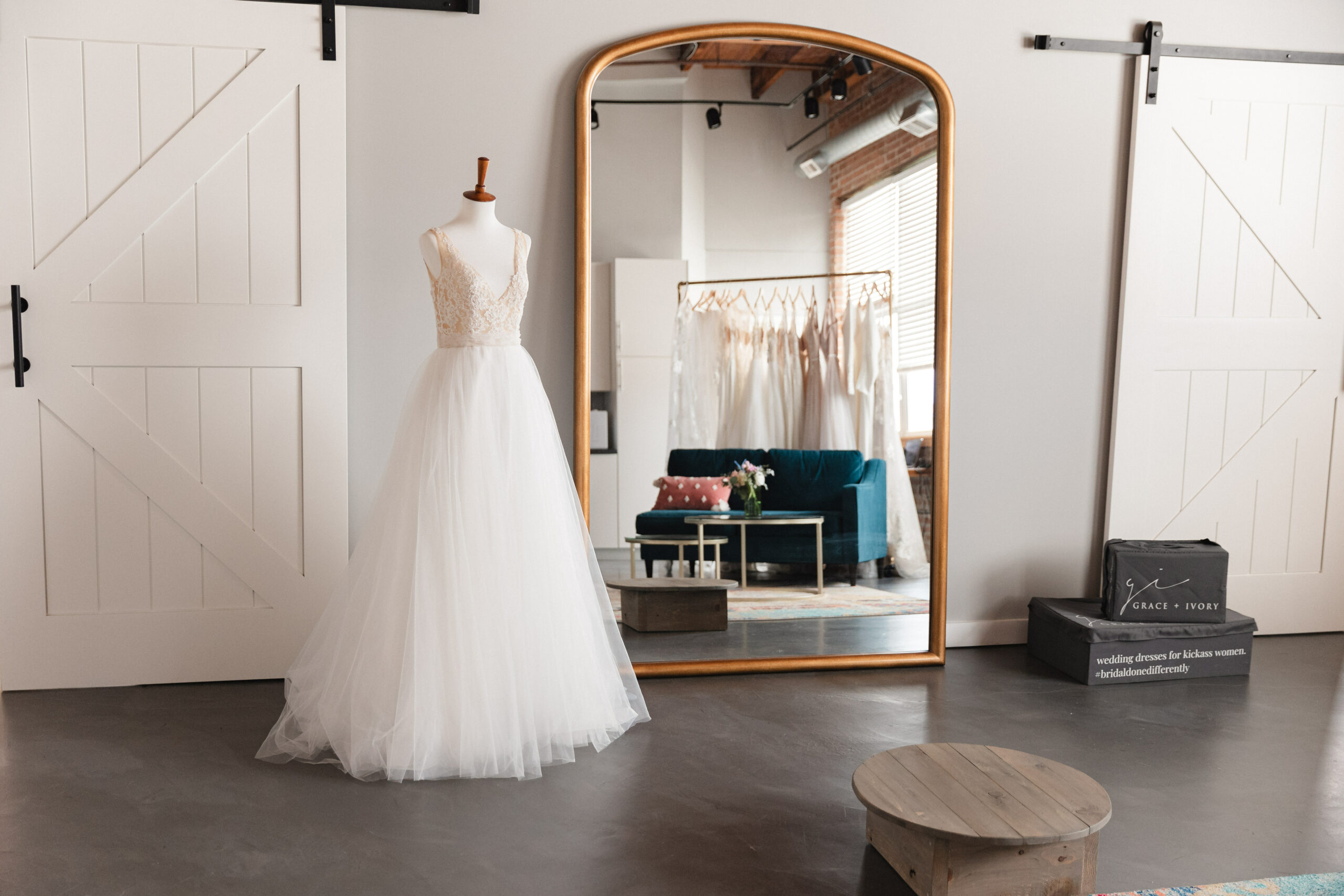 You don't have to wear a bra when trying on our Grace + Ivory gowns, since our dresses are made with cups for light support. Many of our styles also have additional built-in boning. Since a consultant will be helping you in and out of the styles, feel free to wear whatever is most comfortable for you.
Once You Arrive...
Expect to be greeted by Tina, Sarah, or Alyssa at your Grace + Ivory bridal appointment! Your bridal stylist will welcome you in to our private showroom space and give you a minute to settle. After a quick chat about where you are in your wedding dress shopping journey and your wedding details, expect to learn a little more about the brand. Since shopping at Grace + Ivory is a different from a traditional bridal boutique, we want to make sure you understand our process, customization aspects, made-to-measure sizing, and social mission!
Time To Try On Some Gowns!
You'll get started with the styles you sent over a head of time or browse the racks if the vision has changed, especially if you selected your favorites before stepping foot into any bridal shops and are coming to Grace + Ivory as your second or third stop. It happens all the time and your bridal consultant will be able to pull some styles on the fly that will better align with the new vision!
We currently carry most of our sample gowns in sizes 4, 10, and 16. Your stylist will select the best fit and use clips to adjust any long straps and loose material. Keep in mind that when shopping for your wedding dress, you aren't shopping for a perfect fit. As all Grace + Ivory wedding dresses are made-to-measure, your stylist can chat through fitting concerns and help you envision what the dress will look like once it's made to your unique set of measurements.
When Trying On Wedding Dresses...
Expect to chat about your likes and dislikes of each style once it's on your body. Do you like the silhouette on you? How does the fabric feel? Is it missing the sparkle? All questions your stylist may ask you to help inform which gown to try on next. If you need more time to process, that's okay too! We recommend having someone in your party or asking your stylist (we know the best angles!) to snap some photos to look at later. Pro tip: Don't forget the side shot, so you can examine train length and side details later!
Try and keep an open mind when your stylist selects new styles. We'll never force you into a dress you don't want to try but there is most likely a reason that a specific style came to mind...whether it was something you loved about a previous dress or wish you could change!
Grace + Ivory's Elise Dress by Leah Daniels Photography
If you're not ready to say yes to a dress quite yet, that's okay. The goal of your first Grace + Ivory bridal appointment can be to see a variety of styles and hopefully leave with some wedding dress education you didn't have walking in. Your wedding dress is a big emotional purchase after all! We get that sometimes you need to sleep on the decision or come back to try on your favorites one more time.
Add Some Accessories...
If you're really loving a certain style, your stylist may suggest adding some accessories to help round out the vision. We have a variety of veils, bridal capes, and belts on hand to elevate the look. While the first veil try on may induce some tears, it's okay if you decide to forgo a veil completely for your wedding day. This is a great time to get a sense for what feels the most like you!
Grace + Ivory's Pearl Chapel Veil (left) and Fingertip Tulle (right).
If you're planning on wearing your hair a certain way on your wedding day, some brides find it helpful to style their hair that way for your Grace + Ivory bridal appointment. Mainly in an all-up or a half-up do. It doesn't have to be as perfect as your hair stylist but anything you can do to help yourself visualize the final look...will have you thanking yourself later (and will give your bridal stylist something for the veil to hold onto!). 
Talk Through Customizations...
As we mentioned earlier, Grace + Ivory is doing bridal a bit differently! This includes a variety of customization options for the styles you'll be trying on in the showroom with us. Common ways brides customize is by changing underlay colors, raising necklines, adding sequins, buttons, or extending/shortening train lengths. We also can make many of our fitted dresses in an A-line silhouette and vice versa!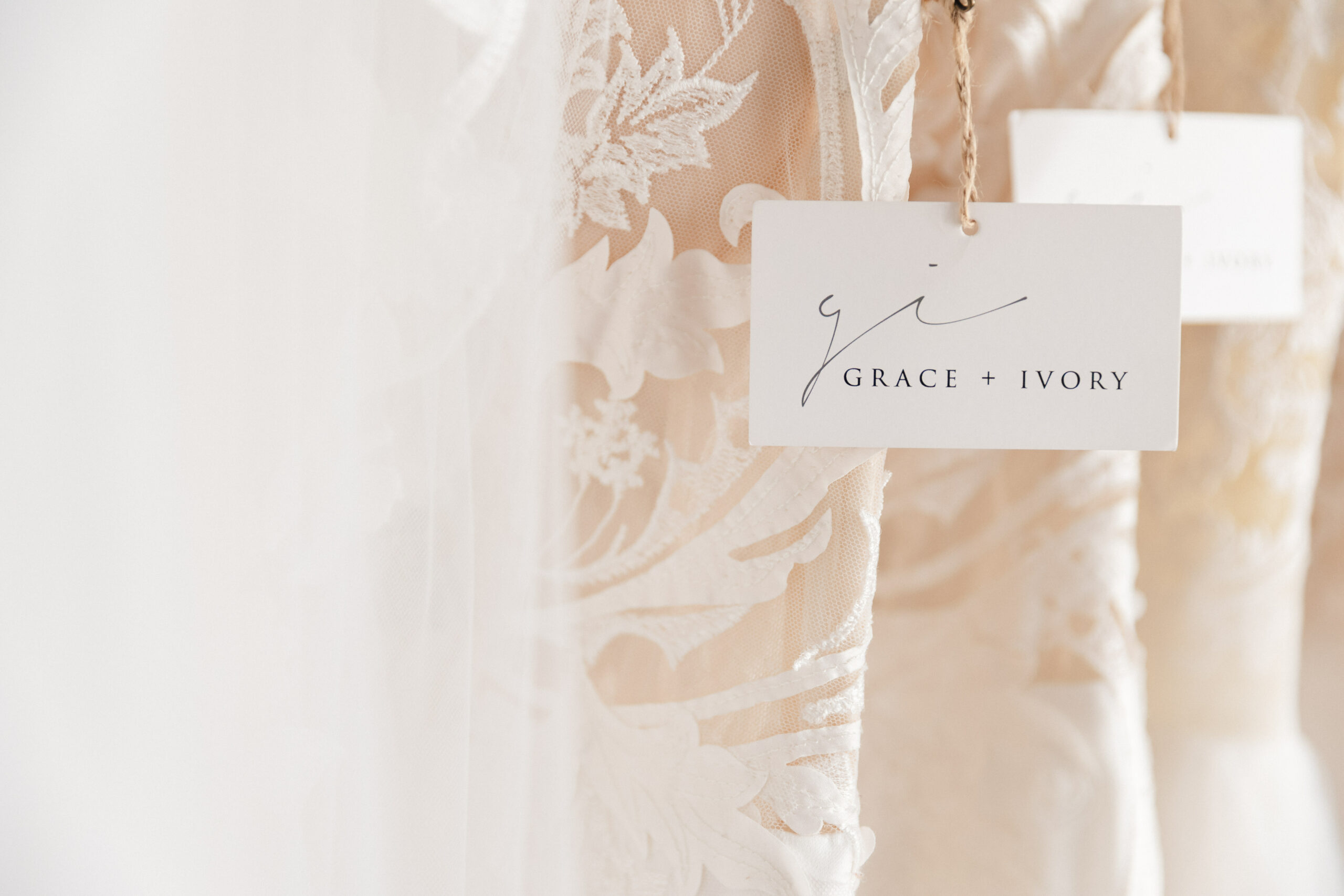 Your stylist can chat through any customization questions you may have at your appointment. We also offer design consultations should you have additional questions post appointment.
Chat Next Steps!
Whether you've found your dress or are leaving with a few favorites...your bridal stylist will confirm next steps before you leave. We'll look at your wedding date to let you know when the best time to order your dress and take your measurements will be so you don't miss out on walking down the aisle in a design you love.
Grace + Ivory's Lexi dress by Adrienne and Dani Photography. 
Grace + Ivory wedding dresses can be made in 3-6 months (depending on the style and customizations) but keep in mind that you typically want to begin final alterations two months before your wedding date. Our dresses are made-to-measure, which is great for proportional fit but you will need a final fitting once your dress is on your body. A final fitting is imperative for a dress as important as this one. You'll also need to get a bustle put in should your dress have a train.
We're So Excited To Meet You!
If you have any additional questions, do not hesitate to reach out! You can email Tina, Sarah, or Alyssa directly or catch us all at hello@graceandivory.com. If you're still feeling nervous or just looking for additional tips and inspo...check out our TikTok page here.
If you haven't set your appointment yet, click here for openings! We can't wait to meet you!
Photography Credits:
Sarah Crost
Daniel Kelleghan