Planning a wedding comes with its fair share of traditions. From the seating chart, to the bouquet toss, to the things we include just for grandma...it can be easy to lose sight of what you want in the process. Especially when it comes to finding your dress. Perhaps you've even been eyeing a non-white wedding dress with worry (What will my mother think?)
But with so many beautiful styles of non-white wedding dresses, offered in blush, champagne, nude, and even black...we're answering the age old question: must I wear white?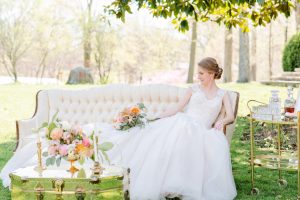 Origins of the White Wedding Dress
Queen Victoria popularized the white wedding gown as we know it today. After she wore an ivory silk gown to marry Prince Albert in 1840, brides all over the world wanted to copy the look. White wedding dresses began to fly off the shelves and designers put more white gowns into production. The rest is history. 
Before this, it was custom for a bride to wear her best dress no matter the color. Even deep reds and bright blues. In fact, in the 17th and 18th centuries, white was still associated with mourning. Thus most brides steered clear of white for such a happy day.  It wasn't until the end of the 19th century that English literature and propaganda decreed "white the most fitting hue" for a bride due to its purity and innocence.
But it all started with a rebel queen. Ironic, huh? 
A Blushing Bride
Blush has been a trending wedding dress color year after year with brides and celebrity-brides alike. Portia de Rossi, Reese Witherspoon, and Mandy Moore all walked down the aisle in blush wedding gowns (Hello inspiration!). With popular brands like BHLDN, Jenny Yoo, and Maggie Sottero including blush gowns within their collections...you won't have to do too much convincing to get mom on board. 
A mix of traditional and non-traditional elements, Grace+Ivory's Stella dress is the non-white wedding dress that won't give mom a heart attack. Her vintage-inspired lace overlay and Queen-Anne neckline is perfect for the bride that wants to feel timeless, but her rose-gold underlay, makes this a non-white wedding dress that is anything but plain.
A Champagne Toast To A Non-White Wedding Dress
What bride doesn't want to feel like a bottle of expensive champagne? Dom Pérignon has nothing on you! Sitting somewhere between off-white and ivory, a champagne color gown is a perfect pick for a bride who loves the look of a white gown, but feels their best in a different hue.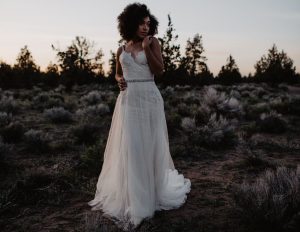 Grace + Ivory's Ava Gown features a champagne underlay with an ivory tulle over-skirt. It's a "best of both worlds" dress in more ways than one, for color options and silhouettes (Yes, fitted and A-line!). A little something for your mother, and a lot of something for you. 
I'd Rather Go Nude
After trying on a dozen or so dresses you may be ready to throw in the towel and scream "I'd rather go nude!" But have you tried a nude color wedding gown? A flattering color on a variety of skin tones, a nude underlay will offer the dimension you're been craving.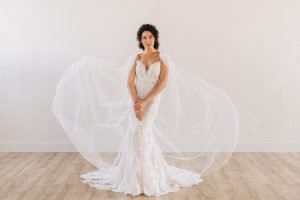 Grace + Ivory's Amara Gown subtly features a jersey fabric, nude color (so comfy) underlay with an all over ivory-lace. She's also adorned with clear sequins, for a sparkle that shimmers while you move. 
All Black Everything
A Black wedding dress is a color pick for the most daring of brides. Avril Lavigne famously wore a black Monique Llhullier wedding gown and Vera Wang sent nine black wedding dresses down the runway of her 2011 fall show (which caused quite the stir!)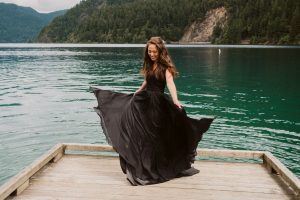 If you're a rebel bride looking for the ultimate non-white wedding dress, look no further than Grace + Ivory's Solane gown. She features an 100% silk skirt, delicate lace details, and a button-up back to die for. 
You're a Peach
For the rebel bride that loves pastels...peach is a dream! Maybe you've seen blush a few too many times or champagne pulls too yellow for your liking. Whatever the case, peach may strike the perfect balance. 
Grace + Ivory's Elle gown incorporates elements of the old and the new. She features a fun and peachy, champagne underlay offset by an all-over ivory lace. With her key-hole back and just the right amount of glitter...Elle is a stunner all her own.
Must I Wear White? 
When it comes to THE dress, the color is entirely up to you. Sure, Mom may throw in a few opinions or even persuade you to put on her own gown (we're having puffy taffeta nightmares) but what's most important on your wedding day...is that you feel like yourself. 
If you're unsure what hue you'd like to adorn, we recommend trying on a few different colors at the bridal shop. Or if you're a try-at-home bride, choose 2 or 3 of the dresses from above so you can have a better idea of what looks best with your hair color and skin tone. 
If you've tried on a few and still want ivory white, that's okay too! There's so many ways to rebel up a white dress, our absolute favorite being bridal capes. Queen Victoria would definitely approve. 
Photography by:

Ed & Aileen, Sarah Anne Photography, Lela Marshall Photography, Chelsea Smarr, Rebecca Sigety