Today's post is featured on Chi Thee Wed - see the original post here.
******
While the world is still a long way off from reaching gender parity – nearly 100 years away, according to the World Economic Forum's Gender Gap Report 2020 – there's still a lot to celebrate on International Women's Day this year. During the pandemic, countries led by women saw lower death rates than countries led by men. Research has found that women score higher than men in most leadership skills such as taking the initiative, resilience, and integrity and honesty. And hey – the U.S. finally has a woman vice president!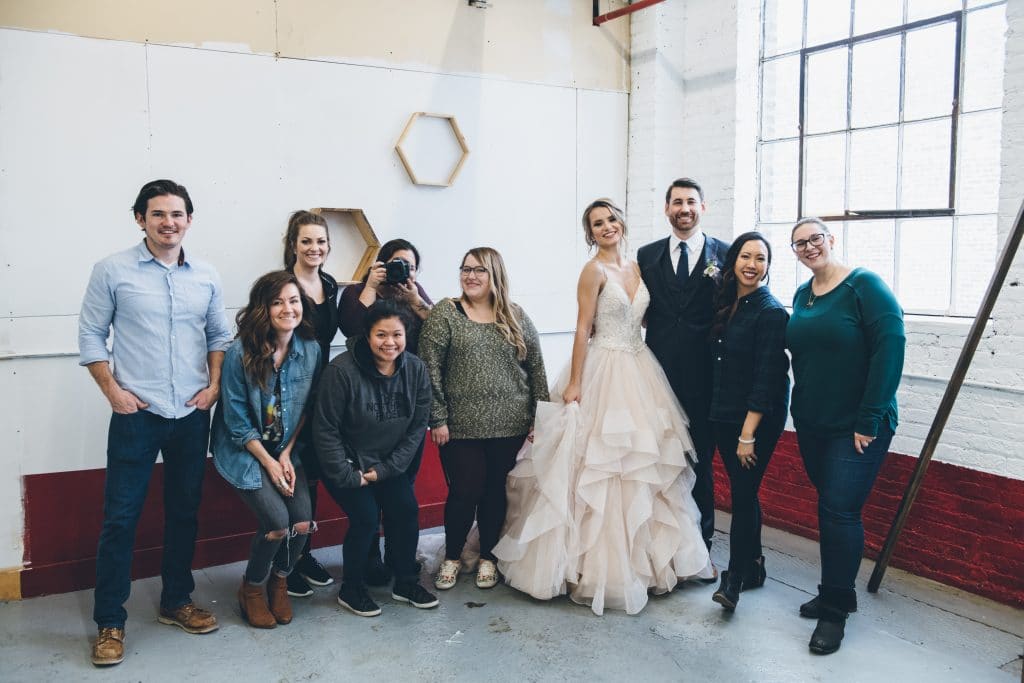 Chicago Women (& Men) Entrepreneurs, Grace + Ivory's Annette Dress | Photo by Ed & Aileen Photography (pre-covid)
The progress is amazing, but there's still more we can do! Here are three ways to keep pushing the envelope on women's empowerment:
First – be vocal! Whether it's "leaning in," lifting up other women in your workplace, or using the #InternationalWomensDay hashtag on social media, let your voice be heard! Encourage and support the ambitious women in your life to chase their dreams. Having needs met and the opportunities to realize potential is key. In the United States, many of us have a lot to be grateful for such as minimums to basic education, a focus on women's health, choosing work and career options, starting our own businesses, and getting married on our own terms. Of course, there's still work to do in these areas in our local communities, and we hope to build advocacy for that. All of this reminds me every day why it is so important that we actively reach out and find ways to support women in our neighborhoods – but also around the world.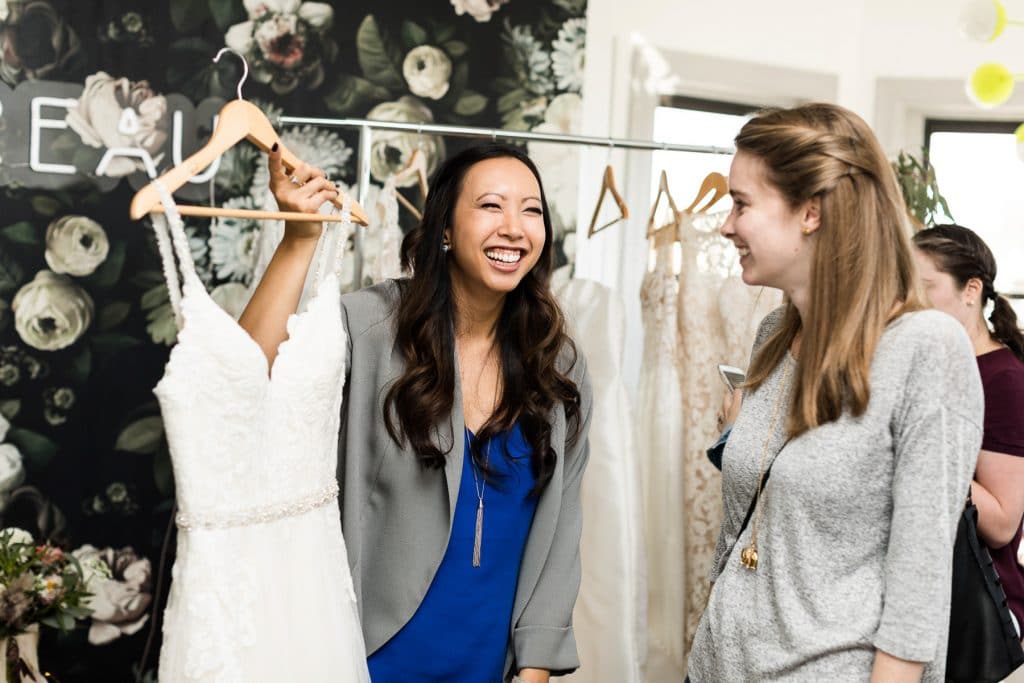 Tina Wong, Founder, Grace + Ivory | Photo by Stefanie Kamerman
Second – support non-profits or efforts that directly impact women and girls. At Grace + Ivory, we made it part of our mission to support girls around the world. A portion of every dress purchase goes to support Plan International USA's WHOLE Girl Fund, which supports girls and women with programs that battle issues like child marriage, access to education, and inequality.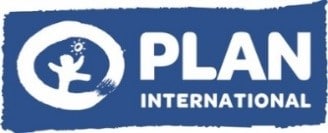 To share a little bit, Plan International calls their approach to development "GirlEngage," which is a strategy focused on adolescent girls ages 10-18 that makes it possible for girls themselves to drive the programs. By taking this collaborative approach, girls highlight their local problems of inequalities, which Plan's development experts can bring the tools to address. This empowers girls to play a role in the solution, making a more sustainable and effective pathway to change. We love this approach – which is why we picked Plan.
Second photo courtesy of Plan USA.
Third – support women-owned businesses. Now more than ever, women-owned businesses need your support. According to Guidant Financial's 2020 Trends for Women in Business report, just 27% of small businesses are owned by women. Less than a third! And women's employment has been disproportionately affected by the Covid-19 pandemic – which means the choices you make about where you shop really do have an impact.
As a social enterprise, Grace + Ivory's social mission has been central to our business model from the moment we were founded. We know that women are strong, brave, and kickass, and we want women and girls around the world to have the freedom to make their own choices. We believe in giving back to make women kick even more ass – and days like International Women's Day remind us why it's so important.
Grace + Ivory Tessa Dress | Photography by Ed & Aileen Photography
And our direct-to-consumer model means that we're empowering our customers, too. We're able to provide our wedding dresses made to your measurements and on a shorter timeline. Brides have told us that our try-at-home program – launched in 2019 – takes all of the pressure out of visiting boutiques: no pushy sales assistants, no fears that you've wasted everyone's time if you don't find the dress of your dreams that day, and no Covid anxieties.
At Grace + Ivory, we make a habit of highlighting women-run businesses – and not just ones in the wedding industry! We love spotlighting Chicago businesses that are doing cool things. By supporting women-owned businesses that are pushing for better business practices and more meaningful consumerism, you're supporting the growth of a vital part of the economy.
Grace + Ivory Elle Dress | Photography by Ed & Aileen Photography
As the world edges towards recovery from the COVID-19 pandemic – the economic and social impacts of which have disproportionately affected women – we have to remember why we "choose to challenge" the status quo. And why we keep doing it! Research shows that when women are better represented in government, the result is better and more inclusive policy.
If you support our mission and also happen to be looking for an awesome wedding dress (congrats on your engagement!), Grace + Ivory may just be the bridal gown brand for a badass bride like you. Check-out our flagship try-at-home program here, or if you're in Chicago, book here and join us for a private bridal appointment on Sundays at The Groomsman Suit in Bucktown. FYI - when you buy a made-to-measure wedding dress from Grace + Ivory, you're not only making an everlasting memory on your special day – you're also benefiting women around the world.
Grace + Ivory Tessa & Elle Dresses | Photography by Ed & Aileen Photography
We hope you'll join us in supporting and empowering women today, this month, and every month to move the needle towards equality.
xoxo,
Olivia & Tina
**********
Resource: World Economic Forum's Gender Gap Report 2020 // Credits:
Ed and Aileen (Chicago Entrepreneurs Photo)| Location: Chicago, IL:
photography by @edandaileenphotography | Planning & Floral Wall: @lilepicdesign | Planning & Dress: Grace + Ivory | Venue & Furniture: @urbanbillygoods | Florals: @zuzuspetalsevents | Cake: @thequintessentialcake | Stationery: @paperloveclub | Makeup: @nataliemay.mua | Hair: @tamaraholdenhair | Cupcakes: @intoxicakeschicago | Suit: @onelinetailored | Rings: @simplywoodrings | Bride: @sasha___faye | Groom: @tylerehler
Grace + Ivory Event BUREAU | Location: Washington, DC
photography by @stefaniekamerman | Venue: @bureaustudio | Event Styling: @elizabeth_carberry | Invites: @woods_and_company | 💐 by @darlinganddaughters | Catering: @relishcaterdc
Ed & Aileen Photography – Featuring Grace + Ivory Elle and Tessa Dresses
Urban Allure Events – Gina Anderson | Location: Chicago, IL:
photography: @edandaileenphotography // venue: @waldenchicago // styling & coordination: @urbanallureevents // florals: @romeewillowflorals // gown: @grace_and_ivory_ // hair: @diemangiebeautyteam // makeup: @itstmarieg // cake: @bittersweetpastryshop // rentals: @blushedandborrowed // rings: @tryhitched // stationary: @amore_creative // videography: @emilyhoganvisuals // linens: @fslinens // glassware: @thefestivefrog // brides: @lenajacksonslens @pleaseleavebynine