Always classic and clean, Crepe is a year-round favorite when it comes to choosing a wedding dress. Its mid-weight fabric makes a crepe wedding dress ideal for any season, venue, and dress silhouette. But with many wedding dress fabrics to choose from, we know how hard it can be to narrow down which one is right for you. So here is four reasons why a crepe wedding dress may be perfect for your walk down the aisle.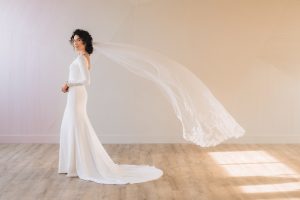 Easy to Hem, Easy to Travel
Usually made of soft silk or a silk-blend, crepe drapes effortlessly to the floor. Since it wrinkles less than other traditional bridal fabrics, it's ideal for our destination brides. And our brides who don't want to worry about creasing and crinkling while you're saying your vows. 
Since wedding dresses are usually made to fit women between 5'8'' - 5'10'' a hem is to be expected. Which can pose a more difficult challenge when dealing with intricate lace patterns and beading. Crepe fares on the easier end of the spectrum when it comes to alterations. A clean hem is important, not only for photos but for movability. Especially dancing. And you can rest easy knowing you'll get that perfect fit, if you fall in love with a classic crepe dress.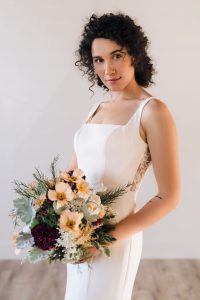 A Crepe Wedding Dress is Classic Repackaged
Having been patented in 1822 in England, crepe has been around for quite some time. And has been used in the dresses of many royal weddings. Most recently seen in Megan Markle's stunning Givenchy Reception dress. Its a fabric that adds a timeless elegance with any garment, but when it comes to a wedding dress...crepe will make you feel like a bride the second you zip, or button, it up. 
For our non-traditional Brides, crepe can offer the perfect blend of something old and something new. With modern silhouettes and updated lace and beading...A crepe dress won't remind you of your Grandmother's wedding dress.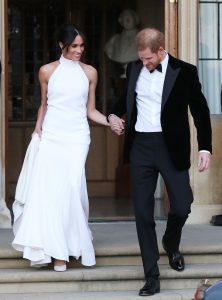 Goes with Everything
Being that crepe is so timeless, a crepe wedding dress will not send your vision for a loop. Crepe fabrics tend to lean towards a true ivory and won't clash with any colors or flowers you've already picked out. If anything, a beautiful crepe will accent your floral arrangements and make light bridesmaid dresses pop. 

Crepe is also a great base for wedding dresses that want the details to take center stage. Especially the sparkle! Its a fabric that works with a variety of lace combinations so you truly can have it all. Like this combination of Chantilly lace and hand-placed floral lace on our Melody gown.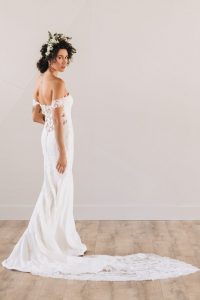 Comfort and Luxe
Crepe is a fabric that feels like butter and looks even better than it feels in photos. Comfort and luxurious are not two words that usually go together. But crepe proves to be a dress fabric that smoothly transitions from ceremony to reception.  Since it's usually made of silk or a silk-blend, crepe is a luxurious fabric that designers love.  And celebrities! Hilary Duff famously wore an all over crepe wedding dress to marry Matthew Koma at her L.A home. It was a custom Jenny Packham dress and she looked like an absolute queen.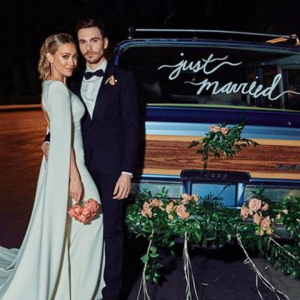 You can recreate her look with a high-neck dress like AdeOla paired with an all-over crepe cape.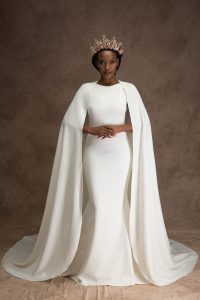 A Crepe Wedding Dress is a Timeless Purchase
I'm sure you've looked back on your mother's wedding photos and thought, what on earth was she thinking? Poofy taffata skirts, layered organza sleeves...we know the dress.
If you fall in love with a crepe wedding dress, you can look back on your wedding day photos with ease. Crepe tends to be featured in classic, understated, designs and that never goes out of style. Of course, the only way to know for sure that crepe is right for you...is to try one on!  Crepe truly is sleek, luxurious, and in your future?
Photography by Ed & Aileen & Edward Wang.