Wearing a white wedding veil down the aisle is a time honored tradition. From insane lengths to your mother's tiered 80's veil (sorry mom, I'm not wearing that...), veil trends change almost as frequently as wedding dress styles. Which can be one too many things to think about when your wedding planning list is getting longer than the veils themselves.
The white veil traditional can be traced as far back as Ancient Rome. Initially worn as a way to hide the bride away from the evil spirits who threatened her happiness, veils these days serve a much different purpose. Usually to complete the wedding day look, or to appease traditional mothers and grandmothers alike. With more and more brides opting to ditch the veil, I'm sure you've seen a few bridal capes and  headpieces come across your feed, causing you to wonder...should I ditch the veil too?
1. Tulle Bridal Capes
So you want the look of a veil without having to mess up the best hair day of your life? Cue the bridal capes! A new trend that is quickly working its way into every bridal shop and designer showroom, bridal capes are more regal than super-hero. We know you were thinking it. 
This simple tulle cape from Grace + Ivory strikes a perfect balance of traditional and non-traditional. It attaches to the shoulders or straps of the dress and makes for an easy reception reveal when it's time to take it off. Although you probably won't want to.
2. Pearl Bridal Capes
Maybe you've chosen a more classic wedding dress and are looking to add a wow-factor accessory. Look no further than a pearl-studded bridal cape! Fingertip, chapel, or cathedral length...a pearl bridal cape will bring the romance to your ceremony and make for some fun & flirty photo opportunities.
This Pearl bridal cape from Grace + Ivory dips to a "V" in the back, so you can still show off any stunning dress details or a little skin. 
3. Flower Crowns
Nothing says whimsical bride quite like a statement flower crown. Keep it simple with greenery or opt for a colorful assortment...the decision is yours! We love flower crowns from The Silk Stem Collective because not only are they sustainable, they're made with high-quality faux flowers. They'll stay picture ready all night long and won't wilt across the dance floor.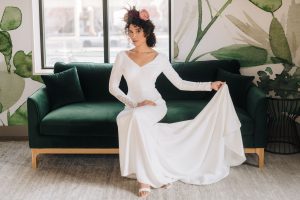 4. Headbands
Blair Waldorf has been waiting for this moment...yes, headbands are back in style! Ditch the veil and make a statement in a thick or thin, pearl-studded band. Jennifer Behr has carefully crafted an impressive selection of bridal bands, if you want to invest in a quality piece for your wedding day. Or ask for one as a pre-wedding day present? 
But if you're not looking to drop too much of the budget on something you probably won't wear again, Etsy and Lulu's are experts in affordable bridal accessories. The thick, swoon-worthy band below, is from Etsy seller Wild Wolf Veils. The thin pearl beauty on the right, is from Lulu's for only $18!
5. Hair Vines
If the back of your wedding dress is your favorite part, you're probably looking to accentuate the details and not cover it with more lace or tulle. And if your wedding style is more Gwyneth Paltrow than Lilly Collins, a thick pearl band is not the vibe. Instead, a bridal hair vine may be the whimsical touch you're looking for (Aphrodite, goddess of love, approved!) 
This baby's breath hair vine from Etsy seller, Bella Via Designs, can be twisted into a braid and makes for a simple and beautiful veil-less touch. Fun fact: Baby breath symbolizes new beginnings!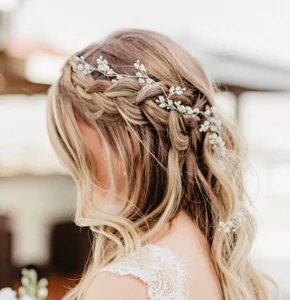 To Veil or not to Veil?
If you're still on the fence about ditching the veil, we recommend giving your wedding dress a once-over before you make the decision. The lace, the beading, the silhouette, are all important factors when it comes to choosing the "statement piece".  Some dresses need no additions!
If you're like us, and are currently obsessing over bridal capes, then we recommend you veer from the strapless options when shopping for you wedding dress. When properly attached, a bridal cape will look like it's a part of the dress...and stun your guests when it vanishes for the reception (We love a reveal!)
Already have a dress? Don't be afraid to ditch the veil if It's not your thing. Veil or no veil, you're the bride so its your decision.
---
photography by Ed & Aileen & Mandelette Photo