One of the best things about your Grace + Ivory wedding dress (other than our stellar try-at-home program, your dress being made-to-measure on a shorter timeline, and benefitting women's programs around the world) is the opportunity for customization. There are so many ways to customize your wedding dress!
Because your dress will be made specifically to your measurements once you've ordered it, you can specify as much or as little as you want about the rest of the dress. Especially in the age of micro-weddings and mini-monies, details are even more important than ever. Little details can make your bridal gown unique and more reflective of your style.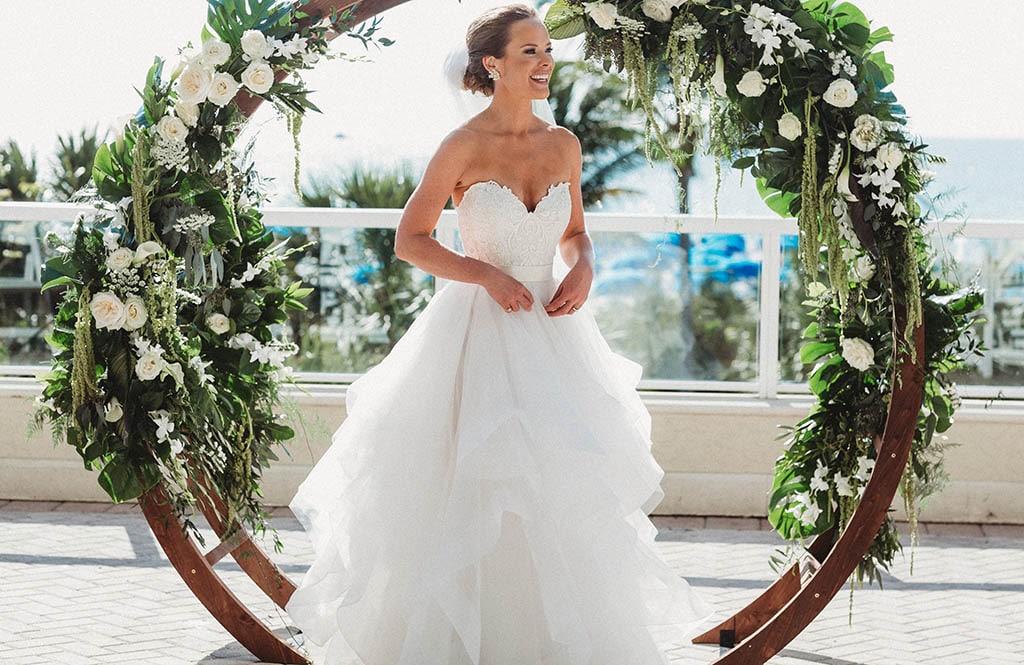 This Grace + Ivory bride customized her dress by combining the Annette skirt with a strapless Ava top!
At Grace + Ivory, we are dedicated to helping you find your perfect wedding dress so that you can look and feel your best on your big day. Creating a customized, made-to-measure dress can truly be a highlight of your wedding experience – and we're here to help you! Our design stylists will work with you one-on-one to help you pick the perfect options.
Unsure about how to customize your wedding dress? Short on ideas? You've come to the right place!
Grace + Ivory's years of experience creating customized dresses means that we've seen it all (well, almost all). Here are some easy ways that you can personalize your wedding dress – but don't be afraid to arrange a phone call or Zoom with one of our design stylists!
Color
One way to customize your wedding dress is to change the underlay color. Most – if not all – of the lace on our wedding dresses is in ivory. It's the underlay color that makes a dress "blush" or "champagne" colored, for example. You can swap it out for a different color and make the lace details stand out even more!
Looking to go a little off the beaten track? Think the white dress is overdone? Having a Halloween-themed wedding?? Why not get your dress made in a different color? Here's our Sloane dress in black from our recent Spooky shoot in Chicago!
Left: Stella dress with blush-colored underlay; right: Sloane dress in black
Neckline and Silhouette
In love with our Lacy dress, but have your heart set on a strapless neckline? Girl. We can do that!! Multiple Grace + Ivory brides have had the neckline on their dress redesigned for a classic, strapless sweetheart shape. Some brides have also taken up the necklines if the original design was a little too low-cut for their style.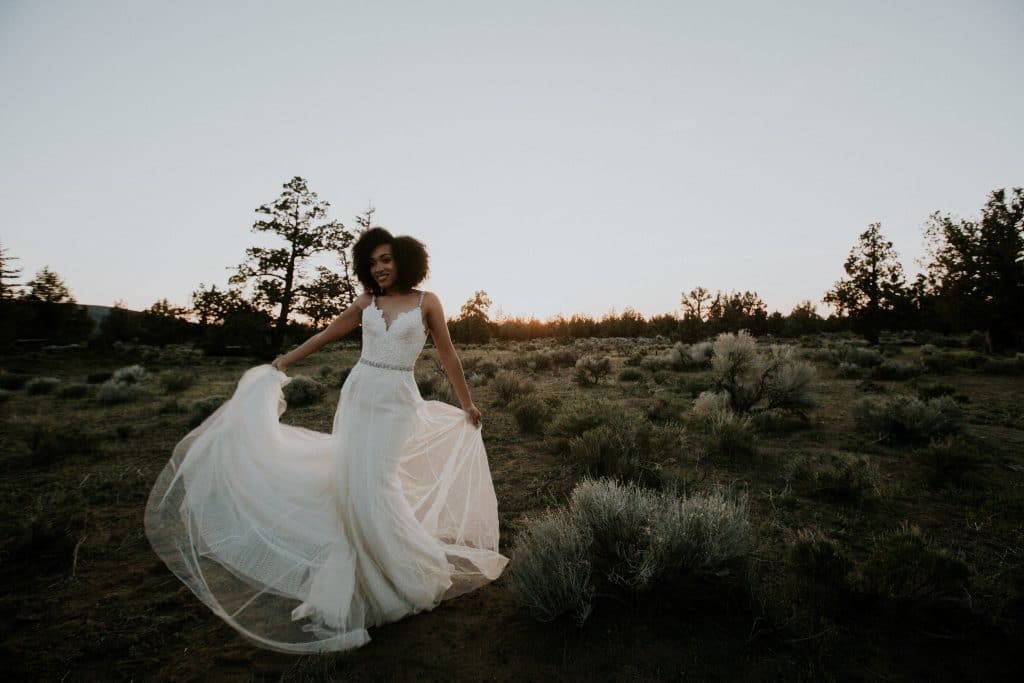 We've also had brides swap out the silhouette. Our Ava and Felicity dresses, for example, feature a trumpet silhouette underlay with an A-line tulle topper. If this is not your thing, we can change it! We've swapped out the figure-hugging trumpet underlay for a more traditional bridal A-line cut throughout. Is Annette a bit too ballgown for you? We've also had brides take out some of the layers of crinoline to give it a softer A-Line shape while keeping those gorgeous layers in the horsehair skirt.
And we can do it the other way, too! Melanie and Lacy are traditional A-Line cuts, but we've swapped this out for a fitted sheath silhouette, like the one on our Tabitha or Sienna dresses.
Train
Not all of our dresses feature a dramatic train – if this is something you want to add, just request it! We can change the length of the train to make it as long as you want (well, within reason). Or, if you're certain a train is not your style, we can shorten it or get rid of it altogether. It's completely up to you!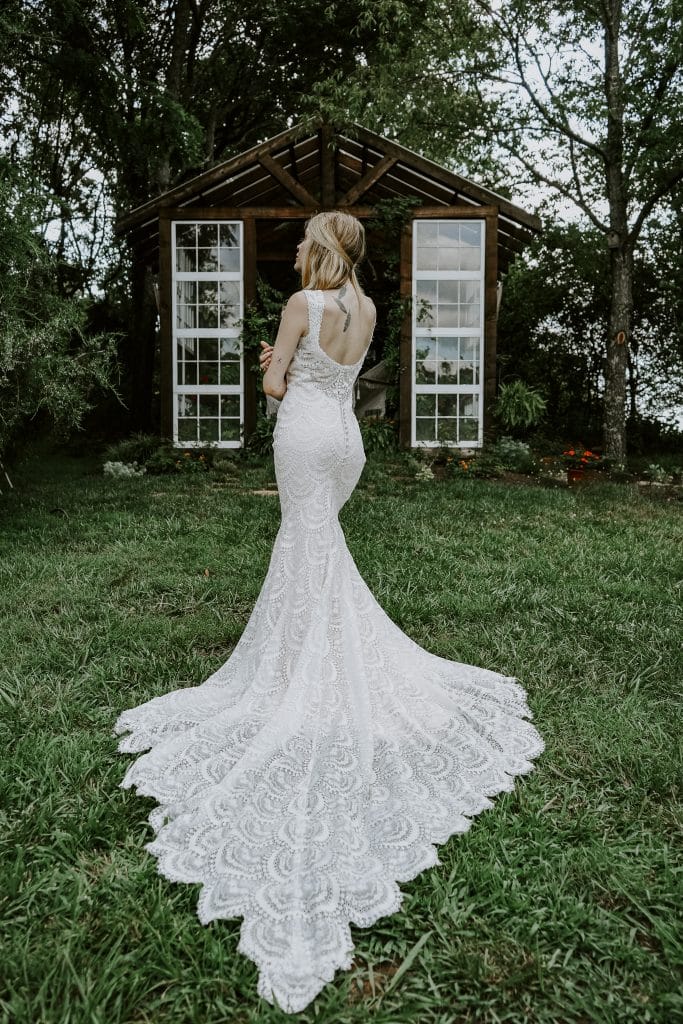 Details
Some brides love beading. Others, well, don't. In order to give it that extra sparkle, some Grace + Ivory dresses have beading or clear sequins added on. But we've also made the dresses without the beading or sequin details – because some brides love the dress but not the sparkle.
Our Gemma dress has also been customized by adding a ribbon belt, as shown above right. These things may seem small, but little details like this can really make a difference to how much you love your wedding dress.
So as you browse our dresses and try them on at home, remember that the world is your oyster! Don't be afraid to reach out to us with any questions or to set up an appointment. Ultimately, we want you to look gorgeous in the wedding dress of your dreams. What are you waiting for!?
Photography:
Featured image: Tori Alizabeth Photography
1st image: Courtesy of the bride
2nd image:  Keri Gaudreau Photography; 3rd image: Cailynn Wolfgang Photography
4th image: Amanda Leise Photography
5th image: Keri Gaudreau Photography
6th image: NuGen Photography; 7th image: Tori Alizabeth Photography