Did your quarantine boo turn into your life boo? Did lockdown confirm that, yes, this is who you want to lock down with…forever? Are you yearning for the end of social distancing so that you can finally plan your post-covid, post-crisis, post-lockdown wedding?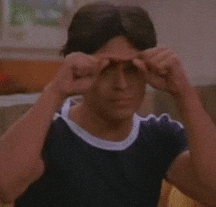 Obviously, Grace + Ivory can handle your wedding dress. But what about everything else?!? Don't worry, girl, we've got you there too! If you're looking to get married in the Washington, D.C. area, here are some of our favorite vendors – including wedding photographers, rental bridal accessories, and make-up and hair. First, we'll give you the list. Keep scrolling for more info about each vendor and what makes them special!
Venue: Ajax DC
 Florals: Rocking Bird Flower Co.
Furniture & Decor: Something Vintage Rentals
Make-up: Valerie Hammer
Hair: Tress Hair Co.
Bridal accessories: Little Things Borrowed
Florals & Design: Designs by Oochay
Cake: Killa Cakes
Planner: Sugar Taylor Co.
Alterations: Cheryl A. Lofton & Associates
Menswear: Ezra Paul
Photographer: Iris Mannings
Photographer: Sarah Bradshaw Photo
Photography and Videography: Lauren Louise Collective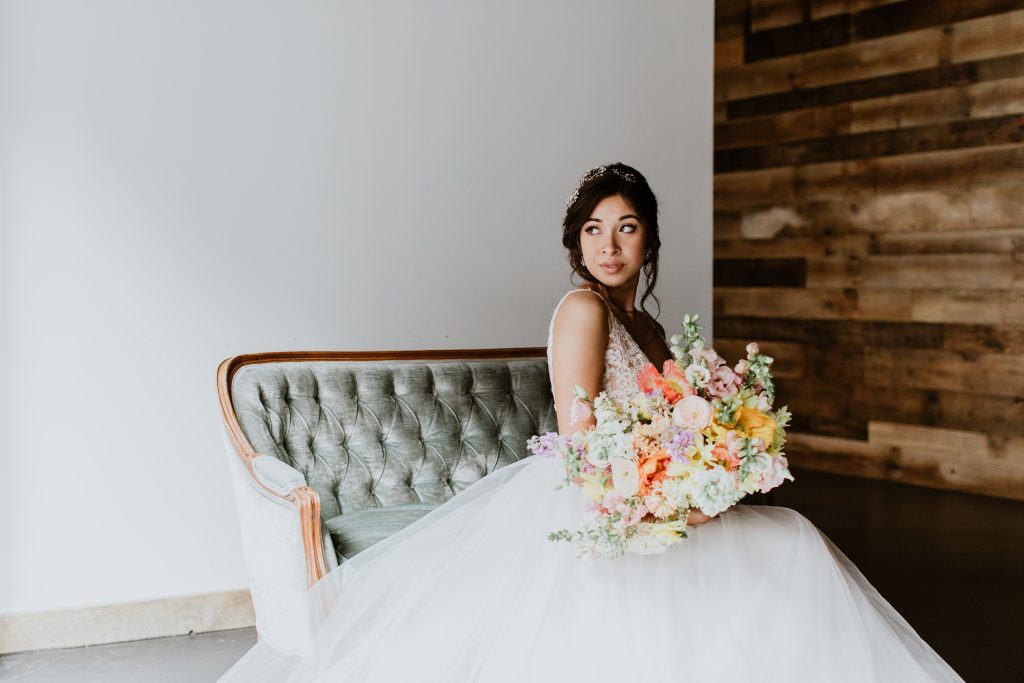 Location: Ajax DC; Photography: Lauren Louise Collective; Hair: Tress Hair Co.; Makeup: Valerie Hammer; Flowers: Rocking Bird Flower Co.; Dress: Gemma dress, Grace + Ivory; Bridal Accessories: Little Things Borrowed; Furniture: Something Vintage Rentals
1. Venue: Ajax DC – Mount Vernon Triangle
Ajax DC is a gorgeous, 5,000-square-foot space in the Mount Vernon Triangle in DC. They're a great venue for weddings of about 190 people or receptions/cocktails for 150 guests. The modern, industrial chic style of Ajax makes it easy for you to create your dream wedding. They even have a curated vendors team so they can point you to great options who know the space, or you can bring in your own vendor team! Their 3,000 square feet of sound panels means that there is no reverb or echo,  so there is no sound editing needed, and no one has to yell to be heard. Take a virtual tour on their website!
Rocking Bird was founded by Meredith Wallace and specializes in free-form natural arrangements, especially for weddings and special events. They source their flowers from two women-owned flower farms in Maryland – so everything is local, sustainable, and fresh! – and at weddings, they don't use any harmful chemicals or products.
Something Vintage Rentals provides rental furniture and decor in the DMV and beyond! Their inventory of tables, seating and upholstery, rugs, china,  displays and backdrops and so, so much more is incredible - but if you can't find anything that suits, they'll make it for you. They have an expansive collection of furniture that will have your mid-century modern wedding covered. And if you want a French Provincial style, they've got you there too. They have everything that will take your wedding vibe that extra step further to complete the experience. Select pieces from their inventory or get them to design the event for you - either way, you'll love what SVR can do for your wedding.
Valerie Hammer Makeup Artistry provides makeup artistry services to the DC area that will make you shine for your wedding day. She's been featured in Wedding Wire's Couples' Choice Awards for over five years!
Valerie will make you feel beautiful. She is a professional makeup artist who will completely capture the look you want. Truly, if you're looking for a makeup artist for your wedding, engagement shoot, or even for some makeup lessons, you've found the right woman with Valerie Hammer.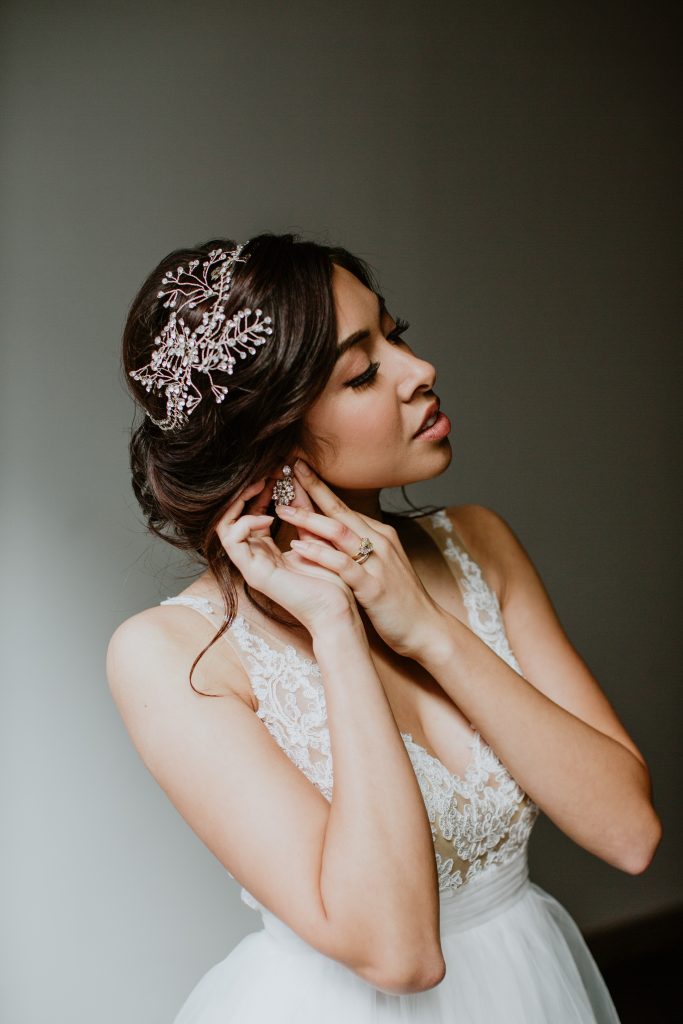 Makeup: Valerie Hammer; Hair: Tress Hair Co.; Hairpiece and earrings: Little Things Borrowed; Photography: Lauren Louise Collective; Dress: Gemma dress, Grace + Ivory
Tress Hairstyling Company specializes in soft, effortless bridal hairstyles and updos. VyVy will come to you on the day and design the style that will bring an easy beauty to your wedding look. She's also great at modern chic and vintage styles and gets amazing reviews on Wedding Wire, The Knot and the Aisle Society. Beyond weddings, Tress also does styling for photoshoots and events, and even just regular cuts – so even if you don't use her for your wedding, we're certain you'll love her for something else!
Ok, fine, Little Things Borrowed (LTB) is now based in Florida, but they got started in the DMV and they deliver all over the U.S. We've been dying to highlight them on our blog! This rental boutique (as in, better for the environment and much more sustainable) will find you your dream bridal accessories – veils, hair pieces, earrings, headpiece combs, hairbands, bracelets and necklaces, sashes and belts, and wraps. They won the Wedding Wire Couples' Choice awards in 2018 and 2019. Do you need any more convincing??
All you need to do is make an appointment with one of their stylists and then make a reservation to rent your veil or hairpiece. Then they send it to you a few days before the wedding – for free – and after the big day, you send it back – for free! And don't worry, if you don't know which style to pick, or want to see how the piece works with your hair - they also provide a preview service for just $14.95 per accessory item before placing your final order.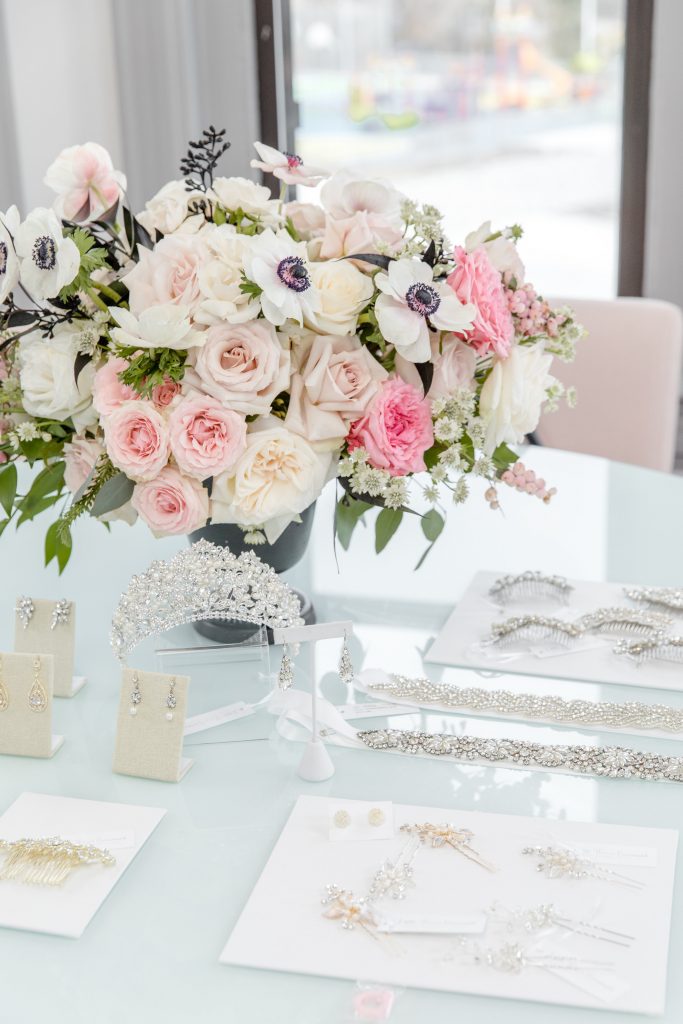 Accessories: Little Things Borrowed; Flowers: Designs by Oochay; Photography: Iris Mannings; Venue: BUREAU by Kerra Michele
Here at Grace + Ivory, we love Designs by Oochay. No, really. Not only will they put together some fantastic, opulent flower designs, but they will also create a cohesive design plan to make your wedding aesthetic come to life. Honestly, just look at the weddings on their website – the themes, colors, and designs are so versatile and diverse. We promise that Designs by Oochay will help you bring your wedding floral vision to life.
If you're familiar with Grace + Ivory, you know we love kickass women. And this kickass woman makes some kickass cakes in the Northern VA, Washington DC, and Maryland area. Bria Taylor started Killa Cakes in 2017 after graduating with a degree in graphic design. She describes her style as "art meets cake."
Everything about your wedding cake can be customized to your theme, color scheme, and requirements. They create unique flavors like potato chip cake ("Snack Attack"), a Cap'n Crunch cake, and the Nelly Bee, which is a milk and honey corn cake with honey marshmallow buttercream.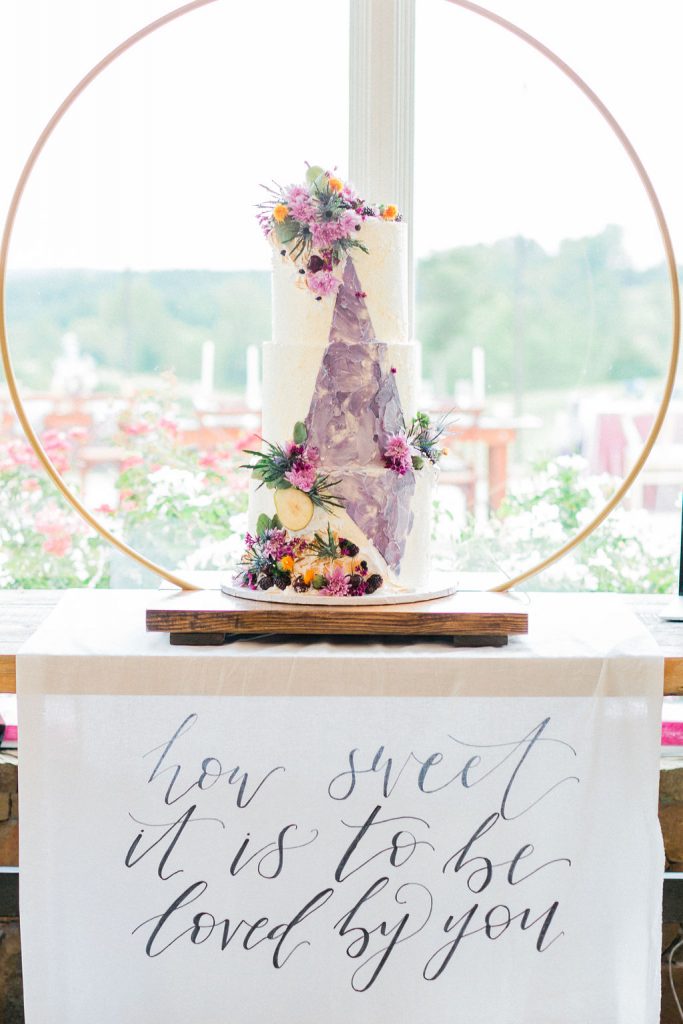 Just look at this cake. We're not drooling, you're drooling!
Cake: Killa Cakes; Photography: Mikaela Marie Photography
Sugar Taylor Co. specializes in events, branding, and interiors. They'll take the time to understand who you are, what you want from your wedding, and your vision, then transform it into reality using art and design. Let them plan the whole event, or just one aspect of the day. They create their own florals and fine stationary – helloooo custom stationary for save-the-dates, invitations, and menus!
Sugar Taylor Co. will walk you through every step along the way (including unlimited emails and phone calls 60 days leading up to the wedding), manage your wedding party, and can even provide a custom vendor list to match your budget. They're DC/Maryland based, but they can also take on your destination wedding. Alexa, call Sugar Taylor.
Cheryl A. Lofton and Associates is Washington DC's premier tailor that specializes in alterations, bridal fittings, and custom tailoring. Cheryl is a third-generation tailor and learned her trade from her grandfather.
Cheryl A. Lofton and Associates can help with bridal alterations, construction, and style and require a minimum of two fittings. But they do so much more than just wedding dresses. They do everything from button replacements to custom tailoring. Their shop is in a great location in downtown DC – check them out!
Ok, so Ezra Paul is menswear, but there just might be a few important men in your life at your wedding 😉  They've got gorgeous sports coats, shirts, and ties and were chosen as the best place to buy a suit in the Washington City Paper Best of DC. We also might be biased since we had an amazing event there a few months ago – but seriously, we're picky, and Ezra Paul made the cut easily.
Photographers: There are so many talented photographers that we love. It was hard to narrow it down to just three!
Iris Mannings is based in DC, but she'll travel anywhere for your wedding. She will capture the candid romance and joyful moments of your engagement, wedding, anniversary or lifestyle shoot. She's in-demand, though – so book early!
Sarah Bradshaw started in international nonprofit photojournalism before stumbling into wedding photography more than a decade ago. She loves love and marriage! She is passionate about documenting love stories and specializes in classic romance. In particular, Sarah thrives when photographing black tie and stylish weddings.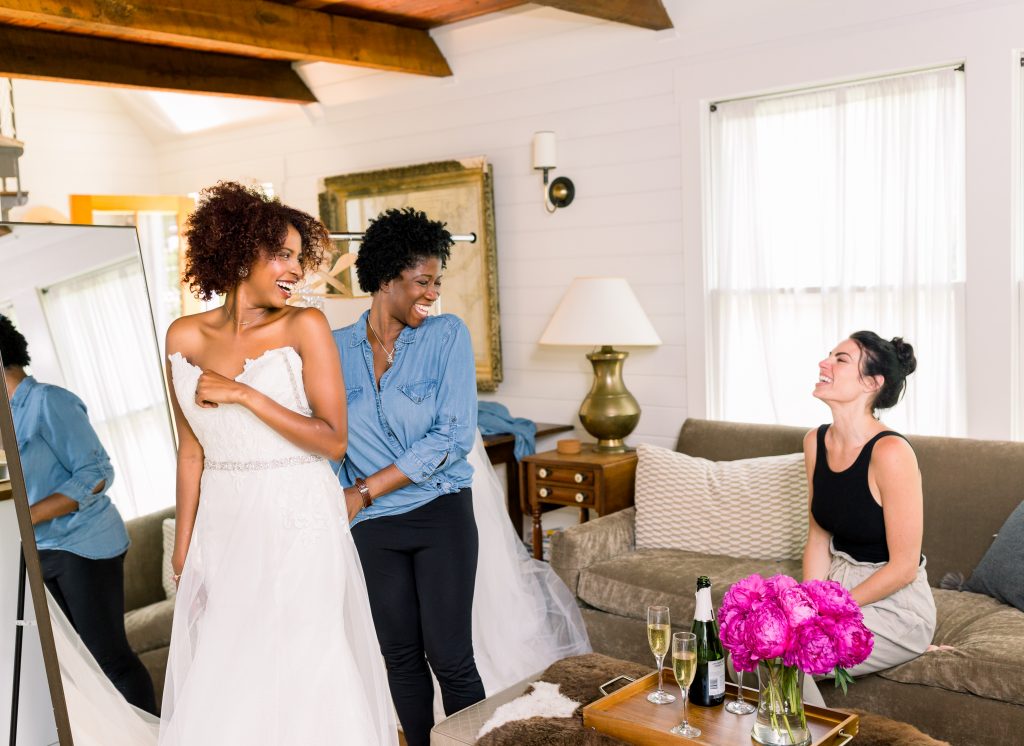 Sarah Bradshaw helped us with our try-at-home shoot!
The Lauren Louise Collective is a full-service wedding company, but we're recommending them specifically for their photography and videography. Their in-house videographers, The Paperboys, will provide a gorgeous, cinematic highlight film with an artistic flair – you can even bring the videographer along to your engagement session too. Their photographers do beautiful, casual engagement shoots that show couples at their most comfortable. And by the way, they also partner with DC Boudoir Photography... 😉