It's nearly fall and wedding season is far from over! With many celebrities tying the knot this summer and fall, we're excited to see the gowns and the table scapes. I mean...who doesn't love a fall color palette? While our 2022 fall brides are looking for one last pop of color to add to their nearly perfect details, our 2023 Fall brides-to-be anxiously await behind their Instagram and Pinterest accounts...for any and all inspiration. 
But if you don't want to wait for your favorite influencers' wedding photos to hit your feed, here's our favorite trending fall wedding color palettes with a little help to complete the look. Grab a pumpkin spice latte, throw on your favorite cardigan, and open your wedding planner...your new fall wedding colors could be on this list! 
---
Fall Wedding Color Palette: Spanish Sunset

Get the details: Whatever the venue, you can't go wrong with a fall wedding color palette that incorporates a metallic gold. Deep browns and shades of orange were popular last fall season with no signs of slowing down. We're especially loving the deep tones for a less traditional bridesmaid dress. Willow Designs beautifully inspired this palette with their bohemian chic table decor (pictured below). This look is all about a statement table cloth, a brown sea glass chalice, Gold place settings, and light rose florals for contrast.
If you're planning a backyard reception or if your venue is limited on decor, renting what you need is never out of the question. F&S linens offers an extensive collection of chargers and a few metallic gold styles like the one below. They also offer linens (of course!), table runners, napkins, and more. We love how their site lets you search by wedding style, so you can find exactly what you're looking for while renting sustainably.

Complete the look: Opting for a deep color palette doesn't limit your options when it comes to the color of your bridesmaid dresses. You could pull from the lighter floral tones and have your girls in blush. Or as we mentioned earlier, walk on the wild side with a burnt orange, deep brown, or even a sequin gold. Playing with textures has been a trend on the horizon for quite some time so don't be afraid to pick velvet or satin. Especially for an end of fall wedding when it's a bit breezy.
As for your wedding gown...ivory, blush, and champagne are all great options. But a gown with a deep nude underlay will pair beautifully with our Spanish Sunset palette. Our Nia gown is a perfect choice with ivory lace details for some stunning contrast.
---
Fall Wedding Color Palette: Romantic Blues
Get the details: If lighter, classic colors are more your style we recommend this fall wedding color palette inspired by the Big Fake Wedding Chicago 2022. Blue truly works for any season, but would be especially perfect for a wedding just on the cusp on summer and fall. Mix in a moody gray, a matte black, and a blush accent and you've got the romantic blue palette of your wedding dreams.
Picture this: your guests toasting with those picturesque blue glasses, the beautiful blush roses, those adorable macaroons...need we say more?

Complete the look: Although we'd love to see a white gown with this palette (and maybe so would your mother-in-law), we get that traditional may not be your thing. If you're a statement bride and everything you've tried on has felt a little safe...a light blush gown would seamlessly pair with this romantic palette. Your homework: Book our Stella gown (below) for Try-At-Home and prepare to be a blushin' badass bride.
Your bridesmaids? Well they can be your something blue in these chiffon floor-length gowns from Birdy Gray.  They have a ton of options in shade dusty blue and are perfect if you don't want your bride squad to spend a fortune. You can mix and match styles in the same fabric to create a cohesive look that ensures everyone feels confident. As for the groomsmen...opt for a staple gray suit they can wear again and again. We love the SuitShop for quality, trendy suits that don't break the budget.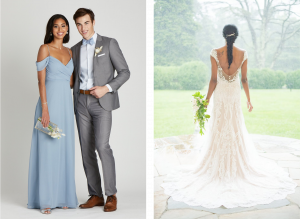 ---
Fall Wedding Color Palette: All Boo'd Up
Get the details: If you want the ultimate fall wedding color palette, and arguably the spookiest, we're still dreaming of this setup from Cascadia Events. Categorized by a wine colored red, black & white, with pops of deep greenery...this palette is not for the faint of heart. And the skeleton cake pops by @cakepopsbyrachel are a must!
This isn't your childhood Halloween party so let's leave the kids at home. Your guests will thank you for the night away!

Complete the look: with a theme so bold you may be tempted to go bolder  with your wedding dress. At Grace + Ivory we love a black wedding dress moment but with this palette, we'd love to see an understated gown become the center of your spooky ceremony. Our Melanie dress (below) pairs perfectly with a dramatic red bouquet. Simple but sexy, with a slit and low low back...you'll still feel like a bride at your wedding that is anything but traditional.
For your bride squad, black satin slip dresses are very on brand for the event. They're easy to find at a multitude of prices and are a piece your bridesmaids could wear again. We'd opt for a midi length to pair with a statement shoe and earring.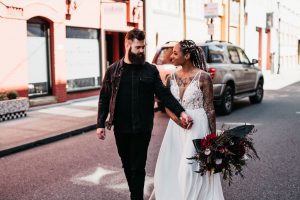 ---
Fall Wedding Color Palette:  Muted Classic
Get the details: If you're looking for a twist on a classic, we're all about the muted colors of this next palette. Matte black flatware is never not cool, in our personal opinion, but paired with deep greenery and white florals...the result is perfection. Not pictured: A ultra-talented wedding planner... @chicfromchicago put this stunning table scape and invitation inspiration together.
Complete the look: This trending fall palette pairs best with a crisp ivory gown in a fabric that shines. We love the silk-satin skirt on our Sienna dress for movement in person and in photos. As well as the lace applique top that pull the palms from the bridal bouquet into a look that is overall fresh but still very classic.
---
Credits:
Spanish Sunset, Romantic Blues
floral & event design: @jceden @willow_design @bloomefloral @totheninesevents 
photography: Keri Gaudraeu, Bozena Voytko, JaelynnRose, Stephania Campos,
All Boo'd Up
floral & event design: @Shadywinesfloco @cascadiaevents 
photography: Vine and Ash
Muted Classic
floral & event design: @chicfromchicago @stemmingfromlove
photography: Alex Dabrowski Photography, K. Herman Photography