Hey kickass womxn, congrats on starting your engagement ring search! I'm Kristy from Plum Diamonds, where we craft made-to-order lab-grown diamond engagement rings and wedding bands. I am excited to share with you some tips on how to choose the perfect lab-grown diamond engagement ring. It's a symbol of love and commitment, so take your time to explore your options; it's all about discovering the perfect ring for you.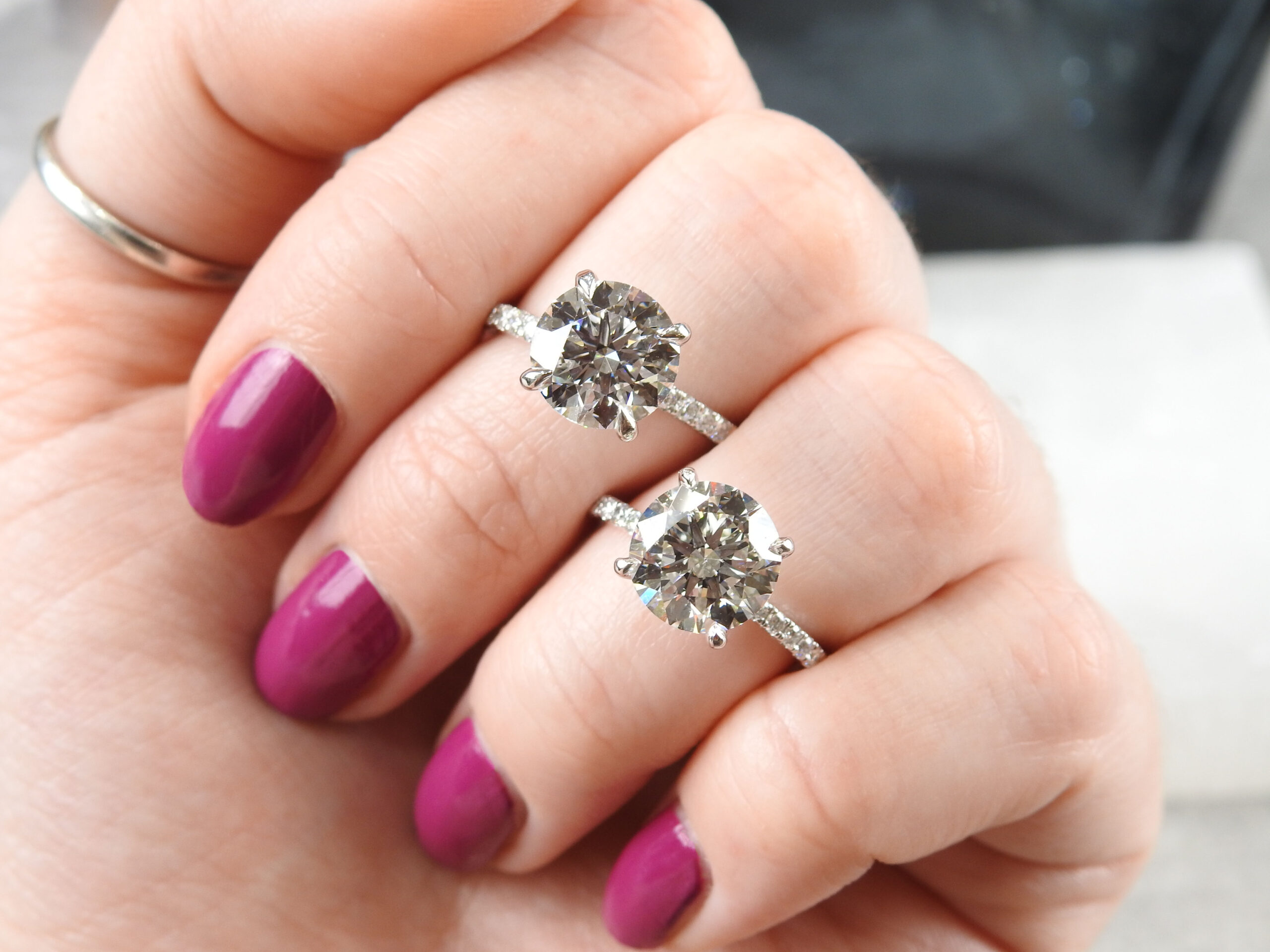 Buying an engagement ring is so mysterious for many of us. You've probably never had to think about diamonds or jewelry, let alone evaluate and make a big purchase decision. It can be intimidating, and we're here to give you straight answers and honest opinions. Feel free to contact me directly at any time; I want this to be an enjoyable experience you're always going to remember.
General Style & Vibe
My first recommendation is to look around and see what style of ring you're drawn to. For example: chunky, vintage, or a big center diamond? You could choose a ring that doesn't even resemble a "traditional" engagement ring. Some people like to stack simple bands, others prefer one oversized piece in lieu of a standard wedding "set". The options are truly endless.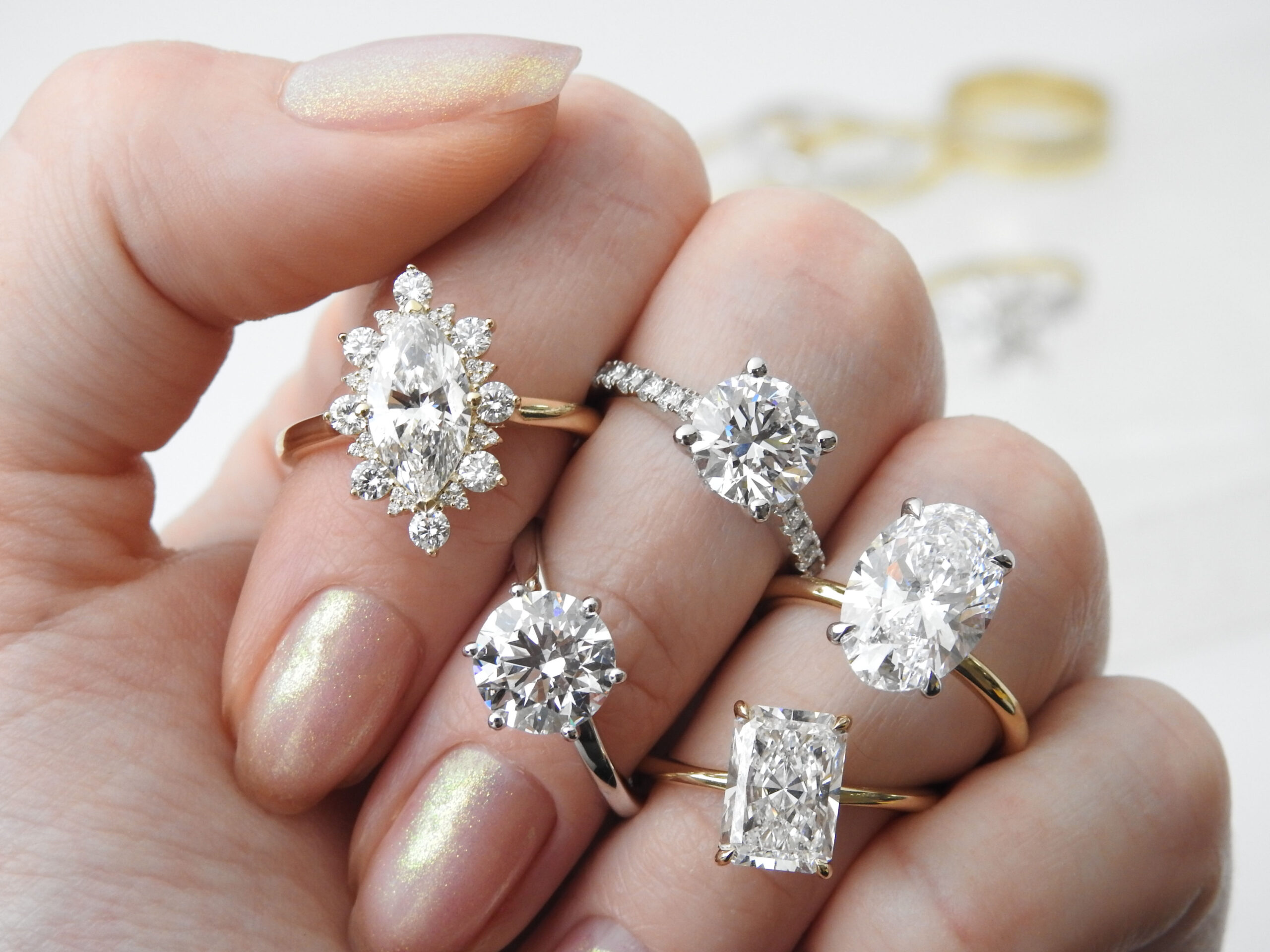 While it's helpful to consider trends, your personal style should always take center stage. Think about the jewelry you already love to wear and the fashion choices that resonate with you. Are you drawn to clean and minimalist designs or intricate and ornate details? Consider how your engagement ring will integrate with your everyday style and make a statement that feels authentically you.
In this post, I'm going to focus on engagement rings that feature a center-set diamond, which is what we specialize in at Plum Diamonds.
Center Stone Shape
This feels like the place that I tell most clients to start once they start diamond ring shopping. Jump on Pinterest, or Instagram, or visit a local jewelry store. One of the key decisions you'll make is selecting the center stone type and shape. What diamond (or gemstone) is calling you?
Each diamond shape has its own distinct personality, and finding the one that resonates with you is key to creating a ring that reflects your style. Round Brilliant is a classic and versatile choice, while ovals exude a more modern vibe. For those seeking a vintage-inspired look, an emerald-cut or cushion-cut diamond might be the perfect fit. Learn more about different diamond cuts over on Plum Diamonds' jam-packed diamond shapes page.
Ultimately, choose a shape that speaks to your heart and complements your overall aesthetic.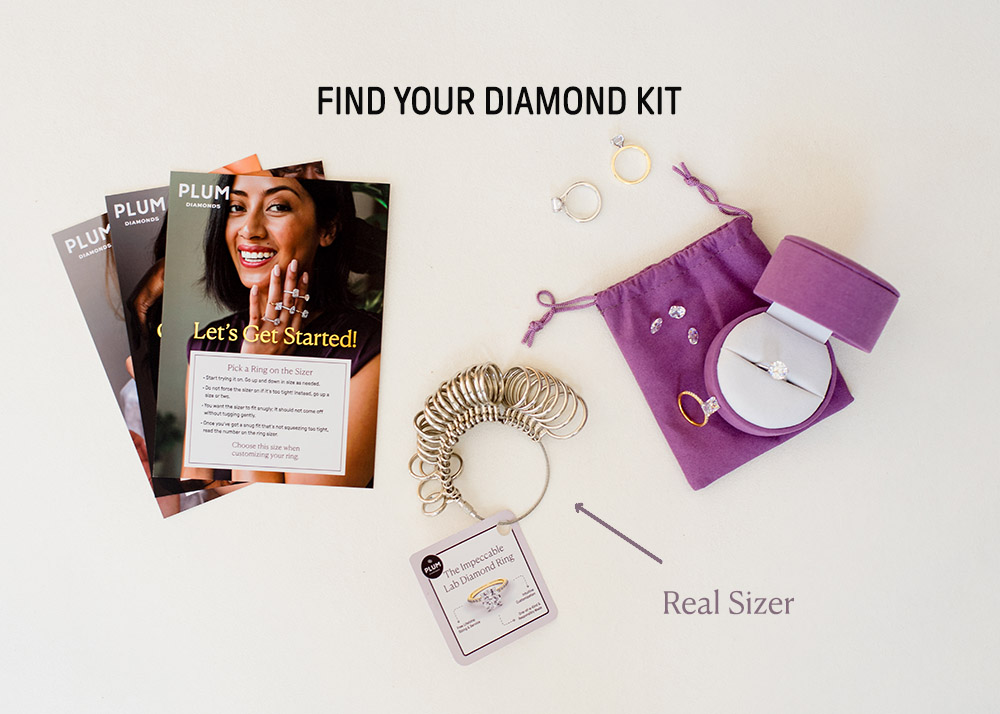 Tip: Just like our friends at Grace + Ivory, we offer an at-home try-on option, so you can find your perfect ring without putting on your shoes. Get a Find Your Diamond Kit to test out a range of diamond shapes and ring styles. It's free! Order your at-home engagement ring try-on kit and let the fun begin.
Center Stone Type
As far as center diamond type goes, you've got options for that, too: natural diamonds and lab-grown diamonds. Today, lab grown diamond rings are an attractive option for environmental, economic, and ethical reasons. The popularity of lab diamonds is growing like crazy - last year, one in three engagement rings purchased in the US were made with lab-grown diamonds!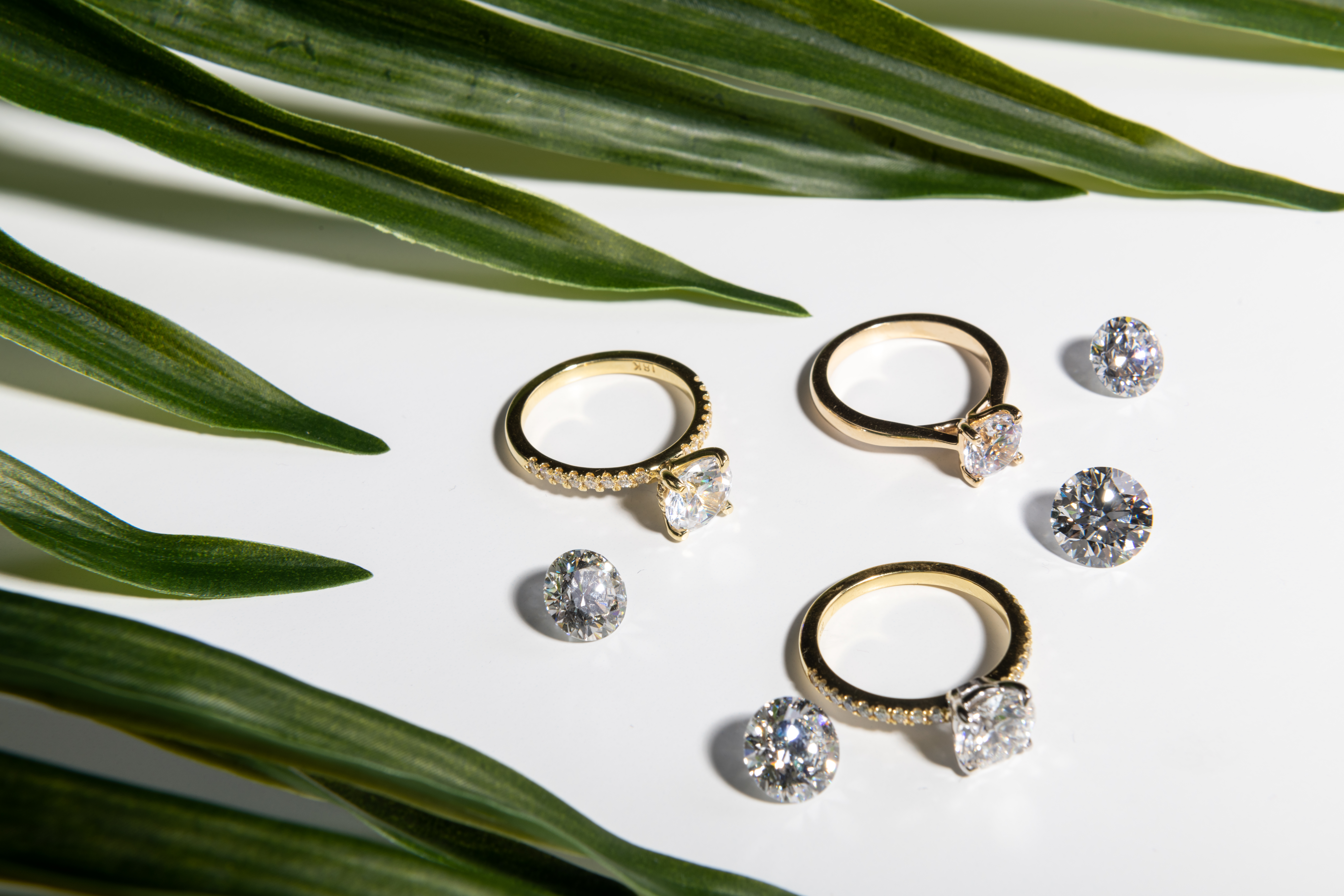 I'm partial to lab diamonds myself, and that's what we focus on at Plum Diamonds. In my view, lab diamonds are the perfect diamond option that checks all the boxes; they benefit your future in environmental and economical ways, and they are real diamonds that will last forever and beyond. All of this aligns with my values and priorities. What better way to commemorate your love than with a stunning diamond ring that's more eco-friendly and is going to last a lifetime?
Consider your values and priorities and choose the option that's best for you.
Ring Style
When it comes to choosing a diamond engagement ring style, there are timeless options to consider that I love.
One classic style is the solitaire, which features a single center diamond. Solitaires let your center diamond take center stage. Another popular style is the halo, which features a center diamond surrounded by a ring of smaller diamonds. This style adds extra sparkle and dimension to the ring, making it a great choice for those who love a little something extra.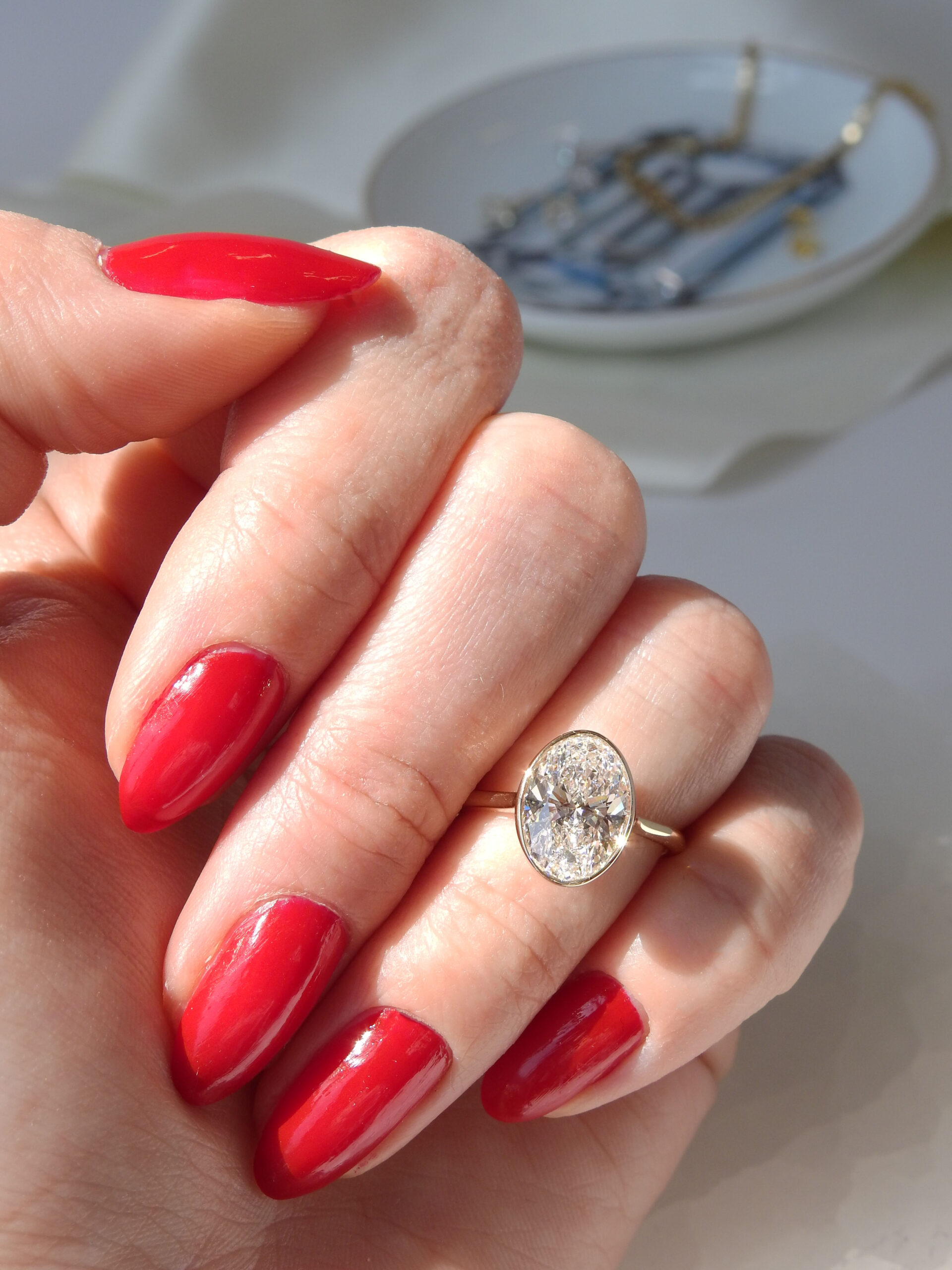 Another favorite is the three-stone design. These rings feature a center diamond flanked by two smaller side diamonds. Three-stone rings are a great choice for anyone who wants a lot of "coverage" on their finger, which just means lots of diamonds! Side diamonds come in a variety of shapes with a three-stone ring including round, tapered baguette, pear, even half-moon. There are lots of cool shapes out there, so you can get really creative.
Other styles include vintage-inspired rings with intricate details and modern designs with clean lines and geometric shapes. When choosing an engagement ring style, trust your instincts and choose one that feels true to you and your personality (and your love story).
Metal Type
Picking the right metal for your engagement ring can be confusing, but don't sweat it. What color jewelry do you wear on a daily basis? We usually have clients consider this first. If you're all yellow gold, that's a great place to start, and the same goes if you love silver.
Yellow gold is a classic choice that never goes out of style, while rose gold says romance and femininity. It also looks amazing next to many skin tones.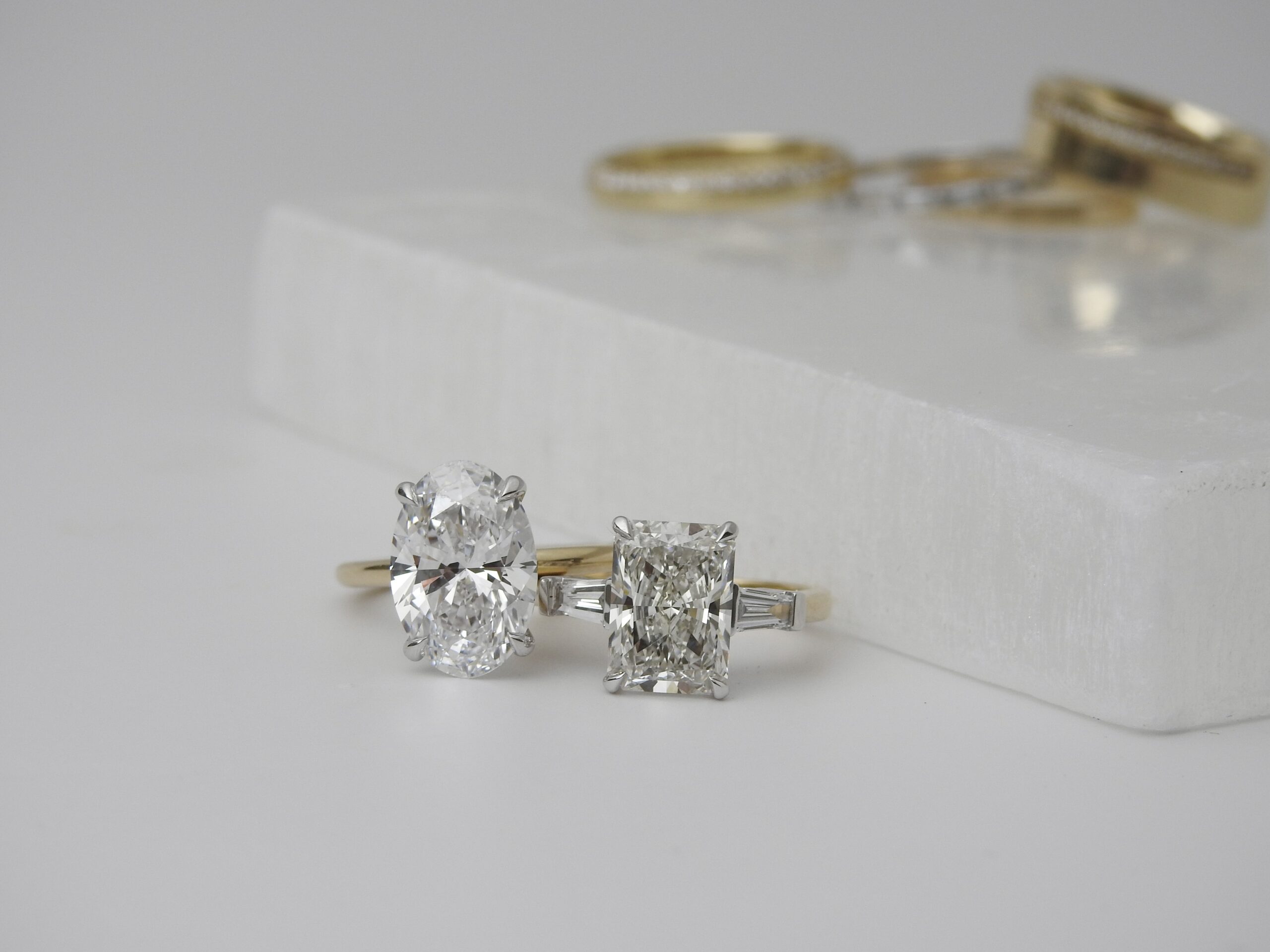 White metals look sleek and help make colorless diamonds pop. Platinum is the only truly white metal, and it is the most pure and hypoallergenic. It's a great option if you have sensitive skin or want a low-maintenance metal, because it does not need to be plated regularly, the way white gold does.
All metal will require some TLC. Rings look best when they are professionally polished annually, and white gold will need to be plated to stay looking bright white. 
Consider Your Wedding Band
You might not think about this right away, but when you're choosing an engagement ring, consider how your wedding band will sit next to it.
There are two options: your wedding band will sit flush or not flush. A flush wedding band sits perfectly against the engagement ring, creating a seamless look. This is ideal if you want a streamlined, orderly look.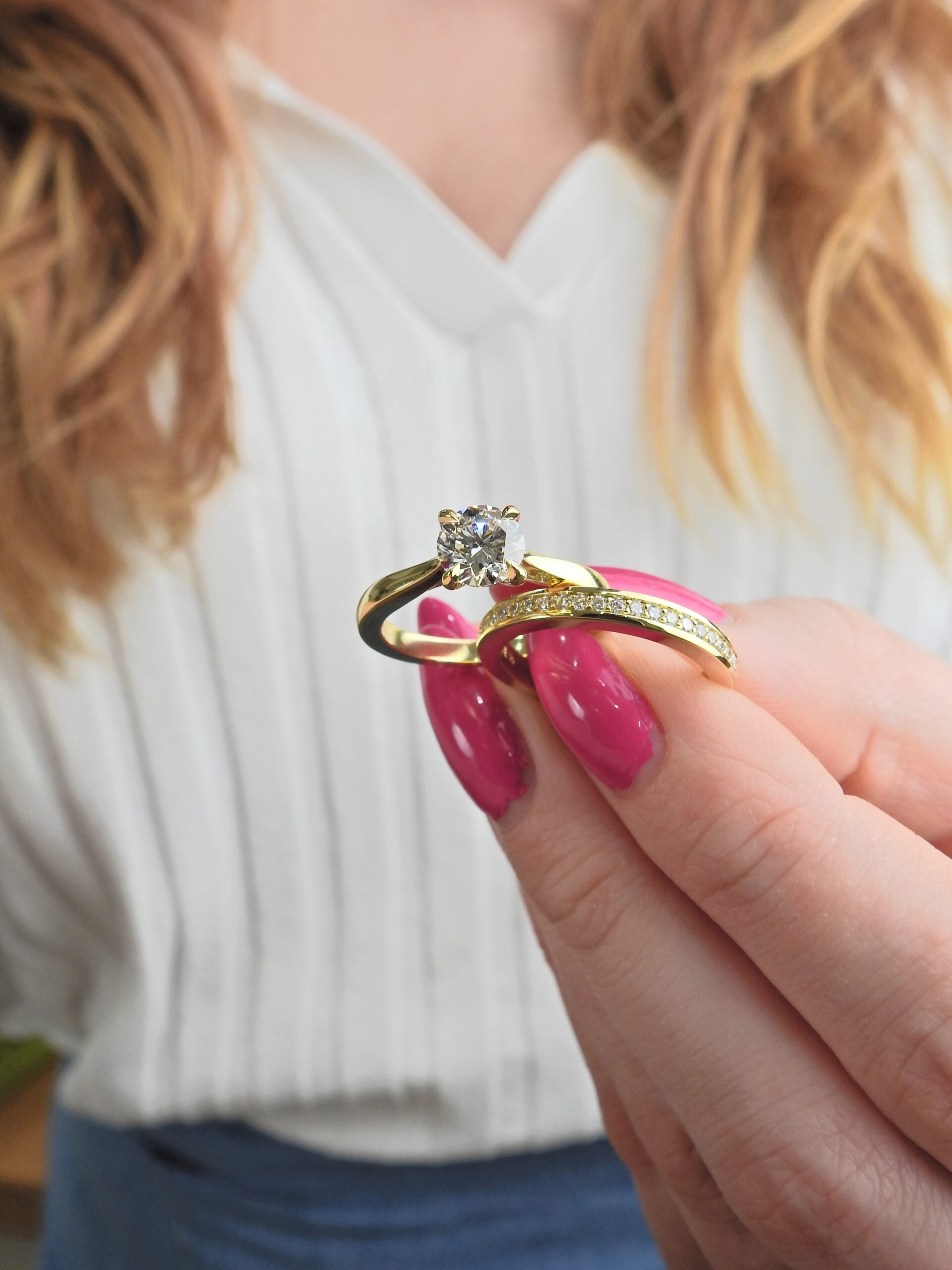 On the other hand, a not flush wedding band sits next to the engagement ring with a small—or large— gap between them. This can create a more unique and modern look, and it also allows the individual rings to stand out on their own.
If you prefer a more traditional look, a flush wedding band might be the perfect choice. If you want to add some personality and uniqueness to your ring stack, consider a not flush band. Remember, there's no right or wrong answer – it's all about your personal preference! So, take the time to think about what you want and choose the option that feels right for you.
Need a little help with this one? Learn more about choosing the perfect wedding band for your engagement ring.
When Choosing An Engagement Ring...
My last thought is about choosing a jeweler; we recommend finding one you can trust, who offers excellent post-purchase care, and who strives to operate in an ethical and sustainable way. After all, you want to feel good, do good, and look good!
Choosing an engagement ring can be an overwhelming task, but with a little direction, it can also be a lot of fun. At Plum, we're committed to crafting impeccable lab-grown diamond engagement rings and providing amazing customer care.
Thank you for reading, and if you have any questions or comments, please feel free to reach out to me at kristy@plumdiamonds.com. I'd love to hear from you!