As a bride-to-be, finding your dream wedding dress can be one of the most exciting aspects of the wedding planning process. From gathering your girls for a day of glam, bubbles, and a bridal fashion show with no one other than you as the model, the day could not be more fun! But what if you live in a small town that's miles, or even hours, away from a bridal boutique or even a chain store? What if you're a bride who isn't keen on the fuss of scheduling an appointment in a bridal boutique filled with salespeople? What if you don't live in the same area as all of your friends to be there with you in person? Or what if you're in a global pandemic and unable to leave your home to try on wedding gowns? Seriously.


Fear not, because we have hand-crafted the perfect process for the bride with these needs in mind! 
A few years ago, we realized a premium try-on-at-home wedding dress program didn't exist to the level we envisioned. Knowing our brides deserved better, we created our own in 2019! It just so happens that today we are living in a historical time with a worldwide pandemic due to the Covid-19 virus. Most of us are either self-quarantining or are mandated to quarantine to ensure we are doing what we can to stop the spread of the virus. Not only has our program been successful for brides in the past, but now more than ever, it is ever more pertinent to shop online for your wedding dress and to be able to try your dream dresses on in the comfort of your germ-free, cozy home! We are happy to have already created this process to ensure our brides have a solution for wedding planning in a pandemic and beyond.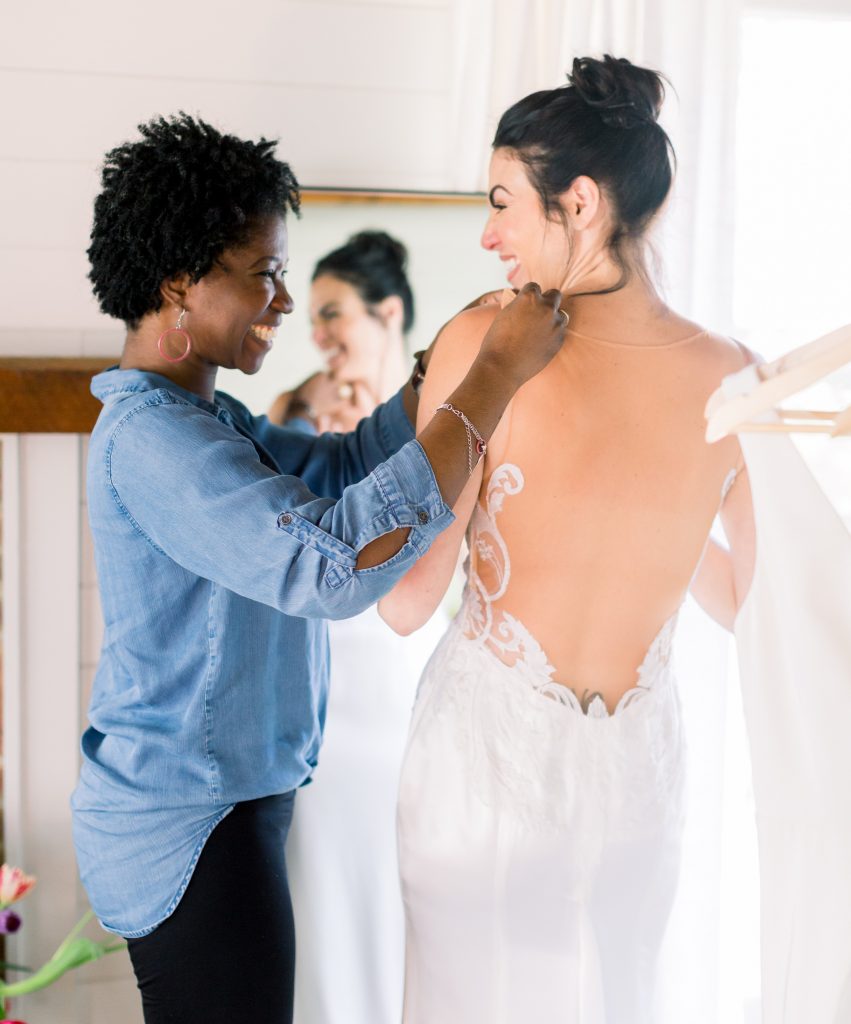 TIP ONE: Shop our dresses on our site, select your dates, and add your favorites to your cart! Once your box of dresses arrives, you and your gals can plan the day around playing with different dresses in the comfort of your own home! Once you find "the one," send the samples back to us and customize your favorite gown. Who wouldn't love a custom try-on session in your own home? Pretty cool, right?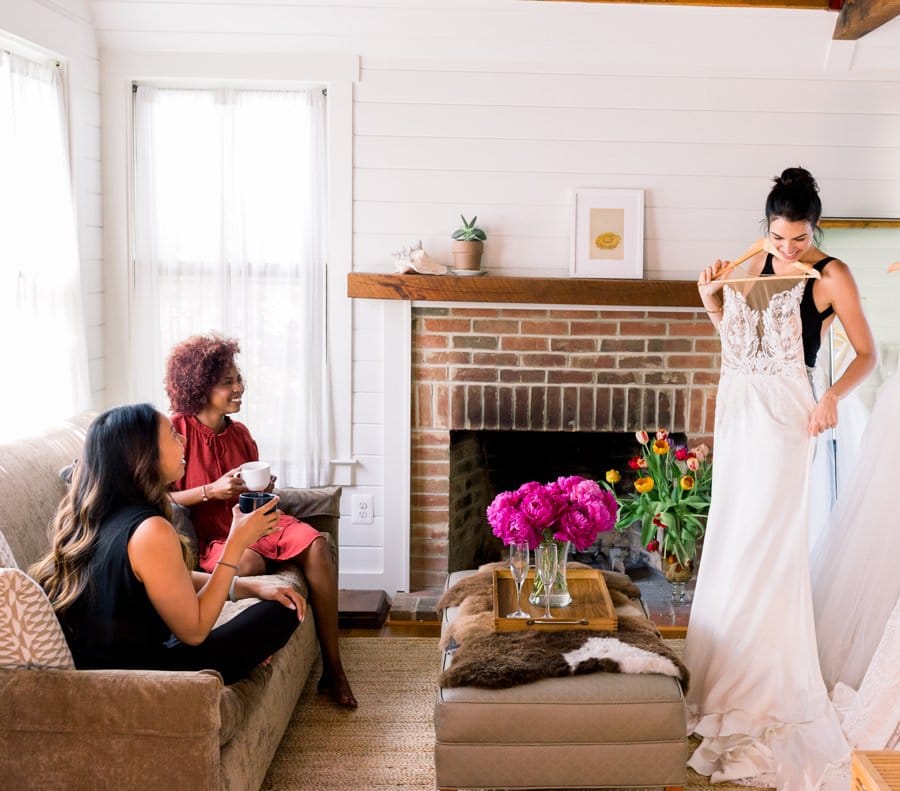 TIP TWO: Make sure you are prepared with heels, undergarments, and even jewelry you might want to wear to help you get a better idea of what the dress could look like. If your mom and friends are in the same town as you, make a day of it, just like you would a regular dress shopping trip. Imagine a day filled with mimosas and pastries at home, trying on dresses and dreaming about your wedding day with your favorite people. Sounds like a fancy-filled day perfect for kicking off the rest of the planning process!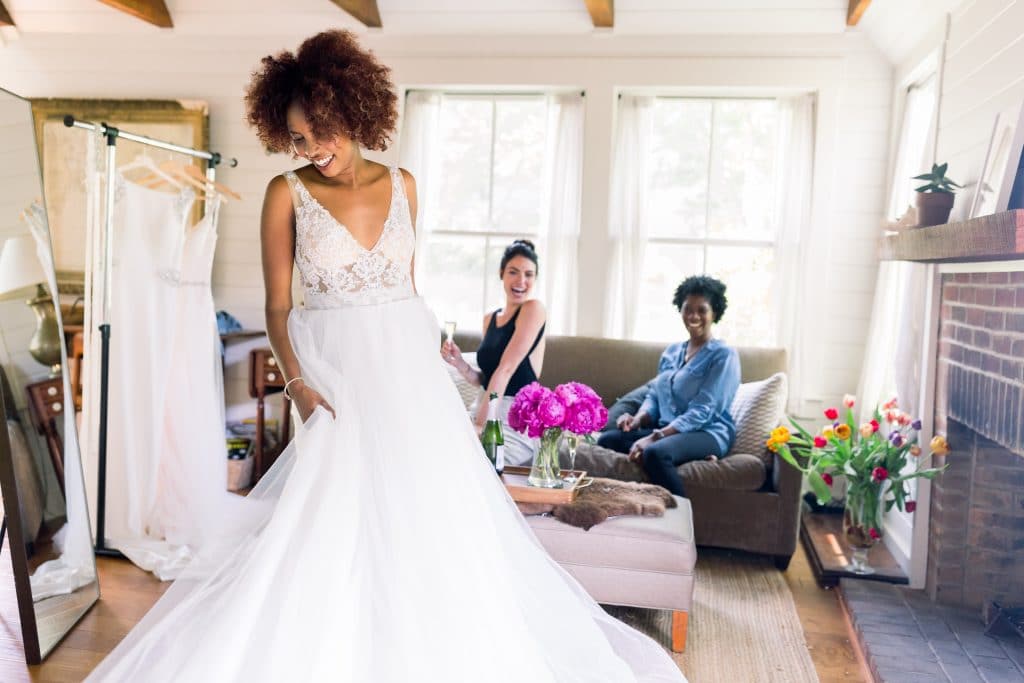 How Exactly does the home wedding dress try on process work?
1. CHOOSE YOUR DRESSES
Shop online, find the dresses that get you excited, and add to your cart by pressing "Try On At Home!" You'll let us know when you'd like to receive our sample gowns by choosing the dates on each dress.
2. RECEIVE OUR KIT, FIND YOUR DRESS!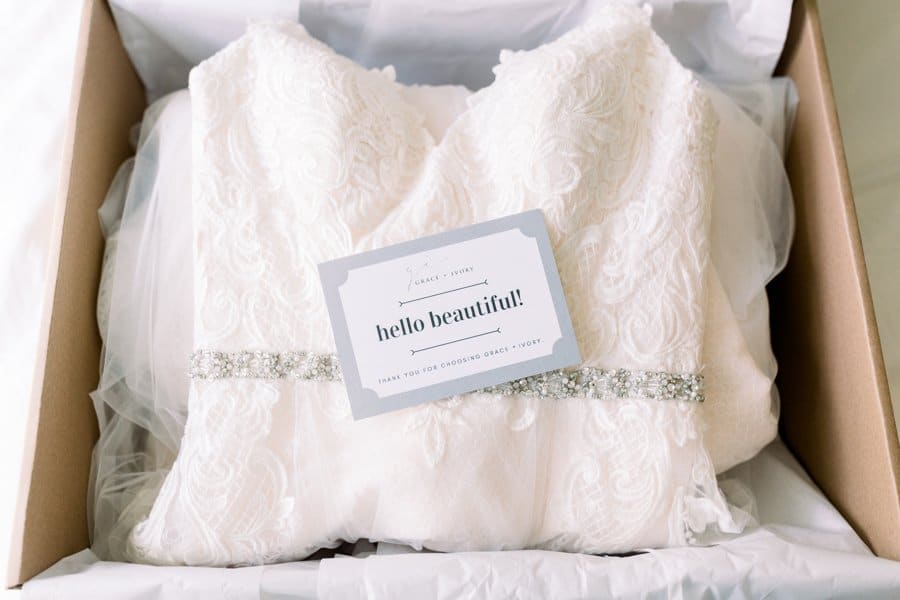 You'll get our try-at-home kit delivered to your door so you can hop into our beautiful styles.
Invite friends over, pop champagne, FaceTime relatives, or don't! You do you, boo!
3. MAIL BACK THE SAMPLES 
Most bridal stores thrive off impulse decisions. We want you to feel relaxed! Once you've chosen "the one" go ahead and mail back the samples within 3 days. Each kit comes with clips, a soft measuring tape, a TAH guide, & prepaid return shipping label because honestly who has time to print one out?
4. MAKE IT YOURS! ORDER CUSTOM
Order your dress right off of our website! Our pricing is all inclusive. Additional questions? Email, or schedule a call with your stylist at Grace & Ivory! You can discuss details on what personalizations are available (longer train, different neckline, etc.). Your custom gown will be crafted and delivered to you in just 3 - 4 months.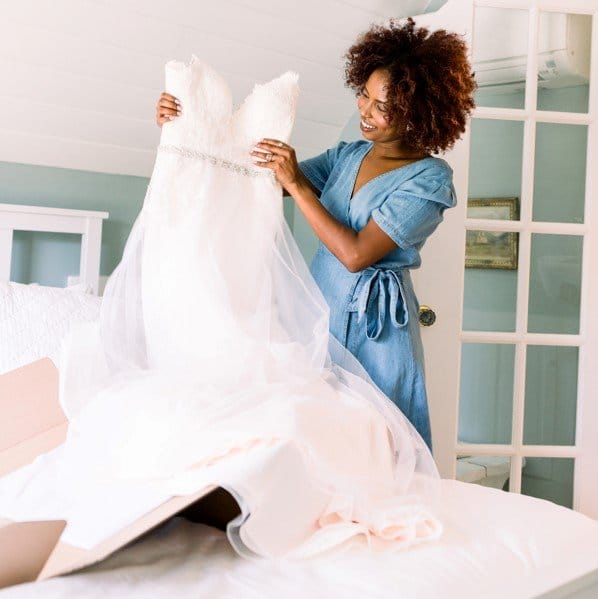 By Erica Lambert.