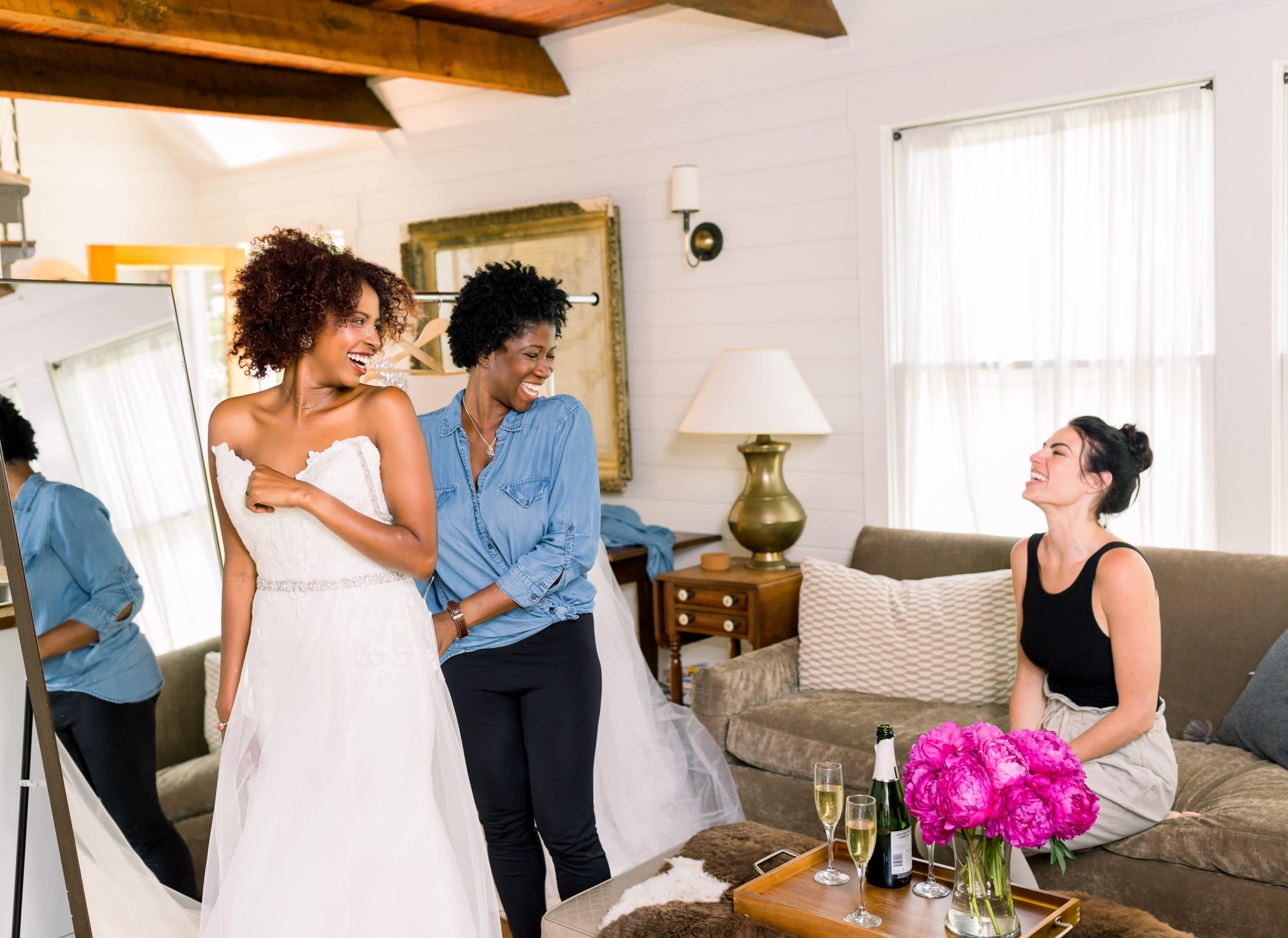 Here at Grace + Ivory, we specialize in luxury, customizable, made-to-measure wedding dresses. We love being able to give brides something tailored to them at more accessible prices and want to shed some light on what made-to-measure wedding dresses are and how it's different from other dressmaking processes! We are a firm believer that brides should be empowered to make their own choices for their wedding so we hope that whatever you decide you need for your big day, you know what's out there! On to the dresses…
Off-The-Rack: 
Off-the-rack dresses are standard-sized wedding dresses that are made and ordered in bulk by bridal shops. Shops that offer off-the-rack dresses don't offer any customization to the design or the size. These are all set styles and premade dresses. If you're interested in changing an off-the-rack dress after you receive it you'll have to work with your tailor to do so. 
Made-to-Measure/Customizable: 
What's special about made-to-measure is that it's focused on sizes, shapes, and proportions. When you order a made-to-measure dress you pick a design and provide your measurements. From there a dress is sewn based on your measurements and voila! Your dress is done. Many brides need final alterations after they receive their dress to get the best fit possible but the goal is that it's a fit for your proportions! With made-to-measure dresses, you save time and money that comes with a bespoke or fully-custom dress but still get a wedding dress that is made for you. 
Bespoke/Fully-Custom:
This is a dressmaking process for brides who want an individualized wedding dress made from scratch. Brides work with designers to make a completely new design and meet with them over the course of the process to make sure they're on the same page. There's usually multiple fittings and the price goes up depending on what you're looking for. The bespoke option is great for brides who want a unique dress and are willing to put more money and time into their dress. 
Grace + Ivory Dresses:
Grace + Ivory was created to meet the need of modern women who wanted more from their bridal experience. Our made-to-measure dresses come in globally-inspired styles and luxurious fabrics. We chose made-to-measure as our dress process so we could offer exemplary quality, personalization, and size inclusion without the jump in prices and an extended timeline. We believe you don't have to forego feeling like your badass self (or three month's rent) to get a stunning wedding dress. On top of that, your dress makes a difference in another woman's life! A portion of sales from Grace + Ivory dresses are directly donated to causes that benefit women all over the world. 
We hope we got to shed some more light on the differences between off-the-rack, made-to-measure, and bespoke wedding dresses! If you have more questions about Grace + Ivory's dresses we have a whole FAQ page. If you're interested in seeing one of our dresses for yourself check out our events or learn more about our Try-at-Home program where you can get a sample shipped right at your door. Thanks for checking us out and happy dress shopping!