After hours of compiling your favorite wedding dress styles and dreaming about what it will look like when you strut down the aisle, it's no wonder some brides clam up when it's time to actually shop for their wedding dress. Wedding dress shopping can seem like a daunting task when you factor in your own expectations and the opinions of those coming with you. Not to mention, the options! Fitted or a-line, lace or beading...how does one choose?
It's okay to not have all the answers stepping into your first wedding dress shopping appointment, after all...you've probably never shopped for a wedding dress before! With new experiences evidently comes the nerves but don't throw in the tulle just yet. We've helped many brides, with no clue where to start, overcome the wedding dress shopping stress and find the dress that was ultimately perfect for them.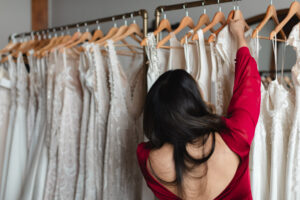 Where To Begin When Wedding Dress Shopping?
After getting engaged, shopping for your wedding dress is one of the first big wedding planning item to check off. Often due to wedding dresses taking so long to come in and then the need for additional alterations (you're going to want to give yourself as much time as possible!). Plus, your wedding dress choice will inform a variety of other big decisions. We're talking the color of your bridesmaid gowns, your flowers, your hair and makeup, your shoes...just to name a few.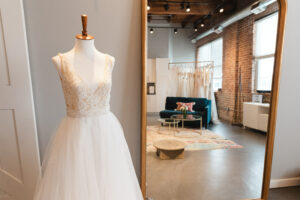 Before you step foot in any bridal shops, take a look at the kinds of dresses you wear in your everyday life (if at all!). This isn't to say you can't wear something totally different on your wedding day, but often straying too far from your comfort zone will add to the wedding dress shopping stress. All this to say, the things you normally hate in your everyday wardrobe...maybe it's fitted dresses, maybe it's skinny straps...will still be things you hate while shopping for your wedding dress. Think: I want to look like me only elevated! 
Do The Right Research
I'm sure you've heard from brides past and present to "do your research!" - but what does that entail? Creating the perfect Pinterest board (although we love to manifest) is not enough to alleviate the shopping stress. Often times, since Pinterest gowns don't usually list the price tag, it can be hard to get a feel for what the gowns look like in your budget.
Knowing your budget stepping into your first bridal shop is important. Of course, you may be willing to budge if a dress you love is slightly over, but setting a price range will initially keep you on track and help you get a better sense of what you're dealing with.
Before hand, research designers that typically fall in your price range and look for shops that carry these designers. One of the biggest blunders you can make is stepping into a bridal shop and realizing at the door that their dresses start where your budget ends. There will be a variety of shops and designers no matter where your budget falls, it may just take a night spent on the couch with your laptop and a glass or two of your favorite red to find them!
Decide Your Wedding Dress Style
To take off the pressure of finding the One, go into your first wedding dress shopping appointment with the mindset of narrowing it down to a silhouette. This is one of the most important wedding dress tips because brides often go in wanting a ballgown and leave wanting a fitted dress (or visa versa!) This reversal can throw your whole vision for a loop if you're not prepared for it, so try to keep an open mind and retry a variety of dresses in each silhouette to confirm the shape you ultimately love the most.
After you've narrowed down the silhouette, you'll also need to factor in any themes or unique venue features you'd like to tie into the final look. If your venue is a beach, you probably won't want heavy layers of crinoline weighing you down in the sand. Remember, most dresses you try on will be beautiful but they won't all work for your wedding and your vision.
Know Your Budget
We mentioned before how important setting a budget can be to alleviate some of the wedding dress stress. But since most brides aren't experienced wedding dress shoppers, there are costs they often don't factor in to that final number. Mainly, alterations!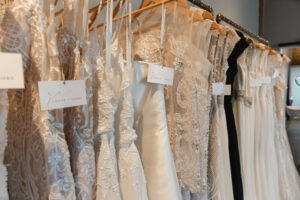 Plain and simple, alterations can get pricey quick...depending on where you live and your dress details. Opting for a made-to-measure dress (like Grace + Ivory) may save you money in the long run but unfortunately there's no way to avoid the final nips and tucks that come with having a perfectly fit wedding dress. Even more so, if you're starting with a traditional sample size, any intricate beading, or scalloped lace trains. And don't forget about getting a bustle!
Be sure to research while setting your budget, on what alterations typically run in your area. This way you can factor this cost in when selecting where you shop and how.
Start Shopping Early
After budgeting, figuring out your timeline is another crucial wedding dress shopping tip to take off the pressure. It's hard to predict how long, or how many shops, it'll take for you to feel confident saying "yes" to a dress. Every bride is different! But starting as early as possible to give yourself enough wiggle-room should you need more time is key to having a stress-free wedding dress shopping experience.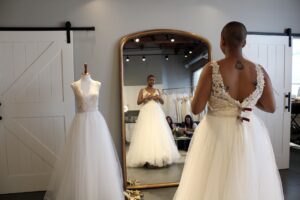 Every bridal brand is on their own timeline. Some designers may already have your dress in stock (ready to wear), while others are made to order. Grace + Ivory gowns take anywhere from 3-5 months to make since every dress is unique. While some other designers need up to eight months before your selected wedding dress is in your hands.
Not to add to the wedding dress stress, but you'll typically also want the dress 2-3 months before to handle those final alterations.
Make A Bridal Appointment Or Try On At Home
After you've done all your research, put together your budget and your timeline, you're finally ready to set those shopping dates. Some bridal shops book out months in advance so it's important to know where you want to go and when your shopping team is available ahead of time.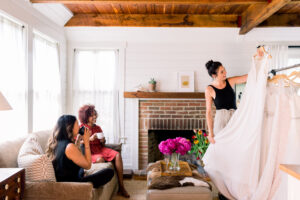 If you don't want to wait or the thought of stepping into a bridal shop makes you want to pass-out, know you have options! You can shop for your wedding gown from the comfort of your own living room in as little as five days from now. Browse our try-at-home wedding gowns to book your dates and the gowns will show up directly to your door. No pushy sales person included!
Ask About Fit And Customization Options
Most bridal shops only carry one or two sizes of each sample dress. Often times you'll find yourself in a dress that's much too big for you with a plethora of clips and clamps. Clipping is important so you can get a sense of what each style would look like once it's in your size but it can be hard to look past the ugly clamps to see if the dress fits your vision. Try to focus on the details you love about each dress and have them switch the clamps to the front at some point so you can get a better view on the back.
Another thing to keep in mind while wedding dress shopping is that some brands offer customizations. If you love everything about a wedding gown but wish it was in another hue...ask! At Grace + Ivory, most of our gowns can be customized to your color preference. You shouldn't have to settle when it comes to your wedding dress.
Want more bridal shopping tips?
Read 8 Things Every Bride Should Know Before Shopping For Her Wedding Gown. or A Guide to Wedding Dress Shopping From Start to Finish
Photography Credits:
Sarah Crost
Little Mountain Creative Co.
Sarah Harris Photo
Adrienne and Dani 
Sarah Bradshaw