When Lauren Louise Photo, Grace + Ivory, Rocking Bird Flower Co., AdeOla Fadumiye, and other dedicated DC wedding vendors came together for a styled-shoot, we wanted to create something brightly beautiful, light-filled, and stunning – springtime in suspended bliss. This shoot was just featured on 100 Layer Cake, check us out!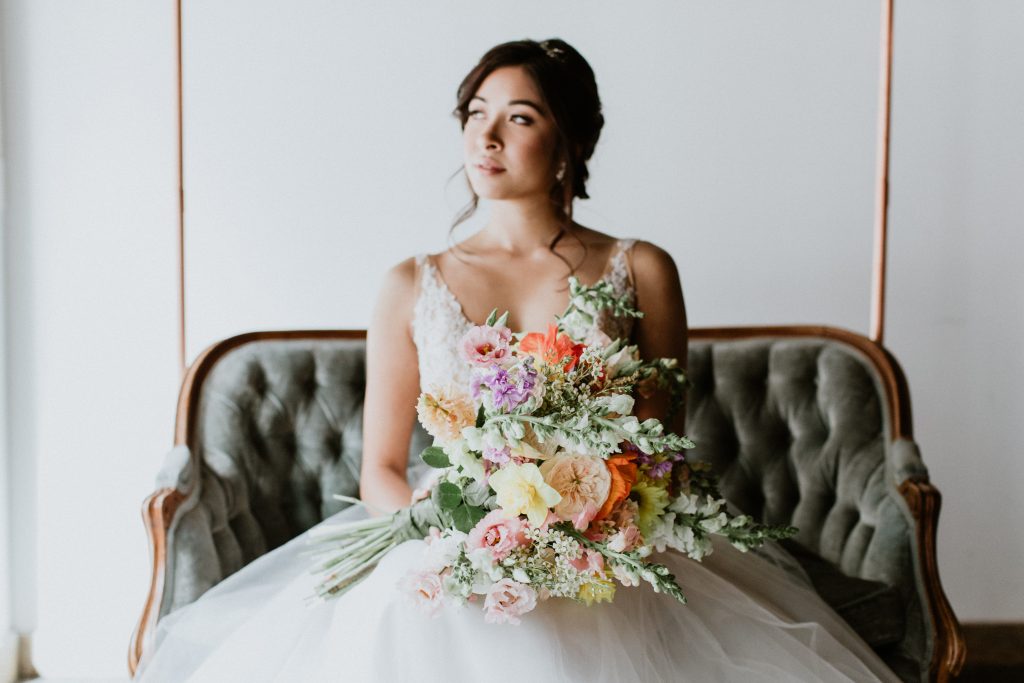 "Think springtime in Provence with a hint of English tea time." This was our styling approach from Meredith Wallace of Rocking Bird Flower Co., who led our creative styling coupled with AdeOla's planning expertise. Meredith was inspired by the idea of vintage botanical prints coupled with a color scheme based in pastel purples, pinks, peach, creams, and yellows. Grace + Ivory's incredible Gemma gown would add airy and gliding movement. We chose a city venue with clean white walls and a clear space to create our bright, minimal look. We found the perfect spot at AJAX, located in central DC.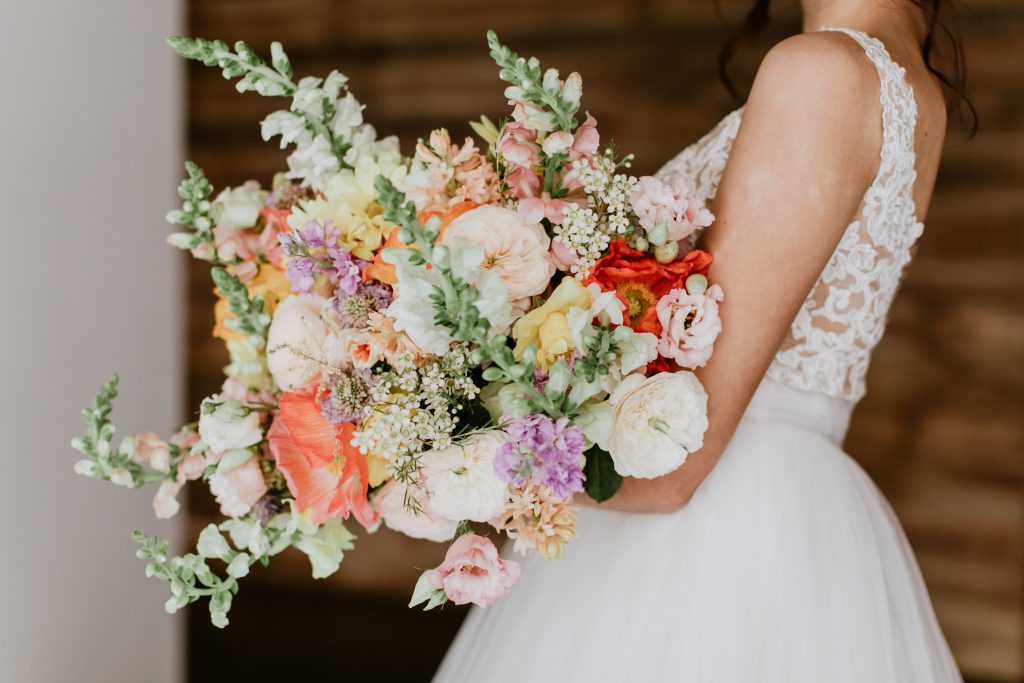 A copper arch with hanging botanicals, similar to how you might find lavender displayed in a shop in Provence, framed the ceremony. The suspended botanicals are stunningly unique as well as highly cost-effective.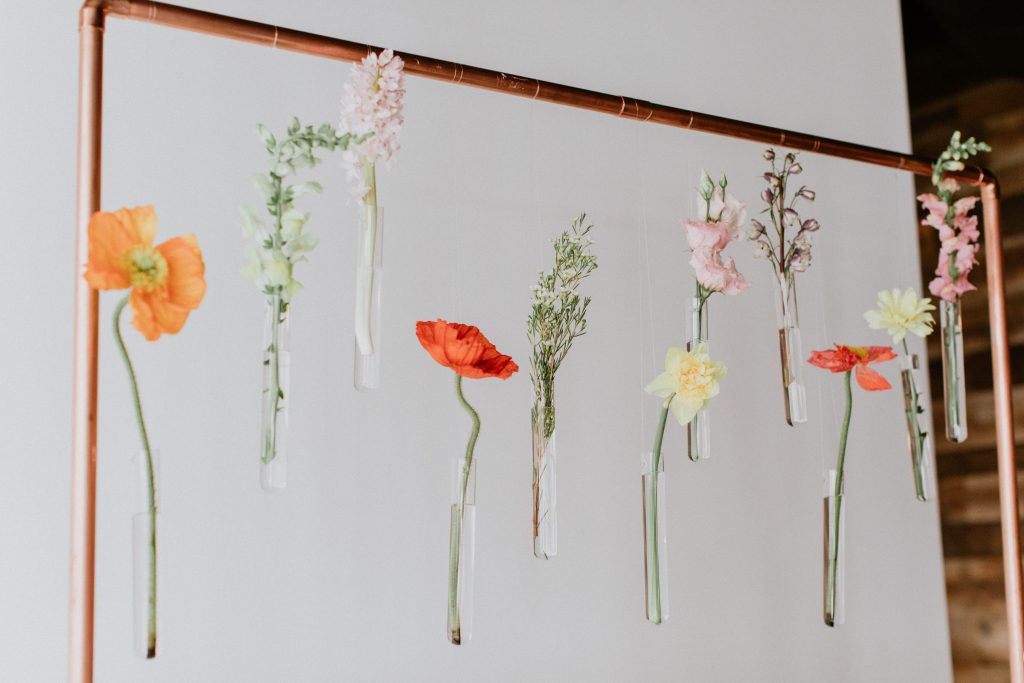 The bright blooms of the bouquet and boutonniere also became a focus of the shoot, swathing the images with color and bringing out the white walls of our venue, white-washed tables, and ivory bridal gown. Meredith used poppies, snapdragons, garden roses, and wax flower to craft unique and eye-popping bouquets and arrangements.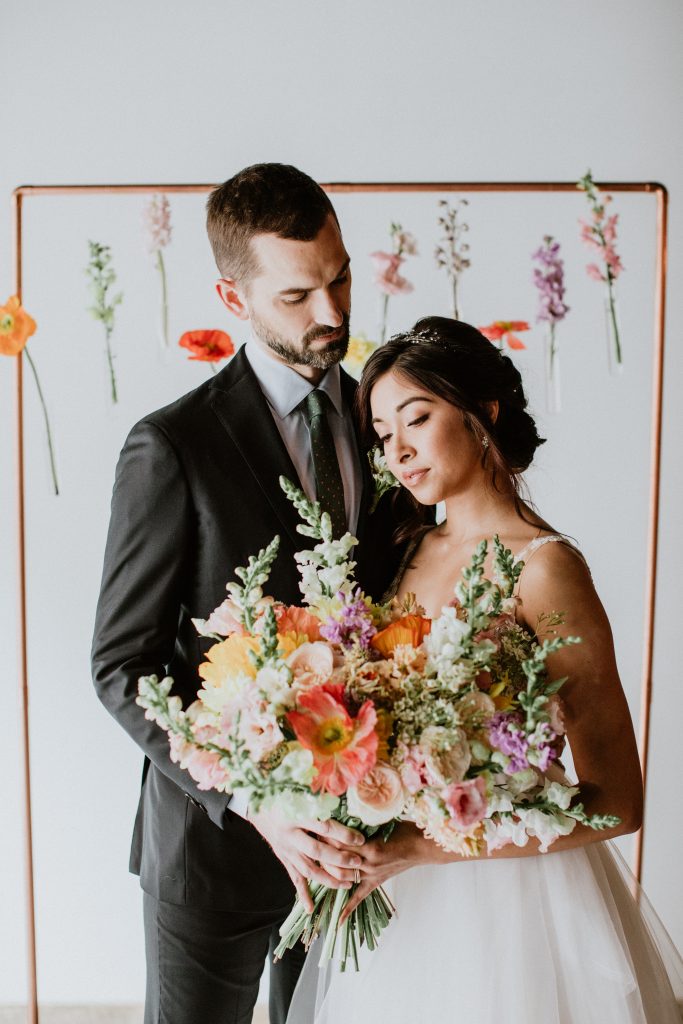 To complement the bright blooms, Grace + Ivory's Gemma dress added an airy and light feel to the shoot with layers of soft tulle. The gorgeous dress was designed to float a bride down the aisle and transition into a fun gown to twirl and dance in during the reception. Every Grace + Ivory dress is made-to-measure using high-quality fabrics and custom details in just four months. A portion of every dress purchase goes to programs helping women and girls.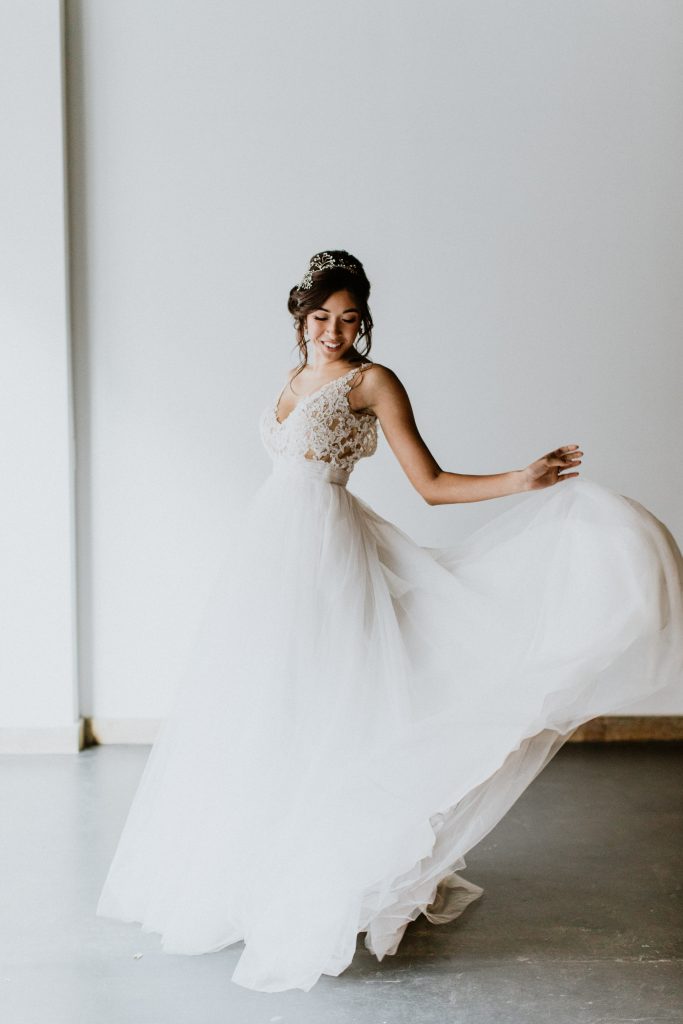 Gemma's ivory tulle skirt with a lace-covered, nude colored bodice perfectly paired with the "Amelia Vine" hair piece and the "Star Flower" earrings from Little Things Borrowed, a Maryland-based company that rents high quality bridal accessories at a fraction of the retail price.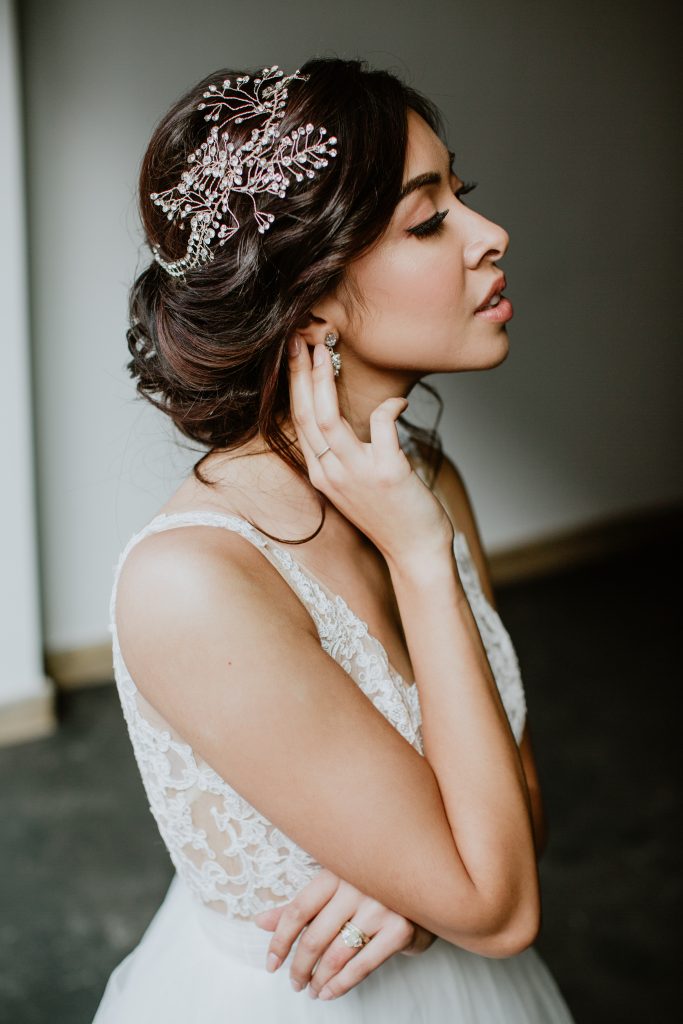 Valerie Hammer and VyVy Pham, our magical MUA and hair duo, painted a soft and romantic look using soft blush on the cheeks, subtle eyes, a nude lip, and a wispy whimsical up-do crowned by the Amelia hair vine.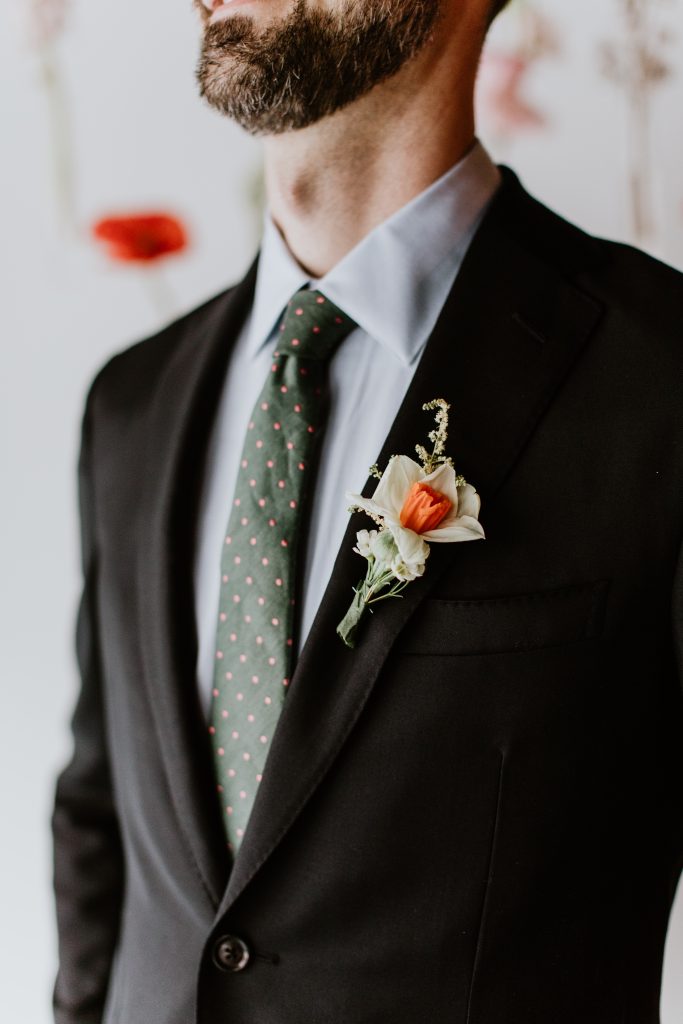 We chose a charcoal gray suit for the groom's attire by Ezra Paul which provides custom menswear to DC using fabrics from Italy and the UK. We paired the suit with a happy green tie that had pops of coral to match our blooms, topped with a bright boutonniere made with a peach and orange daffodil.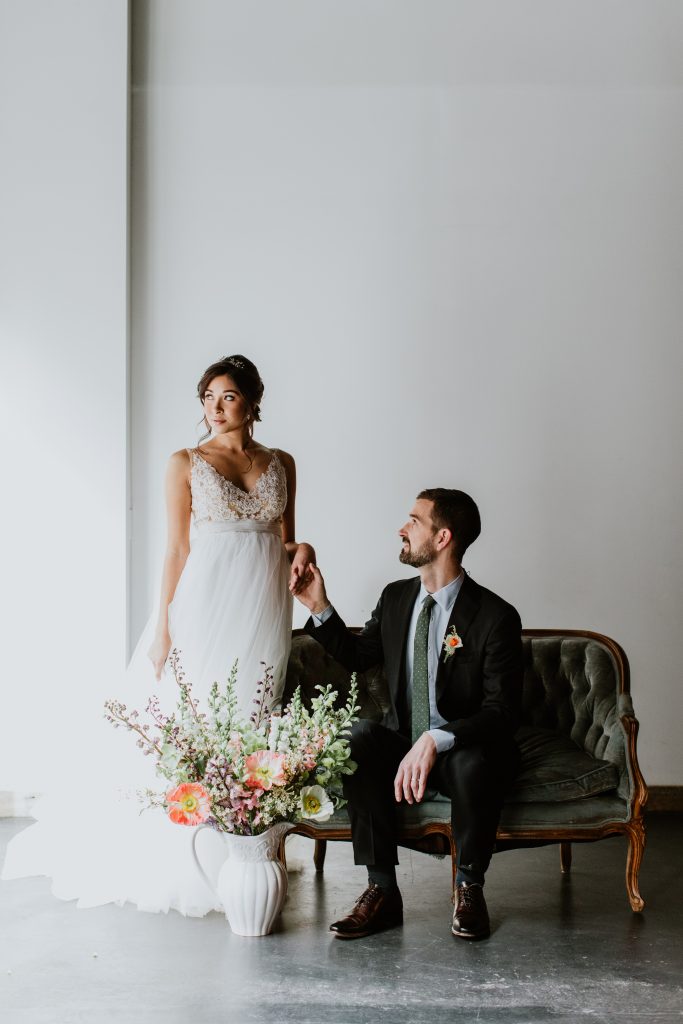 Portrait shots were centered around Something Vintage's gorgeous Triston sette. The petite sette created the vintage botanical feeling with light blue original velvet upholstery and a carved wood frame.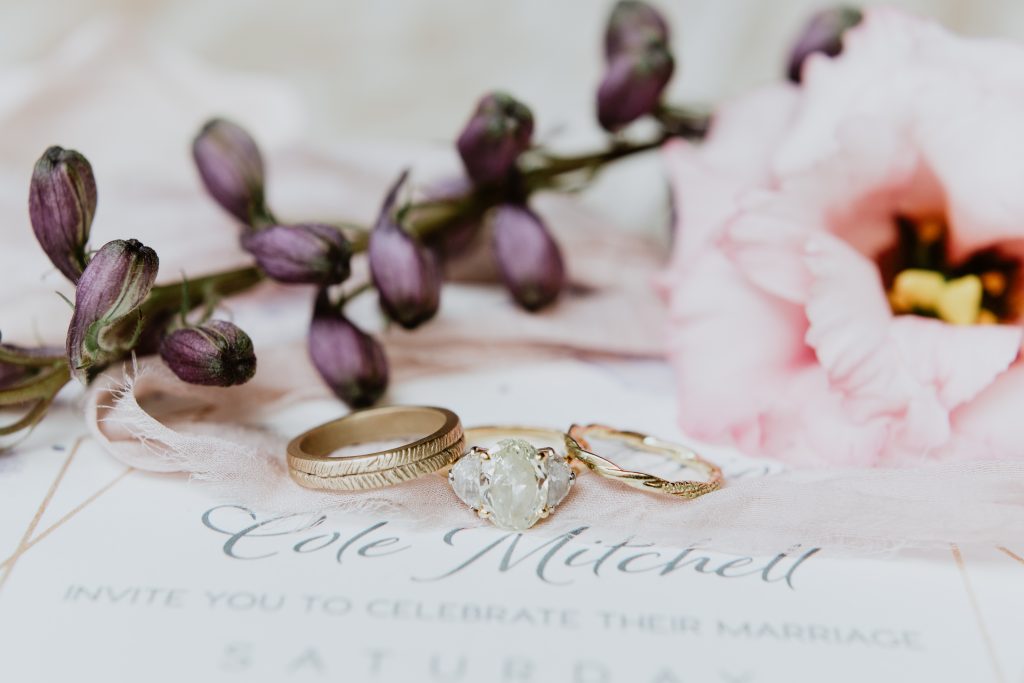 The wedding suite by Staccato brought a little "edge," since the color palette was soft and romantic with some geometric design all swathed in purple watercolor. The geometric design flowed through the suite with accents on the invites, menu cards, and place cards. The Mallory Shelter Jewelry custom wedding bands in gold featured hand-etched detailing and small diamonds on a twisted band.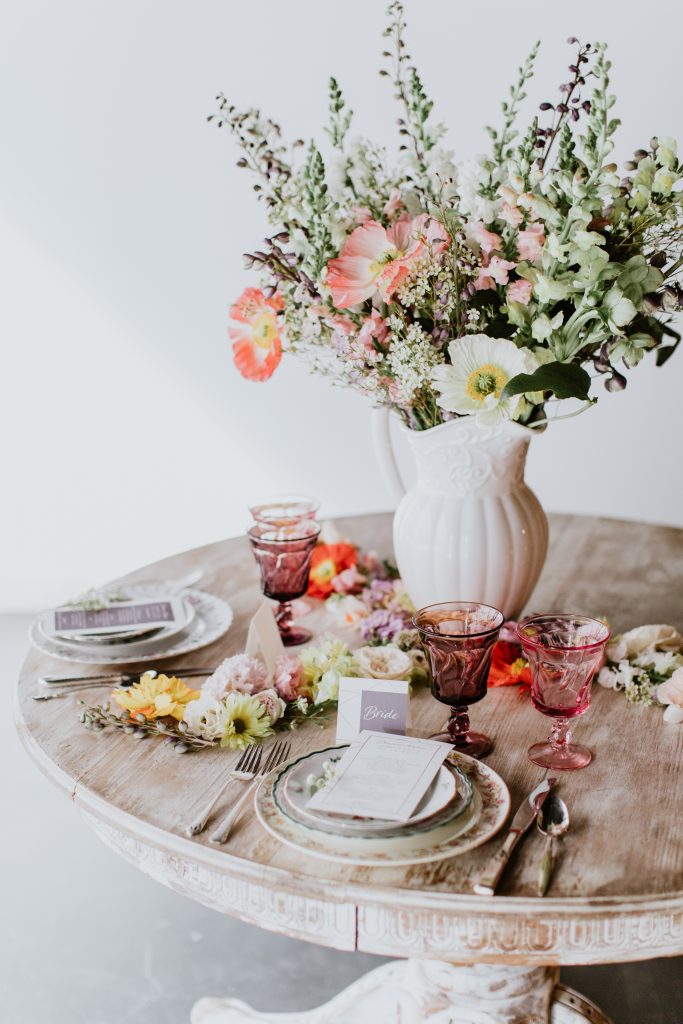 We envisioned a sweetheart table scape filled with light using elements like white distressed wood and accent purples, pinks, yellows, peaches, and oranges to mimic our florals. We decided a naked table was appropriate and felt that a tablecloth would be too stuffy. Instead, an arrangement of cheerful hand-placed blooms adorned the table along with white vintage chairs, colorful glassware, and interesting but refined vintage settings. The table, chairs, and settings were all rented from Something Vintage.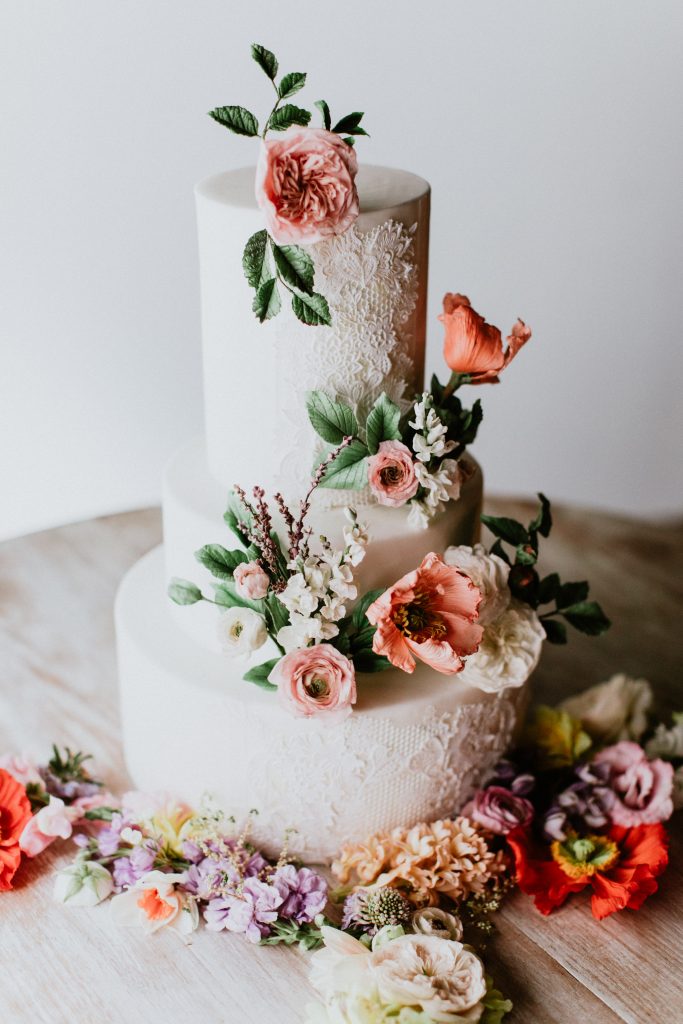 Danielle of Fleur & Flour made a cake that was truly a sight to see with a handcrafted sugar lace lattice topped with custom sugar flowers that matched our blooms. The ivory lace lattice gave a soft, pretty texture and unexpected pop all set atop a matching white-washed table and hand-placed blooms.