With so many types of wedding dresses within the bridal market, finding the dress that fits you best (spiritually and physically) is no easy task. Especially when location, timelines, and budgets get thrown into the mix. From off-the-rack, all the way to full bespoke custom, to wedding dresses that are made in a traditional sample size...finding a made-to-measure wedding dress you love (and in budget) may feel like you've found the holy grail!
We've noticed a lot of confusion surrounding made-to-measure wedding dresses recently and wanted to offer our expertise, especially since made-to-measure is our bread and butter. With a made-to-measure wedding dress, you're getting a dress made to one set of measurements. It's a process that is ideal for proportional fit, since - unlike our waist, hips, and busts - measurements like our shoulder to waist and waist to floor, don't usually change. If you went huh? You're definitely in the majority!
We're rounding out 7 quick tips for a made-to-measure wedding dress so you can decide if made-to-measure is made for you.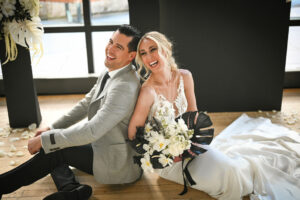 1. Expect Some Alterations
Although a made-to-measure wedding dress should be a good fit proportionally, you should still understand some of your measurements may change the closer you get to your wedding. Some brides lose or gain weight from the stress of planning a wedding, it's normal! Even if your measurements don't fluctuate, you should still plan ahead with an alterations specialist as we've chatted with some of the alterations specialists we've worked more closely with, and you will need specific tweaks that you can only do once the dress is on your body. When making a dress to one set of measurements, it's also common for dressmakers to err on the larger side. You don't want to run into a situation where your dress is too short or too small. Wedding dresses can be hemmed and taken in, but you usually can't add.
Remember, the person making your wedding dress is a human being...not a machine. Plus your dress is only being made to around 15-20 measurements (well ours are, some other made-to-measure companies make to less, so check!). Some nips and tucks just have to be done with the dress on you, there's no way around it. However, where you will save:  you are getting a dress that from the get-go will be closer to your proportional size than if you were to order a traditional sample size. Especially for our petite brides, our plus-size brides, and our tall brides. We got you! 
2. Ask For Help When Taking Your Measurements
If you're one of our lovely try-at-home brides, you're probably gearing up to take your measurements. Although you may be tempted to give it a shot alone, please ask a friend or family member for help (you really cannot take these yourself). It's impossible to take accurate measurements alone and even little adjustments like looking down at the measurement tape can change where it falls by nearly an inch or more.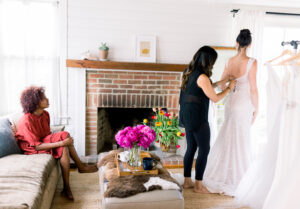 When getting your measurements taken, stand shoulder width apart and look straight ahead. We like to tell our brides to take a deep breath in and let it out before starting. You don't want to stand up too tall, slouch, or suck in. Like we mentioned earlier, don't look down at the person measuring you. If you can, stand perpendicular to a mirror. This way the person measuring you can ensure their measuring tape is straight on all sides. Accurate measurements are crucial but don't stress too much. We have checks put in place to ensure the measurements you send us make sense and will ask you to re-check if we have any doubts.
3. Use The Clips
When trying on the sample sizes at home, the bag of clips we include in the box will be your try-at-home best friend! If you're not 5'7'' or above...it's likely the sample size will sit a little low. (Where my short-waisted ladies at?) Clipping the dress to your natural waist is so important visually for how a dress will look and feel on you. Be gentle when clipping any straps, especially with any beading or lace. It's also likely you may get a sample size that's much larger than what you would normally wear. The clips will help you better envision how the dress will fit once it's made for you.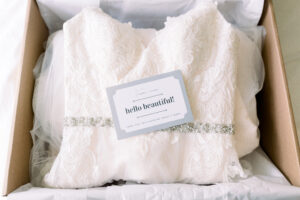 4. Think About Wedding Shoes
One of the measurements we'll need for a made-to-measure wedding dress, is your heel height. You may not have the shoes for your wedding day picked out just yet and that's okay! We recommend estimating on the high end of what you think you may end up wearing. It's like we said, you can hem a wedding dress but you can't extend, and you should expect to hem your dress anyway to get the perfect length.
If you have some heels lying around, definitely pull out your measuring tape to get an idea for the heights you're comfortable in. If you're not a heel gal and are eyeing some flats or bridal keds, that's great too! Estimate an inch or two just to give yourself some wiggle room.
5. Consider Your Customization Options
With a made-to-measure wedding dress, there is more freedom when it comes to making changes. Simply because your wedding dress is being made specifically for you, it's not just another sample size in a production line. One of the simpler ways to customize is changing underlay colors, raising or lowering the neckline, or building in additional support with panels/boning. We get it, not every dress design is one size fits all and you want to feel supported in your wedding dress. It's going to be a long and exciting day!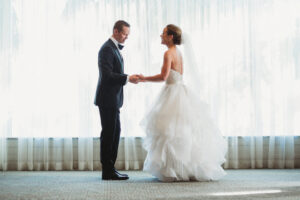 Grace + Ivory bride, Maggie (above), combined elements of our Ava dress and our Annette dress to create the dress she'd been envisioning!
That being said if you love the dress as is, we recommend not customizing at all! It can be tempting to make changes when given the option but you have to remember even tiny changes will change the look of your dress. Which was most likely why you said "yes" to the dress in the first place.
6. Consider Your Timeline
While we can get you a dress in 3-4 months, that doesn't necessarily mean exactly 3-4 months before you walk down the aisle. As we mentioned above, you need to budget (time and money) for your alterations. With the wedding boom, alterations specialists are asking for more time than they've previously needed. To be on the safe side, you'll ideally want to place your order so that we can get your dress to you with two months before your wedding. And we recommend setting your first appointment as soon as we give you your expected delivery date...for about a week or two after. It may seem preemptive but you never know when alterations will book up, especially if your wedding is in the summertime. You won't want to scramble last minute to find a place you trust, or pay the premium for a rush job.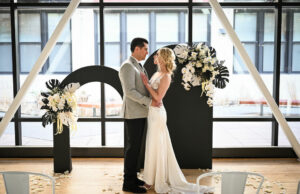 7. Think About A Custom Veil
After you've secured your made-to-measure wedding dress, the next step is deciding how you want to complete the look. Choosing a veil that looks best with your dress can be difficult, after all...you've probably never needed to buy a veil before! What a lot of our brides don't know, is that we can work with you one-on-one to create a veil that best matches your dress and your vision. The most common way we do so, is using the same or very similar lace from your dress on the edge of your veil. The result is a cohesive and beautiful touch to your wedding day look.
If you're thinking of ditching the veil, check out our pearl bridal cape (above.) The ethereal look of a veil without having to mess up your hair!
Photography Credits:
K.Herman Photography, Sarah Bradshaw Photography, Anna & Mateo Photography, Wolf Crest Photography, Organic Moments, Eden Photo