So, you've tried on your Grace + Ivory dresses at home and made your choice. You know which will be your dress, you've even looked into how to bustle it while you dance the night away. You may have a date for the big day, and the venue all lined up. But have you considered your veil?
Wedding veils, traditionally, have been used to 'reveal' the bride, although these days they're a bit more of a statement that can be used to enhance your look, make a statement, or simply add to the awe. At Grace + Ivory, we love veils - and we love making custom veils for our brides.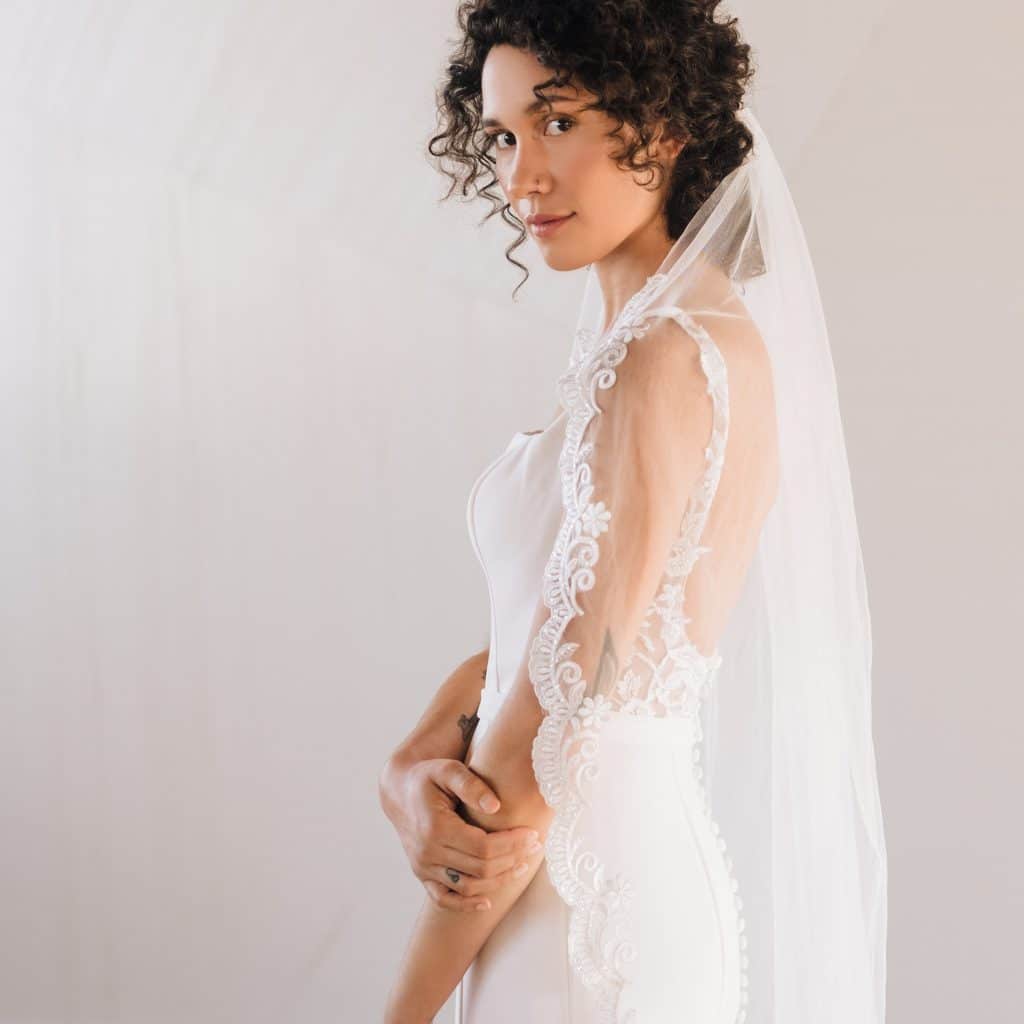 So where to begin? Keep reading for a handy guide to common veil lengths, how to match your dress with a veil, and some tips to keep in mind.
Tips before you start
Before you start looking for which style or length, it's important to think about your hairstyle and the dress silhouette. Are you planning a complex updo? If so, you'll need to plan where and how to pin your veil to ensure that it will complement your hairdo while staying firmly in place. Planning on having your hair down? That might affect what material you choose - no static and flyaways, please!
Our Madison and Tessa dresses paired with veils
Considering your dress silhouette is important too - you don't want your veil to hang in a way that will interrupt the lines of your dress or clash in style. For example, typically a trumpet silhouette is best paired with a shorter veil that hangs just below the shoulders or to your elbows.
There are seven classic veil lengths:
Cathedral length - Think drama, think royals. Meghan Markle's epic veil? Cathedral length. This is a very long veil that extends beyond the train of your dress. It pairs well with ballgown and A-line silhouettes, but beware! A long veil can be a bit unwieldy after you walk down the aisle.
Chapel/Church length - This is still a full-length veil, but only extends a few inches beyond the end of your dress train. This is great for less dramatic ballgown skirts and A-line styles.
Waltz length - This length falls to around your calf, and is great for A-line dresses. When paired correctly it can also work for smaller ballgown skirts or sheath silhouettes.
Fingertip length - Pretty self-explanatory - it falls for you fingertips! These are very classic and are typically very sheer. So it's perfect if your dress has some back detail or an open back that you don't want to hide. This and elbow length veils are great with trumpet silhouettes, but are also very versatile and go with most dresses.
Elbow length - Slightly shorter than fingertip length, elbow length veils are also super versatile. This length is where it starts to pay off to think about different material types, designs, and elaborate trims.
Shoulder - This one just falls to your shoulders! Usually a u-shape, it looks great with an up-do and an off-the-shoulder neckline.
Angle/Wedge/Blusher - This just covers your face. They are extremely classy with a bateau neckline and can pair extremely well with dramatic makeup.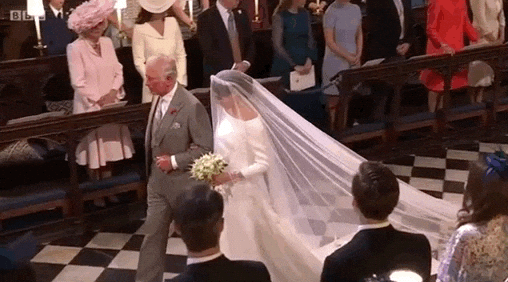 Meghan Markle may be a bit controversial for the royals but this amazing cathedral length veil was not!
So, there you have it. The major types of veils and how to pair them! Now that you have an idea of the length and what will go with your dress, it's time to think about...
Customization
We love providing made to measure dresses to our brides, but did you know that Grace + Ivory also offers customized veils?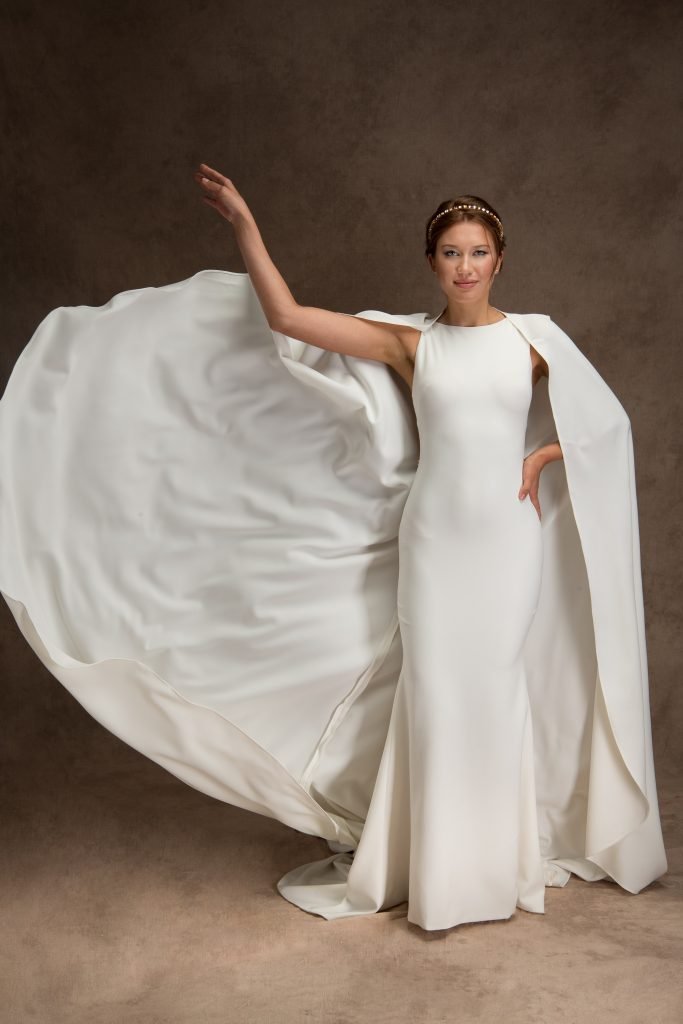 Our AdeOla dress can come with a gorgeous cape!
So, what are your options? Length is an obvious one, but what about a lace trim? Have you considered a lace pattern throughout the veil that will complement the patterns on your dress? What about an embellishment, or adding a pop of color to the trim? You could even test out a different color - what about a blush color to make your dress pop even more? And of course, rather than a veil, you could always try a cape...
There are so many choices and options for your veil - and we're more than happy to advise or answer your burning questions. Just reach out! We've also got some gorgeous samples if you book a Sunday bridal appointment with us at the SuitShop!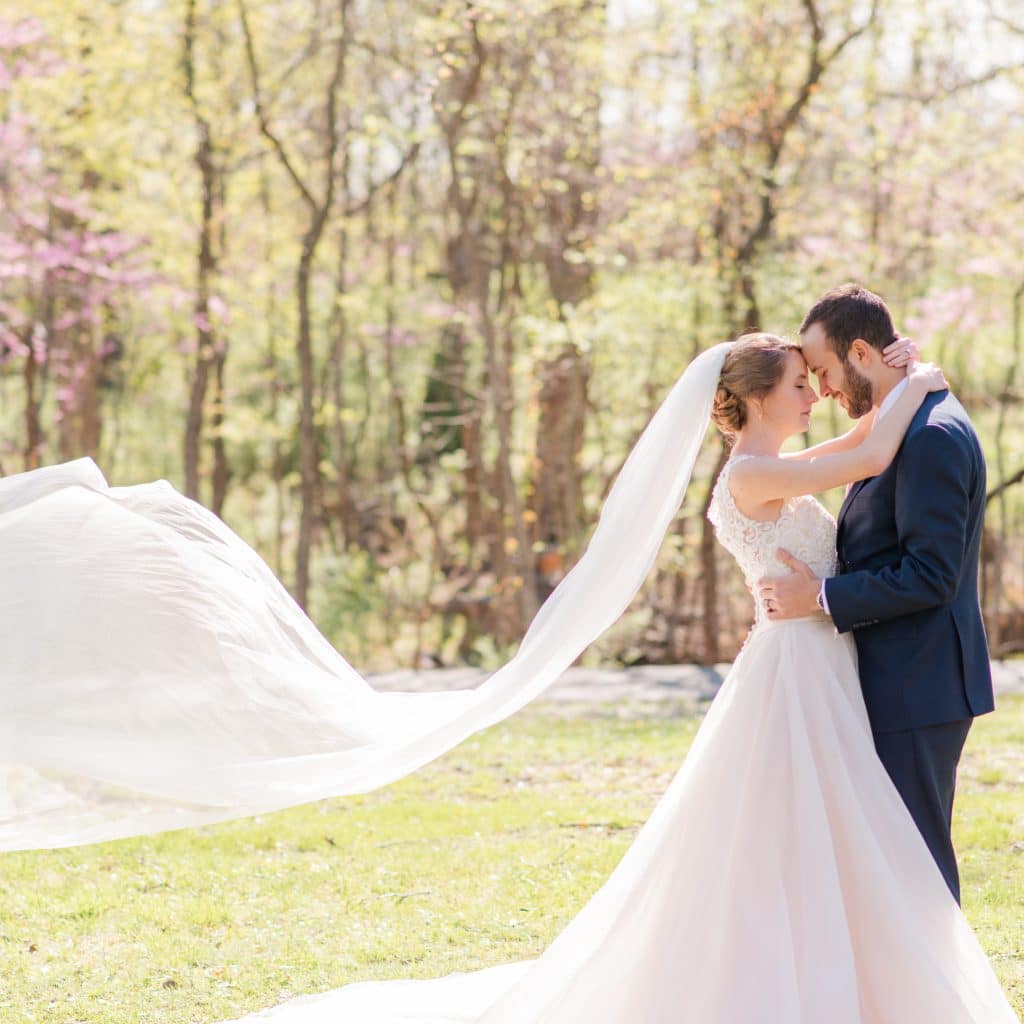 Photography by:
Krysta Normal Photography, Michael and Anna Costa Photography, Megan Weckter Photography