Curious to learn more about the try-at-home process, but still unsure about how it all works? We know that organizing your own bridal try-on experience might seem a little daunting. But don't worry! We're right here with you – and we're already pros, so you don't have to be. And we're constantly tweaking whatever we can to make it the best experience possible.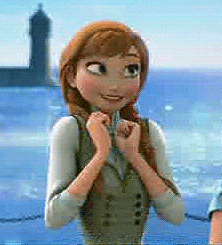 To help out the brides who are still uncertain about how great a try-at-home experience is, we talked to a Grace + Ivory bride-to-be, Emily, about her experience in Brooklyn earlier this year and put together a few (more) tips.
Have fun with it!
You're trying on wedding dresses! Yay! This (along with the actual wedding, of course) might be a day you've been dreaming of for years. Even if it's not the same experience that you might have originally imagined, there is a lot to like about a try-at-home.
Emily had a close friend, Kate, drive down from Connecticut to help out. They made a day out of it by booking a hotel room and included Emily's mom and sister via Zoom (they weren't able to make it over from California).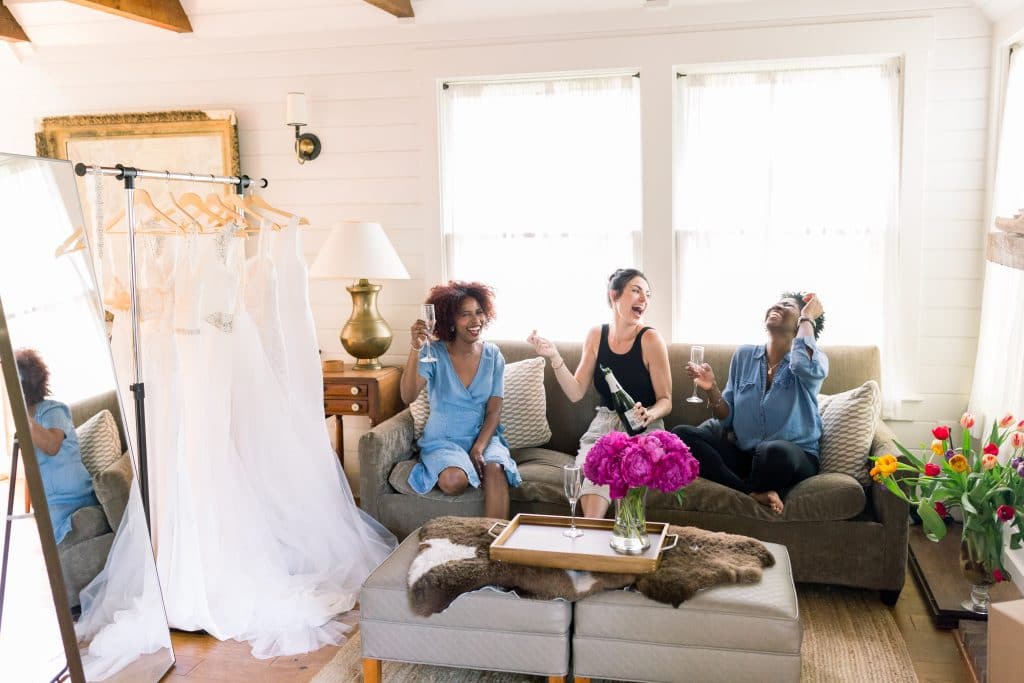 "I made a bunch of snacks and we had champagne and we made a really cute thing out of it," Emily told us. "We checked in [to the hotel], called my mom and sister, and had a glass of champagne to just have fun and get settled in… It was really fun!"
The best part of try-at-home: you can take your time.
Since there are no sales assistants and no time limits, you can try the dresses as many times as you want! You can spend longer than just five minutes in the dress, taking photos and really checking out all the angles.
Here's how Emily's went: "I tried on all of the dresses. And then we narrowed it down to the top ones we liked, and I tried them all on again."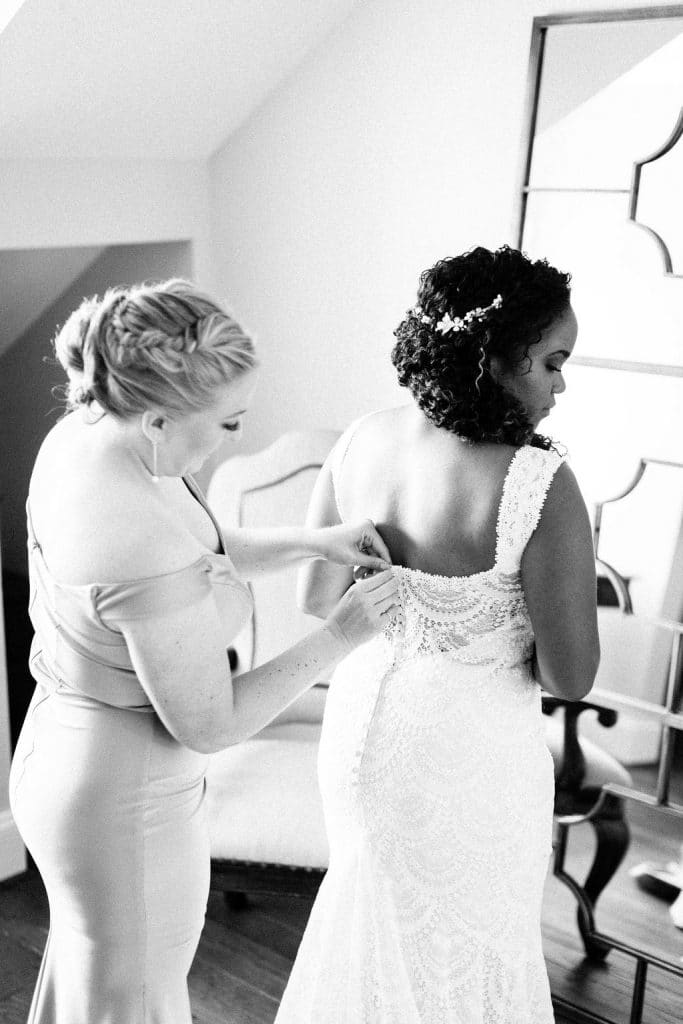 Emily also agreed that no salesperson means there's less pressure. "In general it takes a lot of the stress off of a salesperson being there with you," she said. "You have a moment to sit with [the dresses]… Having the dresses at home was definitely a more comfortable process."
Use accessories!
It doesn't have to be exactly what you'll wear on the day, but with the luxury of more time and multiple try-ons, you can play around with different ideas. Emily borrowed her friend's veil so that she could get a better idea of how the dress would look on the day.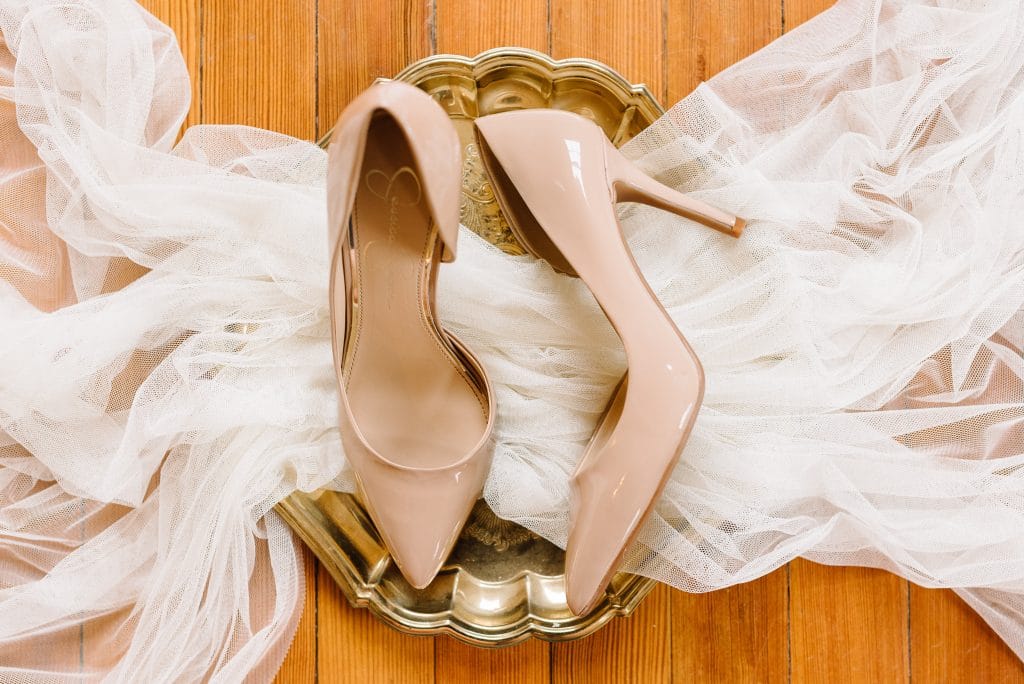 "Kate brought her veil from her wedding which I used to try on with the finalists. That really helped to make it feel more bridal and helped me get a better picture of like what it would look like on the day of. It felt special and I felt it was really fun!"
If you know you're going to be wearing a certain hairpiece or jewelry, bring it along! You'll have the freedom to see how it works with the dresses.
Sometimes things might not go according to plan - but it's ok!!
Other than the general stress of a new bridal experience, Emily told us that the main challenge was taking measurements. Because she was organizing her try-ons smack in the middle of lockdown, her fiancé had to take measurements for her which was, well, not the easiest thing - he had never taken measurements before.
We do everything we can to make this go smoothly for you. We made a video how-to guide that you can find on YouTube, a measurement guide plus a soft measuring tape (that you can keep!), and our stylists are happy to assist you remotely.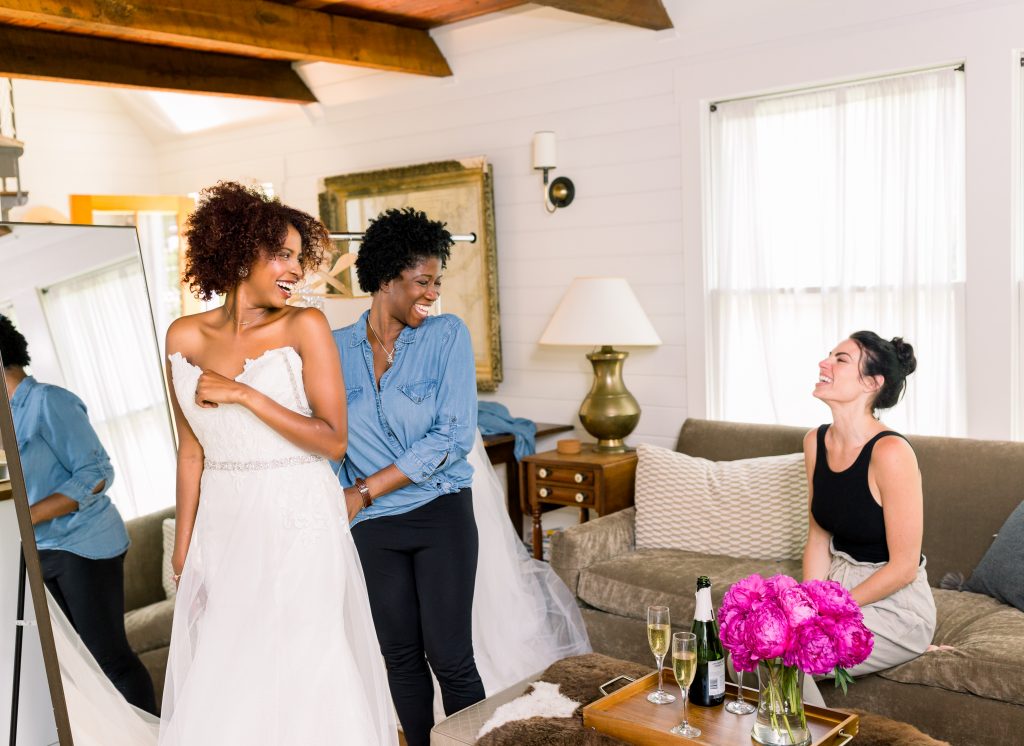 "Taking the measurements was a little bit of a challenge, and in the end it was fine," she said. "I couldn't see necessarily what he was doing and I'm not supposed to look, I had to keep looking straight ahead! It was four or five rounds going back and forth, just because he had no experience doing it. It was a hilarious challenge!"
Honestly, though, don't stress. When we get your measurements, we can usually see if something looks really off and we'll ask you to try again. No biggie!
Coordinate!
While we would love for you to only try on Grace + Ivory wedding dresses, we know that there are so many places with try-at-home programs. Ultimately, we want you to have the dress of your dreams. Emily coordinated her try-at-home wedding dresses across a couple of other shops. That way, she could really get a feel for the different styles and brands.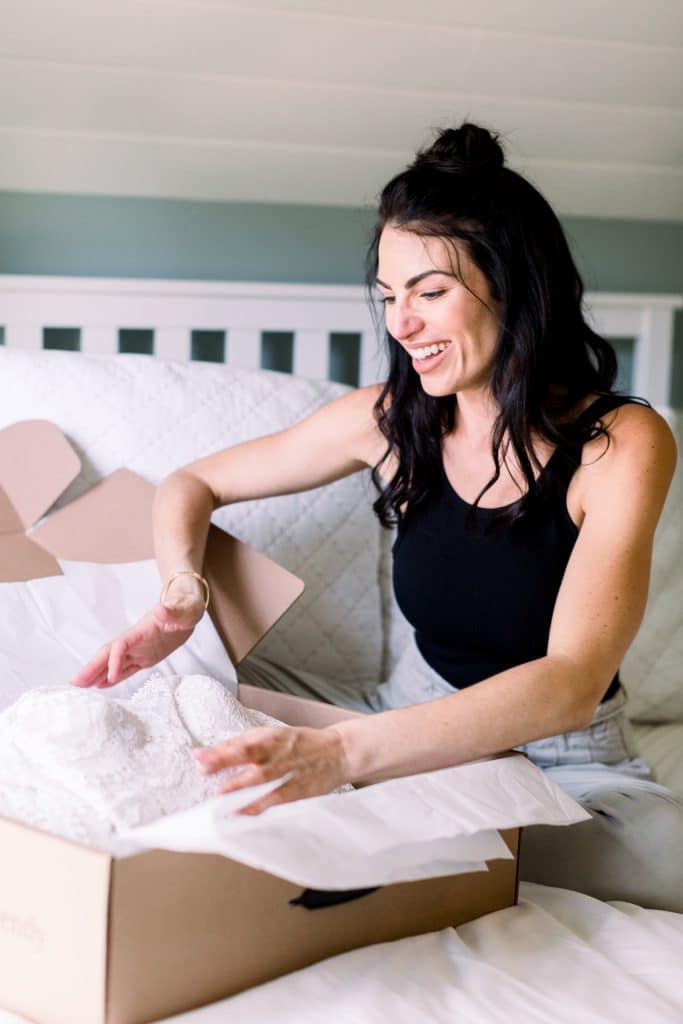 "The dresses that I ordered from [other brands] were actually fairly similar styles to the Grace + Ivory dresses, but things were ever so slightly different," Emily said.
"The Grace + Ivory ability to customize a little bit, the quality with Grace + Ivory was better… they had a little bit something extra that the other dresses didn't have that I loved." (We couldn't have said it better ourselves, Emily!)
Don't be afraid to ask questions!
"I'm thrilled with the dress that I picked," Emily told us (we won't reveal her choice, no spoilers!). "But sometimes I'm curious about how I might have liked a different style that isn't necessarily something I was automatically drawn to."
We know the try-on process is new for you – once upon a time, it was new for us, too! If you're on the fence about a dress or are curious about a different style, feel free to reach out to us. We're happy to set up a Zoom call and show you samples before you order them for a try-at-home session. Maybe you'll even get some new inspiration!
As Emily said, one of the best things about Grace + Ivory is the opportunity for customization as she opted to make her dress in a strapless version (and loves it!). If you want to book a Zoom appointment during your try-on, we can tell you more about different options to make the dress reflect your unique style.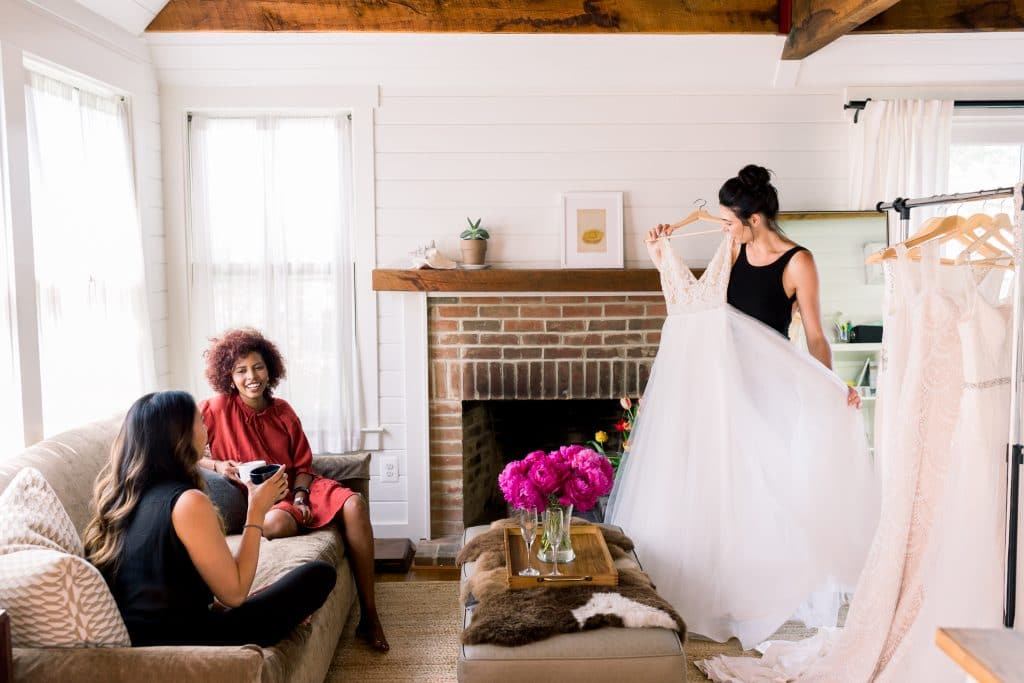 See, it's easy - and in so many ways, it's better! What are you waiting for?? Book your favorite Grace + Ivory dresses for a try-at-home session now.
Major thank you to Emily from Brooklyn for letting us tell her story – and for choosing Grace + Ivory for her big day. We can't wait to see the photos!
Photography: Sarah Bradshaw Photo; Mikaela Marie Photography; Krysta Norman Photography; Sarah Bradshaw Photo