I'm sure you've imagined the moment you find your wedding dress; the smiles as you exit the dressing room, the tears from your mother, the consultant pulling out the veils...it can be a lot. This tradition isn't something that every bride looks forward to. And if you're thinking, "oh no, that's me!"... we're here to assure you that it's totally okay! A try-at-home wedding dress may be the ideal solution. 
Wanting to find your wedding dress on your own terms, as traditional or nontraditional as you please, shouldn't limit your options. So, if you're a bride who may want to skip the bridal shops, here's five reasons trying your dress on at home is still just as glamorous and all the more unique.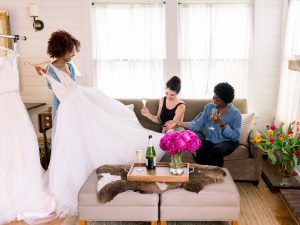 A try-at-home wedding dress runs on your timeline
With more and more bridal brands opting to include a try-at-home service, it's now easier than ever to bring your dream dress to your doorstep. Buying online, although convenient, can be tricky when it comes to imagining the fit. With try-at-home services, like ours here at Grace + Ivory, you can have the best of both worlds; the ability to try before you buy and the convenience of shopping online.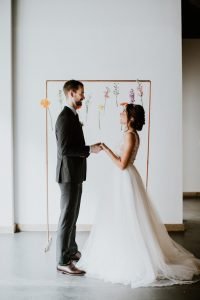 At a traditional bridal appointment, you usually only get about an hour from start to finish. That includes consultation, trying on dresses, getting opinions, etc. That short window doesn't leave you with a whole lot of time in the dress you ultimately choose. With a try-at-home wedding dress you can try it as many times as you please. No snap decisions needed. You're free to twirl around your living room and practice your wedding day dance moves.
A more intimate wedding dress finding experience
Trying on a wedding dress for the first time can be nerve racking for some brides. Depending on when and where you go, bridal shops can get busy. With consultants buzzing around with armfuls of dresses, brides left and right...it can be a lot to take in. When finding your wedding dress, you deserve to be the center of attention. But it's okay if going to a bridal shop has you feeling like you're on a stage...and not in a good way.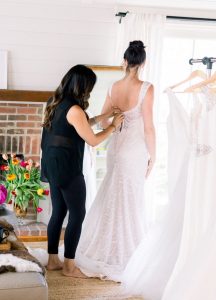 With trying wedding dresses at home, you can try on alone, with a close friend, or even the whole family. Your comfort level is completely up to you. But it always helps to have someone nearby for the final button up, as wedding dresses can get a little tricky. 
Your wedding dress on your budget
When trying on dresses, one thought can be very daunting...how much does this cost? In a traditional bridal setting, you may fall in love with a dress way out of budget before you even know its out of budget. Talk about disappointment. With a try-at-home wedding dress, you'll know the price before you order the sample. Transparent pricing makes it easier to stick to the plan and avoid a difficult conversation later if someone else is paying for the dress.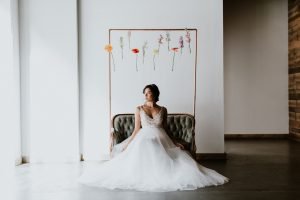 All Grace + Ivory dresses are under $2,500. Which is great for the bride who loves the high quality of designers but not the price. 
Find a wedding dress without the added pressure
With deadlines to meet, we understand the pressure of finding the perfect dress. You don't want to settle and you shouldn't have to. A traditional bridal shop needs about five to eight months to make and get your dress to you. Depending on your wedding date, that may not leave a whole lot of time for alterations.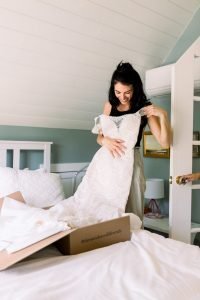 Grace + Ivory is direct to consumer, which means less hands to pass through and a quicker turnaround time. So if you've been to a few shops and still haven't found the dress that has every detail you're looking for...it may be time to opt for an at-home try on wedding dress experience.
Try-at-home brides have more fun
Having a try-at-home day can be just as fun, if not more, than going into the store. You get to pick all the important things, like the playlist, the snacks, and the pace. We recommend a mimosa bar, if you're into that kinda thing. Your Bridesmaids will need something to toast with when you find your dress!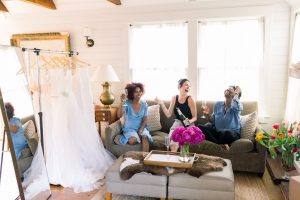 With so many choices to make about your big day, your wedding dress shouldn't be the most stressful. Without the pressure from bridal consultants, time limits, and nosy shoppers, it's easier to relax into a decision...no rush. Grace + Ivory was founded by a once frustrated bride after all.  So take it from us and skip the store for an easier, but still glamorous, way to find your wedding dress.
Photography by Sarah Bradshaw and Lauren Louise Collective.