Searching for your wedding dress is a daunting task – trust us, we get it. From the very beginning, it's hard to know all of the terminology for your dress. Having the right way to describe the dress that will perfectly suit your body shape and individual style can really help you narrow down your options. So don't worry! We've got you. Here's a handy beginner's guide to the most common wedding dress necklines and silhouettes.
First, let's talk necklines. We'll start here because it's pretty straightforward, but also because these necklines will suit a variety of different dress styles. If you want, you can even mix-and-match necklines and silhouettes when you customize your made-to-order Grace and Ivory dress. This bride, for example, matched our Ava top (without straps) with an Annette bottom: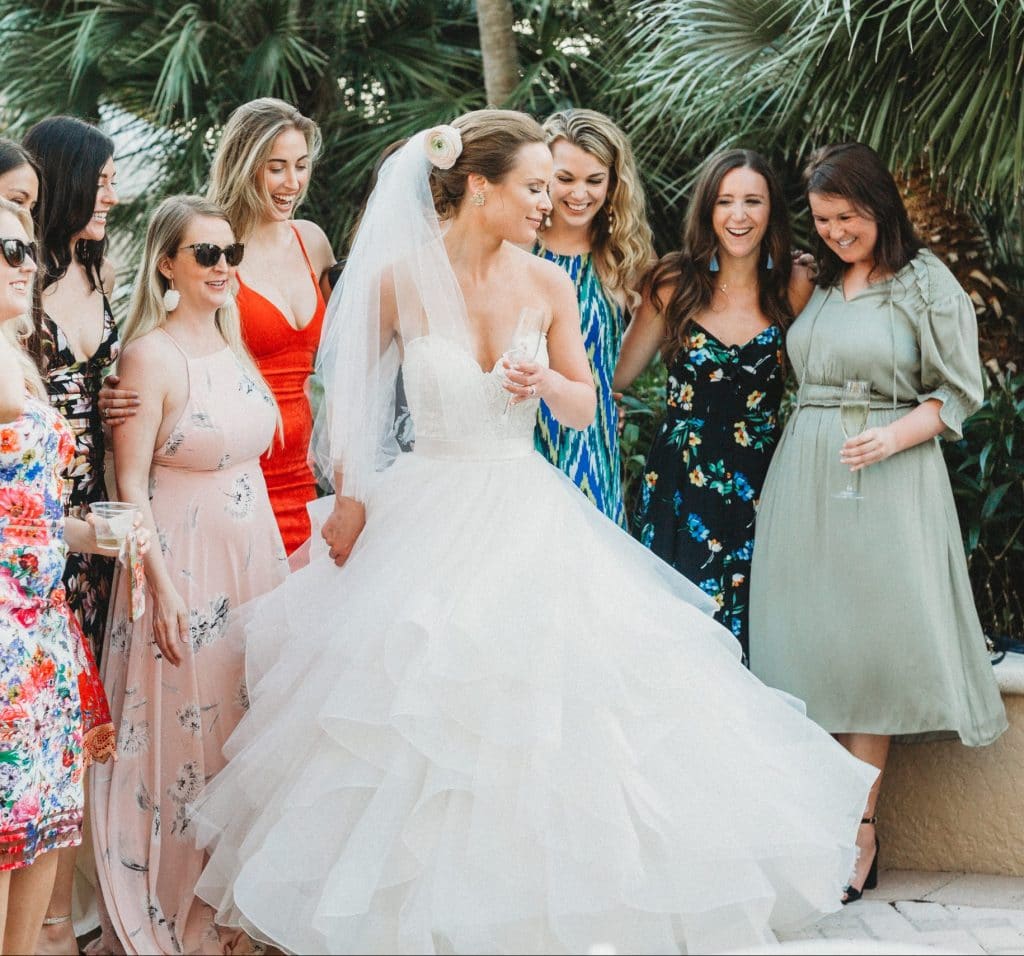 How gorgeous is this combination??
Ok, sorry, back to the point. Necklines. Do you love the off-the-shoulder look? Or are you craving a sexy, plunging neckline? Strappy, or strapless?
The Sweetheart is a classic. This neckline is shaped like the top of a heart and screams romance. Here it is on our Daniela dress: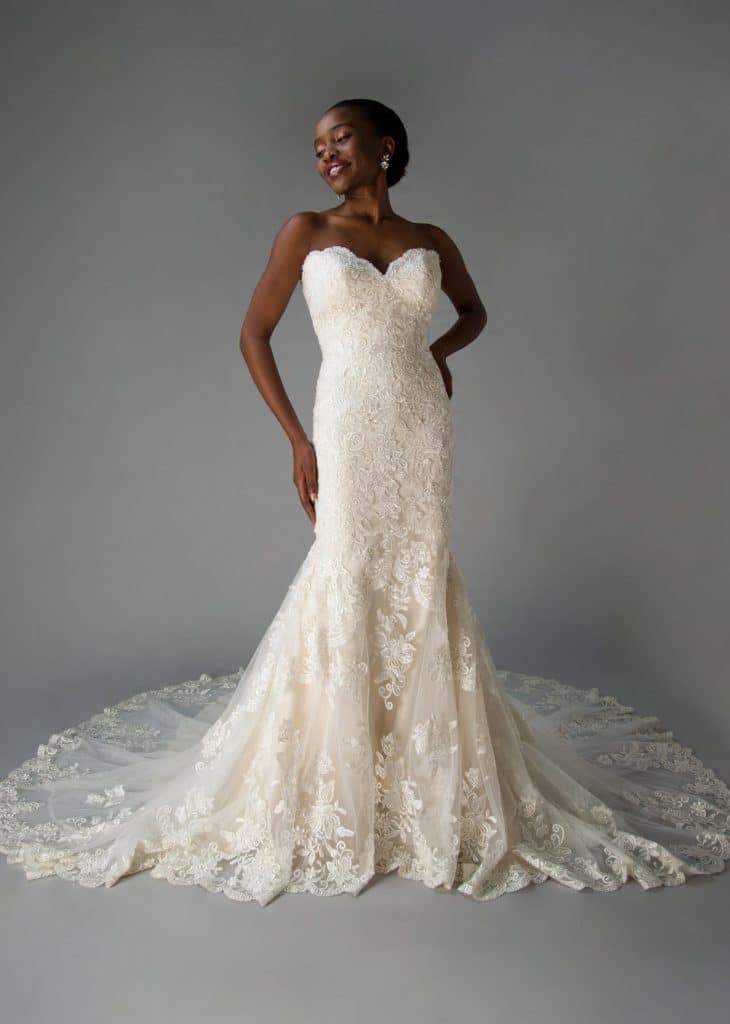 The Bateau neckline is higher up and goes straight across the collarbone. Our AdeOla dress has a version of this neckline – it's a very classy look.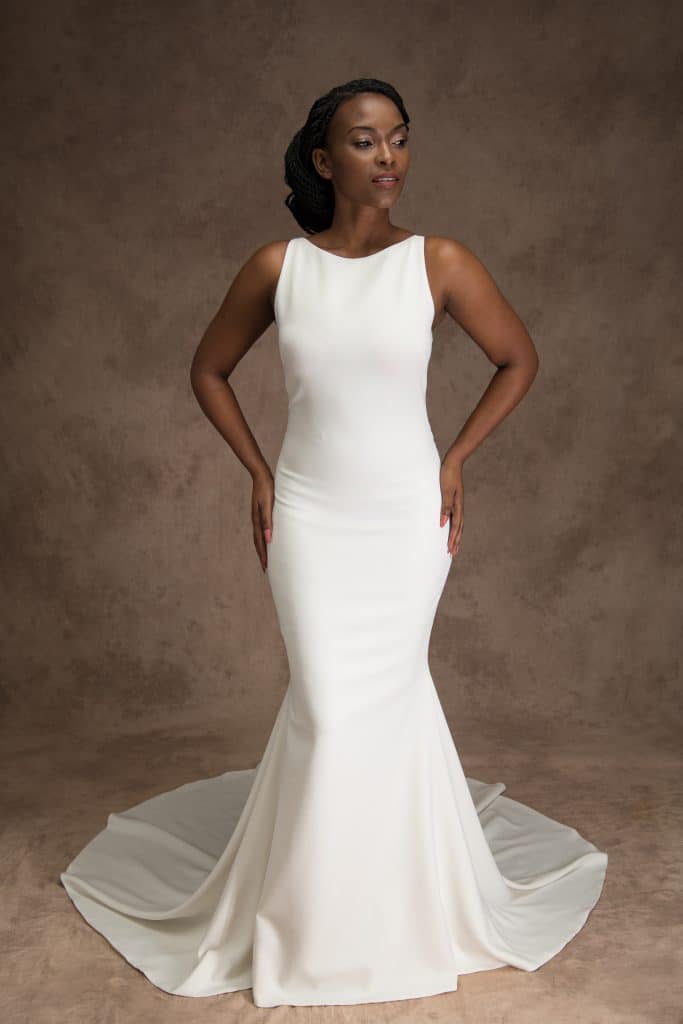 Off-the-shoulder dresses are a gorgeous way to emphasize your collarbones. This neckline suits both long and short sleeved dresses. Our Lexi dress and our Tessa dress will give you a feel for both:
Then, of course, there's the sexy yet classic V-Neck, which can be super versatile and even sexier with illusion netting, such as on our Tabitha dress.
Tabitha dress and Sloane dress 
A Queen Anne neckline features an open front with a high collar at the back, like on our Stella dress.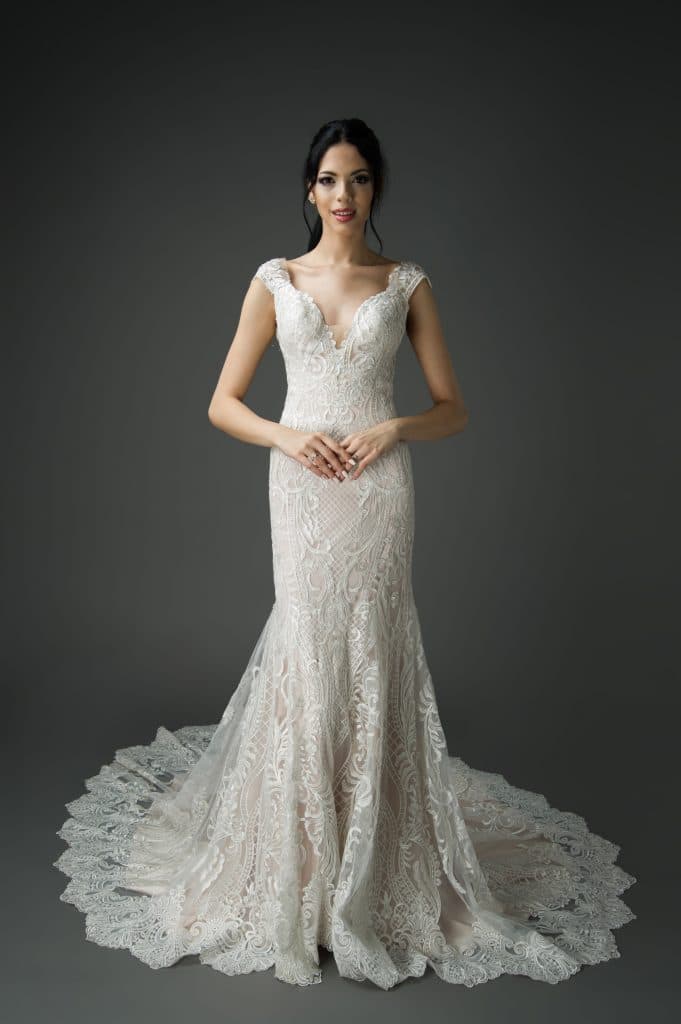 Get it? The necklines are a great way to start narrowing things down, and they're very recognizable. Now, the big stuff...
Wedding Dress Silhouettes!
Ball Gown:
We'll start easy. This one is super recognizable and is also known as a princess gown. This timeless and elegant bridal silhouette has a slim-cut, fitted bodice that explodes out from the waistline into a full, voluminous, bell-shaped skirt. If you're going for a fairytale wedding, this is the look for you.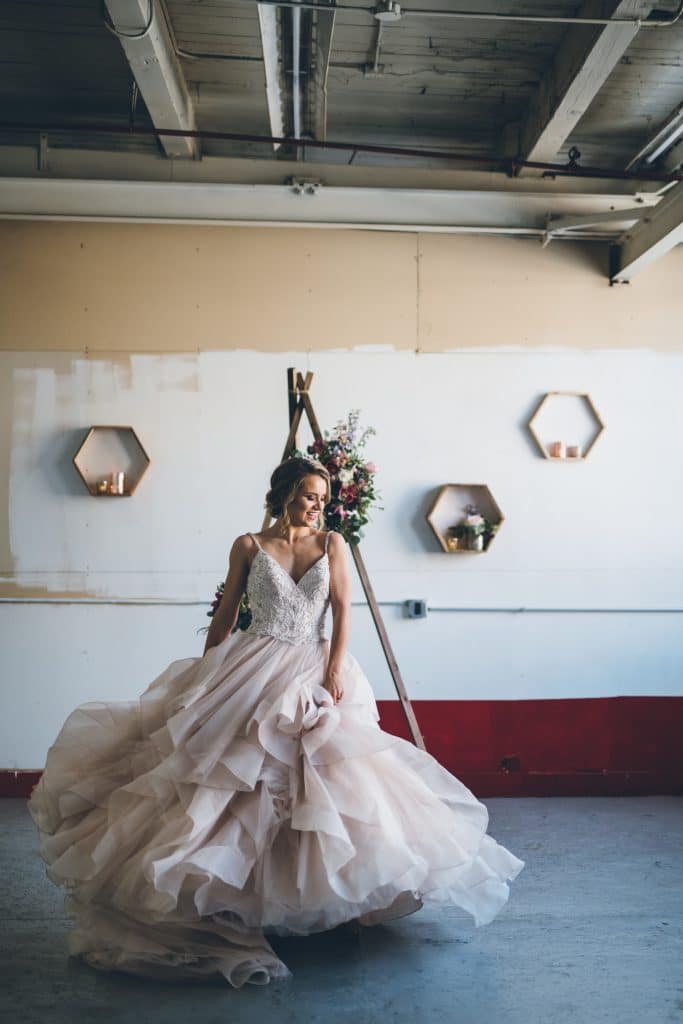 Trumpet:
The trumpet, also known as fit n' flare, is probably the other most obvious and recognizable bridal silhouette. This figure-hugging dress follows the natural contour of your body and flares out from the mid-thigh (or lower), resembling the bell of a trumpet. It's perfect for showing off an hourglass figure and accentuating curves. The mermaid bridal silhouette is a similar concept, but the flare typically begins lower down the leg and has a tighter fit.
Grace + Ivory bride Leslie in a custom Mikado silk (used in our Catalina dress) dress, plus our Catalina dress
A-Line:
The A-Line silhouette is among the most popular choices for brides. This one has a fitted top and flares out softly from the waistline, creating the shape of a capital A. The gentle flare gives the skirt more movement and is less constrictive for you, so it's a lovely choice for our brides who are planning on throwing shapes on the dance floor. Our Ava dress, below, has an underlay fitted like a trumpet so you get that hugging shape but has a top tulle A-Line layer - you get the best of both worlds!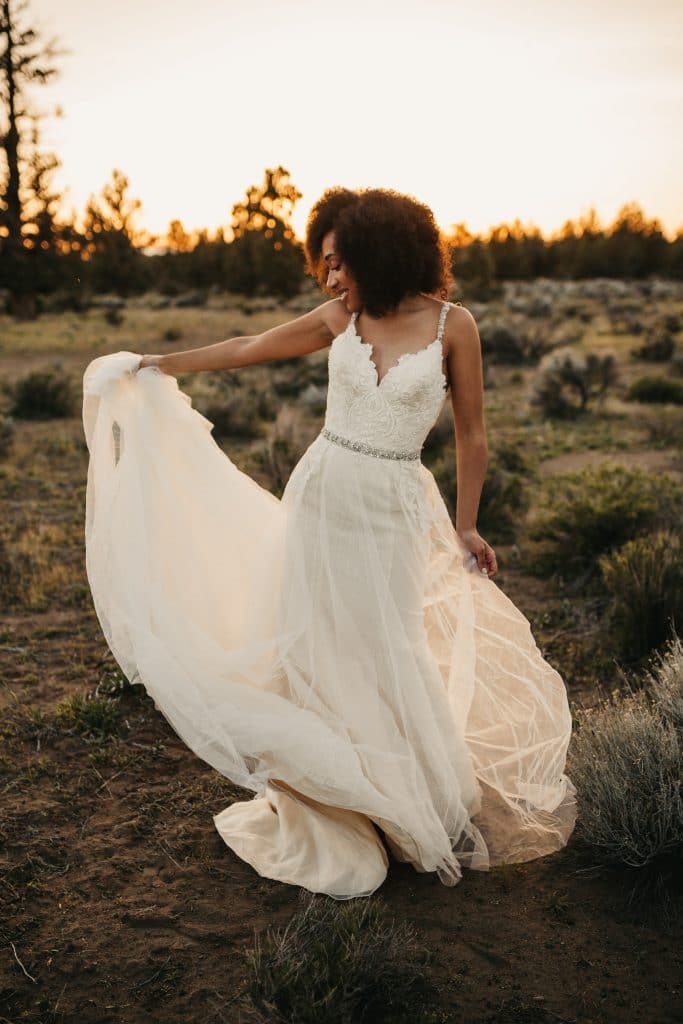 Sheath:
This effortlessly chic bridal style will give you a simple yet sleek look on your special day. This silhouette features a slim, body-hugging design that will flow along your body's natural shape to create a narrow silhouette. If you're looking for slender, elegant look, this is the silhouette for you!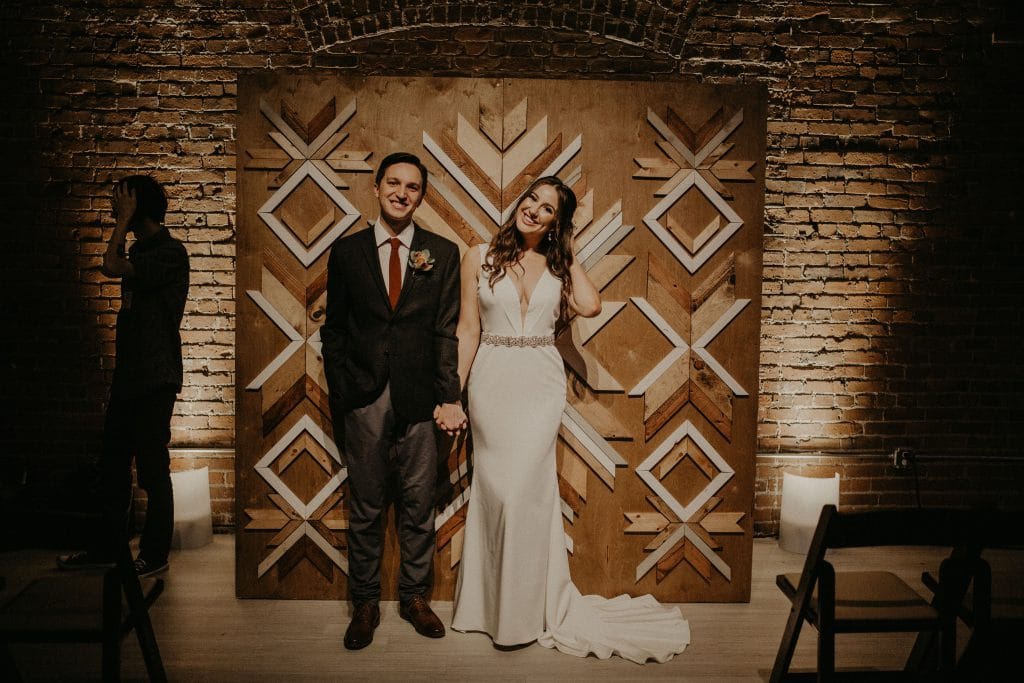 So, there you have it! Now you can take your expert knowledge of wedding dress silhouettes and necklines to find your perfect bridal gown.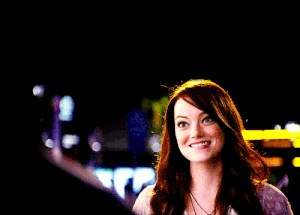 Photography by: 
Courtesy of Maggie Johnson, Organic Moments Photography; Ed and Aileen photography; courtesy of Leslie Mayes Low; Emily Vandehey; and Claudia Noelle