Just when you think you've got your dress sorted – yay! – you realize: what are you wearing under your dress? Luckily, Grace + Ivory dresses are made for wearability. So if you're looking for some extra support, your regular t-shirt bra or bralette certainly won't do. Besides, you want to know you're going to feel your absolute best on the big day. And you certainly don't want any VPL, bra strap, or nip slip disasters!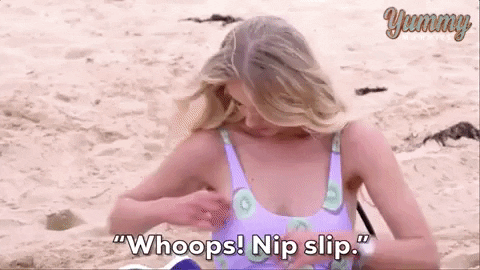 So what's a girl to do?!
Well, you'll be glad to hear that you have options. A lot of options. From shapewear to sewn-in cups, slips to corsets, you will be able to find something that will flatter your body, accentuate your curves and fit smoothly under your dress.
Naturally, different styles of dresses will require different kinds of undergarments. You wouldn't wear a regular push-up bra with a low V-neck (such as on our Tabitha dress), and you may not want to invest in shapewear that will give your bum a lift if you're in a ballgown like our Annette dress. Likewise, why wear a garter if your dress hugs your legs? You can save that little detail for the honeymoon 😉
Hold on, though – before you think this is a problem for later, it's definitely better to choose your wedding dress undergarments sooner rather than later. Ideally, you'll wear your chosen underwear at all of your bridal fittings, as Cheryl from Cheryl A. Lofton & Associates told us a few weeks ago.: "If you will be wearing a longline bra, corset, spanx, or any other undergarments that will change the shape of your body on your wedding day, please, wear them for each and every fitting. Your specialist will be pinning and marking based on what you are wearing at your first fitting. If you come for the second fitting with different style undergarments that cause the tailor to have to do extra work, new charges may apply."
Other things to consider are temperature, sturdiness, and comfort. It's probably not a great idea to wear body-fitting layers of Spanx for an outdoor, summer wedding – you'll overheat! If you've got a strapless dress, it's a good idea to give your strapless bra or corset a good test by jumping up and down and dancing to ensure that it won't cause your dress to slip down a bit. Additionally, keep in mind that you may be wearing your dress for 12 hours (or more!), and you will need multiple bathroom trips.
Form fitting
We're talking about fit-and-flare, trumpet, or any silhouette that will hug your body from the hips up. The whole point of this silhouette is shape, shape, shape – so embrace it! Getting some Spanx or shapewear that smooth everything out and gives you lifts in the right places is the best way to go.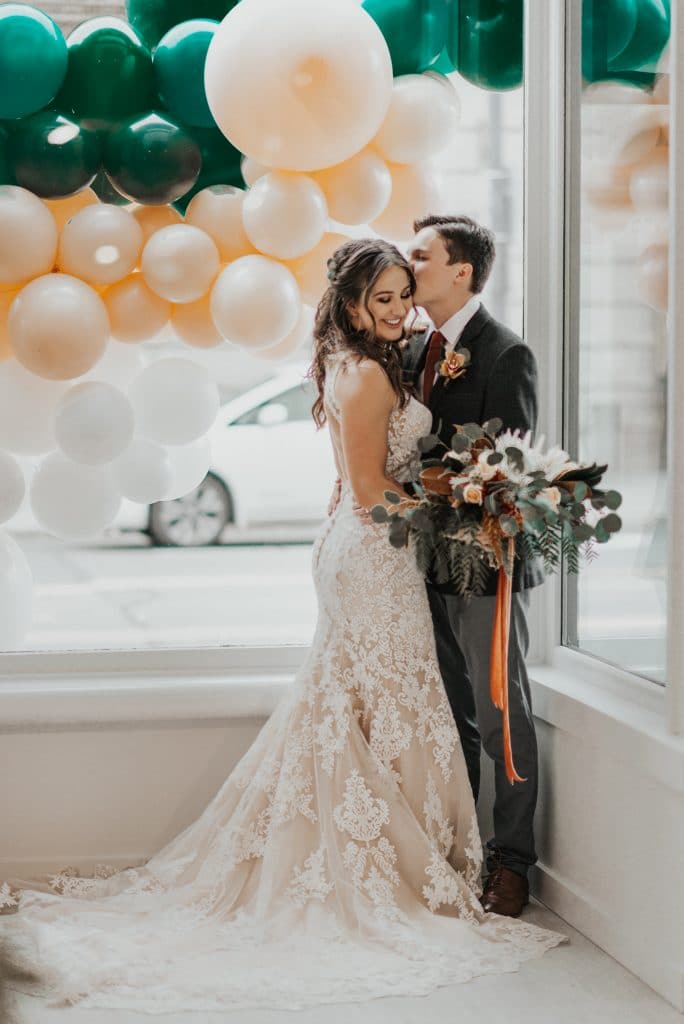 For example, under our Elle dress we'd recommend some bum-lifting, tummy-flattening shapewear.
Sheath
The sheath silhouette is classic, gorgeous, and flattering. Sadly, it's probably the least forgiving when it comes to wedding dress undergarments. For this style, we recommend high-waisted bridal shapewear to smooth out your torso or possibly a slip, depending on what is most comfortable for you. On the bottom, opt for seamless boy-shorts or knee-length bottoms so that you don't get any lines!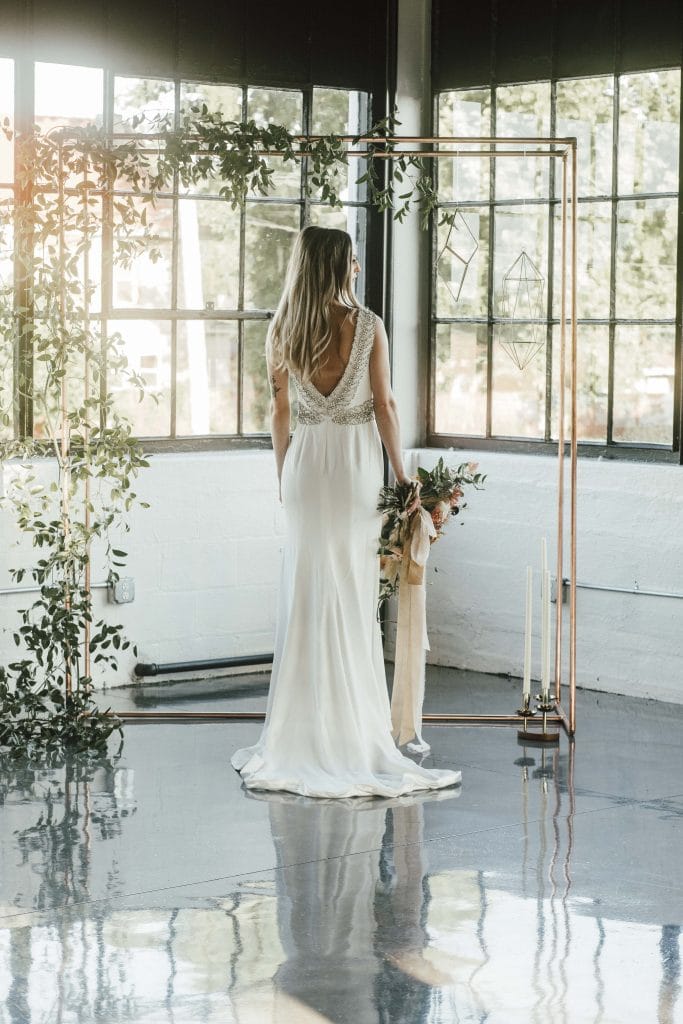 The sheath silhouette on our Elise dress is a great example.
Low V-neck
For low v-neck dresses, you've got the options of sewn-in cups (for those really low v-necks) or a plunging neckline bra, which has a special cutout in the front. You can also get low neckline bras as part of shaping bodysuits. But remember - a bodysuit may not help the bathroom issue!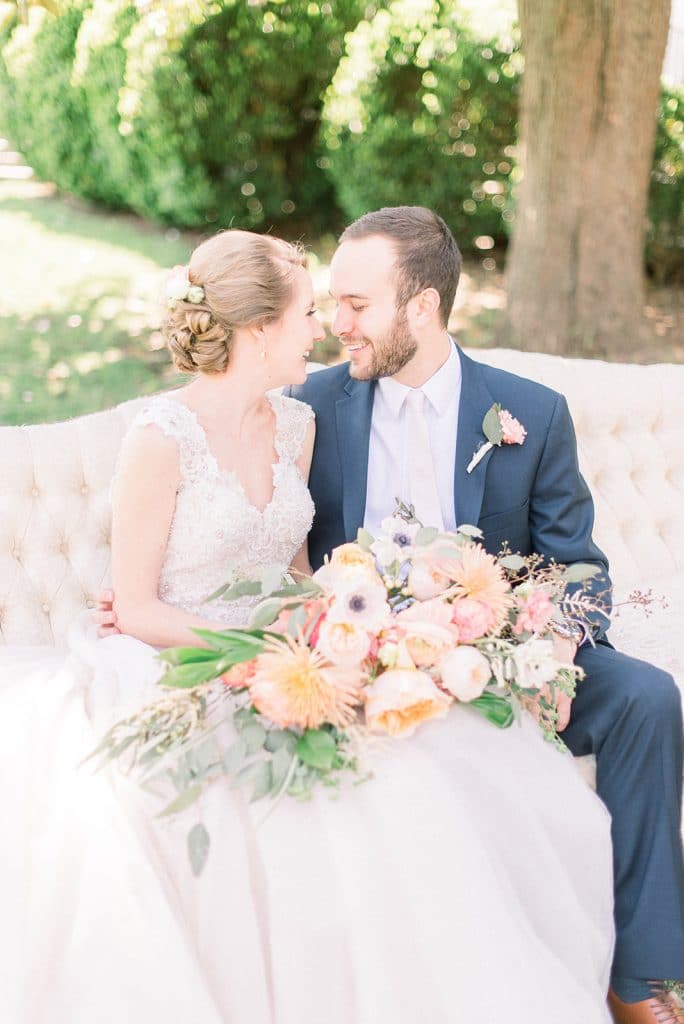 Strappy & Strapless
The pull-up-your-dress dance move is probably not one you'll want to whip out at your wedding. Strapless bras are a great option. For a little extra support, you can also explore a longline strapless bra. These are bras that are attached to a corset-like bodice. They help everything stay up and can even give your torso a little more shape.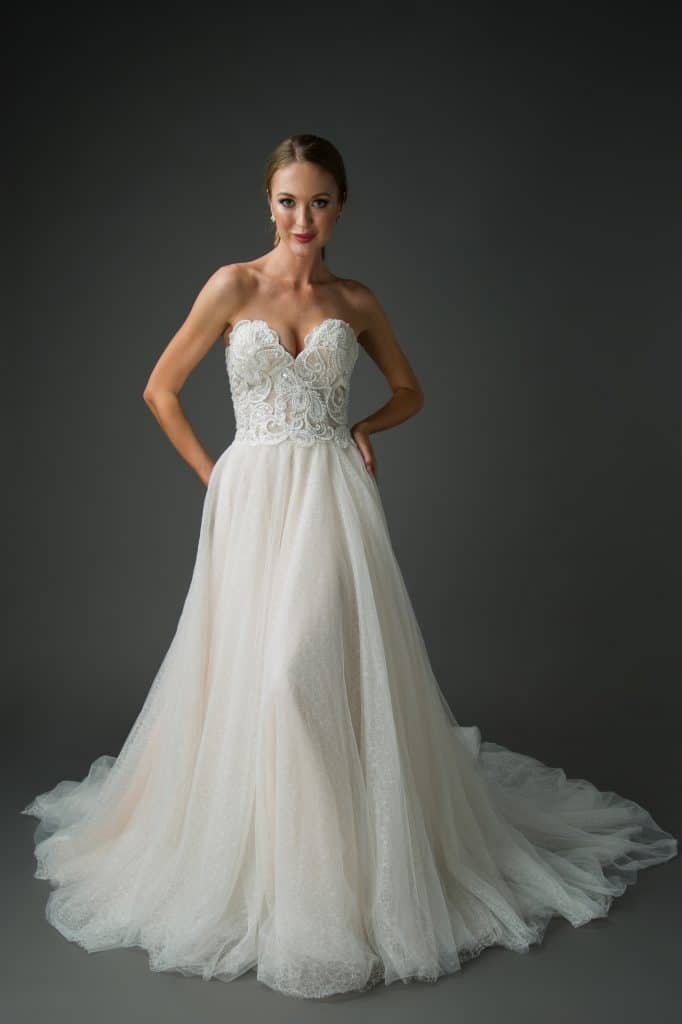 Our Olivia dress is one that would definitely require a strapless or longline bra.
Backless/Low Back
For backless and low-back dresses, your wedding dress undergarment choices are: sticky bras, sewn-in cups and double-sided tape. And when we say sticky, we mean sticky. It has to last all day! You don't want to run the risk of anything slipping off. Sewn-in cups are a safe option that you can discuss with your tailor. If you want to ensure you're getting some lift and your dress moves with you, double-sided tape is a great option.
Our Cassandra dress features a low V-neck in the front and a strappy back. At the Big Fake Wedding in Seattle last year, we used double-sided tape that kept everything in place all day. Alternatively, you could get sewn-in cups , plus some shapewear on the bottom to accentuate an hourglass figure. With its completely open back, our Mina dress would require an adhesive bra.
Again, most of our dresses are designed to minimize the need for too many wedding dress undergarments. But for the brides who want a bit of extra support, we hope this helps!
Photography: 
Savana Mayfield Visuals; Juliana Jumper Photography; Rebecca Sigety; Wild Grass Photography