With temperatures dropping and covid cases rising, it can be even tougher to get out of bed these days. If you're a 2022 bride, trying to check off your never ending list of to-do's, you know the struggle of finding your wedding dress during a pandemic all too well. Luckily, the selection of wedding dresses you can try at home has expanded during these unprecedented times, so you can shop like you do for everything else…online and on your own time. 
Grace + Ivory's try-at-home program makes it simple to choose the gowns you want to see and even the dates you want to see them. This way you can plan ahead to include mom or friends in the process, or even just to ensure your fiancé is out of the house for a few hours. No spoilers here! 
Although Grace + Ivory has wedding dresses you can try at home in a plethora of fabrics and silhouettes, (crepe anyone?) we're focusing on just a few favorites. Here's our top five lace wedding dress you can try at home.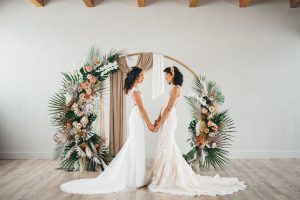 Designer quality gowns without the labels or the fuss.
The Elle Dress
The Elle dress always makes the list, thanks to a stunning keyhole back with just the right amount of hand-beaded shimmer. We love the dimension in this wedding dress you can try at home, since she's made with a peachy champagne underlay and a soft-ivory lace. But by far our favorite detail is the scalloped, laced edge train. It's the little things in the Elle Dress that really set her apart.
You can book the Elle Dress here to try a sample size on at home.
 The Madison Dress
The Madison Dress makes the list thanks to a unique vintage-inspired lace that never goes out of style. Her seamless design, with delicate lace straps and a button back moment, is perfect for a bride that may have a scenic destination in mind for her nuptials. Our favorite detail? A pointed train that makes the dress all the more unique.
Book a date here to have the Madison Dress packed up and ready to meet you!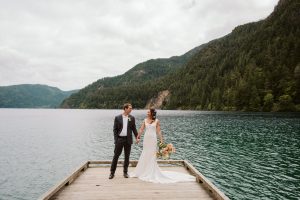 The Nia Dress
The Nia Dress makes the list thanks to a unique, waterfall design in ivory lace.  All-over lace isn't just reserved for fitted gowns, it's beautiful in an A-line with some flow too!  With a light tulle skirt, the Nia dress especially shines on the dance floor. Plus the lace is adorned with a clear sequin for a little glimmer as you twirl. Our favorite tiny detail? The delicate lace straps!
You can check out the Nia Dress is action here or book now to try at home!
The Tessa Dress
The Tessa Dress makes the list thanks to a simplistic design. With a beautiful leafy lace that shapes and defines your body, this wedding dress lies somewhere between sweet and sultry.  But by far our favorite little detail is her illusion button-up back...buttons for days!   
Book a sample size now to try the Tessa Dress on without leaving home!
The Kali Dress
The Kali Dress makes the list thanks to a modern, art-deco lace brides cannot stop talking about! This wedding dress has a subtle shimmer and a favorite V-cut neckline. Among all the wedding dresses you can try at home, this dress is perfect for a bride who feels like she was born in the wrong era. It is the 20's again after all! With so many tiny details on this dress, don't miss the fringe scalloped train!
Book The Kali Dress to try at home here!
Other Wedding Dresses You Can Try At Home
Maybe you've tried on a few and decided lace just wasn't your thing. That's okay! There's so many fabrics, textures, and beading options to explore. Classic in Crepe, Sexy in Satin...just to spark a few ideas. Thankfully, you can try them all on at home. So put away your snow boots and browse the Grace + Ivory collection, you don't have to suit up to find your YES dress!
---
Photography Credits:
Emma Belen Photography