Whether it be a monogrammed koozie, engraved candies, or personalized playing cards...we've all taken home a wedding favor that's found its way into our junk drawer. And while wedding favors don't need to be grand gestures...just something simple to say thanks for being there on our special night...these small trinkets can run a pretty penny. So what can you do for your guests thats both meaningful and useful?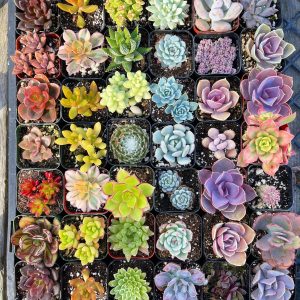 Who gets one? 
Depending upon the favor...you should have at least one for every guest attending. Plus a few extra in case someone decides to accidentally grab a second. It's also acceptable to give favors per couple. Especially if it's a larger item, such as a bottle of champagne. Or even per family if you want to splurge.  It's also totally okay to skip the favors all together and spend the budget elsewhere. Your guests often won't notice, especially if they're tired out from dancing the night away. But if you do decide to keep the favors...here's a few out of the box ideas the modern bride can't miss.
If you love your guests a latte..
You can't miss with a little something that'll get your guests up and running the morning after. Personalized bags of coffee beans, or tea, is perfect for you if you prefer useful wedding favors over longevity. Plus, you'll surely use any coffee left behind.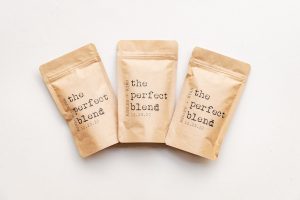 Sellers like GiveitPretty on Etsy, allow you to customize the bags to fit your needs.
You can even skip the coffee and opt for a powdered cocktail mix to keep the party going after the final dance. Powdered cocktail mixes were a hit during quarantine and will be at your wedding. Any one can be a mixologist at home...you just add your favorite vodka, tequila, or whiskey. Brands like Mixallogy sell powerful little pods that are packed with the flavors of classic cocktails. Cosmos, Margaritas, old-fashions...you name it!  This says have a drink on us...and would be the perfect wedding favor for an event that is majority 21+.
Something for Everyone
If your heart is set on having a personalized memento for your guests to take-home, it's important to consider what your guests will actually use. Etsy offers a variety of hand-made, customizable gifts that will coincide with the theme of your wedding. From candles to hand-sanitizer bottles to "Meant to Bee" jars of honey...these are thoughtful favors that never go out of style. And who doesn't love supporting a small business? I know we at Grace + Ivory do!
Lookin for something to fit your dream rustic or Boho wedding? Try these beautiful soaps from seller FashioOonJeweler. Adorned with wild-flowers, these soaps come in a variety of colors and scents. They're almost too pretty to use! And if you still need THE dress to complete your vision...Madison may be your girl.
Midnight Snack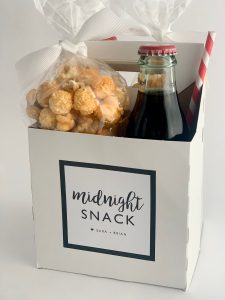 If you're looking for a cap on the night that's non-traditional, you may want to try this new trend.
Swapping out your wedding favors for a midnight snack won't miss with your sure-to-be hungry guests. After a night of mingling, dancing, and drinking...who would say no to a handful of popcorn or french fries? And Etsy sellers like HHPaperCo offer cute, customizable snack boxes so you can add your names and or wedding date. This favor will most likely get consumed immediately.
We've seen everything from donut walls, to white-castle sliders (Yes, really) to boxes upon boxes of pizza. Having something to snack on in the hotel room after, or the uber ride home is always a welcomed surprise.
Some Brides have even taken it to the next level and rented a food truck for departing guests. Can you say, After party in the parking lot?
Wedding Favors to skip?
There's a lot to consider when picking the perfect wedding favor. Especially when you factor in the size of your wedding and budget. The average bride & groom spends around four hundred dollars on wedding favors. But if you're throwing a more intimate gathering, you may be willing to spend a little more. Or if you've expended the budget elsewhere, you could opt for less. There is no wrong way to thank your guests for celebrating with you but skipping the items we've seen one too many times would be a favor to both you and your guests (I'm looking at you Jordan almonds). 
All in all it's important to remember, that as long as you love it your guests will love it too.