Brides these days have more options than ever when it comes to finding a wedding dress. From traditional in-person shopping experiences with household names like BHLDN and David's Bridal...to less traditional routes with try-at-home wedding gowns and the freedom to customize your dress to fit your vision (thank you Grace + Ivory!), we're here for modern brides driving their own wedding dress shopping experience. Whatever that may be!
If you're a bride looking to forgo the big names and shop small for your once-in-a-lifetime look, Grace + Ivory may be your new bridal muse. But with so many wedding dresses twirling across your Tiktok, Pinterest, and Instagram feeds... it can be hard to get to know the brands behind all the tulle and lace.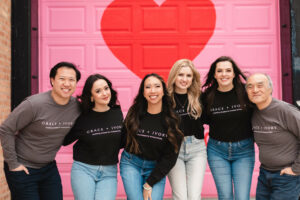 We're breaking down five of our recent bridal features to help you get to know our CEO, our bridal mission, and our stars of the show (the wedding dresses, of course!). After all, buying a wedding dress is one of the most important and emotional purchases you'll make... so we get that you want to know and trust the brand behind the gown that'll be in your wedding photos for years and years to come.
1. Life & Work With Tina Wong
A once frustrated bride, Tina founded Grace + Ivory as a way to combat her own pain points with the wedding dress shopping experience. She described standing in a dress at a bridal boutique, looking in the mirror and wondering why in the world this dress cost as much as it did. She couldn't justify the cost for what the dress looked and felt to be. Not to mention the amount of pressure she felt from the bridal consultant hoping to make a sale, the standard sizing, and lack of customization options. Surly, this process could be different.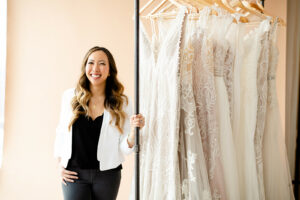 In Life & Work With Tina Wong, from the Nashville Voyager, Tina expands on her wedding dress shopping experience and the passion behind starting Grace + Ivory. She also touches on the self-doubt that inevitably comes with starting a business and her belief that the future of better business is social enterprise.
2. Our Bridal Compassion
"Love stretches far beyond romantic antics and fairytale-like happy endings. It's a contagious concept rooted with deep compassion towards one another," opens A Bridal Compassion. Compassion has always played a role in Grace + Ivory's mission to found a bride driven bridal experience. Since it's like we said earlier, buying a wedding dress is an emotional purchase and compassion is key!
The article featured on The Chicago Asian Network (Where Tina is a proud member!) expands upon Tina's background in foreign aid and how Grace + Ivory's try at home wedding dress service paved a new path for socially conscious brides during the pandemic and beyond.
3. An Outsider Bridal Brand
Grace + Ivory is unlike traditional bridal brands in that we work directly with our production team and directly with our brides. Which is why we're able to cut out the middle-man and the markup to get you a luxury dress at a fraction of the cost. Affordable luxury directly to your doorstep! Or try dresses in our Chicago Showroom if you're in the city or looking to book a girl's trip!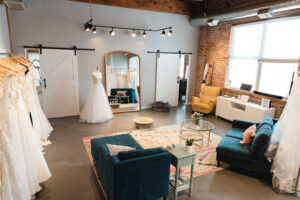 In Tina Wong: "Don't be afraid to come in as an outsider" on Thrive Global, Tina chats overcoming fears, paving new paths, and mistakes she's made along the way. Tina feels its important to forge a new road for transparency in bridal. Which includes sharing her own story, the trials and tribulations of running a small bridal brand, and transparent pricing of our gowns.
4. Letting The Gowns Do The Talking
Now that you've learned more about our kickass CEO, our outsider approach, and social passion...we want you to love our wedding gowns as much as you love what's behind the brand. Designed for the modern bride, with comfort and quality for your money in mind, Grace + Ivory features a unique rotating collection of classic crepes, all-over laces, flowy silks, and more.
Our Elle dress makes Brides.com "20 Best Timeless Wedding Dresses For The Classic Bride," winning the title of best vintage-inspired dress. Elle features a peachy-champagne underlay with an ultra-soft ivory, cotton-lace. The keyhole back and illusion deep V/high-neck hybrid set this gown apart, making it an overall intricate design that is unique and classic.
Our Elise and Kali dresses both make Brides.com list for "30 1920's inspired Wedding Dresses We Love." Elise tops the list for the elegant bride, due to intricate art-deco inspired beading on a classic bateau neckline. While Kali is ideal for the ethereal bride, as the geometric lace feels straight out of the Great Gatsby.
5. Designed For Real Brides
Recently featured on The Knot, a Grace + Ivory real bride in "Guamanian, Nigerian, and Military Traditions Filled This Wedding at Lansdowne Resort in Leesburg, Virginia." Read all about the beautiful traditions that made Vanessa and Joe's wedding so special and meaningful to the couple and their families. As well as the scoop on the incredible details from the classic decor, the red florals, to the gold speckled cake.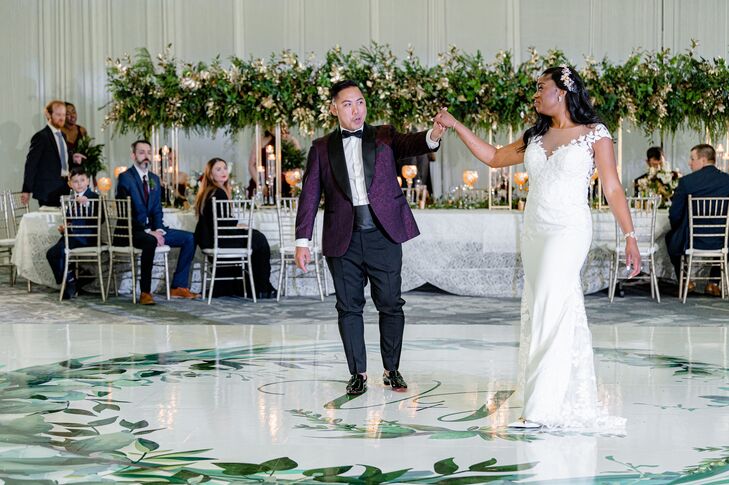 Bride Vanessa wore a customized version of our Tessa dress with added lace panels to the skirt and train. Paired with romantic waves and a pointed heel, we may of cried a few happy tears seeing her wedding day look come together.
Photography Credits:
Sarah Crost Photography
Ed & Aileen Photography
Juliana Jumper Photography