The historic city of Philadelphia is no stranger to traditions and trendsetters alike when it comes to wedding celebrations. In fact, nearly 12,000 couples said "I Do" within Philadelphia city limits in 2022. That's a lot of slices of wedding cake! If you're planning a 2023 Philadelphia wedding, you're probably already vision boarding and shopping for your perfect wedding dress...
Luckily, this year's bridal fashion trends are all about individuality and self-expression. From classic silhouettes (the resurgence of ballgowns and mermaid styles) with a modern twist (exposed boning, cut-outs, detachable sleeves) to whimsical fairy tale designs (floral prints and cottage core...) one trend that's standing above them all with our 2023 Philadelphia brides is the "cool bride" aesthetic. You can thank bridal TikTok for coining the phrase.
Grace + Ivory's Melody Dress shot by Sydney Darwin Photography. 
The "Cool Bride" Aesthetic emphasizes comfort and versatility with a touch of edge. It may seem like a passing fad but the cool bride is all about being intentional about what traditions speak to you as a bride and as a couple, and leaving the ones that don't. Most notably being: the death of the garter toss and the scaling down of the bridal party and wedding size, in favor of more intimate dinner-party style gatherings.
Since Grace + Ivory is popping up in Philly in April/May of 2023 (Get ready to try on some made-to-measure, customizable wedding dresses!) we wanted to explore what a wedding in historic Philadelphia is all about. Scroll down for some top 2023 Philadelphia wedding trends that will let your inner "Cool Bride" shine through. From where to have it to what to wear...we've got you covered!
Trending 2023 Philadelphia Wedding Venues
No matter where you're planning your nuptials and the best party of your life...the wedding venue is one of the most important wedding decisions you'll make. Your venue sets the tone for the entire day, No pressure! From décor choices to your wedding dress, your venue will influence a lot of major decisions. Luckily, Philly is not lacking in wedding venues to choose from; each with their own unique elements and charm. From historic hotels to new and modern event spaces...here's a list of our personal trending favs to check out!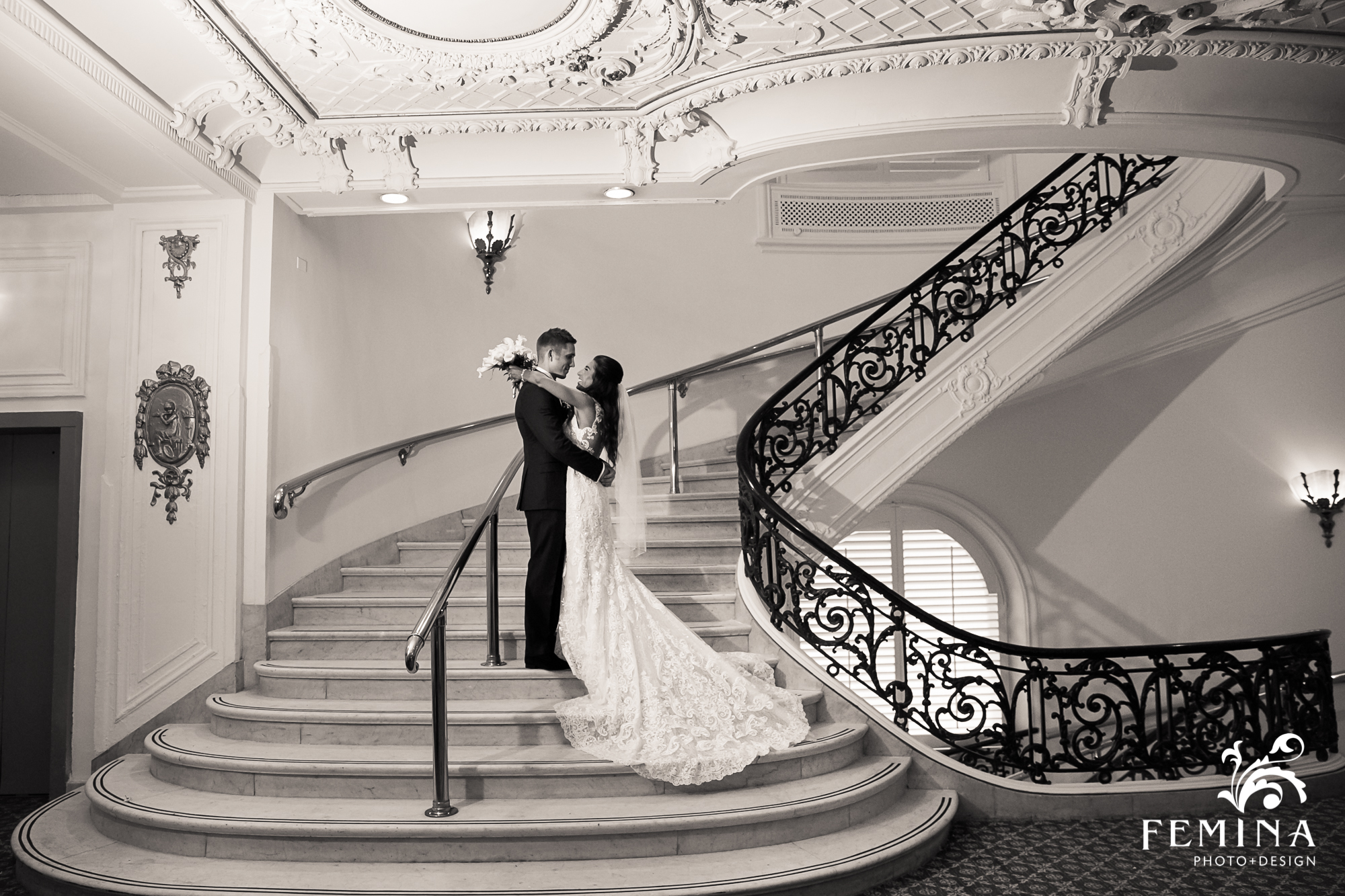 The Bellevue hotel, shot by Femina Photo + Design.
The Bellevue Hotel: This luxurious hotel in the heart of Philadelphia offers several event spaces, including the grand ballroom with stunning crystal chandeliers and marble floors. The ultimate wedding venue for the couple that wants to embody old and glamorous Philadelphia with a blend of traditional and modern touches.
The Lucy by Cescaphe: This brand new venue in the heart of Philadelphia offers a modern and luxurious space for your wedding, with an overall sleek design and floor-to-ceiling windows. Ideal for bride who wants a more modern space that will still offer a beautiful view of the Philly skyline with a rooftop terrace space.
The Free Library of Philadelphia: This stunning library offers several event spaces, including the sky-high reading room with its breathtaking views of the city skyline. Non-traditional venues are having a moment in 2023 and Philly is no exception!
GreensGrow Farms: A working farm and nursery right in the heart of Philadelphia...GreensGrow farms offers indoor and outdoor spaces for events up to 50 guests. Have the ultimate intimate dinner party with plenty of greenery and beautiful blooms.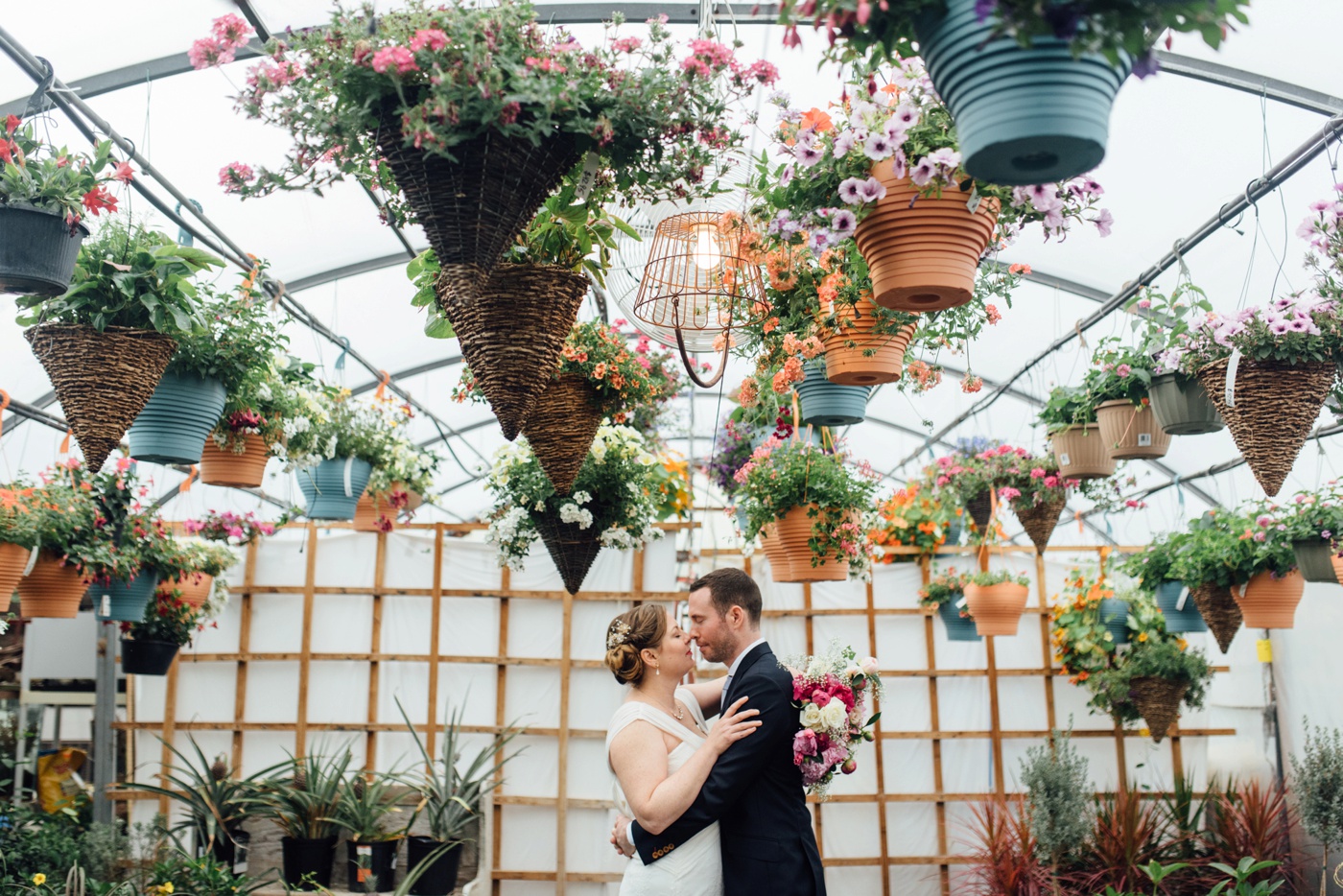 GreensGrow Farms shot by Alison Dunn Photography. 
2023 Philadelphia Wedding Dress Trends
After you've locked in the venue and have begun to form your overall wedding vision, shopping for your wedding dress is not far behind! As we mentioned earlier, Philly brides are either keeping it sleek with classic crepes and silky satins or they're looking for a wow-factor in their dress to really showcase who they are as a person. We're seeing this coming through in a variety of ways with our 2023 Philadelphia brides.
Sleeves: A Philly bride is no stranger to colder temperatures, not that they'll need an excuse to rock a statement sleeve on their wedding dress. From billowy statement sleeves to the fitted lace bell sleeve on our Blake Dress (below); we're going to continue to see a lot of sleeves through 2023 and beyond.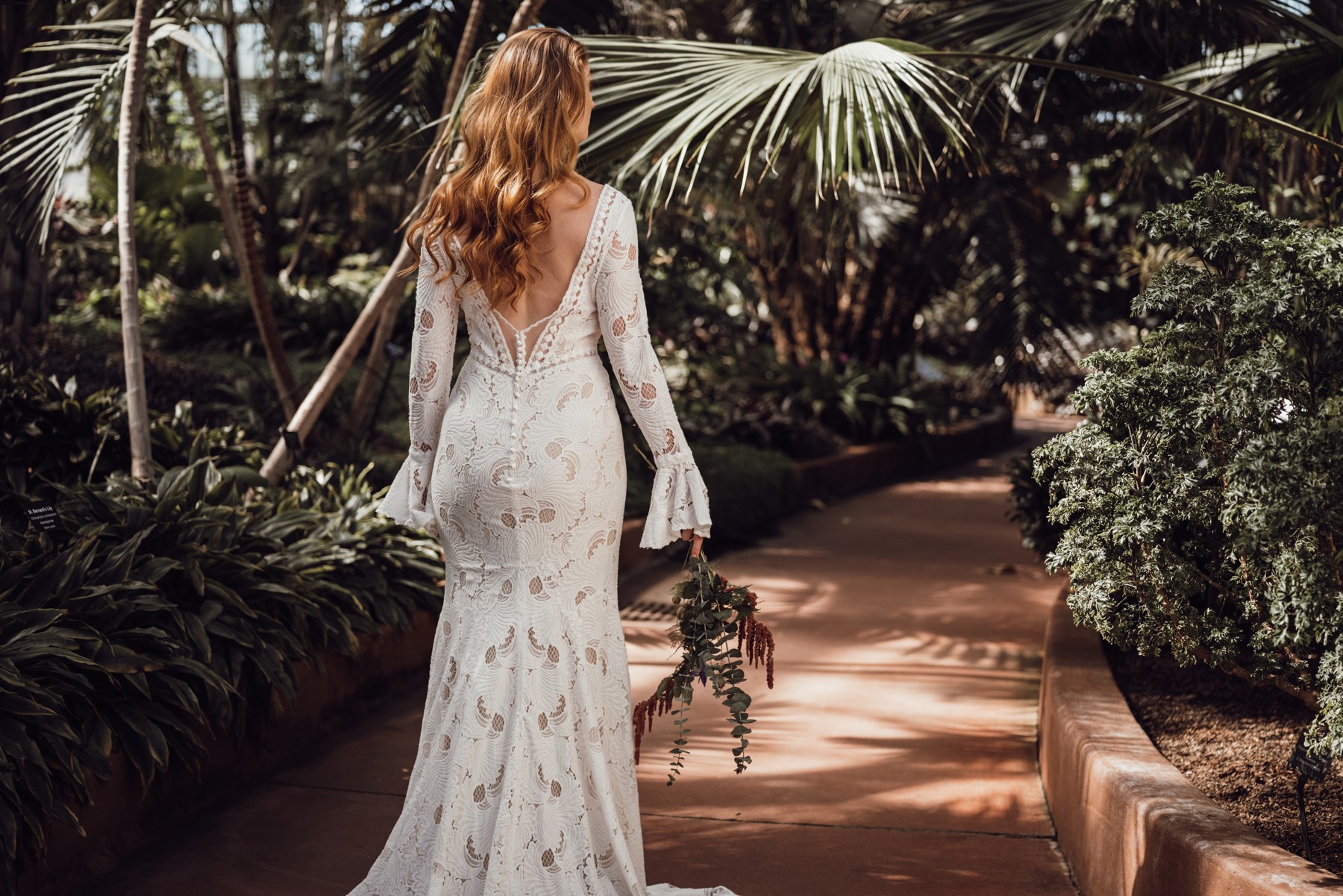 Grace + Ivory's Blake Dress shot by King and Opal.
Asymmetrical Details: Whether it's a cascading lace pattern or one-shoulder design, there's something about asymmetry 2023 brides are loving! The "cool bride" aesthetic incorporates wearable high-fashion elements into the wedding day look. It's often balanced with a simplistic fabric like our Malia dress (below) in a sleek crepe. The one-shoulder feels effortlessly cool while it flows into a stunning cowl back. The extra long train provides plenty of drama without being overwhelmed with any lace or embellishments.
Grace + Ivory's Malia Dress shot by Daniel Kelleghen
Silk-Satin: There's something very formal and fun about the "elevated slip dress" look brides are loving this year! You can not go wrong with a luxe silk-satin dress, especially if you value high-quality fabrics and want to feel like a celebrity on your wedding day. As you should! See this trend paired with a touch of lace applique and a low low back on our Sienna dress below.
Grace + Ivory's Sienna Dress shot by Sandra Armenteros
Minis: Along with these ceremony trends, many 2023 Philadelphia brides are opting for a look change going into their reception. Especially if their first look has a long train, a big skirt, or restricting sleeves. Swapping to a mini before or part way through your reception can be a fun way to free up your movement and make for more great photo opts. Two beautiful options below from Grace + Ivory's exclusive collaboration with Goli June.
Ashland Shortie (left) and Sheffield Shortie (right)
Party In The Back: If there's one dress that would headline our 2023 bridal tour, it's Jessie! Philadelphia brides are loving more simplistic front designs to let their face and bouquet shine...with the "wow-factor" being all about the back! From buttons, to low mesh, to a lace panel...the Jessie dress is a must try at our upcoming Philly pop-up!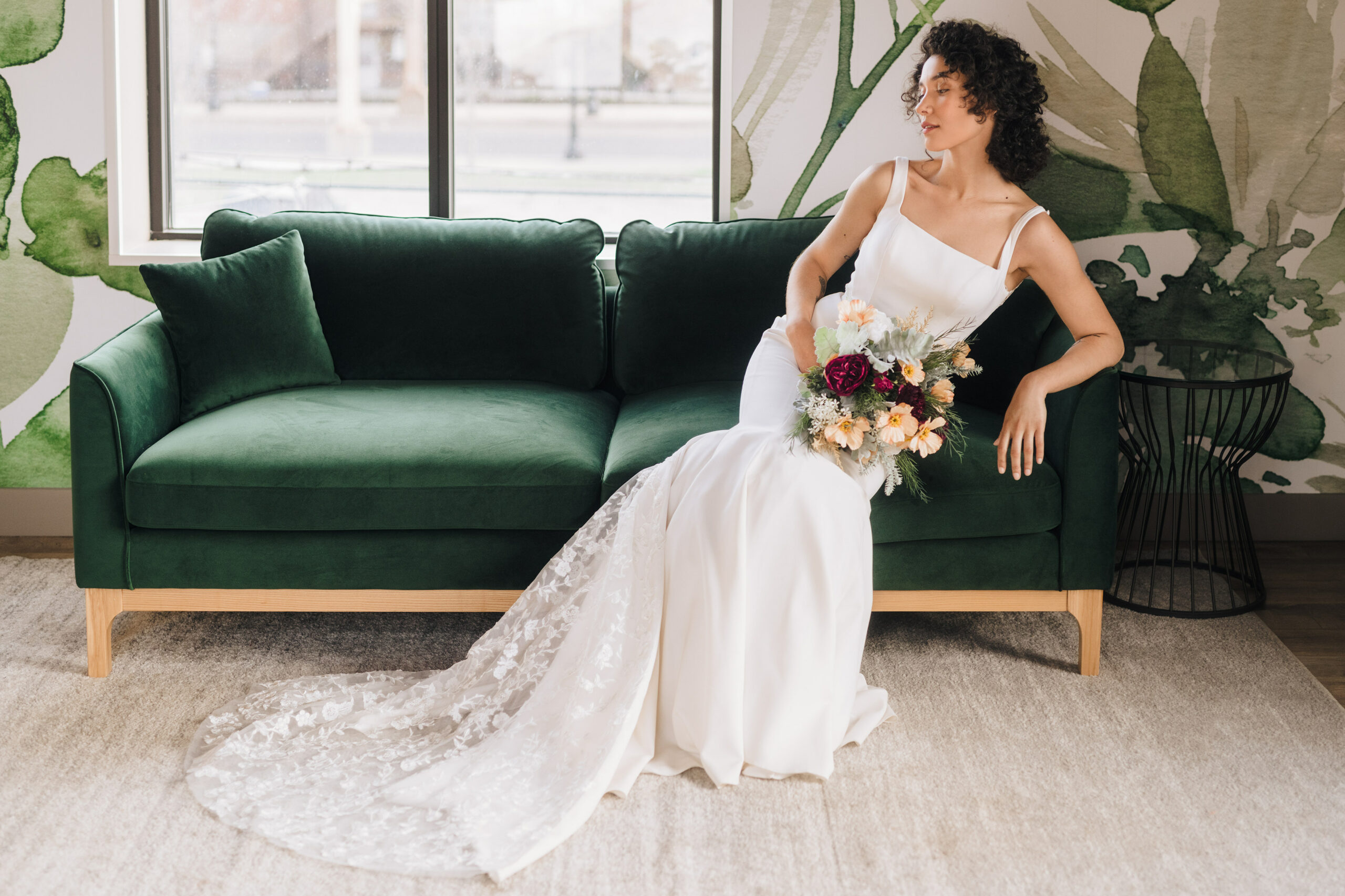 Grace + Ivory's Jessie Dress shot by Ed & Aileen Photography
2023 Philadelphia Wedding Trends: A Push For Sustainability
Once you've booked the venue and found the dress, it's time to get into the logistics of the day. From floral choices to food and traditions to incorporate (with some to leave behind!) there's a lot that changed within the bridal industry in the last few years.
Like many other 2023 brides, Philly brides are pushing for more sustainable options when it comes to who they book for their wedding and what. Silk flowers have been on the rise with many companies re-using their silk stems for multiple events, cutting down on the eco footprint your wedding may produce. But it's not just florals, Philly brides are also seeking out locally sourced food with less waste and opting for more sustainable wedding favors (if giving favors at all!) 
Our friends at The Silk Stem Collective ship your florals directly to your door so you can have high-quality faux florals without the waste!
Local Philadelphia Wedding Vendors To Check Out
It's going to take a village to pull off your perfect Philadelphia wedding and we know how tough it can be to sift through pages upon pages on vendors on The Knot to find your best match. Here's a list of our favorites to help narrow the scope and get you one step closer to achieving your "cool bride" aesthetic.
The Suit Shop: We're popping up in Philly thanks to our friends at The Suit Shop; a women-owned suit company that cuts down on the markup for high-quality and trendy suits at the costs of renting or less! These stylish suits aren't just for the groom...they also carry women's suits and have one in bridal white!
BirchTree Catering: As we mentioned, Philly brides are seeking out sustainability with their wedding caterer. Who better than BirchTree Catering who sources local, seasonal ingredients with a passion for eliminating the food waste a wedding can bring.
Remark Glass: Remark Glass is a Philadelphia based team that will take your used champagne and wine bottles from your wedding day and turn them into memorable keepsakes. Their keepsakes include vases, planters, glassware and more. They also work with non-profit Bottle Underground to upcycle Philly glass!
Butter Sugar Flour; For custom cakes and sugar art treats, Jenna Jenkins of Butter Flour Sugar is your Philly go-to! Her instagram feed is a work of art all it's own. Jenna's specialty includes bright pops of color designs, gold trims, and cakes adorned with sugar flowers!
Grace + Ivory Philadelphia Wedding Dress Pop-Up
Now that you've got some ideas for your 2023 Philadelphia wedding, we'd love to meet you in person and have you try our collection first hand. Our made-to-measure, customizable wedding gowns will be in Old City from March 25th to May 7th. You can book a one on one appointment with our designer, Tina, here. We'll also be participating in the Old City Wedding Stroll! Whether you're aiming for the new "cool bride" aesthetic or have more classic tastes, Tina will guide you through our unique dress process to help you find your perfect fit. We hope to see you there!