Staying on top of the latest fashion trends these days can feel like an Olympic sport. From fast fashion to influencer marketing, it's hard to resist the urge to buy a new outfit every time you have an event. Luckily, bridal fashion trends don't go in and out quite so quickly...and the classics? Well, they always seem to make the runway!
From mini-dresses, to floral prints, there's been a push for the non-traditional (and we're here for it!). But we've especially been about the trends that can stand the test of time. After all, you don't want to look back on your wedding photos in ten years and say "what was I thinking?"!
If you're a 2022 or 2023 bride wondering what bridal fashion trends to expect going into your first wedding dress shopping appointment, we're breaking down the bridal fashion trends we've seen emerge or stay on top for 2022 spring and summer.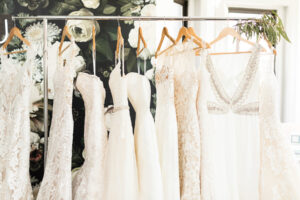 1. Plunging Necklines
When it comes to wedding dress trends 2022, brides can not get enough of the plunging necklines and for good reason! A narrow deep-V can flatter a variety of chest sizes and if paired with an illusion netting...you'll be surprised at the amount of support.
When shopping for the latest wedding gown styles, expect to see the low V's while browsing the racks. Two of our personal favorites, whether your style is classic or boho, is our Tabitha and Kali Dresses. The Tabitha Dress features a structured deep-v with a clean crepe skirt, while The Kali Dress lets your wild bride side shine through with an art-deco lace and delicate beaded trim on her plunging neckline.
2. Colored Underlays
The brides have spoken and they want dimension in their dress! All-over lace gowns are classic and will remain on top year after year, but lately we've been seeing a push for colored underlays. From blush to champagne to darker nudes, not only does a colored underlay make the lace details pop, but they also add for a unique and personal touch to your wedding dress.
To incorporate this bridal fashion trend into your wedding day, look to our Amara and Madison dresses for inspiration. The Amara Dress features a nude underlay with detailed layers of lace and applique. While the Madison Dress keeps it simple with a champagne underlay and ivory Spanish lace. Both can be tried on at home! 
3. Off-The-Shoulder
If you're looking for the most romantic of all bridal fashion trends...off-the-shoulder styles must make your try-on list! From billowing puff sleeves to touches of lace, we love the way adding an off-the-shoulder sleeve can really align your wedding dress to your own personal style. If that's your kind of thing. 
For wedding dresses trending that strike a perfect balance between simple and sweet, the Melody dress will be your new muse. All-over seamless crepe with just a touch of lace as an (detachable!) off-the-shoulder sleeve...we're predicting Melody to age like a fine wine.
4. Low Open Backs
Much like the plunging V-necklines, 2022 brides are not afraid of a low-open back! While most of your wedding day photos will be from the front, there's nothing like a sexy looking over your shoulder pose to boost your bridal confidence. Just beware of tan lines leading up until your wedding day! 
If a low-open back is the wedding dress trend you need to try, expect to find more than just a few when browsing the racks this summer into fall. If you're shopping with us at Grace + Ivory (whether in person or online!), our Mina and Sienna dresses are a great place to start. From a soft all-over lace with the Mina dress to sexy satin and silk with Sienna...both have low-open backs that are THE moment.
5. Bridal Capes
If you frequent our blog (or our Instagram page!), you already know we're loving this next bridal fashion trend...bridal capes! From plain tulle to pearl details to capes made with crepe, some wedding gowns demand a dramatic accessory. The reasons for loving the bridal cape trend is as much about the functionality as it is about the style. You spend $$$ for the best hair day of your life, why ruin it getting that heavy veil to stay? Not to mention taking it out! 
This wedding trend for 2022 can be used in a variety of ways, but personally we love using a pearl bridal cape to elevate a simpler gown. Pictured below on the Jessie Dress, a pearl cape is a once in a lifetime kind of wear. Truly Iconic. 
6. Sheath Silhouettes
Mermaid gowns with layers and layers of itchy crinoline and tulle are a thing of bridal fashion trends past. Modern brides want silhouettes that highlight their figure without compromising their time spent on the dance floor. That's one of the many reasons we love this new wedding dress trend, sheath silhouettes!
Not quite as thigh-hugging as a fit-n-flare, sheath silhouettes feel very modern and sleek. They can come in a variety of fabrics, from crepes to satin silks, but we especially love the tulle overlay on our Tessa Dress. The dress is fitted to the natural waist with a gentle hug through the hips that falls straight to the floor. Isn't this new trend wedding dress a beauty? 
Photography Credits:
Candace Sims Photography
Chelsea Blanch Photography
Stefanie Kamerman Photography
Ed & Aileen Photography
Chantal Pryor Photography