With so many bridal shops, wedding gown designers, and styles to chose from...starting to shop for a wedding gown can be overwhelming. Especially if you have no idea where to start or what you're looking for. We get it, most of us have never shopped for a wedding gown before and there's a lot to learn in such a short amount of time. At Grace + Ivory, what we always hear from our brides are the things they wish they had known before starting to shop. From the ins and outs of the bridal industry to timelines and budgets...we'll run you through it all. This way you can go into your first wedding gown shopping (in-person or try-at-home) experience, a bridal expert.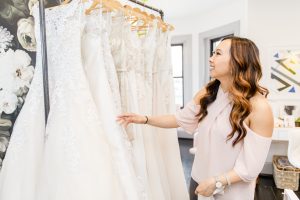 1. Do Your Research
Setting and sticking to a budget can be one of the hardest parts about shopping for a wedding gown. A lot of bridal shops will list what their gowns start and end at, but it's more difficult to find the prices of your favorites online. Instead, research specific designers to get a sense of their style and which are feasible for your budget. Then see which bridal shops near you carry the designers you love.
Don't be afraid to give your bridal consultant a firm number before setting foot into any gowns. You don't want to fall in love with a wedding gown out of your budget. Or risk not hearing the price until you've already had the "Say Yes" moment.
2. Keep an Open Mind
Even if you've been dreaming about your wedding gown for years... right down to the style numbers and names of the gowns on your Pinterest board...it's important to keep an open mind your first time shopping for a wedding gown. We recommend trying on different styles, shades, and silhouettes because you may be surprised by what you like and what feels most comfortable for you.
We see it all the time, a bride comes in wanting a ballgown and leaves with a fitted gown. Shopping for a wedding gown should be fun, so view your first time as a hopeful exploration! Don't get discouraged if a wedding gown you thought would be the one is missing something. At least you tried it and now you're a step closer to the right dress for you.
3. Don't Shop For Fit
It's important to remember you won't be shopping for fit the way you do with everything else. Your Wedding Gown will need alterations before its wedding day ready so you have to look past the clips, the gaping, and the additional length (It's difficult, we know!)
Instead, shop for the details you love. Are you normally drawn to fitted dresses? Or A-line? Do you normally gravitate towards higher or lower necklines? Do you love lace and hate sparkle? All things to consider. Behind all the glitz, glamour, and tulle...it's important you still feel like yourself.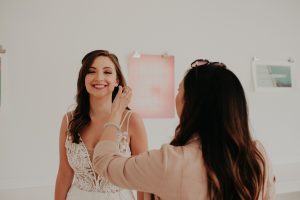 4. Choose Your Wedding Gown Shopping Squad Wisely
Although you may be tempted to invite everyone in your life to your bridal appointments, it's important you bring people along who help you feel your best. Sometimes, too many opinions can be overwhelming and counter-intuitive. Sure, you want honest opinions but with so many voices in the room it can be easy to lose sight of what your own is. After all, yours is the opinion that matters most here!
If you want to shop alone your first time out, more power to you! Many brides do come alone and your bridal consultant will be more than happy to take over picture duty. Once you've narrowed it down to a few favorites, then come back with the important people. You'll already know how you feel in the wedding gowns and your squad can help with the final decision.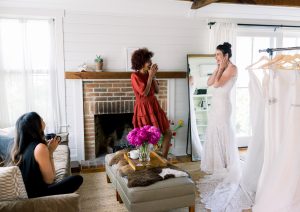 5. Give Yourself More Time Than You Think
It's hard to pinpoint exactly how long it'll take to find your perfect wedding gown. Some brides get lucky and find it at their first appointment...other's go to three, five, sometimes more before saying yes to a dress. While some designers have a quicker turn around time (hello Grace + Ivory!), some designers need 8-10 months before your dress is in your hands. That doesn't leave much time for alterations.
We recommend starting a year before your wedding date. It may seem far away but starting early is the best way to ensure you have time for any bottlenecks in the pipeline or any unforeseen circumstances (Knock on wood!) 
6. Consider How You Want To Find Your Wedding Gown
If you're not really a "shopper" and the last thing you want to do is step foot into a bridal shop, you are not alone. Let go of the pre-conceived notions that you have to find your dress a certain way and know that you have options!
It's now easier than ever to try on wedding gowns at home. You can take your time, invite over friends, or even Facetime Mom! An in-person bridal experience isn't for everyone, so don't feel bad if you're considering skipping it.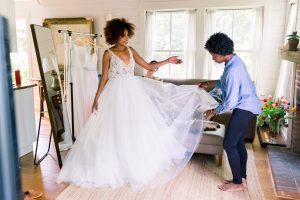 7. Set Realistic Expectations
You have to remember that a lot of wedding gowns you see on Pinterest, Instagram, wherever...are couture. Although stunning, these wedding gowns can cost tens of thousands of dollars. For the modern bride, who is looking for a quality dress at her price point...you probably won't chose a dress straight from the runway. That's okay!
There will be plenty of beautiful wedding gowns for you to try and chose from! Don't be afraid to seek out small designers for something that's fresh and unique. Or shop made-to-measure customizable gowns with us for a personalized experience without all the markup.
8. Shopping For Your Wedding Gown Should be Fun!
With so many terms to learn (bustle...what?) and bridal appointments to make, don't forget above all else...shopping for your wedding gown should be fun! Now's the time to try on that princess dress you see in the window, because why not? 
Remember, you're the one calling the shots at your bridal appointment. Your bridal consultant is just there to guide you through the process and answer your plethora of questions. So go on, make that appointment or book a try at home wedding gown, and go into this exciting process with an open mind!
Photography Credits:
Iris Mannings, Mecca R. Photography, & Sarah Bradshaw