Whether you just got engaged or have already started bridal dress shopping, you may be feeling excited, overwhelmed, or somewhere in between. With so many bridal dress styles to choose from and your budget, venue, and other opinions to account for...saying "yes!" to a bridal dress may not be as simple as you'd hoped. After all, it's a huge emotional purchase that doesn't have to end with a snap decision.
We've worked one-on-one with brides at every stage of the process from loving the very first dress they try on (It happens!) to our brides who have tried on so many gowns they've gotten decision fatigue. We understand the pressure you can put on yourself to find the bridal dress that lives up to your expectations and understand sometimes it's a decision you need to sleep on (no matter the scare tactics of the bridal shop!).
We're breaking down our quick tips to help make your bridal dress selection as easy as possible so you can enjoy the experience and, more importantly, have fun doing it!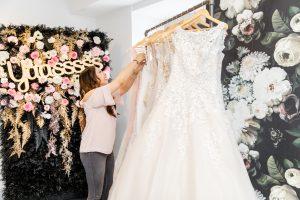 1. Pick Your Wedding Dress Style
With so many bridal designers with different tastes and styles, it's important to ensure their bridal vibe fits your vision before booking an appointment.  Whether you're a bohemian bride or more traditional and classic, there will be plenty of places to shop. You don't want to waste your time, or your try-on team's time, at a bridal shop that overall doesn't have what you're looking for.
We suggest using keywords that describe your bridal style when you search for bridal shops (or try-at-home bridal...if you're into that!) and looking at their website and social media accounts (Instagram and TikTok for visuals!) beforehand. There's nothing wrong with trying a wild card dress pick, in fact we encourage it, but going to a designer that's so opposite your style may leave you feeling discouraged. Above all, feeling like yourself in your dress is such an important detail brides often overlook until they're a few "No" dresses deep.
Are you a vintage lace bride like our Madison dress? Or looking for something classic and sleek like our Salcia Dress? 
2. Start Your Bridal Dress Search After You've Picked Your Date, Venue, and Theme
It's hard to buy a wedding dress when you don't have all the details! What month you're getting married may determine fabrics, sleeves or no sleeves, and even lace type. Some fabrics allow more "air" for a outdoor summer wedding, while others look best in the Fall. Are you having a minimalist wedding or getting married in a barn? All things to consider while trying on potential dresses. Just like you won't want to settle on a bridal dress with too many layers if your wedding day aisle is a beach!
But what if you're pressed for time and don't quite have all the details? We say, start the search and let your wedding dress set the tone. Nothing wrong with needing a little inspiration!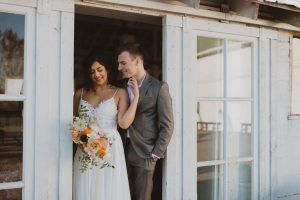 For our rustic brides...our Lacy Dress may inspire you!
3. Consider How You Want To Buy Your Wedding Dress (made-to-measure, bespoke, off-the-rack?)
It's important as you start your bridal dress search to learn about the different ways to buy your dress. These days, you have more options than simply ordering a sample size and altering to fit. If you want a bridal dress that's super custom and unique, bespoke is the process for you. If you're pressed for time, you may be looking at purchasing a dress off-the-rack.
If you want an option that lies somewhere in-between, made-to-measure is worth the look. Many bridal designers, like us at Grace + Ivory, have incorporated a made-to-measure model into their business. It's all about proportional fit since your dress will be made to your one set of unique measurements. You should still expect a final fitting with this process, but overall your dress will be in a better starting place proportionally than a typical sample size. Plus it's more affordable than you think, all Grace + Ivory gowns are under $2,500!
Our Tabitha Dress is made-to-measure and only $1,395!
4. Focus on the Details, Not on the Fit
Remember, shopping for your bridal dress is unlike any shopping experience you've had before. Usually, if something doesn't fit you wouldn't buy it, right? Shopping for your bridal dress is unique in that you have to try and look past the clips to envision how the dress will look once it's fit for you. It's hard, we know!
Instead, focus on the details you love. The low-back? A fun slit? Maybe a lace-edge train? Find the details that are a must-have for your bridal dress and ignore the parts that don't sit right yet. They will with some help from your alterations specialist!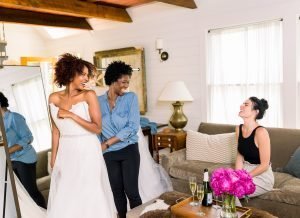 5. Give Yourself a Deadline
Of course if you haven't found a dress you love yet, you should absolutely keep looking. But if you're between a few favorites, sometimes adding more options into the mix isn't always helpful. Many modern brides struggle with the illusion of choice. How do you stop looking with so many dresses to pick from?
Giving yourself a deadline is important, not only for your peace of mind, but for the timeline of making your dress. A bridal dress can take anywhere from 3-10 months from order to completion to arrival. That doesn't include time for additional alterations. Each designer and bridal brand is on their own timeline so make sure you have all the information before saying that final "yes"!
Consider our try-at-home program if your wedding date is steadily approaching. Our dresses are made in 3-5 months!
6. Trust Your Gut
Finding your bridal dress, while an exciting experience, can quickly get overwhelming. You're shopping not only for a physical dress, but for the feeling that wedding dress will give you. Sometimes it's hard to quantify exactly what you do or don't like about a dress, so trust your gut!
If your gut says this dress won't cut it on the dance floor, or will have you sucking in all night, it's not your dress! Something as simple as a different fabric can make all the difference in how you feel in a dress so don't feel like you have to settle. Even if you don't have that overwhelming "this is the dress," moment (and most brides don't) your gut will let you know in its own way. Usually it's the dress your mind keeps drifting back to that will end up being the one.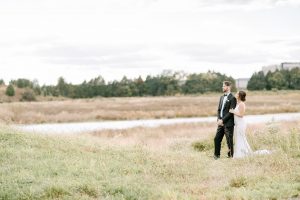 7. Keep an Open Mind
It's important to keep an open mind when shopping for your bridal dress. A dress that didn't impress on the hanger may come to life once you put it on...just like a dress you've had your eye on for months may not live up to expectations. It's okay!  Sometimes it's hard to see the shape of the dress and the little details that make the dress unique on the rack or on the Pinterest model. All to say, expect the unexpected! Take it from a bridal stylist, it truly is the bride that makes the dress. When you feel good in something...it shows!
Selecting Your Bridal Dress the Way You Want
Remember, there isn't a one-size-fits-all bridal dress shopping experience! Despite pressures and traditions, brides are breaking the "norms" of finding their bridal dress every day. Whether it's shopping alone your first time to get out the nerves or skipping an in-store experience all together...your experience is whatever you want it to be!
Photography Credits:
Iris Mannings, Ed & Aileen, Wolf Crest Photo, Sarah Bradshaw, & Savannah Mayfield.