If you're looking to try on some wedding dresses at home but nervous about the unknown experience, this post is for YOU. Grace + Ivory has compiled a list of try-at-home ideas to make your experience as amazing as it can possibly be!
To kick us off, here's a little reminder about what is so great about trying on your wedding dresses at home.
* First, no sales assistants. This means that there is no stranger convincing you that a dress looks great when you're on the fence and no one pressuring you to buy a $1,500 dress in a champagne haze.
* Second, no time crunch. You will have your Grace + Ivory wedding dresses for three days. Three days! That's exactly 71 hours longer than a one-hour bridal appointment. That means you can try on all of the dresses as many times as you want. Didn't get quite the right photo the first time? Put it on again! Want to try that one dress you really liked on one more time? Wear it all day if it pleases you! (But please don't drop your dinner on it, they are samples and we don't want to charge you for dry cleaning).
* Third, control over your experience. You've got the privacy of your own space to work with. You know where the hangers are, you know exactly how many bottles of prosecco you bought, and you know everybody who is going to be there to see you. You'll get opinions you trust from people you know.
Have you ordered your try at home dresses yet? Here's a rundown on how you can order some Grace + Ivory dresses to try on at home. And PS: we're running a fall special! Order three dresses for the price of two with the code "Fall3for50" at checkout!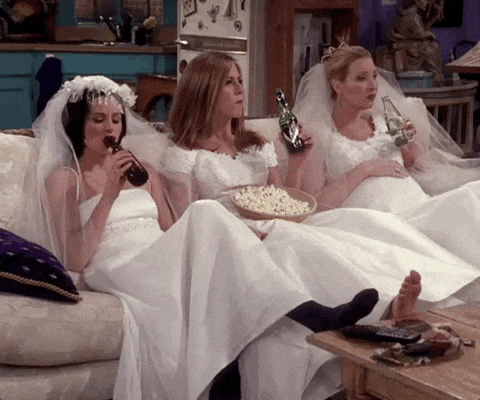 Try-at-Home Must-Haves
1. Another pair of hands. It's up to you to determine the size of your try-at-home crew, but we don't recommend the experience solo. You'll need one other person to help you get in and out of the dresses, clip things* if they're too big, and, of course, for an objective opinion. (*don't worry, your Grace + Ivory try-at-home kit comes with clips!)
2. Full length mirror. the more, the better. This is to ensure that you can see the dress from all angles. If you don't have an appropriate-length mirror, a great back up is to use your phone to take 
lots of photos and videos.
3. Phone/camera. Yes, we already mentioned a phone above, but please take pictures, and lots of them. It's important that you can get a solid image of what the dress looks like so that you can accurately dream about it remember exactly how high it comes up at the back and plan the rest of your wedding with the dress in mind.
4. Something to stand on. This is so that you can get a good idea of how the dress will fall depending on the height of your shoes. Another option is to have shoes of different heights at the ready!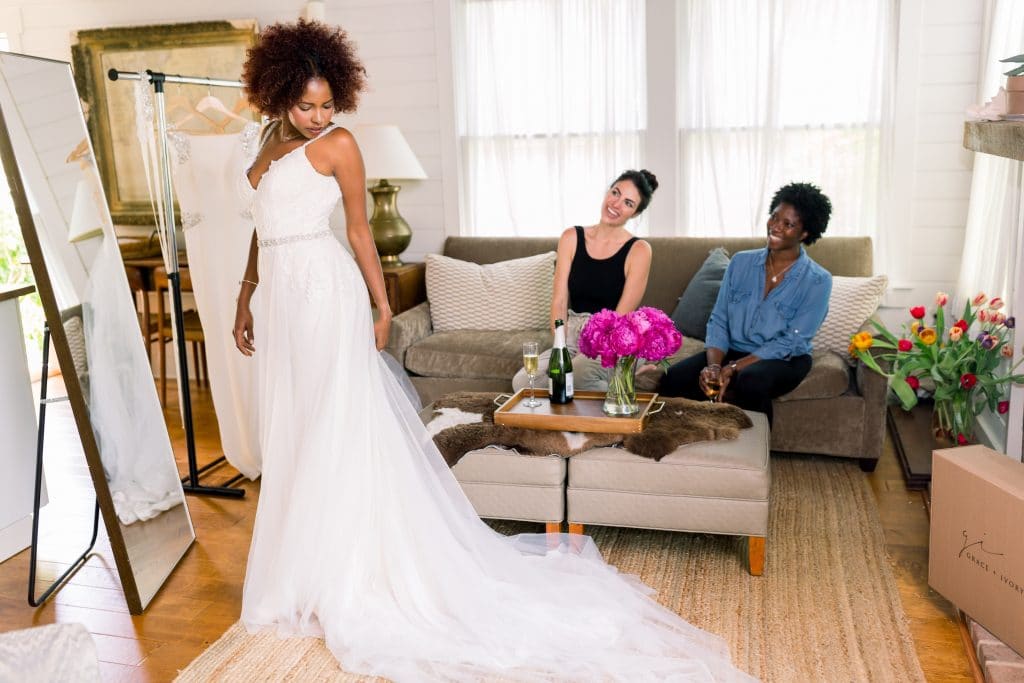 5. Shapewear. You obviously won't know exactly what kind of shapewear you'll be wearing on the day, but if you 
know you're going to want a booty lift or a flatter tummy, it might be a good idea to consider wearing it for your try-on sesh.
6. Bridal accessories! Ok, these ones aren't necessary, but can be really fun and get you into the bridal mood! If you know for sure that you will be wearing your mother's generational hand-me-down necklace/veil/hairpeice, breaking it out to see how it works with the dress can be a great way to help narrow down your options.
Ideas for your Try-at-Home Wedding Dress Experience
1. To replicate the bridal boutique experience: Invite your two best friends (or your sister, or your mom), pop some champagne, and break out some snacks.
2. Go all out and get a hotel room for the day. It'll be a clean space, you won't have to worry about rearranging the furniture, and there will definitely be a full-length mirror (or two!). You can also get in the zone with a relaxing bubble bath or room service! This is a great option if your partner isn't able to leave the house for the appropriate time frame.
3. Tell your guests to bring one bridal accessory for under $10. You'll end up with some silly ideas that will make you laugh, but it might also inspire some creativity that you weren't expecting!
4. Say Yes to the Dress Marathon. Done trying on dresses? Already fallen in love with the one? It would only be right to finish off the day (and the bubbly?) with a Say Yes to the Dress/90 Day Fiance/other wedding reality show marathon!
5. Include some self-pampering. Get yourself in the mood or relax afterwards with some mani-pedis, face masks, or another DIY spa treatment for you and your crew.
6. Pinterest brainstorming session. If you've made up your mind, you and your friends can brainstorm for accessories, shoes, and hairstyles online!
Ultimately, the beauty of try-at-home is that you have all of the control. Make a big thing of it - or don't. It's completely up to you.
Tell us your try-at-home story! If you had a particularly great experience - or just want to learn more about our Try-at-Home program - send us an email: hello@graceandivory.com.
Photos by Sarah Bradshaw Photography