As a bride-to-be it may feel like you're endlessly checking off lists of to-dos. With Pinterest vision-boards, sorting through hundreds of vendors, and trying to please family members...there's no shortage of hurdles to jump through to plan your dream wedding. Especially when weddings are filled with traditions that have been passed down through generations and not all of them feel like us. Luckily, as times change so has what brides want - with customizable wedding dresses often making the top of that list!
Grace + Ivory's Tabitha Dress with a modified higher neckline and pearl capelet : Alyssa Rados Photography 
With bridal brands like Grace + Ivory, gone are the days of cookie-cutter wedding dresses that leave little room for self-expression. Customizable wedding dresses are a modern trend that is re-shaping bridal fashion by allowing brides to get exactly what they want. After all, it's one of the most important dresses you'll wear in your lifetime. You could say it's kind of a big deal. 
We're breaking down the process of customizing your made-to-measure Grace + Ivory wedding dress and offering some real bride inspiration from G+I brides who have been there, done that. 
Customizable Wedding Dresses: Where To Start
Most Grace + Ivory brides who have gone the customizable route did not start their search with intent to customize just for customization sake. They either had a unique vision they were having trouble finding in bridal shops, whether it was a non-traditional color, preferred neckline, or a removable skirt (wedding dress to jumpsuit anyone?) Or maybe they found that they were loving most things about a few dresses but would have to compromise on one important element...which may of been a deal breaker!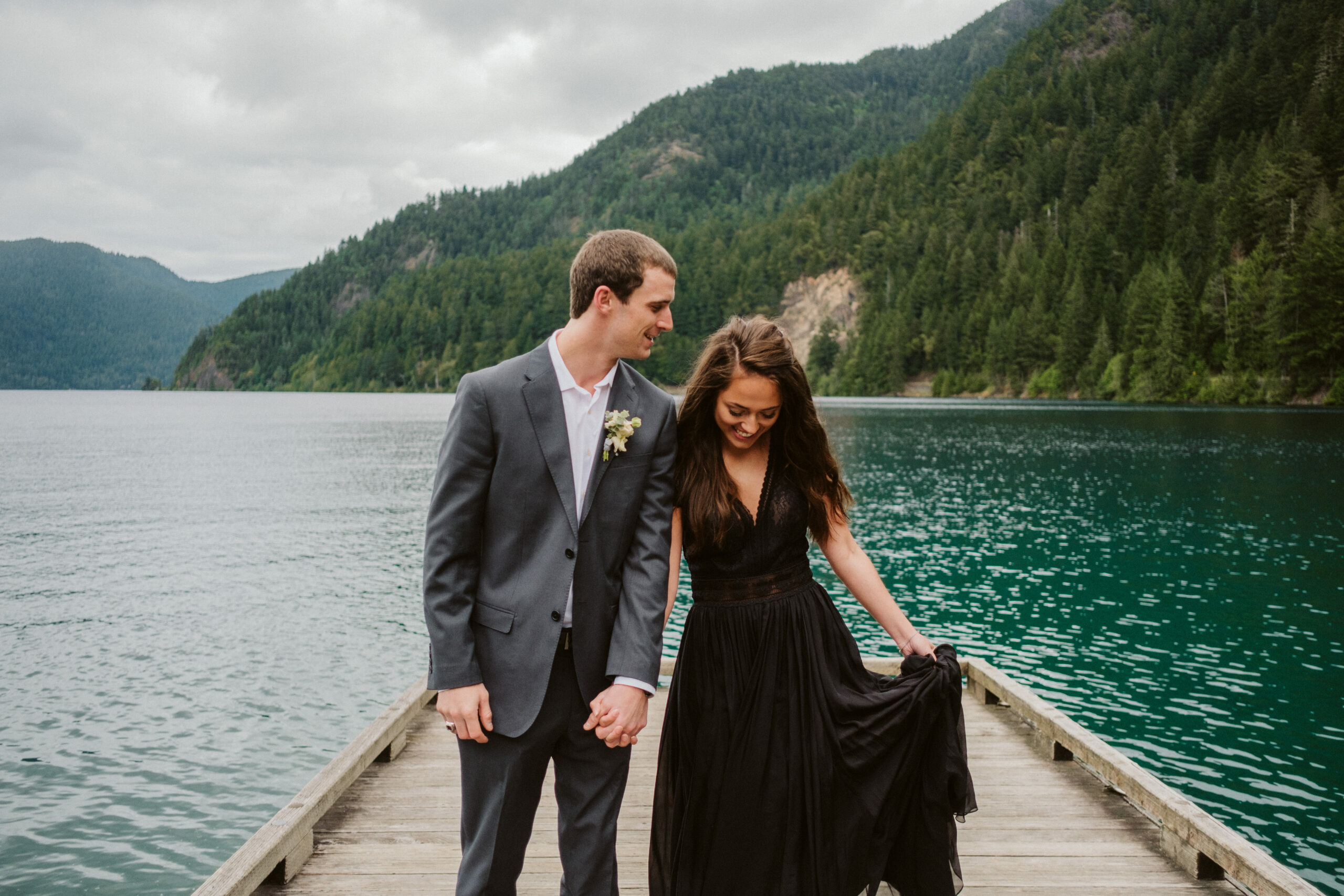 Grace + Ivory's Sloane Dress in a custom black color : Sarah Anne Photography
To start, decide whether you want to shop with us in person in our Chicago showroom or through our try on at home program wherever you may live. Then you'll either book an appointment or start browsing our collection to secure your try at home gowns.
Once you try them on and find your dress, you'll chat with a bridal stylist either in-person or through a virtual consultation. They'll listen to your vision and offer expert advice on what can and can't be tweaked. They'll also advise based on your specific timeline since some customizations do require extra steps that can extend your dress timeline. They'll also be there to give recommendations on what has been done in the past. Funny enough, one of our most common customizations is simply adding more buttons!
Customizable Wedding Dresses: Budget
Customizable wedding dresses may sound like a daunting project that'll break the budget but that's often not true. It's not the fully bespoke custom experience you're thinking of, which involves multiple rounds of sketches, patterning, and fittings to have the dress essentially sewn onto your body from scratch. That process can and will get expensive fast...but made-to-measure, customizable wedding dresses are a great option for a bride who doesn't love standard sizing and wants to add their own personal touch to their wedding day look.
Grace + Ivory's Stella & Gemma Dresses : Stefanie Kamerman Photography
Grace + Ivory's wedding dress collection is between $1,400-$3,000. The price online is inclusive of the made-to-measure process which has your wedding dress made to your set of measurements for a better proportional fit from the get-go. Customizations are then priced on top of the dress based on our production costs and cost of materials. Your bridal stylist will offer you a breakdown first, so you can decide if and how it'll fit into your budget should you choose to customize.
Customizable Wedding Dresses: Timeline
As we mentioned earlier, considering your timeline is important when deciding to customize your bridal gown. Since some customizations, like changing a neckline or silhouette type, would require designing and cutting a new dress pattern...it's important to ask your bridal stylist or try-at-home consultant what is feasible with your wedding date.
Typically, Grace + Ivory gowns take anywhere between 3-6 months to make. Clean, simple crepe designs are on the shorter end, taking between 3-4 months and anything with beading or lace coming in at the later end of the 3-6 months range. Some major customizations (not all!) can push that timeline up to 6-8 months so it's crucial to get started early if you think you may want to customize. It's also important to understand that some customizations (like changing a neckline, color, or fabric) will really change the look of the dress visually. So consider what you love about the dress as-is and how each customization will change that!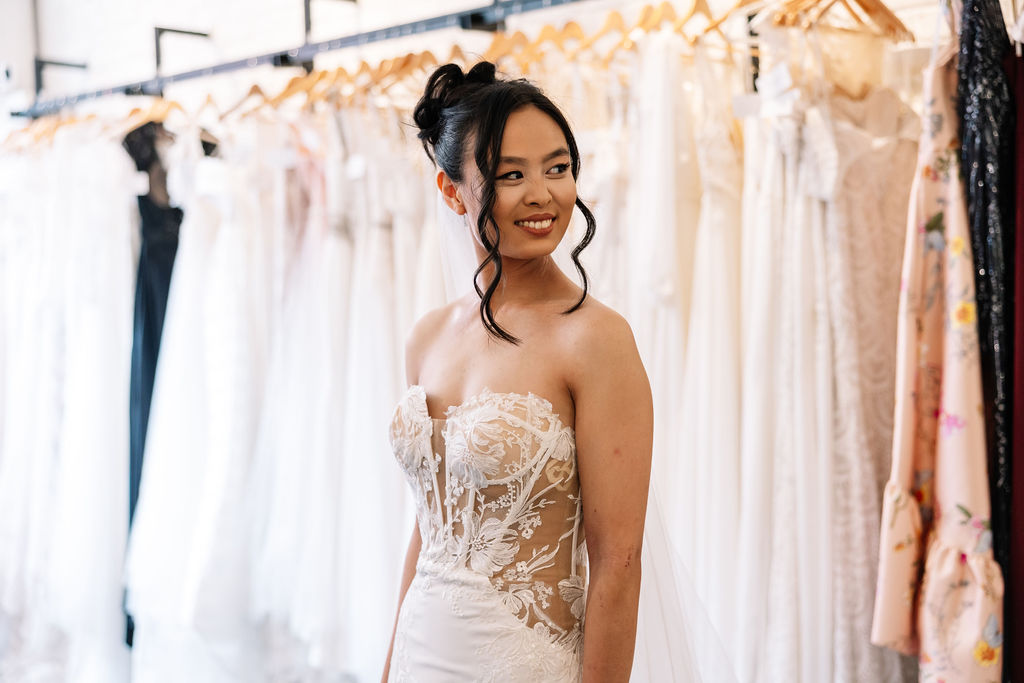 Grace + Ivory's Zoe Dress (Coming Fall 2023)
We recommend for every bride to budget 2-3 months before their wedding date for final alterations. What alteration specialists are asking for in terms of time does vary from city to city but this is the typical range we're seeing. Some specialists can accommodate quicker turn-around times with rush fees but do not wait until your dress arrives to start reaching out as it may be too late!
Ways To Customize Your Grace + Ivory Wedding Dress
If you're thinking about shopping customizable wedding dresses, it can be helpful (and fun) to see what Grace + Ivory brides have done in the past. Some opted for simple changes, such as higher or lower necklines, underlay colors, or nixing the sparkle...while others combined elements of a few favorite designs for a totally custom look. Browse a few of our favorites below to get inspired!
Low Or High: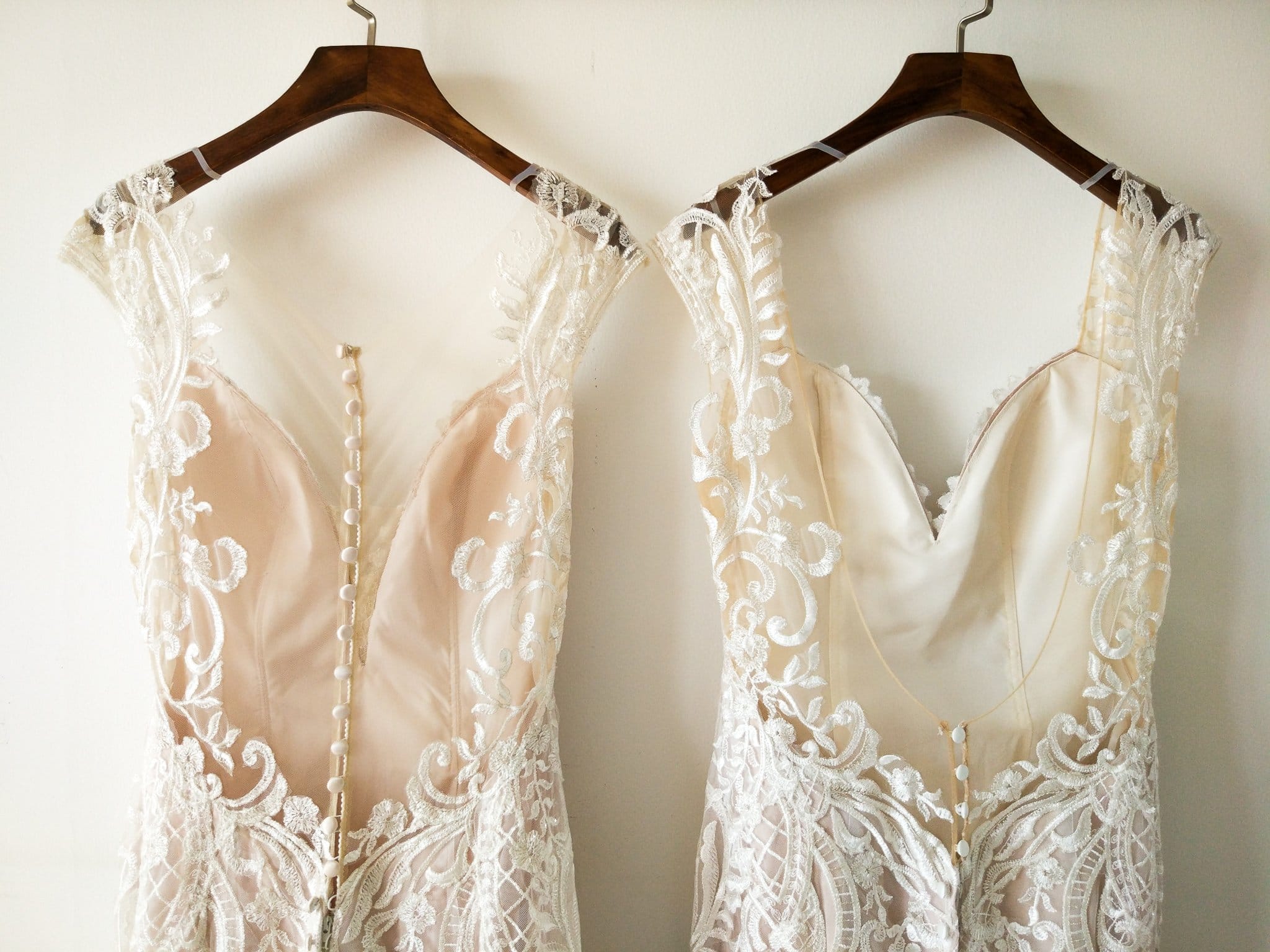 An ultra low back is definitely not everyone's taste! A Grace + Ivory bride took the buttons and the illusion up on our Stella dress for a just as beautiful but more coverage look.
Adding Some Color:
Some brides wanted to forgo tradition completely and have their Grace + Ivory gown made in their favorite color! Aimee selected a wine red for her Sloane dress for her fun New Orleans wedding (left). While Chicago bride, Erin, swapped the silver beads on her Elise dress for an emerald green (right).
Let's Go Strapless:
While straps can sometimes be crucial to the structure of a dress, some customizable wedding dresses can be re-designed into a romantic strapless! Especially when the bodice already has the boning to hold it up on it's own. G+I bride, Andrea, chose to remove the beaded straps on our Lacy dress (left) for a re-design of the delicate bodice into her dream sweetheart neckline (right).
Combining Elements:
While little tweaks to the original designs are typically what brides go for, some brides have a creative vision that involves more than one design! When combing elements of multiple Grace + Ivory wedding dresses, it can be harder to imagine and more of a risk. But if you have a clear vision of what you want and don't want to settle, like G+I bride, Emily...the end product is a wedding dress that is completely one of a kind!
Emily fell in love with the silk skirt of our Sloane dress (left) and romantic off-the-shoulder bodice of Juliette (right). She also added a waist sash for a bow-back detail and hint of champagne gold.
Interested in a Grace + Ivory dress design as-is or want to chat more about our custom process? Shoot our design team an email at hello@graceandivory.com!