Finding a made-to-measure wedding dress that fits your one-of-a-kind style AND your unique set of measurements may seem like an impossible feat. With budgets to bear in mind, timelines to consider, and outside pressures put on wedding dress shopping...brides often have to compromise on their wedding vision. At Grace + Ivory, we're all about not limiting your options! Whether that's because you live in an area whose bridal market doesn't match your style or maybe you value high quality fabrics but don't want to shell out thousands more for the designer name, we have a try-on solution for you.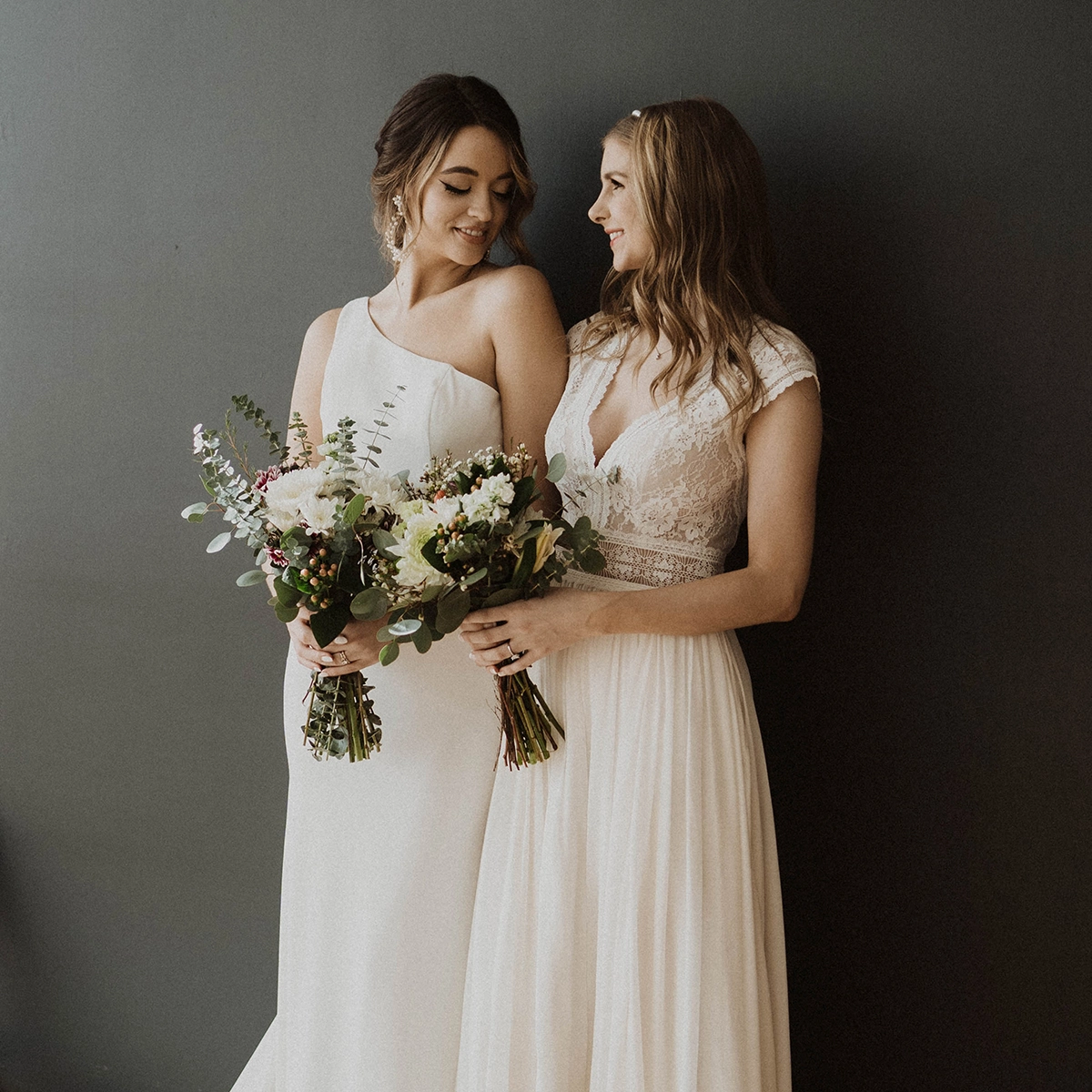 Jess Fogel Photography | Grace + Ivory's Malia and Sloane Dresses
Trying on a made-to-measure wedding dress with Grace + Ivory is simple, no matter your zip-code, thanks to our flagship try at home program. What many brides don't know...is that they can also try on with us in person at our Chicago showroom or (for a limited time only) at our Philadelphia bridal pop-up in Old City!
We're breaking down the three ways you can try on Grace + Ivory gowns and what you can expect for each unique experience.
What Is a Made-To-Measure Wedding Dress?
Before we get into how to try, knowing what you are trying is crucial. A made-to-measure wedding dress is the middle ground between standard numerical sizing and a full bespoke custom experience. Most brides aren't one sample size for bust, waist, and hip measurements. Often times you'll order your wedding dress to your largest proportion and have the rest altered down to fit. This can get tricky depending on how many sizes your dress will need to be taken in and if there are any lace or beading details.
Adrienne Dani Photography | Gian Events | Grace + Ivory's Lexi Dress
With a made-to-measure wedding dress, your dress is made to your proportions from the get-go. We take about 10-20 different measurements depending on the needs of your specific dress. You'll still need a final fitting with a seamstress to get your perfect fit, hem, and bustle (and because our bodies do fluctuate!) but a made-to-measure wedding dress is a great option that can still work within your budget. Especially if you've been unimpressed with how the samples are fitting during your wedding dress shopping journey.
Trying On Wedding Dresses At Home
If you're looking for a more intimate wedding dress shopping experience (or maybe you are not vibing with the options in your hometown!) try at home bridal gowns may be for you. There can be some hesitation with the process, so we'll break it down piece by piece!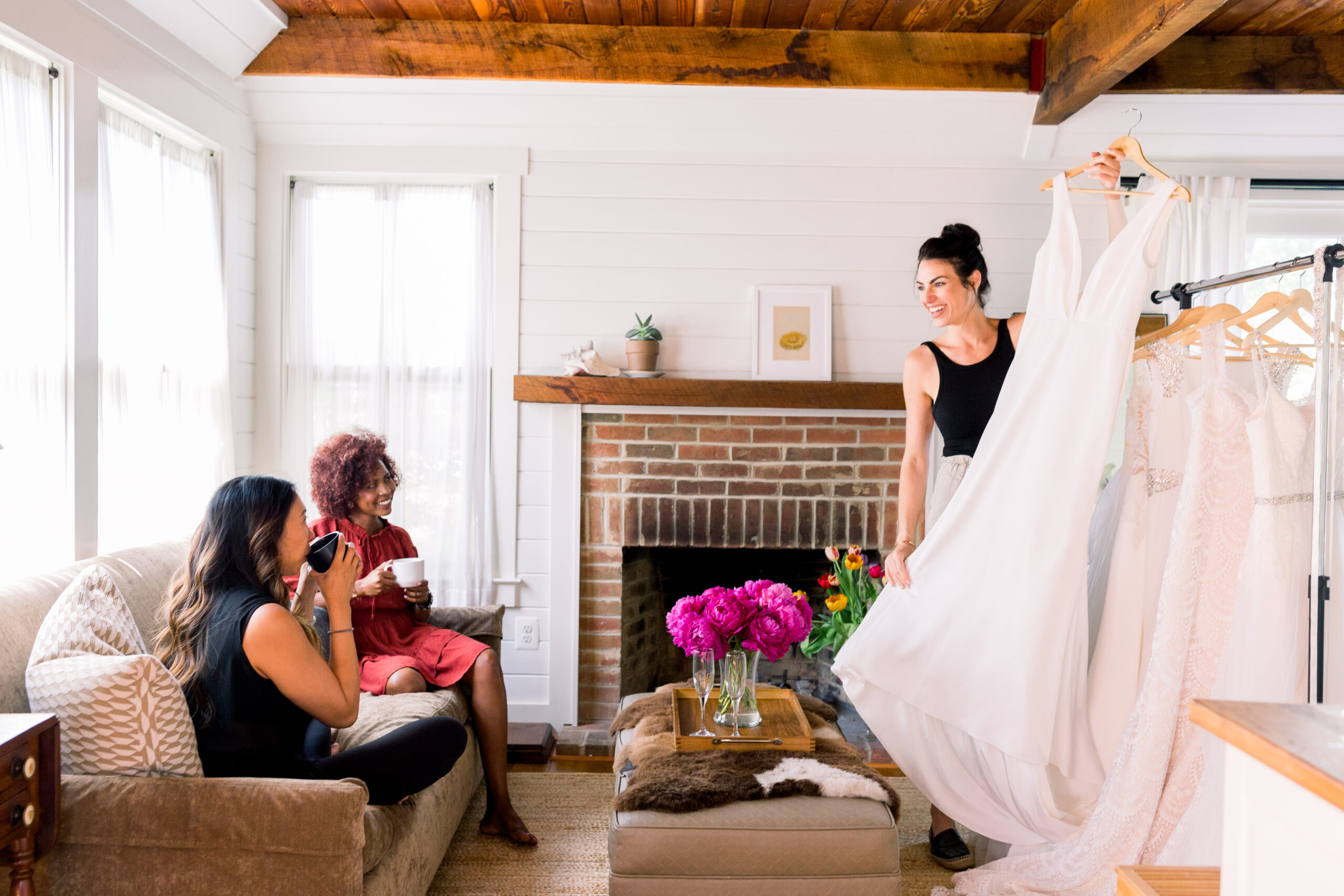 Sarah Bradshaw Photography 
Browse our website and find a dress you'd like to try. (If you've never been wedding dress shopping before and are unsure of where to start, you can always email hello@graceandivory.com so one of our stylists can make some recommendations based on your personal style, wedding venue, and season!)
Click "Try On At Home" to select your size range. Although your dress will be made-to-measure post purchase, you'll try on either a size 4,10, or 16 sample at home. Clips will be sent along in the box so you can adjust as needed!
Select your dates. You'll have three whole days that you select to spend with the dress(es), even if it arrives early.
Checkout and wait anxiously for your dress(es) to arrive. Some brides choose to have a try at home party and invite friends for a bubbly toast!
When your try-at-home arrives, unpack and hang to let any wrinkles fall. The dresses will come inside out and rolled to protect any beading or lace details so gently turn them right side up. If you have a steamer on hand, feel free to give them a refresh from the journey.
Try them on as many times as you'd like, whether it's alone, with mom, or friends. We recommend a pair of heels to help with any long hems. Don't forget to take photos to help with making your final decision. (Pro Tip: you can keep the soft measuring tape in the box if you think one of the gowns may be the one...you'll need it later!)
After the three days are up, repack your samples and stick the UPS label provided in the box on the front. Then simply drop off at a UPS.
If you've found your dress, you can purchase directly from our site. Just add to cart, add your try at home discount, and checkout. One of our lovely stylists will be in touch with a measurement guide to help you take your measurements for your dress.
If you need help deciding, have customization questions (Yes, all of our designs are customizable!), or maybe want advice on which dresses to try next...you can book a consultation with one of our stylists via phone or zoom. Or feel free to give us a text or call on the fly!
For some FAQ's regarding our Try At Home program, click here!
Chicago Bridal Appointments
If you're in the Windy city or visiting (girl's weekend anyone?) our Chicago bridal showroom is a must book! Enjoy a private one-on-one appointment with one of our lovely stylists. You'll be able to browse and try our collection in its entirety, along with beautiful veils and capes as a finishing touch. Appointments are an hour and fifteen minutes and brides typically try anywhere between 4-8 dresses.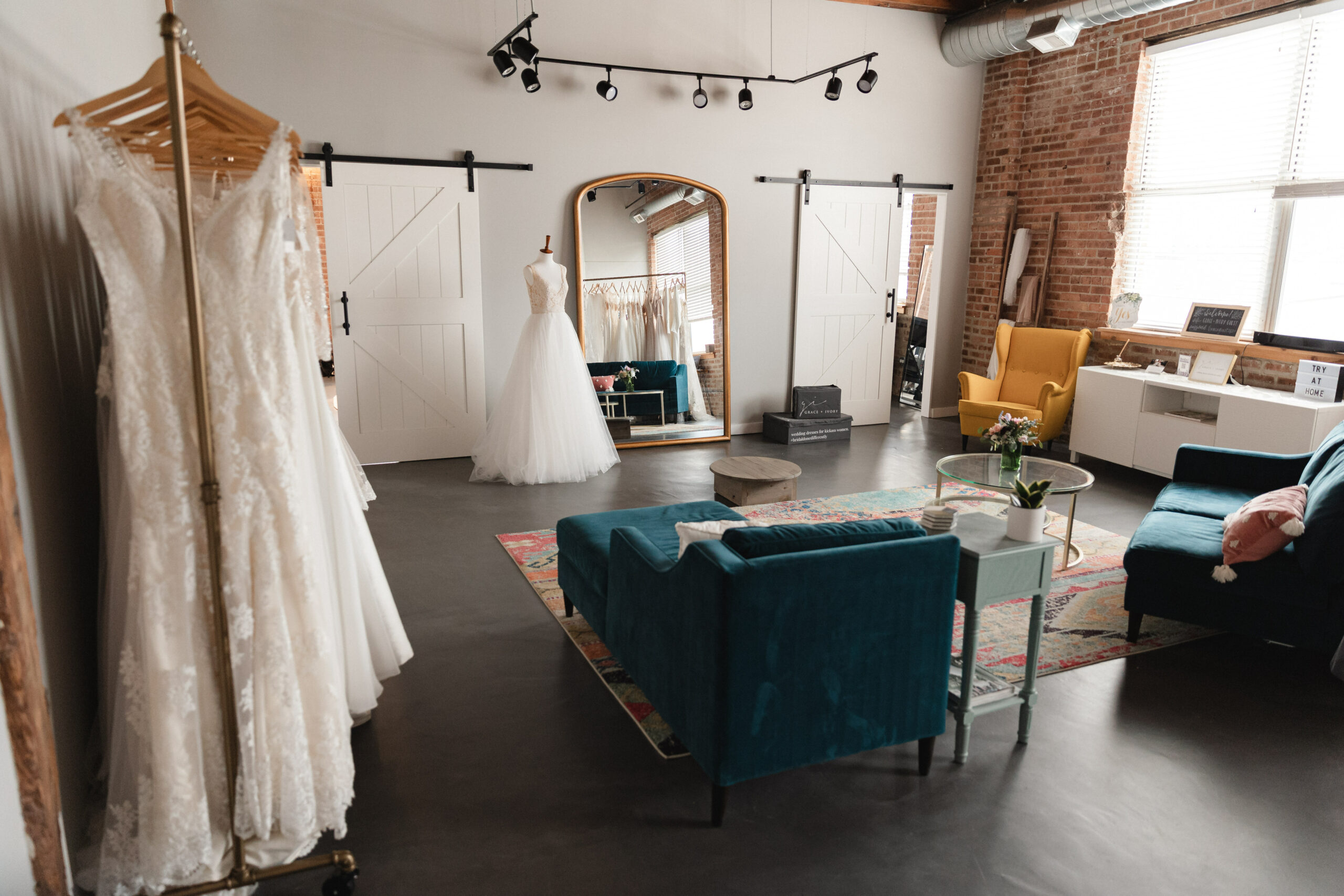 Sarah Crost Photography | Grace + Ivory Chicago Bridal Shop
With our in-person experience we're all about re-creating what we love about try-at-home...an intimate, non-pushy environment where the bride sets the pace! Our stylists are there to help you into the gowns you'd like to see and fill in the gaps with some wedding dress education (fabrics, cuts, timelines, and more...). We'll also be there to take your measurements, should you say yes to a made-to-measure wedding dress!
For more on what to expect for your in person shopping experience in our Chicago bridal showroom, read What To Expect During Your Wedding Dress Bridal Appointment.  Or if you're ready to book, click here!
Philadelphia Bridal Pop-Up
If you're a Philadelphia bride searching for a made-to-measure wedding dress, you're in luck! Through May 7th, Grace + Ivory is hosting a bridal pop-up in Old City. You can book private one-on-one appointments with our Designer, Tina, and browse our completely customizable collection. Since we're only in Philly for a limited time, spaces are limited but should you snag a spot...you'll get a sneak peek at some not yet released designs!
A look at some of the gowns you can try on at our Philadelphia bridal pop-up:
Jess Fogel Photography | Grace + Ivory's Ava and Amara Dresses
If you're ready to browse unique wedding dresses, all under $3,000, You can book your Philly bridal appointment here!
Is A Made-To-Measure Wedding Dress Right For You?
A made-to-measure wedding dress benefits most, if not all, body types! Because we're all different shapes and sizes, standard sample sizing doesn't cut it for the majority of brides. A common misconception is that made-to-measure will double your budget and that's simply not true. All Grace + Ivory gowns are under $3,000 with the made-to-measure already included! While you'll still need to budget for a final fitting to get your perfect fit, hem, and bustle...where you do save is through our direct to consumer business model: high quality fabrics without the additional markup.
Sarah Crost Photography 
No matter how you choose to try on your soon to be wedding dress, a stylist will be with you every step of the way. Let's find your dress!