After the engagement excitement settles down and the planning begins, one of the most taxing parts of planning a wedding is figuring out (and sticking to) the budget. From venue costs, to per plate expenses, to every flower and photo...wedding costs add up quick. Since wedding dresses can take up to a year to make, it's often one of the first big purchases you'll make. With all the timeline pressures and endless gowns to choose from, how does a bride set and shop within their wedding dress budget?
The Average
According to The Knot, brides spent on average $1,900 on their wedding dress in 2022, with generally about 6-10% of the overall budget slotted to the couples' wedding attire. This included any wedding dresses/suits, shoes, accessories, and jewelry. For perspective, the average cost of a wedding came in at $30,000. But on the per state breakdown, some states averaged as high as $51,000 (New Jersey).
For the dress, some brides allocated more or less of the overall budget to their wedding dress. This depended on if they wanted to budget for additional dresses (we love a look change!) or buy something more custom. While 7% of brides bought a wedding dress secondhand!
Setting Your Wedding Dress Budget
Even though $1,900 was the average, it's important to look at your individual budget and decide what you feel comfortable spending. Every bride is different and what you want to set as your wedding dress budget is a personal decision. You may have your eye on a specific designer and want to splurge on your once-in-a-lifetime look or you may decide to hit up a sample sale and save. You do you!
If someone has offered to pay for your gown as a wedding day gift, setting a budget with them before shopping will keep you out of any uncomfortable situations in the bridal shop...even if they say "whatever you want!".
If you don't want to worry, or maybe you have more expensive taste, you could always offer for that person to buy your veil or wedding day shoes to still be apart of your wedding day in a special way.
Additional Wedding Dress Costs
When setting your wedding dress budget, a lot of brides do not factor in alteration costs. Mainly because we don't get things altered often and are not familiar with the costs. A hem on that chiffon bridesmaid dress you wore last summer will not cost the same as the scalloped lace hem on a wedding dress. Wedding dresses are often made of higher quality fabrics with intricate beading and laces, so they take longer to fit, silhouettes are more specific to fit, and require more skill to alter. Even with made-to-measure dresses, which is different than a fully bespoke custom experience, many need to plan on a final adjustment to get that perfect fit once the dress is on your body.
To avoid the sticker shock, adding alterations costs to your wedding dress budget will help you plan ahead. It's important to research what brides typically pay for alterations in your area (or ask friends or family!) as it can vastly vary. Don't be afraid to call a few seamstresses near you and ask what to expect. We've heard of brides paying as low as $200, as high as $1600, with most spending somewhere in the middle.
Even if the sample size fits near perfect, you'll still need to factor in the cost of a bustle if your wedding dress has a train. According to Brides.com the average cost of a bustle is $75-$250 depending on which bustle type, fabric, and length.
Shopping Within Your Budget
After setting a wedding dress budget, sticking to it can be hard once you're in the shop. This is especially true when you may have no idea what you're trying on and how much it costs. A bridal consultant will usually ask your budget, don't be afraid to give them a firm number or veer slightly lower than what you're willing to spend since they may still pull styles slightly over.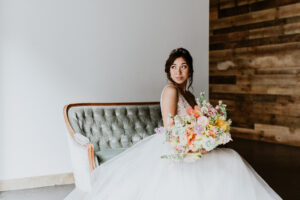 Research before stepping into any bridal shops of where their gowns start and end at. Not all bridal shops carry styles or designers in every price range with some shops branded more high-end and luxury. 
It can be hard to find shops and designers with transparent pricing as their gowns typically vary in price by boutique. Which is often why some shops won't let you take photos of the gowns or tell you the names of the dresses you love. They don't want you to go home and buy it somewhere else for less!  
Instead, look for designers that are price transparent to avoid any guessing games. At Grace + Ivory, each dress in our collection is listed on our website with the price. So you can make an informed decision about the styles you love and what you are willing to spend.
Quality For Money
Like most brides, you probably want a wedding dress that looks and feels great but doesn't cost a down payment on a condo. And if you've been shopping for your dress already, you've probably seen and felt some fabrics that did not live up to your standards. Or maybe you felt like the price of a specific dress, for what it was, did not add up.
When you shop in traditional bridal shops, there's a certain level of markup on the gowns you are trying. Bridal shops work with a variety of designers/production teams and all parties need to make money off your dress purchase to, plainly put, stay in business! 
At Grace + Ivory, we work directly with our production teams and directly with our brides. This means we're able to cut out the middleman and cut down on the markup. So you can get a high-quality gown under our $3,000 price cap that would otherwise sell for thousands more elsewhere. There's been a push transparency in the bridal industry and we hope brands continue to follow our lead so you can find the dress you've been envisioning at a price that doesn't make your stomach churn!
Wedding Dresses Within The Average
If you're like the brides from the Brides.com 2021 study, and feel most comfortable spending somewhere between $1,400-$2,000...we have a few great options to start with!
Coming in just under the average at $1,495, the Tabitha dress is a great option for a bride that values high-quality fabrics and timeless designs. This beautiful gown is made from a luxe Italian crepe and can be styled a variety of ways to fit your bridal style.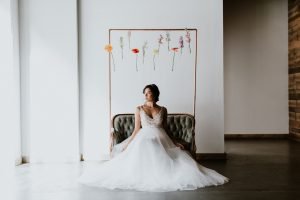 If romantic is more your style, our Gemma dress comes in under the average at $1,595. This ballgown is made with the softest, lightest tulle for the bride that wants a princess look without all the fuss.
At $1,895, The Tessa dress could rival any gown far above the average! With a soft cotton-lace atop a high-quality illusion netting (you can't even see it!) this wedding dress does not lack beauty or details. Two words...button back!
If your wedding dress budget is $3,000 or below, shop the rest of the Grace + Ivory collection here.
Photography:
Iris Mannings
Savanah Mayfield
Rebecca Sigety 
Jessica Foley